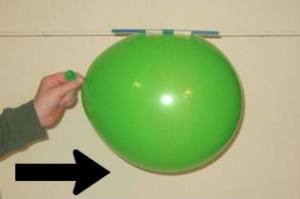 Here's a simple and fun science experiment that can be used to teach children about Action and Reaction.  The force from the air moving in one direction propels the balloon in the other direction, much like a rocket.
The supplies needed are everyday household items so there is a good chance you have everything you need to conduct the experiment already on hand.
My kids really enjoyed this simple experiment.  They even took turns racing the balloon across the room!
Items Needed

Balloon
Drink Straw
String
Tape
Two Chairs
Steps to Create a Balloon Rocket
Tie one end of the string to the back of a chair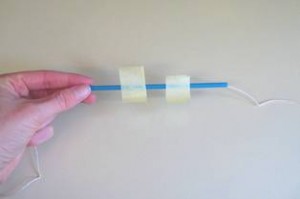 Thread the straw through the other end of the string and place two pieces of tape on the straw.  Note:  Be sure to position the two pieces of tape near the middle of the straw.  If you put them near the ends of the straw it will bend when you blow up the balloon and the rocket won't move as quickly.
Tie the loose end of string to the back of another chair
Move the chairs apart so the string is tight
Blow up the balloon and hold the end so the air can't escape.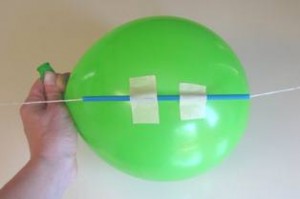 Secure the balloon to the straw using the two pieces of tape.
Move the straw and balloon to the end of the string.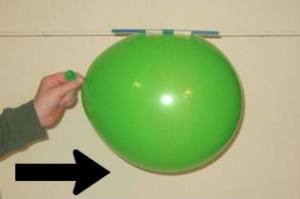 Release the balloon and watch as it rockets across the string until it reaches the other chair.
Inflate the balloon again and repeat.
As the air is released out of the balloon in one direction, the force propels the balloon in the other direction.  The result is the balloon flying across the string like a rocket!
This experiment was from My Big Science Book
, by Simon Mugford.  We love the experiments found in this book and reference it quite often.
I hope you have as much fun with this one as we did!  View more Science Experiments.
(Note: The link in this post is my referral link. Read my disclosure policy here.)