If there is a birthday party on your calendar, and you are looking for a way to make it extra special, then this Northeast Ohio Birthday Party Planning Guide is for you! To make it easier for you to search for the perfect party option, I've broken the guide up into multiple categories. Happy Party Planning!
See something I've missed? Email me and I'll be happy to include it.
Jump Directly to Specific Topic:
Featured Birthday Party Options | Party Entertainment | Party Rentals | Party Locations
Featured Party Options
Top Birthday Party Entertainment in Northeast Ohio
There are many ways to make your child's birthday party experience one they will always remember. One great option is to hire a local entertainer to come perform at the birthday party. From Animal Shows, Princess Parties, Face Painters, Balloon Artists and more, the opportunities are endless.
5 Star Talent – Website
Specializing in face painting, balloon twisting, clowning and magic.
330-620-9530
Balloon Creations by Kristi – Website
216-990-0063
BoJangles Entertainment & Clown Company – Website
Clowns, Face Painting, Balloon Twisting, Magic and more
216-346-5016
Castle On A Cloud Entertainment – Website
330-826-1866
Cirque du Papier – Website
Featuring America's Premier Origami Entertainer: Magical Michael Roy, Folder Fantastique deftly displays dazzling digital dexterity, morphing single squares of paper into 3D animal caricatures by mere folding. Lucky guests go home with a memorable experience and an artfully cool keepsake!
330-678-3362
CJ's Face and Body Art – Website
Premiere professional face & body artist. Professionally trained, professional makeup and designs guaranteed to please.
440-670-8156
Diamond the Magical Clown – Website
Clowns, Face Painting, Balloon Twisting, Magic and more
216-376-4100
E and J Reptile Shows and Rescue – Website
We bring our animals and critters to almost any event or occasion that you request. You'll see and touch many of the animals we bring.
216-952-5285
Elaborate Eyes Face Painting – Website
Elaborate Eyes is North East Ohio's PROFESSIONAL and ELABORATE face painter, ready to WOW your guests! And I'm looking forward painting for you!
216-990-5929
Entertainment With A Twist – Website
Professional Balloon Entertainer for over 20 years. Also specialize in Event Organization and Entertainment Booking. Serving all of Northeast Ohio.
330-475-5301
Flower Entertainment – Website
Flower Entertainment is Cleveland's premier children's party source. We book clowns, balloon artists, face painters, magicians, inflatable amusement and so much more. We can specialize entertainment for any event!
Gym 2 Go – Website
Have a gymnastics party brought to you. Three different party packages to choose from.
(440) 539-4686
Imagine That Parties – Website
330-494-1682
High-quality, affordable costumed characters and focus on creating a uniquely believable and immersive experience. Our goal is to capture the imagination and make a positive and genuine connection with the families that we entertain.
440-973-6629
Jason Alan Magic – Website
330-692-7912
Jeff Conley Entertainment – Website
330-492-7793
Jungle Bob – Website
Fun & Educational animal show great for any age or venue. Serving all Northeast Ohio.
216-475-0703
Jungle Terry – Website
440-275-1331
Kiddy's Kingdom – Website
Kiddy's Kingdom is a Children's Party Planning and Hosting Service that provides entertainment services for Birthday Parties and Local Events.
(844) 4KIDDYS
The MacKay Pirate Family – Website
Dynamic Character Entertainers and Models that can be hired to entertain guests in a wide range of venues and events. They are most known for their authentic pirate character and mermaid personas but also do: Steampunk, Victorian, Cowboy, Holiday, Horror, and more.
541-806-5225
Magic By Kel – Website
330-673-0889
Magic Mike Productions – Website
Family friendly Magician, Illusionist, Hypnotist and Balloon Artist. Serves Northeast Ohio.
216-780-7031
Masters of Illusions – Website
440-567-5712
Ooh La La Face Painting – Website
Ooh La La Face Painting offers full face, theme park quality face painting for events of any size.
407-913-8367
Our Zoo to You – Website
Exotic animal shows and small petting zoos. We are SUPER hands on and have a wide variety of mammals and reptiles.
330-667-6ZOO
Outback Ray – Website
216-381-1130
Paint Me Please Face Art – Website
Serving Cuyahoga, Lorain and Medina Counties. Evenings and Weekend Availability.
440-915-2280
Park & Play – Website
Park & Play offers a mobile gaming trailer, costumed characters, face painting, cake and photo services as well.
216-205-2387
Party People, LLC – Website
From Character Appearances to our Full Service Party, our services allow you to enjoy your child's party instead of working through it! Serving Northeast Ohio. Travel fee for areas any more than 25 miles away from Akron, Ohio.
234-571-2661
Pretty Wild Body Art – Website
Pretty Wild Body Art is the premier face painting company for NE Ohio. No matter how small or how large, we have covered!
440-381-9985
Princess Parties and Productions – Website
Professional Princesses ready to bring the magic to your next event. Our talent includes professional singers and trained actors and actresses. Based out of Avon, Ohio. Traveling rates may apply to venues outside our 25 mile radius.
440-787-1385
Realm Of The Reptile – Website
330-546-3340
Rick Smith Jr. – Website
440-821-9549
Second Star to the Right Princess Parties – Website
440-666-8715
Temenos Productions – Website
Make your event truly magical! We strive to spread wonder and magic and celebrate the innocence of childhood. Serving all Northeast Ohio. Travel fee for areas any more than 20 miles away from Warren, Ohio.
330-974-5433
Tiaras and Treasures, Inc. – Website
Serves all Northeast Ohio. Travel fee for areas any more than 25 miles from Uniontown, Ohio
330-697-7885
Ultimate Party Entertainment – Website
Balloon Twisters, Face Painters, Jugglers, Fire Performers and more! Serving all of Northeast Ohio.
330-474-9596
VentriloTrist – Ventriloquism, Comedy, Magic and More! – Website
Serving Northeast Ohio, Tristan "VentriloTrist" Hostetter creates a truly unforgettable and unique experience that all ages will enjoy! He has preformed ventriloquism and magic since 2010, delighting audiences at birthday parties, churches, and any other celebrations with his family-friendly show.
330-397-1295 or email ventrilotrist@gmail.com.
Zap Entertainment – Website
Family Entertainment and Educational shows including: magicians, jugglers, balloon twisters, face painters, stilt walkers, pirate shows, theme shows, bands, strolling entertainers, workshops on magic, juggling and origami.
440-843-8749
Birthday Party Rentals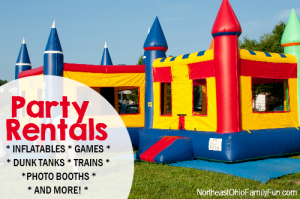 From Bounce Houses, Trackless Trains to Mobile Video Game Units, these party rentals are fun for all ages.
All for Fun Inflatables – Website
Inflatable Bounce Houses, Obstacle Courses, Movie Screens and more. All inflatables are delivered, set-up and torn-down by professionals.
330-309-6626
Bouncy's Party Fun – Website
Bouncer's giant slides, obstacle courses, dunk tanks, interactive units and much more. Serves all Northeast Ohio.
330-577-FUN1
Let our trained Party Hero's come to your home or other location and provide 2 hours of fun. Gagaball, field hockey, crafts, and more.
(330) 928-7517
FunFlicks Outdoor Movies – Website
Have a Giant Screen Outdoor Movie Night!
440-271-1177
Game Craze Party & Event Rentals – Website
Interactive parties for kids and adults including Human Hamster Ball Races, Video Game Truck, indoor and outdoor Laser Tag, Bounce Houses/Jumpers and Inflatables, and Sumo Wrestling all available year round.
330-752-2351
Kiddy's Kingdom – Website
Children's Party Planning and Hosting Service that provides entertainment services for Birthday Parties and Local Events.
(844) 4KIDDYS
Let's Entertain Party Rental – Website
Rent Inflatables, Dunk Tanks, Popcorn Machines and more. Tents, Chairs and linens also available for rent. Serving Northeast Ohio.
216-518-RENT
NEO Amusements – Website
Inflatable rental equipment and entertainment for parties of all types and sizes. Inflatable bounces, slides, slip-N-Slides, Tents, Tables, Chairs, Outdoor movie screens and more.
330-486-7145
Ohio Mobile Gaming – Website
OMG is Northeast Ohio's premier inflatable rental and mobile entertainment company.
330-745-4545
Park & Play – Website
Park & Play offers a mobile gaming trailer, costumed characters, face painting, cake and photo services as well.
216-205-2387
The Magical Train – Website
The Magical Train is the best trackless train option for your birthday party or special event. Serves Northeast Ohio and beyond.
330-607-5198
Best Birthday Party Locations in Northeast Ohio
Looking for a place to host your child's birthday party this year? Your in luck, because there are so many great options across Northeast Ohio to choose from. From Indoor Play Centers, Museums, Science Centers, Ice Skating Rinks and more, the options are a plenty. Happy Party Planning!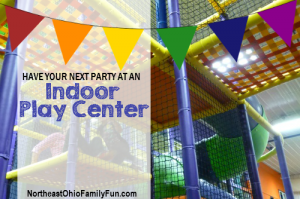 Indoor Party Venues
Birthday Party at an Indoor Play Center – 30+ locations to choose from. Perfect spot for anytime during the year. Children can bounce, climb, play games all in the comfort and safety of an indoor location. Plus, the adults can sit back, relax and visit with one another knowing the kids are having a great time.
Birthday Party at a local Museum or Science Center – There are so many unique museums across the region. Choose one with exhibits that your child is most interested in and host a fun and educational birthday party!
Stark County Sports Complex – Website
Offering endless games to choose from, kids will have their pick of Kickball, Dodgeball, Flag Football, or Wiffleball. Their Events Team will help you through the entire process.
701 Vista Ave SE Massillon, OH 44646
330-775-7260
Family Connections – Website
Looking for a fun and convenient place to hold a birthday party for your young child? Family Connections at Shaker Family Center IS the perfect place to entertain children birth – 5 years old. Parties are 2 hours and include use of our gym and party room on Saturdays and Sundays, now with 3 time choices per day. In-house catering options are also available for lunches, snacks, cakes and much more.
19824 Sussex Road, Shaker Heights, 44122
216-921-2023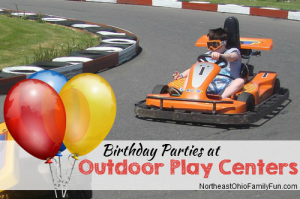 Outdoor Party Venues
Birthday Party at an Outdoor Play Centers – Great for kids with summer birthdays who love the outdoors. Each locations has different things to choose from including batting cages, bumper cars, go carts, play grounds and more.
Party at local Parks & Playgrounds – Many of the local community parks have pavilions that residents can reserve for various parties. Depending on your child's interests, you could choose one with a great playground, hiking trails, swimming pool or ball fields.
Downs On The Farm
12221 W. Ridge Rd. Oberlin OH 44074
(970) 397-2010
Website
Nickjack Farms
2955 Manchester Ave. NW, North Lawrence, OH 44666
(330) 323-9714
Website