Recently my son had his 8th Birthday.  In the past, we've always held a small family gathering at our house to celebrate the day.  We have always enjoyed those parties.
And even though we always kept the parties simple, hosting them was still a lot of work.  Clean the house, prepare the food, get out the extra serving utensils, plates, bowls and cups.  I could go on, but you get the idea.
This year we decided to do something a little different.  Instead of hosting the party at our house, we had the party at Chuck E Cheese and loved every minute of it!
Our Birthday Party Experience at Chuck E Cheese
When we arrived the table was decorated for us.  Each child had their own place complete with reusable cup and a microphone balloon.  There was also a big balloon guitar for my son.
Tip: I was told that those reusable cups (as long as they aren't broken) can be brought back at any time for free refills.  So, if your child has a party or attends a party be sure to save the cup so you can bring it back the next time you visit.
The party hostess that was with us during the party gave me an overview of the party schedule, the tokens for each child and got as set up for a day of fun.
The party packages include food for the kids, but since I also had adults coming I ordered some food and drinks for them.  Our party hostess was extremely helpful and provided some recommendations on food choices.
Tip: If you are unsure about how many adults will be staying, you can place an initial food order and then add to it if you need to.
As the kids arrived we passed out the tokens and off they went.  Each child had their own cup of tokens to carry around with them.
I was especially impressed with how clean the game room was and with the various activity choices: Skee-ball, racing games, ride on games, computer games, jump rope games and many more.  The best part is that all ages from toddlers to adults were out there having fun.
Tip: In the excitement of the games, rides and ticket winning, it's easy to set down the cup of tokens and walk away leaving them there.  You may want to pass out a small amount of tokens for each child in case they misplace them.
For our group, the game of choice was the new Laser Challenge.  Think mission impossible where the kids enter a dark room filled with lasers.  They have to duck, bend and twist through the laser maze to complete various checkpoints.  At the end they are awarded a score and tickets based on how well they did.
To add to the excitement, there is a video screen on the outside of the room that displays what is going on inside.  It was so fun to watch everyone take the challenge.
Tip: The Laser Challenge game is only available at select Chuck E Cheese locations, so be sure to call ahead before you visit.
After playing, it was time to eat.  The kids enjoyed the pizza, cake and ice cream.  And our party host was there to help the entire time.
Tip: They have both Chocolate and Vanilla birthday cakes in various sizes available for parties.  They also allow you to bring in your own cake.  So if you'd like to bake one or get one from a local bakery you can do that too.
Chuck E Cheese himself made a special appearance right before the cake was served.  We sung happy birthday, got pictures with him and they had a special dance party and each of the children used their balloon microphones and balloon guitars.
After the pizza and cake, the kids had a little more time to play in the game room and use up their remaining tokens.  My son even got his own turn in the ticket blaster where he won even more tickets.  The ticket blaster is part of the party packages.
Tip: Be sure to show each child where the ticket redemption machines are located in the game room.  The machine allow you to turn in your tickets and print out a receipt that indicates the number of tickets you earned.  It is so much easier to carry around the receipt than a big pile of tickets.
Overall, we had a great time at the birthday party.  My son and his friends had a great time.  And I didn't have to worry about a thing, no extra time spent cleaning the house, making the food or cleaning up after the party.  It was fantastic!
There are eight different Chuck E Cheese locations across Northeast Ohio and each host birthday parties.  Visit their website to find out more about their party packages.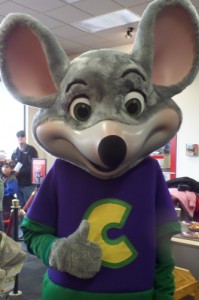 Disclosure: Many thanks to Chuck E Cheese for partnering with us as a featured Indoor Play Center and Birthday Party Location and providing us with an amazing birthday party experience.  Read our disclosure policy here.