We made a last minute decision to check out Day Out with Thomas at the Cuyahoga Valley Scenic Railroad last weekend, and I'm extremely glad went as the kids and I had a great time.    

If you have a Thomas fan in your house and you are considering going, I highly recommend it.  To give you an idea of what to expect, below you'll find our pictures and Day Out with Thomas review.
If you want to attend, act fast because next weekend is the last chance you'll get to see him.  Get your tickets  Note:  Use coupon code Findtime to get $2 off tickets (Valid on Friday. May 24 date only)
All About Day Out with Thomas
The event was filled with Thomas themed activities including:
Multiple activity tents containing train tables with block, bricks and trains for the children to play with, Thomas and Friends temporary tattoos, balloon animals, arts & crafts, Music from Zobapago and Marty the Magician.
An opportunity to have your picture taken with Sir Topham Hatt.  I especially liked that they allowed you to take pictures with your own camera.  There was also a professional photographer there who took pictures you could purchase.
A huge model train display set up by the Cuyahoga Valley Scenic Railroad.  There were 3-4 trains running on the various tracks, including two Thomas the Train steam engines.  The tent also contains a variety of railroad memorabilia and a bell that kids could ring.
A section with four different inflatables and bounce houses for the kids to enjoy.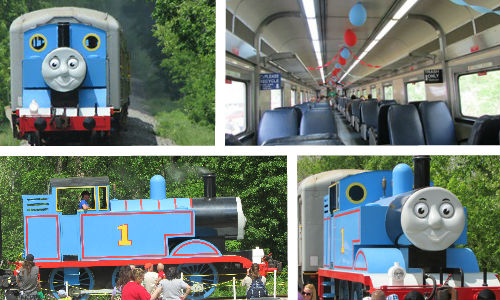 And of Course, a chance to ride on Thomas himself!  The rides leave every hour and are extremely well organized.  Each group boards 20 minutes before departure.  This was the perfect amount of time for the kids to check out the decorated train interior and pick the perfect seats.  Prior to departure the conductor comes around and punches your tickets.
Then off we went!  The ride itself was approximately 35 minutes out and back.  During our ride we looked out the windows to see the green landscape, bikers on the towpath trail, various rivers and we even had a brief stop when another train passed us on a nearby track.
As the train pulled to a stop at the end of our ride, the conductor made his rounds again and presented each child with a Jr. Railway Conductor certificate complete with their own name on it.  It was a fun way to end the ride.
Overall we spend about 3 and a half hours at the event and had a great time at all the various stations and riding Thomas himself.  While we are there, be sure to register your child to receive a FREE train ride on their birthday.
Purchase Tickets to Day Out with Thomas
Where: Cuyahoga Valley Scenic Railroad
Boston Mills Ski Resort – 7100 Riverview Rd., Peninsula, Ohio 44264
When: May 18 & 19, 24, 25 and 26, 2013
Times: Time slots available each day between 9:30am – 4:30pm
Coupon Code for Day Out with Thomas at Cuyahoga Valley Scenic Railroad
When purchasing your tickets, use this Day Out with Thomas Coupon Code to Save $2 off the ticket price for any time slot on Friday, May 24, 2013. 
Select your time slot here Remember the discount is valid for Friday, May 24, 2013 only
Enter Findtime in the Access Code Box
Save $2 off the ticket price!
Please email me me with any questions.
Have you even been to Day Out with Thomas?  If so, what was your favorite part?