This holiday visit Manners Christmas Tree Farm, a picturesque hundred acre farm in Southern Ashtabula County with 40 acres of beautiful Christmas Trees. Enjoy hay rides and family friendly entertainment while you find your perfect tree.
All About Manners Christmas Tree Farm
A family tradition for over 50 years!
Large Selection of Christmas Trees Available- Canaan Fir, Concolor Fir, Douglas Fir, Blue Spruce, Norway Spruce, White Spruce and White Pine.
Horse Drawn Wagon Rides– 8 Horse drawn wagon teams continuously running to take customers to and from the fields to get their trees. On Friday after Thanksgiving and Saturday and Sundays only. Weekdays- tractor pulled wagons are used.
Choose and Cut Your Own Christmas Tree– No restrictions. All trees available for cutting and all the same price no matter variety or size.
Other Field Amenities– Saws and Sleds provided to cut and transport tree. Tree Shaking and Baling done free of charge in the field. 5 porta john locations.
Fresh Cut Trees– Nice selection of pre-cut Fraser Firs, up to 10′ tall as well as other varieties. Plus Ruth's handmade wreaths.
Warm Up Inside By the Fireplace– and enjoy Live Christmas Music on Saturdays and Sundays.
Food and Beverages– A wide variety of concessions including hot soup, sandwiches, apple fritters, hot and cold beverages for purchase by Grandmas Concessions.
Dog Friendly – Bring your pooch and have a ball!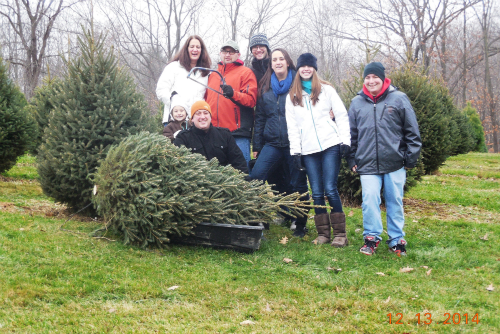 Pricing
We keep it simple here. All cut your own trees are only $ 60.
No restrictions on location or variety or size. No Charge for Horse Drawn Wagon Rides, Tree Shaking, Baling or Live Music in the Lodge.
Hours
Open daily from the day after Thanksgiving thru December 23
The Friday after Thanksgiving 9 am – 5 pm
Weekends 9 am – 5 pm
Weekdays 9 am – 9 pm
Horse Drawn Wagon Rides, Friday after Thanksgiving and Weekends Only. Weekdays; Wagon Rides Pulled by Tractor. Check for updates on hours of operation and entertainment on Facebook.
Manners Christmas Tree Farm
780 Dodgeville Rd., New Lyme, OH 44047
(440) 294-2444
View Website