Located in Geauga County, Patterson Fruit Farm has something for everyone and fall is an especially fun time on the farm. Guests are invited to pick apples, enjoy farm-themed fun, navigate the corn maze, take a horse drawn wagon ride and more.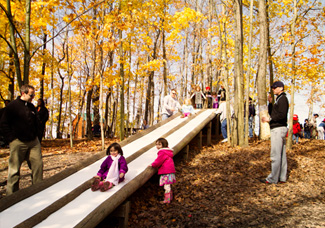 Fall Fun at Patterson Fruit Farm
Browse through the list of all the amazing things to do at Patterson's this Fall.
Pick-your-own apples
Outdoor Play Area – Wooden tractor and farm-themed fun for kids
Hay stacks with tunnels and slides
Treehouse in the woods
50-foot double slide
Corn Maze
Hike through the ravines and hills of Geauga County
Paint your own pumpkin
Pack your lunch or purchase food from the concession stands
Horse Drawn Wagon Rides – Saturdays and Sundays from 11am-4pm
Pony Ride – Saturdays and Sundays from 11am-4pm
Patterson Fruit Farm Family Fun Fall Fest
8765 Mulberry Rd., Chesterland, OH 44026
(440) 729-9809
View Website
Pick-Your-Own Apples at Patterson Fruit Farm
On Saturdays and Sundays you can hop on a wagon and ride out to the orchards for your favorite variety and pick as many as you like. During the week you can pick your own apples as well but you will be directed to the orchard where you will walk to the trees loaded with ripe apples.
Apples are typically ripe from mid-September through mid-October. Please call for specific varieties and timing: (440) 729-1964.
Hours
The Family Fun Fest at Patterson's is open daily from September 14 through October 27, 2019. Hours are Monday-Thursday from 10am-6pm, Friday-Sunday from 10am-5pm, and on NEOEA Day from 10am-5pm.
Admission
The admission price is Monday-Friday: $5 per person, Saturday & Sunday: $8 per person, and NEOEA Day: $8 per person.
Per person charges include adults and children excepting 2 years and younger. Seniors are $6 on Saturdays, Sundays, and NEOEA Day.
Pony rides are available on the weekends. Cost: $4
Pumpkin painting is available weekday afternoons (2pm-6pm) as well as on weekends. Cost: $5 (includes pumpkin)
Patterson Fruit Farm Family Fun Fall Fest
8765 Mulberry Rd., Chesterland, OH 44026
(440) 729-9809
View Website