I'm really excited about this craft, because it was simpley enough for my daughter to do with me, it subtly incorporates her little hand prints into the final product, and the end result turned out even better than I imagined.
I love it when that happens!
In my opinion, this is the perfect Mother's Day Bouquet. I'd take these over real flowers any day!
How to Make a Handprint Flower Bouquet
Below are the simple to follow steps for creating your own Handprint Flower Bouquet. So grab your little one(s) and get started!
Supplies Needed
Construction paper (green for the stem and petals, blue for the water, and whatever color you want the flowers to be)
Drinking Straws
Scissors
Glue
Stapler
A cute kid with little hands
Instructions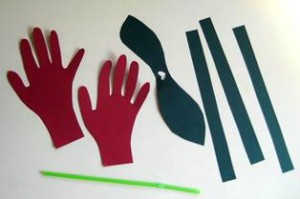 Step 1 – Trace and cut out your child's handprints (you will need two per flower). Draw and cut out the leaves. Cute three strips of green paper to cover the stem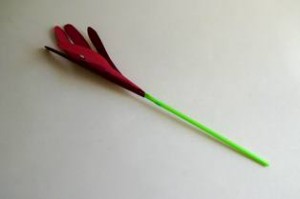 Step 2 – Wrap the first handprint around the straw and secure with a staple. Note: You could use glue as well, but in my opinion, stapling is much easier.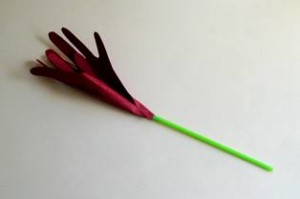 Step 3 – Wrap the second handprint around the straw and secure.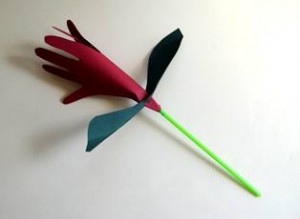 Step 4 – Cut a small hole in the center of the leaves (see image for step 2). Then slide the straw through the hole. No need to glue, it should stay put as is.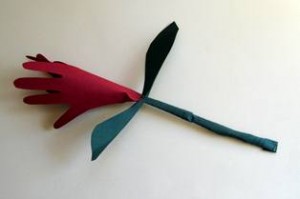 Step 5 – Wrap the strips of green paper around the straw. Carefully secure with staples or glue.
Step 6 – Use your finger to curl back the fingers. This opens up the flowers and makes them look more realistic. I also creased the leaves slightly.
Step 7 – Place the flower in a vase and then repeat the steps to make as many flowers as you'd like.
Step 8 – Tear the blue construction paper into small pieces and drop into the vase to make it look like it is filled with water.
Step 10 – Enjoy your maintenance free flower bouquet