Children are naturally curious about their surroundings and typically enjoy learning about new things.  Because of this, it is definitely worthwhile to incorporate educational activities and events into your family outings.  This can be done in a variety of ways.  Here are some that work for our family.
Museums & Science Centers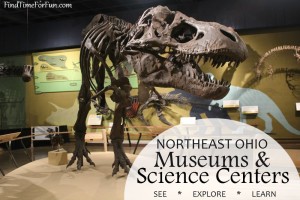 Northeast Ohio is home to a large variety of museums and science centers whose focus includes Art, History, Aviation, Music, Money, Classic Cars and much more.  We've visited a number of area museums and have enjoyed each experience.
Nature Centers
Many of the Metro Parks in Northeast Ohio have Nature Centers which regularly host nature based educational events.  And these events are often FREE.
Local Libraries
Libraries can be a fun and educational experience for kids.  Most have separate children areas where you can read aloud to your children, play educational computer games, or participate in story times led by the librarians.  In addition, there is typically special reading events and contests organized each month.
Zoos & Aquariums
Zoos, Aquariams & Wildlife Reserves across Northeast Ohio (coming soon) – I don't know of a child that doesn't enjoy observing and learning about animals.  And can you blame them, animals really are quite fascinating.  We're extremely fortunate to have two great zoos in Northeast Ohio, an aquarium and even some wildlife preserves.  A visit to any of these locations is both fun and educational.
Of course you don't even need to leave the comfort of your own home to teach your children to enjoy education.  The next time the kids are complaining because they are board, or are stuck inside due to rain, conduct some science experiments.  There are quite a few you can do with regular household items.
These are some of the things our family does to have fun educational and memorable experiences.  What do you do in your household?