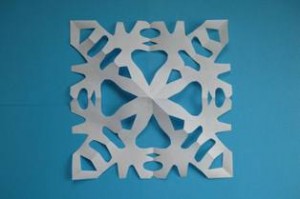 This year we haven't received nearly the amount of snow that we normally do.  Even though I'd prefer it stay that way, my kids would have to disagree.  Because they keep requesting snow, we decided to make our own paper snowflakes.  They enjoyed the craft and hanging their creations on the window.
Items Needed
Thin Paper.  We user white printer paper, but construction paper would also work great
Scissors
Some Creativity
Directions
First cut the paper into the shape of a square.  The easiest way to do this is to fold one corner diagonally and line it up with the opposite end of the paper.  After doing so cut off the extra rectangle piece.  Now you have a square shaped piece of paper that is diagonally folded making it into a triangle.
Fold the paper again by taking the two points on the long side of the triangle and putting them together.  You should now have a slightly smaller triangle.
Repeat the steps again and fold it into an even smaller triangle.
Now use the scissors to cut different shapes into each side of the triangles.  There is no right or wrong way to do this, just use your creativity.
When finished cutting, unfold the paper to reveal a beautiful snowflake.
Additional Options
Experiment with different sizes & of paper
Only fold the paper 2 times before cutting.  Or, if possible, fold it more than 3 times.  Observe how this changes how the snowflake looks
Make a Digital "Paper" Snowflake
And for even more fun, you can make a digital snowflake here.  Isn't technology amazing!