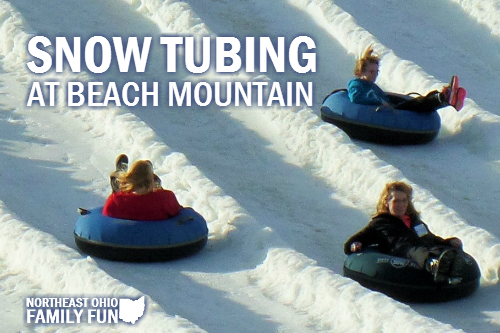 Because we were planning a winter weekend family trip to Warren County Ohio we knew we wanted to take part in some of the popular winter destinations. One of which is snow tubing at Beach Mountain. The Beach is an outdoor water park located near Kings Island and during the winter months, they turn one of the hills into a place to go snow tubing.
Thankfully they make snow daily at Beach Mountain, so guests can go tube regardless of the weather. This was a very good thing for us, because it was 63 degrees the day we visited!
Snow Tubing Fun
After purchasing our two hour tubing pass, we headed to the hill, grabbed our tubes and rode to the top of the hill on the "magic carpet." Not having to walk up to the top of the hill each time made the experience even more enjoyable. Especially because we were already tired out from the waterslides and the trampoline park.
Tip: Go with a group to get a group rate on tickets, or purchase discount tickets available through Groupon. Right now they are offering Over 50% off Admission 
After we reached the top of the hill, we picked a lane to go down, got situated and the workers helped give us a push to get going. The workers were very friendly and we never had to wait long in line.
We had a great time racing one another down the hill and even going down together in the tubing lane that allowed multiple tubes at the same time (pictured above in the far left).
Beach Mountain
2590 Waterpark Dr. Mason, Ohio 45040
513-398-4356
Website
You may also be interested in: