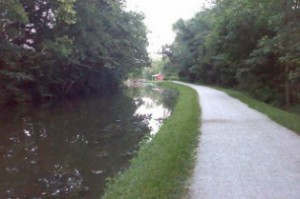 Last Sunday, we headed our to the Ohio & Erie Canal Towpath Trail to participate in the Poker Run hosted by Erie's Bike Shop, MAGI, and Rails to Trails.
This year, my husband couldn't attend, so my parents, the kids and I went together.  The entire ride is 18 miles round trip.  My kids are  a little young to go that far on their own, so my daughter sat in the bike seat attached to my bike and my son rode the bike tag along attached to his grandfather's bike.  NOTE: The tag alongs are perfect for children who want to help pedal, but wouldn't be able to go long distances on their own.
We got to Ernie's around noon and quickly went through the registration process.  Riders can register and start their ride anytime between 9am and 1pm.  Registration is only $5 per hand and you can play as many as you'd like.  All proceeds of the event benefit local towpath trail projects.
After registering and getting our poker hand flyer we were on our way.  The ride takes you along the towpath trail from the Lake Avenue Trailhead where Ernie's is located to the turnaround point in Canal Fulton.  Even though it was extremely hot on Sunday, the ride was quite comfortable as the trail is partially shaded.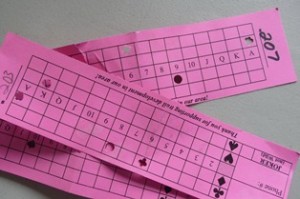 There are 5 checkpoints along the trail, and each is manned with volunteers, water coolers and cookies.  At each checkpoint, riders pull a playing card from the deck, and the volunteers identifying which card was chosen on the riders poker hand flyer.  By the time the ride is finished, each rider has a complete poker hand.  The riders who have one of the 10 hands at the end of the event win a prize.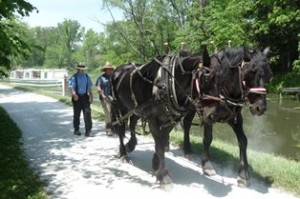 As usual, we had a great experience this year, and one of the highlights was getting to watch the Canal Horses pull the St. Helena III town the canal.  We arrived at the Canal Fulton checkpoint just as the ride was starting.  Then on our way back we rode by the horses and stopped to take some pictures.  It really made this year's ride even more memorable.
And now I can't wait to take the family back to ride on the St. Helena III ourselves!
Many thanks to all the volunteers who made the Poker Run possible.  It's a great event and I encourage you to take part in the next Poker Run scheduled for October.
Have you participated in the Poker Run before?  If so, what's your favorite part?