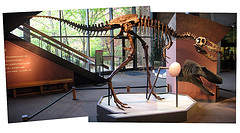 A few weeks ago we spent the morning at The Cleveland Museum of Natural History.  There were a wide variety of exhibits and activities to enjoy.  We stayed for a little over 3 hours, but you could easily make an entire day out of it.  Below are the highlights of our trip.
Planetarium
Since we have young kids we chose the children's planetarium show One World, One Sky: Big Bird's Adventures.  The show was approximately 40 minutes long and the kids enjoyed every minute of it.  Since the audience was filled with other families we didn't have to worry about our children being the only ones making noise or asking questions during the presentation.  And because Big Bird and Elmo were leading the presentation, the kids were captivated the entire time.  The show was one of my favorite aspects of the trip.
Kirtland Hall of Prehistoric Life
While the kids liked looking at the 100s of animals on display throughout the museum, their favorite section was the Dinosaurs & Fossils exhibit in the Kirtland Hall of Prehistoric Life.   The exhibit houses the huge skeletons of a Tyrannosaurus Rex, Triceratops, and a variety of other dinosaurs. 
Ralph Perkins II Wildlife Center
Another favorite was visiting the outdoor wildlife exhibit.  There we saw a variety of owls, hawks, foxes, raccoons, bobcats, deer, otter, and even Bald Eagles.  The Bald Eagles were the highlight of that exhibit as the two birds were awake and moving around.
Smead Discovery Center
The kids also really enjoyed the activities available in the Discovery Center.  During our time there, they dug for dinosaur bones, looked through the microscopes, listened to bird sounds, played with the toys, colored, and put together puzzles.  The room is filled with lots of interactive activities perfect for children of all ages.
I highly recommend visiting The Cleveland Museum of Natural History, it was a fun and educational experience.  On the way home we asked our kids what their favorite part was and they both replied "Everything!"  I'd call that a successful trip!
You may also be interested in: Details on all Northeast Ohio Museums & Science Centers