Sunflowers fields can put a smile on your face in a way few other things can. Their golden happiness is contagious – in a good way! To help spread this joy, we have compiled a list of farms where you can pick your own sunflowers, join in a sunflower festival or simply enjoy a peaceful walk surrounded by the beautiful sunflower field!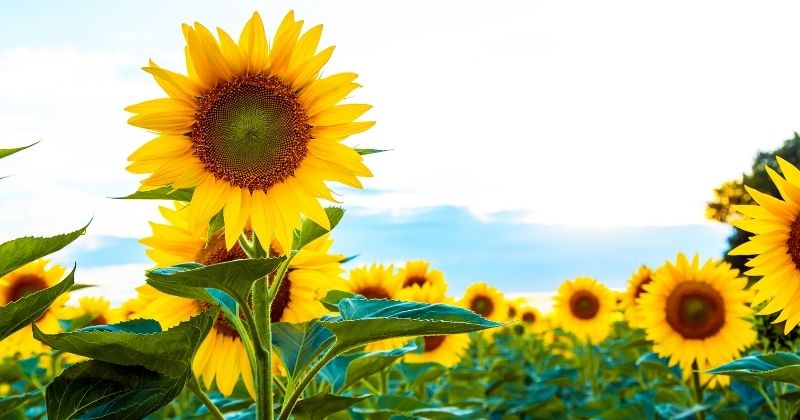 Reminder: To avoid disappointment, use the information below and check the farm's website or call ahead to make sure they have sunflowers available for picking before you head out. In addition, some farms may not accept credit/debit cards so remember to bring cash.
Featured Sunflower Fields in Northeast Ohio
Arrowhead Orchard - Fall Family Fun Activities & Pick Your Own Apples, Sunflowers, Pumpkins
11724 Lisbon St. SE, Paris, OH 44669
&nbsp
This fall, enjoy fresh air, sunshine and fun on the farm at Arrowhead Orchard, there are so many great activities to experience.
Enjoy a hay ride through the farm with special stops for apple picking, visits to the pumpkin patch and to walk through the sunflower field! Be sure to stop at the Apple Cannons this year and shoot down your favorite targets.
Navigate through the 2 acre corn maze for children and adults or head to the smaller grass maze which is perfect for younger children.

Play all day in the HUGE outdoor play area that includes a hay mountain, fort delicious slides, hamster run, apple train, corn pit, pedal car track, children's zip-line (adults included), obstacle course and more!!
Stop by the apple farm market and pick up some delicious treats to take home and enjoy!
When: September 3rd thru October 25th {See Daily Hours}
Cost: Admission is $10 per youth (3 to 17 years), $7 per adult, 2 years and under are free. Season passes also available.
Pumpkins, Sunflowers and Apples are pricing accordingly
Call (330) 614-29473 or visit www.ArrowheadOrchard.com for more details
Sunflower Fields in Northeast Ohio
Arrowhead Orchard Sunflower Field
Pick-your-own Sunflower bouquets! Three u-cut sunflowers are included with the price of admission to the activity area, while supplies last. Additional flowers are available for purchase. The orchard also offers pick-your-own apples, pumpkins and fun fall activity weekends. {Find Out More}
Where: 11724 Lisbon St. SE, Paris, OH 44669
Coshocton Sunflower Festival
Experiencing the joy of spending time with your friends, family and loved ones in a 4-acre field of the happiest flowers – sunflowers! Plus, each ticket holder gets to choose and cut a sunflower of their choice. {Find Out More}
Where: 24688 CR 10, Coshocton, OH 43812
When: August 9-23, 2020
Harps Harvest Sunflower Field
Admission include opportunity to walk through the fields, take photos with the flowers and pick and take home 3 flowers. {Find Out More}
Where: 6636 High Mill Ave. Massillon, Ohio
When: August 13-27, 2021
Hillcrest Orchards Sunflower Festival
Find the perfect bouquet to take home or take a family picture among the field of sunflowers. {Find Out More}
Where: 50336 Telegraph Rd., Amherst, OH 44001
When: September 5-6, 12-13, 2020; 10am-6pm each day
Kuchta Farms Pick-Your-Own Sunflower Weekends
Over an acre of beautiful sunflowers will be waiting for you! Spend some time roaming through the sunflower plants searching for that perfect flower to cut and take home with you. {Find Out More}
Where: 4480 OH-82, Newton Falls, OH 44444
When: September 19, 20, 26-27, 2020; 10am-5pm
Maize Valley Farm & Winery Sunflower Field
Enjoy the field of blooming sunflowers! Small admission fee to enter the field to pick flowers. The blooms are priced by the stem. Make it even more memorable and join them for their special events including Sunset & Sunflowers and Lunch & Sunflowers). Visit their Facebook pages for dates and availability. {Find Out More}
Where: 6193 Edison St. NE, Hartville, OH 44632
Maria's Fields of Hope in Avon
The field is expected to be in full bloom for September's Childhood Cancer Awareness Month! This year, Maria's Fields of Hope in Avon, OH, is experimenting with five different varietals in a 26-acre field where 780,000 seeds were planted. {Find Out More}
Where: Corner of Chester Rd. and Jaycox Rd., Avon, OH (It is visible north of Interstate 90, between the Lear-Nagle and SR 83 exits)
Check out our pictures and review: Maria's Fields of Hope Sunflower Field
Maria's Fields of Hope at Cedar Point
More than 240,000 sunflower seeds on 8 acres of land were planted at the field that honors and celebrates the lives of children battling cancer, and those we have lost. The field is accessible to visitors entering the amusement park from Cedar Point Drive. Note, you do not have to enter the park to go to the field. {Find Out More}
Where: Maria's Field of Hope at Cedar Point: 1201 Cedar Point Dr., Sandusky, OH 44870
Medina Sunflower Farm
Over 10 acres of sunflowers in Medina county! Enjoy the stunning views , take pictures and create memories! {Find Out More}
Where: 7731 Beach Rd. Wadsworth OH 44281
When: July 21 – August 8, 2021
Molnar Farms Sunflower Field
Stop by the farm to enjoy the beautiful field of sunflowers. Admission is free and you are welcome to pick your own sunflowers to bring home. Flowers are priced by the stem and scissors are available for your convenience. Visit their Facebook or Instagram pages for updates on when the fields are in bloom. {Find Out More}
Where: 3115 E. Western Reserve Rd., Poland, OH 44514
Sunflower Days at Ramseyer Farms
Admission to the farm's 50+ activities also includes access to the sunflower field. Over 9 acres are planted and will be loaded with more than 20 varieties of sunflowers! Admission on these days includes one FREE sunflower to take home. Extra flowers may be purchased. Local vendors will also be located near the field for your enjoyment and there will be live music from 2pm-4pm. {Find Out More}
Where: 4100 Ramseyer Ln., Wooster, OH 44691
When: September 19 & 26, 2020; 11am-7pm
Sunny Slope Orchard Sunflower Field
Stop in and visit the orchard to pick-your-own sunflowers! {Find Out More}
Where: 14960 Millersburg Rd. SW, Navarre, OH 44662
When: Open Monday-Saturday through August 15, 2020
You may also be interested in: Things to do this Fall across Northeast Ohio