If you're looking for family friendly places to go and things to do with kids in Northeast Ohio, look no further. Below you'll find details on over 300 family friendly events, activities and local attractions. Use this list as a resource to visit and discover the many great local attractions NE Ohio has to offer. Most are open all year round, while some are seasonal activities. We've even included many FREE things to do with kids in Northeast Ohio!
We hope you find it helpful as you as planning outings with your family and friends. And if so, please share with anyone else that might find it beneficial too!
Majestic Meadows Alpacas & Boutique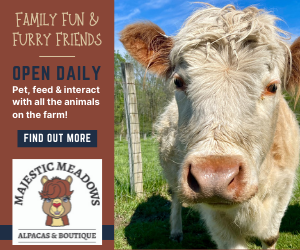 Fun for all ages! Come pet, feed and interact with all the animals on the farm!
Majestic Meadows Alpacas is the perfect place to relax and enjoy the beauty of the outdoors.
The 20-acre property includes open pastures for you to roam in which gives you a truly unique interactive experience that gets you up close and personal with all the animals on the farm as you walk through the fields.
The farm is home to over 75 alpacas, llamas, miniature cows, horses & donkeys, sheep, goats, kangaroos, wallaby, miniature potbellied pigs, camels, turkeys, ducks, rabbits, a tortoise and new for 2023 capybaras.
Open daily. Make reservations to experience the farm today!
428 Athletics - Come play with us!
428 Athletics is 13,000 square feet of all things FUN!
Baseball, softball, golf, virtual reality, and much more! It's the perfect place for parties, corporate events, fundraising events or just a family fun day!
428 offers batting cages, golf simulators, interactive gaming, and spacious turf to run free or even play dodgeball! They are home to Sandlot Softball and 428 Baseball. Other offerings include advanced training for baseball, softball, and golf.
Open daily to the public, walk ins are welcome or book in advance call 216-644-1110 or visit 428.io and book now!
428 Athletics offers a variety of fun and educational clinics for people of all ages keep an eye on the ever-updating events at 428.io/events or text the keyword 428Athletics to 833-907-3841 for updates.
428 Athletics
26361 Curtis Wright Parkway Richmond Heights, OH 44143
Call 216-644-1110 or visit 428.io to book now
SPECIAL DISCOUNT: 20% Rebate to all Northeast Ohio Family Fun readers – eligible on all rentals, camps, and clinics. Not eligible for events/parties. Simply mention the discount when you call or add it to the notes if you book online.
Give Your Child a Great Beginning to a Lifetime of Health & Smiles!
Great Beginnings Pediatric Dentistry provides children from first tooth through 21 years of age with evidence-based oral health care in a fun, supportive environment.
Drs. Rachel Rosen, Laura Adelman, & Danielle Richman recognize the relationship between a child's airway, sleep, & dental development. GBPD is proud to be an early adapter of laser dentistry for children & offers a full range of minimally invasive dentistry options, including SMART fillings, Hall crowns, & SDF treatments. Laser tongue tie & lip tie procedures are also available.
The GBPD team works in partnership with caregivers to ensure optimal outcomes in airway & oral health through nutrition & preventative dentistry education.
GBPD welcomes children of all abilities to enjoy a great beginning to a lifetime of health & smiles!
Great Beginnings Pediatric Dentistry
9964 Vail Drive, Suite 1 Twinsburg, Ohio 44087
Call 330-425-1885 to schedule
Indoor Play Centers
Indoor Play Centers – A fun and great option for any time of the year!
Outdoor Play Centers
Outdoor Play Centers in Northeast Ohio – Spend a day with the family at one of these great outdoor locations. Whether you are looking for mini golf, batting cages or bumper cars each of the locations offer fun options for the entire family.
Museums & Science Centers
Museums & Science Centers in Northeast Ohio – There are many many unique, educational and fun museums and science centers located in Northeast Ohio. Plan a trip with your children to make education fun!
Zoos, Aquariums & Wildlife Preserves
Northeast Ohio Zoos, Aquariums & Exotic Animals – Feed exotic animals from your car, enjoy various zoo programs throughout the year, underwater adventures, drive thru safaris and much more.
Fun on the Farm
Farms Across Northeast Ohio – There are many farms in Northeast Ohio that offer educational tours. Get up close with farm animals, meet the farmers and learn about what it takes to be a farmer. The farms below offer various tours and special events throughout the year.
You may also be interested in:
Pick-Your-Own Apple Orchards | Christmas Tree Farms | Pumpkin Farms
Gardens & Arboretums
Gardens & Arboretums – Another way to get outside and enjoy the beauty of nature is by visiting a local botanical garden. There are many to choose from and most offer a variety of educational activities geared toward children.
Parks & Playgrounds
Parks & Playgrounds across Northeast Ohio – Get outside and enjoy the many state, local and neighborhood parks across Northeast Ohio. Let the kids run and play on the playgrounds, take a hike along the trails or bring along a Frisbee or ball and have a game of catch. There's no shortage of outdoor fun to be had! Plus, read the reviews and see pictures of the local playgrounds we've visited.
Outdoor Water Parks
Outdoor Water Parks across Northeast Ohio – During the warm months, cool off at one of these water parks. Each offer a variety of different amenities including, water slides, playgrounds, lakes, kiddie pools and more.
Indoor Water Parks
Best Indoor Water Parks in Ohio – Whether you are looking for a fun weekend getaway or just want to spend the day, indoor waterparks are always great for the whole family to enjoy. Ohio has many different options to choose from and you can be sure there is one that is perfect for your family!
Beaches
Local Beaches – Even though we're miles from the ocean, there are still some nice beaches in Northeast Ohio. So pack up your towel and sunblock and head out to the beach this summer.
Sports & Recreation
Whether you prefer watching others play or you like to get in the action yourself, there are plenty of sports options in Northeast Ohio. From professional sports teams, sports complexes, athletic events and more. Make it a point to get active and exercise with your children. After all, the family that plays together, stays together!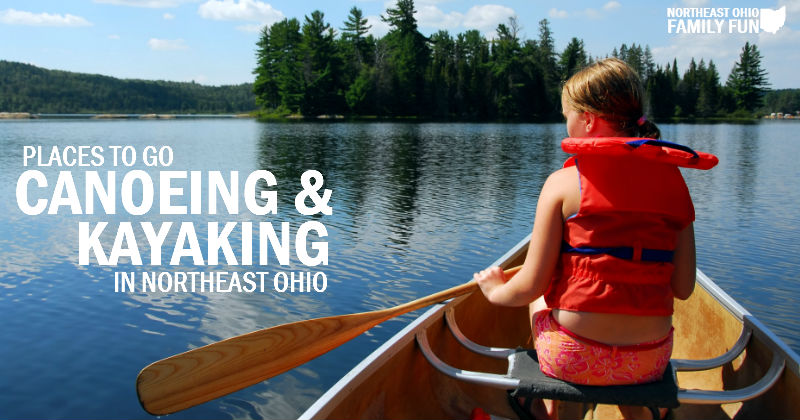 Canoeing & Kayaking Adventures – Paddle sports can be a great way to get your kids outside this summer! It is great exercise and a lot of fun. Remember to bring along some sunscreen and enjoy the ride!
Fishing Derbies – There are quite a few fishing derbies taking place across Northeast Ohio during the spring and summer months. The events give children the opportunity to learn how to fish and join in a friendly competition for a chance to win prizes.
Frisbee/Disc Golf – Enjoy some friendly competition and an afternoon at the park playing frisbee golf with your family.
Horseback Riding – Locations that offer horseback riding lessons, trail rides, camps and more!
Roller Skating Rinks across Northeast Ohio – Enjoy a blast from the past and take your family to the skating rink! Strap on your skates and have some fun!
Rent Bicycles and go on a ride – There are many places you can rent bikes for your entry family
FREE Fun
FREE Things to to in Northeast Ohio – Thankfully it doesn't have to cost at lot to have fun with your family. Northeast Ohio is full of FREE (and low cost) family activities and events taking place each day.
Kids Classes, Lessons & Extracurricular activities
Kids Classes & Clubs – Details on many classes, clubs and extracurricular activities you can sign your kids up for
Kids Clubs in Northeast Ohio – This clubs offer a great opportunity to get your children more involved in sports and activities they love. Most of them include some awesome swag and great discounts.
Theater & Performing Arts
Take your children to a musical or theater production geared toward children or acting classes and watch their imaginations soar.
Festivals & Fairs
There are festivals held each month of the year with focuses ranging from seasonal celebrations, animals, foods, ethnic festivals and more. Most offer FREE admission with a fee for various activities and foods. Below is a list of some of our favorites festivals and fairs. Be sure to visit OhioFestivals.net for all your festival needs.
Comprehensive Schedule and Reviews of Ohio Festivals (Northeast Ohio and Beyond)
County Fairs (Northeast Ohio)
Holiday Events & Activities
Holiday Fun in Northeast Ohio – Many local attractions offer fun family friendly (and sometimes FREE) holiday activities throughout the year. From Martin Luther King Jr. Day to New Years Eve and every holiday in between.
Details will be updated about a month before the holiday so you'll have time to plan. Don't miss out, Sign up for our FREE Weekly Newletter and LIKE Northeast Ohio Family Fun on Facebook
Day Trips, Tours & Unique Excursions
Northeast Ohio is home to make unique tourist attractions. Visit any of the locations below and become a tourist in your hometown.
Seasonal Activities
Winter Fun Guide – Because of all the snow Northeast Ohio gets during the winter, there are plenty of things to do outdoors to enjoy the snow.
Summertime Activities – With the kids out of school for summer break, you'll likely be looking for things to do to keep them entertained. Check out all of these fun family friendly summer programs for kids.
Fall Activities – Now that the heat of Summer is behind us, be sure to get outside and enjoy the beautiful colors, sights and sounds of fall.
As you can see, Northeast Ohio has lots of fun family friendly attractions! I'd love for you to leave a comment about the places on the list you'd recommend or if there are any great places you know of that weren't mentioned.
More Fun Options