Here comes Peter Cottontail Hoppin' down the bunny trail. Hippity hoppity, Easter's on its way! And you're in luck because, for the month leading up to Easter, there are many different Easter Egg Hunts happening across Northeast Ohio. We've rounded up all the best options, including Helicopter Egg Drops, Underwater Egg Hunts, and even Adult Easter Egg Hunts. Plus, we've included other fun Easter-themed events, featuring crafts, games, movies, and more.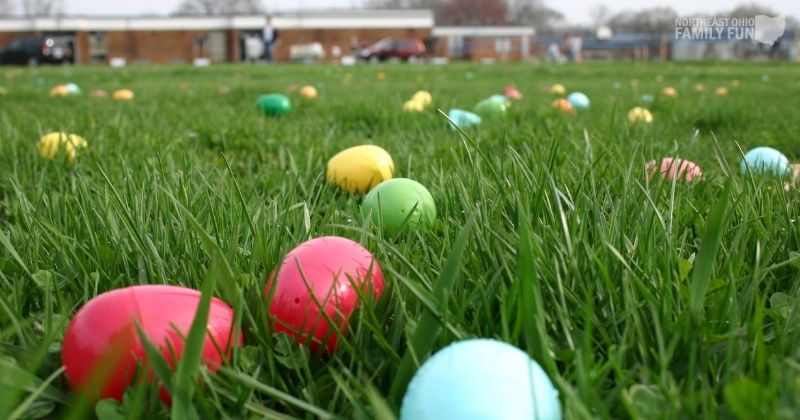 Please note that some of the events require pre-registration and remember to bring along a bag or basket for your kids to gather their eggs in!
Easter Egg Hunt at Majestic Meadows Alpacas & Boutique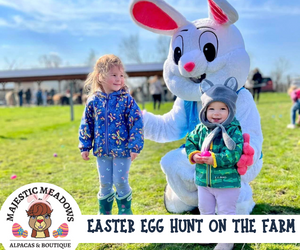 Fun for all ages! Your family will love hunting for eggs and seeing all the animals at Majestic Meadows Alpacas!
Enjoy an Easter Egg Hunt organized by age group
Get your photos with the Easter Bunny
Pet, feed and interact with all the animals on the farm
The 20-acre farm has open pastures for you to roam in which gives you a truly unique interactive experience that gets you up close and personal with all the animals as you walk through the fields.
Make reservations to experience an easter egg hunt on the farm today!
Northeast Ohio Easter Egg Hunts 2023
Jump Directly to a Specific Date:
Week of March 6-12, 2023
Week of March 13-19, 2023
Week of March 20-26, 2023
Week of March 27-April 2, 2023
Week of April 3-9, 2023
Adult Easter Egg Hunts
Week of March 6-12, 2023
FREE Easter Bunny Grand Arrival Event {Find Out More}
Where: Cuyahoga County – SouthPark Mall, 500 SouthPark Ctr., Strongsville, OH 44136
When: Saturday, March 11, 2023
Week of March 13-19, 2023
Easter Bunny Arrival at Eastwood Mall {Find Out More}
Where: Trumbull County – 5555 Youngstown-Warren Rd., Niles, OH 44446
When: Saturday, March 18, 2023
Pysanky Ukrainian Egg Workshop
Ages 10 and up. {Find Out More}
Where: Jefferson County – Leonardo's Coffeehouse, 159 N. 4th St., Steubenville, OH 43952
When: Saturday, March 18, 2023 [REGISTER]
FREE The Great Steubenville Eggsibition {Find Out More}
Where: Jefferson County – Downtown Steubenville, OH 43952
When: March 18-April 23, 2023
FREE Messy Church Easter Egg Hunt {Find Out More}
Where: Cuyahoga County – United Methodist Church of Berea, 170 Seminary St., Berea, OH 44017
When: Sunday, March 19, 2023
Week of March 20-26, 2023
FREE The Great Steubenville Eggsibition {Find Out More}
Where: Jefferson County – Downtown Steubenville, OH 43952
When: Through April 23, 2023
Pancake Breakfast & Easter Egg Hunt {Find Out More}
Where: Lorain County – Avon Middle School, 3445 Long Rd., Avon, OH 44011
When: Saturday, March 25, 2023
Breakfast with the Easter Bunny + Overnight Stay at Hampton Inn Stow {Find Out More}
Where: Lorain County – Hampton Inn by Hilton-Stow, 4331 Lakepointe Corporate Dr., Stow, OH 44224
When: Saturday, March 25, 2023 [REGISTER]
FREE Community Easter Event
Bring the kids for a special appearance by the Easter Bunny with treats and more! {Find Out More}
Where: Tallmadge County – St. Mark Lutheran Church, 158 North Ave., Tallmadge, OH 44278
When: Saturday, March 25, 2023
FREE Easter at Jamie's Flea Market
Bring your camera and take pictures with the Easter Bunny. Adults pick an Easter egg for a chance to win a Jamie's gift certificate. {Find Out More}
Where: Lorain County – 46388 Telegraph Rd. (Rte. 113), Amherst, OH 44001
When: Saturday, March 25, 2023
Michaud's Bunny Hop Family Easter Party {Find Out More}
Where: Cuyahoga County – Michaud's Catering & Event Center, 16808 Pearl Rd., Strongsville, OH 44136
When: Saturday, March 25, 2023 [REGISTER]
FREE North Park Easter Egg Hunt {Find Out More}
Where: Lorain County – North Park Sports Complex, 901 Duffy St., Elyria, OH 44035
When: Saturday, March 25, 2023
Egg-stra Wild Egg Hunt at the Akron Zoo {Find Out More}
Where: Summit County – Akron Zoo, 505 Euclid Ave., Akron, OH 44307
When: March 25-26 & April 1-2, 8, 2023 [REGISTER]
Tribute to Eggshelland {Find Out More}
Where: Geauga County – Eddy's Fruit Farm, 12079 Caves Rd., Chesterland, OH 44026
When: March 25-April 9, 2023
Trevi's Easter Bunny Brunch {Find Out More}
Where: Lake County – Trevi Catering & Events, 29717 Euclid Ave., Wickliffe, OH 44092
When: Sunday, March 26, 2023 [REGISTER]
Week of March 27-April 2, 2023
FREE The Great Steubenville Eggsibition {Find Out More}
Where: Jefferson County – Downtown Steubenville, OH 43952
When: Until April 23, 2023
Tribute to Eggshelland {Find Out More}
Where: Geauga County – Eddy's Fruit Farm, 12079 Caves Rd., Chesterland, OH 44026
When: Until April 9, 2023
Macedonia Parks & Recreation Eeaster Egg Hunts {Find Out More}
Where: Summit County – Longwood Park, 1566 E. Aurora Rd., Macedonia, OH 44056
When: Friday, March 31, 2023 [REGISTER]
FREE Pictures with the Easter Bunny Inside the Atrium Lounge {Find Out More}
Where: The Atrium Lounge at Eton Chagrin Boulevard, 28601 Chagrin Blvd., Woodmere, OH 44122
When: Friday, March 31, 2023
FREE Lowe's DIY Kids: Build a Bunny Planter Workshop {Find Out More}
Where: Several locations in Northeast Ohio
When: Saturday, April 1, 2023 [REGISTER]
FREE YMCA Easter Eggstravaganza {Find Out More; scroll to pg. 13}
Where: Wayne County – Orrville YMCA, 1801 Smucker Rd., Orrville, OH 44667
When: Saturday, April 1, 2023
FREE City of Painesville Easter Egg Hunt {Find Out More}
Where: Lake County – Painesville Square, S. State St., Painesville, OH 44077
When: Saturday, April 1, 2023
FREE Barberton's Magic Egg Hunt {Find Out More}
Where: Summit County – Lake Anna Park, 615 W. Park Ave., Barberton, OH 44203
When: Saturday, April 1, 2023
Mayfield Village Residents' Easter Trail Extravaganza {Find Out More}
Where: Cuyahoga County – Mayfield Village Pool, Mayfield, OH 44143
When: Saturday, April 1, 2023 [REGISTER; open to Mayfield Village residents]
FREE Hippity Hoppity Easter Event with the Easter Bunny & Artisan Market {Find Out More}
Where: Summit County – Dayton Nursery, 3459 Cleveland-Massillon Rd., Norton, OH 44203
When: Saturday, April 1, 2023
FREE The Joy Team Easter Egg Hunt {Find Out More}
Where: Medina County – 2500 Plum Creek Pkwy., Medina, OH 44256
When: Saturday, April 1, 2023 [REGISTER]
FREE Giant Egg Drop & Puppet Show {Find Out More}
Where: Mahoning County – Canfield Presbyterian Church, 140 W. Main St., Canfield, OH 44406
When: Saturday, April 1, 2023
FREE Streetsboro Easter Egg Hunt {Find Out More}
Where: Portage County – Streetsboro City Park, 8970 Kirby Ln., Streetsboro, OH 44241
When: Saturday, April 1, 2023
FREE Easter Breakfast & Egg Hunt {Find Out More}
Where: Medina County – Brunswick UMC, 1395 Pearl Rd., Brunswick, OH 44212
When: Saturday, April 1, 2023 [REGISTER]
FREE Easter Bunny Photos at Veterans' Memorial Park {Find Out More}
Where: Lorain County – Veterans' Memorial Park, 32756 Lake Rd., Avon Lake, OH 44012
When: Saturday, April 1, 2023 [REGISTER]
FREE Painesville Egg Hunt {Find Out More}
Where: Lake County – Veterans Park at Painesville Square, 2-98 S. Park Pl., Painesville, OH 44077
When: Saturday, April 1, 2023
FREE Bedford Easter Egg Hunt at Bedford Bearcat Stadium {Find Out More}
Where: Cuyahoga County – Bedford High School, 481 Northfield Rd., Bedford, OH 44146
When: Saturday, April 1, 2023
FREE Easter Egg Hunt {Find Out More}
Where: Portage County – Hartman Park, 325 Townline Rd., Aurora, OH 44202
When: Saturday, April 1, 2023
FREE Easter Egg Hunt {Find Out More}
Where: Lorain County – Ranger Stadium, 34600 Bainbridge Rd., North Ridgeville, OH 44039
When: Saturday, April 1, 2023
FREE City of Alliance's Community Easter Egg Hunt {Find Out More}
Where: Stark County – Butler Rodman Park, 2295 W. State St., Alliance, OH 44601
When: Saturday, April 1, 2023
Spring Eggstravaganza
This event replaces the Evening with the Easter Bunny event. {Find Out More}
Where: Mahoning County – Lariccia Family Community Center, Boardman Park, 375 Boardman Poland Rd., Boardman, OH 44512
When: Saturday, April 1, 2023 [REGISTER]
FREE Easter Eggstravaganza at Hope Community Church {Find Out More}
Where: Summit County – 3033 Middleton Rd., Hudson, OH 44236
When: Saturday, April 1, 2023 [REGISTER]
FREE Easter Egg Hunt at Coulby Park {Find Out More}
Where: Lake County – Coulby Park Gazebo, 28730 Ridge Rd., Wickliffe, OH 44092
When: Saturday, April 1, 2023
FREE Easter Parade {Find Out More}
Where: Cuyahoga County – City of North Royalton, OH 44133
When: Saturday, April 1, 2023
Easter Bunny Tea Party & Egg Hunt {Find Out More}
Where: Cuyahoga County – Great Northern Mall, 4954 Great Northern Blvd., North Olmsted, OH 44070
When: Saturday, April 1, 2023 [REGISTER]
FREE Concord Township Easter Egg Hunt {Find Out More}
Where: Lake County – Concord Township Town Hall, 7229 Ravenna Rd., Painesville, OH 44077
When: Saturday, April 1, 2023
FREE Jackson Township Easter Egg Hunt {Find Out More}
Where: Stark County – North Park, 7660 Fulton Dr. NW‎, Massillon, OH 44646
When: Saturday, April 1, 2023
FREE Cornerstone Elementary Community Easter Egg Hunt {Find Out More}
Where: Wayne County – Cornerstone Elementary School, 101 West Bowman St., Wooster, OH 44691
When: Saturday, April 1, 2023 [REGISTER]
FREE Community Easter Egg Hunt {Find Out More}
Where: Stark County – Martindale Christian Fellowship Church, 3545 Martindale Rd. NE, Canton, OH 44714
When: Saturday, April 1, 2023
FREE Community Easter Egg Hunt {Find Out More}
Where: Lake County – Harvest Community Church, 36400 Maplegrove Rd., Willoughby Hills, OH 44094
When: Saturday, April 1, 2023
Easter Egg Hunt & Pancake Breakfast {Find Out More}
Where: Cuyahoga County – Broadview Recreation Center (Pavilion by Splash Park), 9543 Broadview Rd., Broadview Heights, OH 44147
When: Saturday, April 1, 2023 [REGISTER]
FREE Valley Lutheran's Easter Egg Hunt {Find Out More}
Where: Cuyahoga County – Valley Lutheran Church, 87 E. Orange St., Chagrin Falls, OH 44022
When: Saturday, April 1, 2023
FREE Hop Along the Storybook Bunny Trail {Find Out More}
Where: Summit County – Northwest Family Recreation Center, 1730 Shatto Ave., Akron, OH 44313
When: Saturday, April 1, 2023
FREE Bunny Parade & BAYarts Spring Fling {Find Out More}
Where: Cuyahoga County – Bay Village, OH 44140 (See parade route here)
When: Saturday, April 1, 2023
FREE Easter Eggstravaganza {Find Out More}
Where: Summit County – Hudson Haunted House, 2250 Barlow Rd., Hudson, OH 44236
When: Saturday, April 1, 2023
FREE Easter Egg Hunt {Find Out More}
Where: Cuyahoga County – Brook Park Recreation Center, 17400 Holland Rd., Brook Park, OH 44142
When: Saturday, April 1, 2023
Breakfast with the Bunny {Find Out More}
Where: Lake County – Farmpark, 8800 Euclid Chardon Rd., Kirtland, OH 44094
When: April 1-2 & 7-8, 2023 [REGISTER]
Egg-stra Wild Egg Hunt at the Akron Zoo {Find Out More}
Where: Summit County – Akron Zoo, 505 Euclid Ave., Akron, OH 44307
When: April 1-2, 8, 2023 [REGISTER]
Easter Egg Hunt on the Farm {Find Out More}
Where: Medina County – Majestic Meadows, 4195 Abbeyville Rd., Medina, OH 44256
When: April 1-2 & 7-8, 2023 [REGISTER here]
Easter Bunny Brunch {Find Out More}
Where: Stark County – Royal Docks Brewing Co. Brewhouse + Cannery, 5646 Wales Ave. NW, Massillon, OH 44646
When: Saturday, April 2, 2023 [REGISTER]
FREE Lions' Easter Egg Hunt {Find Out More}
Where: Cuyahoga County – Memorial Park Playground, 14600 State Rd., North Royalton, OH 44133
When: Sunday, April 2, 2023
Easter Eggstravaganza {Find Out More}
Where: Cuyahoga County – Make Believe Family Fun Center, 8303 Day Dr., Parma, OH 44129
When: Sunday, April 2, 2023 [REGISTER]
Wildlife Egg-stravaganza {Find Out More}
Where: Geauga County – The West Woods, 9465 Kinsman Rd., Novelty, OH 44072
When: Sunday, April 2, 2023 [REGISTER]
Duke's K9 Dash N Splash Annual Egg Hunt EGGstravaganza {Find Out More}
Where: Portage County – 6948 Ohio 303, Windham, OH 44288
When: Sunday, April 2, 2023
Week of April 3-9, 2023
FREE The Great Steubenville Eggsibition {Find Out More}
Where: Jefferson County – Downtown Steubenville, OH 43952
When: Until April 23, 2023
Tribute to Eggshelland {Find Out More}
Where: Geauga County – Eddy's Fruit Farm, 12079 Caves Rd., Chesterland, OH 44026
When: Until April 9, 2023
FREE Lehman's Easter Egg Hunt {Find Out More}
Where: Wayne County – Lehman's Store, 4779 Kidron Rd., Dalton, OH 44618
When: April 3-8, 2023
FREE Easter Egg Scavenger Hunt & Pictures with the Bunny {Find Out More}
When: Friday, April 7, 2023 [REGISTER]
Sensory Cinema: HOP {Find Out More}
Where: Stark County – Canton Palace Theatre, 605 Market Ave. N, Canton, OH 44702
When: Friday, April 7, 2023 [REGISTER]
Kids Movie: HOP {Find Out More}
Where: Stark County – Canton Palace Theatre, 605 Market Ave. N, Canton, OH 44702
When: Friday, April 7, 2023 [REGISTER]
Breakfast with the Bunny {Find Out More}
Where: Lake County – Farmpark, 8800 Euclid Chardon Rd., Kirtland, OH 44094
When: April 7-8, 2023 [REGISTER]
Easter Egg Hunt on the Farm {Find Out More}
Where: Medina County – Majestic Meadows, 4195 Abbeyville Rd., Medina, OH 44256
When: April 7-8, 2023 [REGISTER here]
FREE Bunny Hop Trail {Find Out More} NEW DATE!
Where: Summit County – Silver Springs Park, 5238 Young Rd., Stow, OH 44224
When: Saturday, April 8, 2023 [REGISTER]
FREE YMCA Community Easter Egg Hunt {Find Out More}
Where: Stark County – Eric Snow YMCA, 420 3rd St. NW, Canton, OH 44702
When: Saturday, April 8, 2023
FREE Rootstown Lions Club's Annual Easter Egg Hunt, Easter Bunny & Touch-a-Truck {Find Out More}
Where: Portage County – Gracie Fields, 3540 Cook Rd., Rootstown, OH 44272
When: Saturday, April 8, 2023
FREE 11th Street Church of God Easter Egg Hunt {Find Out More}
Where: Stark County – Canton Garden Center, 1615 Stadium Park Dr. NW, Canton, OH 44718
When: Saturday, April 8, 2023
FREE 16th Annual Vietnam Vets Motorcycle Club Easter Egg Hunt {Call 330-268-4154 for info}
Where: Stark County – Arboretum Park, 3220 38th St. NW, Canton, OH 44702
When: Saturday, April 8, 2023
Egg-stra Wild Egg Hunt at the Akron Zoo {Find Out More}
Where: Summit County – Akron Zoo, 505 Euclid Ave., Akron, OH 44307
When: Saturday, April 8, 2023 [REGISTER]
FREE RPTA Easter Egg Hunt at Riverside High School {Find Out More}
Where: Lake County – Riverside High School, 585 Riverside Dr., Painesville, OH 44077
When: Saturday, April 8, 2023
FREE Easter Egg Hunt at Solon High School Stadium {Find Out More}
Where: Cuyahoga County – Solon High School Football Field, 33600 Inwood Dr., Solon, OH 44139
When: Saturday, April 8, 2023
Chardon Easter Egg Hunt + Pancake Breakfast {Find Out More}
Where: Geauga County
– Pancake Breakfast with the Easter Bunny: Pilgrim Christian Church, Chardon Square, 100 Short Ct. St., Chardon, OH 44024
– Chamber of Commerce's Easter Egg Hunt: Chardon Square/Gazebo, 101 S. Hambden St., Chardon, OH 44024 {Find Out More}
When: Saturday, April 8, 2023 [REGISTER]
Breakfast with the Easter Bunny & Egg Hunt at Maize Valley {Find Out More}
Where: Stark County – Maize Valley Winery, 6193 Edison St. NE (S.R. 619), Hartville, OH 44632
When: Saturday, April 8, 2023 [REGISTER]
Easter Breakfast & Egg Hunt {Find Out More}
Where: Summit County – Stan Hywet Hall & Gardens, 714 N. Portage Path, Akron, OH 44303
When: Saturday, April 8, 2023 [REGISTER]
Underwater Egg Hunt at Lakewood High School Pool {Find Out More}
Where: Cuyahoga County – Lakewood High School, 1456 Warren Rd., Lakewood, OH 44107
When: Saturday, April 8, 2023 [REGISTER]
FREE Kiwanis Club of Brecksville Easter Egg Hunt {Find Out More}
Where: Cuyahoga County – Brecksville-Broadview Heights High School, 6380 Mill Rd., Broadview Heights, OH 44147
When: Saturday, April 8, 2023
FREE Kent's Youth Easter Egg Hunt {Find Out More}
Where: Portage County – 601 Middlebury Rd., Kent, OH 44240
When: Saturday, April 8, 2023
FREE City of Oberlin Easter Egg Hunt {Find Out More}
Where: Lorain County – Tappan Square, 67 N. Main St., Oberlin, OH 44074 (Near W. College St.)
When: Saturday, April 8, 2023
FREE North Canton Jaycees Easter Egg Hunt {Find Out More}
Where: Stark County – 364 7th St. NE, North Canton, OH 44720
When: Saturday, April 8, 2023 [REGISTER]
FREE Easter Egg Hunt Celebration! {Find Out More}
Where: Cuyahoga County – St. Paul Lutheran Church, 276 E. Bagley Rd., Berea, OH 44017
When: Saturday, April 8, 2023 [REGISTER]
Breakfast with the Bunny & Annual Easter Egg Hunt {Find Out More}
Where: Summit County – Central Park, 1795 Steese Rd., Green, OH 44685
When: Saturday, April 8, 2023 (Egg hunt is FREE; register for Breakfast tickets here)
FREE Easter Egg Hunt {Find Out More}
Where: Summit County – Tallmadge Recreation Center, 46 N. Munroe Rd., Tallmadge, OH 44278
When: Saturday, April 8, 2023 [REGISTER]
FREE Easter Egg Hunt Celebration {Find Out More}
Where: Cuyahoga County – St. Paul Lutheran Church, 276 E. Bagley Rd., Berea, OH 44017
When: Saturday, April 8, 2023 [REGISTER]
Breakfast With The Easter Bunny & Easter Egg Hunt {Find Out More}
Where: Cuyahoga County – Applebee's Grill + Bar, 5658 Mayfield Rd., Lyndhurst, OH 44124
When: Saturday, April 8, 2023 [REGISTER]
Easter Dino Egg Hunt {Find Out More}
Where: Medina County – The Lodge at Allardale, 141 Remsen Rd., Medina, OH 44256
When: Saturday, April 8, 2023 [REGISTER]
FREE Helicopter Egg Drop {Find Out More}
Where: Lorain County – Woodlawn Church, 2800 Woodlawn Ave. NW, Canton, OH 44708
When: Saturday, April 8, 2023
FREE Egg Drop Community Party {Find Out More}
Where: Stark County – Paradise Church, 619 E. Main St., Louisville, OH 44641
When: Saturday, April 8, 2023
FREE Twinsburg's Easter Egg Roll {Find Out More}
Where: Summit County – Twinsburg Community Center, 10260 Ravenna Rd., Twinsburg, OH 44087
When: Saturday, April 8, 2023 [REGISTER]
Cleveland's Biggest Easter Egg Hunt {Find Out More}
Where: Cuyahoga County – 3090 Martin Luther King Jr. Dr., Cleveland, OH 44104
When: Saturday, April 8, 2023 [REGISTER]
Cleveland Botanical Gardens' Spring Egg Hunt {Find Out More}
Where: Cuyahoga County – Cleveland Botanical Gardens, 11030 East Blvd., Cleveland, OH 44106
When: Saturday, April 8, 2023 [REGISTER]
FREE Easter Egg Hunt at Riverside Park {Find Out More}
Where: Cuyahoga County – Riverside Park, Chagrin Falls, OH 44022
When: Saturday, April 8, 2023
FREE Easter Egg Hunt {Find Out More}
Where: Stark County – Full Devotion-FBC, 4110 38th St. NW, Canton, OH 44718
When: Saturday, April 8, 2023
FREE Traveling Easter Bunny, Easter Egg Hunt, & Egg Painting Craft for Kids {Find Out More}
Where: Ashland County – Pleasant Hill Lake Park (Shelter House #2), 3431 State Route 95, Perrysville, OH 44864
When: Saturday, April 8, 2023
FREE Traveling Easter Bunny, Easter Egg Hunt, & Egg Painting Craft for Kids {Find Out More}
Where: Tuscarawas County – Atwood Lake Park, 9500 Lakeview Rd., Mineral City, OH 44656
When: Saturday, April 8, 2023
FREE Traveling Easter Bunny, Easter Egg Hunt, & Egg Painting Craft for Kids {Find Out More}
Where: Richland County – Charles Mill Lake Park, 1277A OH-430, Mansfield, OH 44903
When: Saturday, April 8, 2023
FREE City of Ravenna's Easter Egg Hunt & Touch a Truck {Find Out More}
Where: Portage County – Ravenna City Park, 165 Oakwood St., Ravenna, OH 44266
When: Saturday, April 8, 2023 [REGISTER]
FREE Easter Egg Hunt at Sims Park {Find Out More}
Where: Cuyahoga County – Sims Park, 23131 Lake Shore Blvd., Euclid, OH 44123
When: Saturday, April 8, 2023
FREE Easter Egg Hunt {Find Out More}
Where: Cuyahoga County – City Hall Park, 15700 Bagley Rd., Middleburg Heights, OH 44130
When: Saturday, April 8, 2023
FREE 67th Annual Egg Dash {Find Out More}
Where: Summit County – 6 different locations throughout the City of Cuyahoga Falls, OH
When: Saturday, April 8, 2023
FREE EGGstraordinary Hunt at Venture Church {Find Out More}
Where: Mahoning County – 7872 Glenwood Ave., Boardman, OH 44512
When: Saturday, April 8, 2023
FREE Community Easter Egg Hunt {Find Out More}
Where: Stark County – Otterbein UMC Navarre, 6025 Shepler Church Ave. SW, Navarre, OH 44662
When: Saturday, April 8, 2023
Easter Bunny Little Leapers {Find Out More}
Where: Stark County – Sky Zone Trampoline Park, 4381 Whipple Ave. NW, Canton, OH 44718
When: Saturday, April 8, 2023 [REGISTER]
Stress-free Easter Egg Hunt {Find Out More}
Where: Portage County – 945 Bartlett Rd., Aurora, OH 44202
When: Sunday, April 9, 2023 [REGISTER]
Tall Oaks Signature Event: Easter Brunch & Egg Hunt {Find Out More}
Where: Lake County – Tall Oaks Event Complex, 9199 Chillicothe Rd., Kirtland, OH 44094
When: Sunday, April 9, 2023 [REGISTER]
Wagner's of Westlake's Easter Buffet {Find Out More}
Where: Cuyahoga County – Wagner's of Westlake, 30855 Center Ridge Rd., Westlake, OH 44145
When: Sunday, April 9, 2023 [REGISTER]
Brewdog Easter Brunch {Find Out More}
Where: Cuyahoga County – BrewDog Cleveland Outpost, 1956 Carter Rd., Cleveland, OH 44113
When: Sunday, April 9, 2023 [REGISTER]
Easter Egg Hunt {Find Out More}
Where: Cuyahoga County – Taylor Act of Learning (Yeladim) Academy, 13712 Bellaire Rd., Cleveland, OH 44135
When: Sunday, April 9, 2023 [REGISTER]
Adult Egg Hunts (Age 21+)
FREE The Great Steubenville Eggsibition {Find Out More}
Where: Jefferson County – Downtown Steubenville, OH 43952
When: Through April 23, 2023
Wolf Creek Winery Adult Egg Hunt {Find Out More}
Where: Summit County – The Winery at Wolf Creek, 2637 Cleveland Massillon Rd., Norton, OH 44203
When: Saturday, March 18, 2023 [REGISTER]
FREE Barberton's Adult Egg Hunt {Find Out More}
Where: Summit County – TBA
When: Saturday, March 25, 2023
Adult Flashlight Dash Egg Hunt {Find Out More}
Where: Lake County – Black Brook Golf Course & Practice Center, 8900 Lakeshore Blvd., Mentor, OH 44060
When: Saturday, April 1, 2023 [REGISTER]
Pawsitive Hope Inc.'s Adult Easter Egg Hunt Fundraiser {Find Out More}
Where: Stark County – 1348 Easthill St. SE, North Canton, OH 44720
When: Saturday, April 1, 2023 [REGISTER]
Adult Easter Egg Hunt {Find Out More}
Where: Tallmadge County – Akron Turner Club, 547 Munroe Falls Rd., Tallmadge, OH 44278
When: Saturday, April 1, 2023 [REGISTER]
North Olmsted Kiwnias Club's 1st Annual Adult Egg Hunt {Find Out More}
Where: Cuyahoga County – 24101 Cedar Point Rd., North Olmsted, OH 44070
When: Sunday, April 2, 2023 [REGISTER]
Cocktails & Cottontails Adult Egg Hunt {Find Out More}
Where: Summit County – Fox Den Golf Course, 2770 Call Rd., Stow, OH 44224
When: Thursday, April 6, 2023 [REGISTER]
FREE Kent's Adult Easter Egg Scramble {Find Out More}
Where: Portage County – Ray's Place, 135 Franklin Ave., Kent, OH 44240
When: Friday, April 7, 2023 [REGISTER]
Adult Easter Egg Hunt {Find Out More}
Where: Ashtabula County – Debonne Vineyards, 7840 Doty Rd., Madison, OH 44057
When: Fridays, April 7 & 14, 2023 [REGISTER]
Adult Egg Hunt at the Akron Zoo {Find Out More}
Where: Summit County – Akron Zoo, 505 Euclid Ave., Akron, OH 44307
When: Friday, April 8, 2023 [REGISTER]
21+ Adult Easter Egg Hunt {Find Out More}
Where: Summit County – The Winery at Wolf Creek, 2637 Cleveland Massillon Rd., Norton, OH 44203
When: SOLD OUT FOR 2023 [REGISTER]
Even more Easter Fun Options: