Birds chirping, sun shining and flowers blooming…the spring season is such a great time of year! If you're looking for ideas and inspiration for things to do this spring season, this list is for you!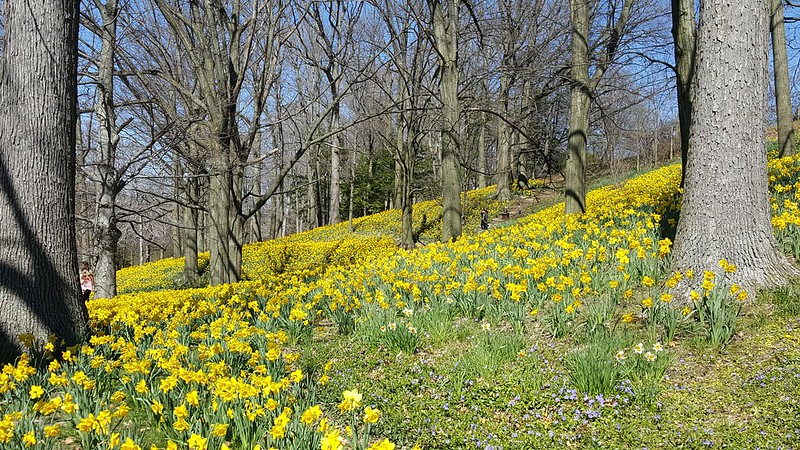 There are many fun activities taking place outdoors so you can enjoy the mild spring weather. And because we know that spring can also bring rain, there are many fun indoor options as well. Enjoy!
100 Things to Do in Northeast Ohio this Spring
Majestic Meadows Alpacas & Boutique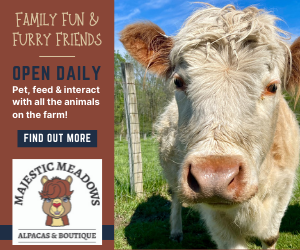 Fun for all ages! Come pet, feed and interact with all the animals on the farm!
Majestic Meadows Alpacas is the perfect place to relax and enjoy the beauty of the outdoors.
The 20-acre property includes open pastures for you to roam in which gives you a truly unique interactive experience that gets you up close and personal with all the animals on the farm as you walk through the fields.
The farm is home to over 75 alpacas, llamas, miniature cows, horses & donkeys, sheep, goats, kangaroos, wallaby, miniature potbellied pigs, camels, turkeys, ducks, rabbits, a tortoise and new for 2023 capybaras.
Open daily. Make reservations to experience the farm today!
Jump Directly to Specific Topic:
Outdoor Activities | Indoor Activities | Road Trips | Holiday Fun | Fun at Home
Outdoor Activities
Head out to a Maple Syrup Festivals and learn how to tap a tree and sample some delicious maple syrup.
Let your kids burn off some energy at one of the many featured Parks & Playgrounds. Join an area Playgroup and plan a play date at the park with other moms.
Learn how to fish, enjoy a friendly competition and compete for prizes in one of the local Youth Fishing Derbies.
See the Animals at either the Cleveland Zoo or Akron Zoo.
Ride on a Canal Boat pulled by a Horse (Season Starts in April)
Pack a frisbee and play a game of Frisbee / Disc Golf. There are lots of local courses to choose from.
Hike the trails at a State or Metropark. Looking for paved paths? Check out our list of Stroller Friendly Hiking Trails.
Sign up for the Cleveland Metroparks Kids Club
Head to the Holden Arboretum and check out the Tower and Canopy Walkway
Go down the HUGE slide at Secrest Arboretum or visit one of the many other Outdoor Gardens & Arboretums across Northeast Ohio
Grab your smart phone, download the free geocaching app and head out on a Geocaching scavenger hunt or try your hand at Orienteering
Take an educational field trip to explore the Outdoor Living History Museum at Hale Farm & Village.
During the spring the local waterfalls are often running nicely. Hike the trails to see area waterfalls like Brandywine Falls and Mill Creek Falls in Cleveland at The Gorge in Akron and Lanterman's Falls at Lanterman's Mill in Youngstown.
Go on a zip lining adventure. Many local ropes courses and treetop adventures open for the season during the spring.
Take your pup to a local Dog park.
Indoor Activities
Make a day trip or plan an overnight stay at a nearby Indoor Water Parks. Ohio has many different options to choose from and you can be sure there is one that is perfect for your family!
If you don't want to go to a large indoor water park, check out our list of local indoor pools. Most offer swimming lessons and open swim times.
Challenge yourself to complete on of the area Ninja Warrior Obstacle Courses
Take a tour of Harry London's Chocolate Factory, learn how chocolate is made and get some free samples too! There are also other local factory tours available in person or online. Note: Reservations are required.
Sign your Kids up for a drop in Art Class or Paint Your Own Pottery
Take Music Lessons and learn to play an instrument or sing
Take your children to a musical or theater production geared toward children or acting classes and watch their imaginations soar.
Does your child have a birthday party during the summer months? Use the Birthday Party Planning Guide to help make planning a breeze.
Enjoy a free kid's meal at one of the restaurants that offer Kid's Eat Free
Admission is always FREE for the Cleveland Museum of Art and they offer various special touches to make it a family friendly destination including.
Learn to build at a Home Depot Kids Workshop – Hands on Projects for Kids
Get some great deals on gently used children's clothing at an area Kid's Spring/Summer Consignment Sale. Want to earn extra money on the items your kids have outgrown or no longer use? Check out our Top Tips for Selling at a Kids Consignment Sale and then KonMari your house.
See historical airplanes at MAPS Air Museum, learn all about money at the FREE Cleveland Money Museum located at the Federal Reserve
Think Laser Tag, Inflatables, Trampoline Parks, Roller Skating and more at one of the local Indoor Play Centers.
Head to Avon Lake Public Library's DiscoveryWorks a fun an unique indoor play area with one area designed for infants through age 7, and another Tweens area for age 8 and older.
And you can also head to the FREE Indoor Playland at First Christian Church, in North Canton. It's open the public during select days/hours during the week.
Head to the Great Lakes Science Center for some hands on Science Fun. Then try some simple science experiments at home
Watch a FREE Planetarium Show at the Ward Beecher Planetarium in Youngstown
Road Trips
Family Fun Across the US – Did you know there are websites similar to Northeast Ohio Family Fun for various cities all across the country? Whether your family is traveling across the country or just across the state, I hope this list of family friend websites helps your plan the best family road trip ever!
Interested in a road trip, but want to stay in the state of Ohio? Consider heading to Columbus, Warren County (Cincinnati Area) or Lake Erie Shores & Islands. We had a great time visited each of the locations.
Holiday Fun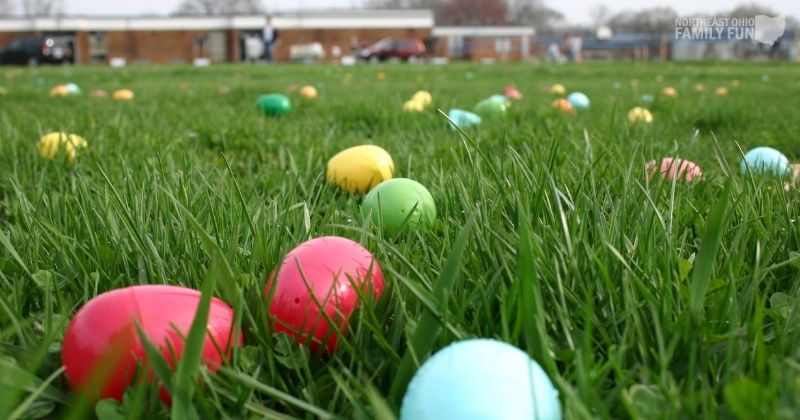 Attend a parade or other family-friendly St. Patrick's Day Celebration
Take the kids to one (or more) of the many Easter Egg Hunts or get your Easter Bunny Pictures
Attend one of the festivals or community events to celebrate Earth Day
Browse through the listing of Things to Do Over Spring Break and places where kids can attend a Spring Break Camp.
Make mom feel special by taking her to one of these Mother's Day Events across Northeast Ohio
Say good bring to spring and hello to summer at one of the fireworks shows being held to celebrate Memorial Day
Fun at Home
And because we know we'll get plenty of April showers, there will be times when you'll need ideas on things to do at home in order to keep the kids from bouncing off the walls!
Check out these ideas activities for kids at home. It's organized by age group making it easy to find something your kids will enjoy!
Do Science Experiments at Home. Balloon Rocket, Walking Water and Magic Milk are really fun and use items you may already have at home.
You may also be interested in:
Weekend Fun – Picks for the upcoming weekend
FREE Weekly Newsletter – Subscribe to get the email newsletter delivered to your inbox one a week. That way you are always up to date on the fun happening across Northeast Ohio.