It's time for outdoor concerts in Northeast Ohio! Many local communities host these events with options ranging from blues, jazz, pop, tribute bands, or classical music. The concerts provide a great opportunity to enjoy music and the great outdoors. In addition, you often get a chance to meet other families that live in your local community. Organized by county, you can easily find an outdoor concert near you!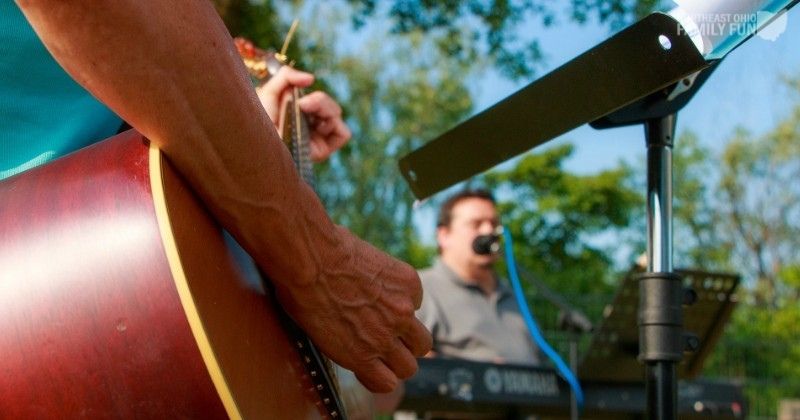 Find an outdoor concert near me:
Ashland County | Cuyahoga County | Geauga County | Lake County | Lorain County | Mahoning County | Medina County | Portage County | Stark County | Summit County | Tuscarawas County| Wayne County
---
Outdoor Concerts in Ashland County
No confirmed events at this time.
---
Outdoor Concerts in Cuyahoga County
Amherst – FREE Hillcrest Orchards' Rock the Farm Concert Series {Find Out More}
Where: Hillcrest Orchard, 50336 Telegraph Rd., Amherst, OH 44001
When: Select days, July 1-August 12, 2022
Bay Village – FREE Community Band Concert {Find Out More}
Where: Cahoon Memorial Park Gazebo, 27600 Lake Rd., Bay Village, OH 44140
When: Select Sundays, June 12-September 11, 2022
June 12, 2022 – Disney Spectacular
July 17, 2022 – Patriotic & Veterans Celebration
August 7, 2022 – Music through the Decades
September 11, 2022 – Back to School
Beachwood – Cleveland Pops Orchestra Concert {Find Out More}
Where: Beachwood Bison Stadium, 25100 Fairmount Blvd., Beachwood, OH 44122
When: Sunday, May 15, 2022
Broadview Heights – FREE Summer Concerts {Find Out More}
Where: Broadview Heights Community Amphitheater, 9543 Broadview Rd., Broadview Heights, OH 44147
When: Select nights, June 3-September 2, 2022
Cleveland – FREE Lunchtime Carillon Concerts {Find Out More}
Where: The Church of the Covenant, 11205 Euclid Ave., Cleveland, OH 44106
When: Fridays, ongoing
Cleveland – FREE Legacy Live Concert Series {Find Out More}
Where: Legacy Village, 25001 Cedar Rd., Cleveland, OH 44124
When: Select Saturdays, June 11-September 3, 2022
Chagrin Falls – FREE Simple Summer Nights Concert Series {Find Out More}
Where: South Russell Park, 1050 Bell St., Chagrin Falls, OH 44022
When: Tuesdays, June 12, 26 & August 9, 2022
Chagrin Falls – FREE Simple Summer Nights Concert Series {Find Out More}
Where: Riverside Park, Chagrin Falls, OH 44022
When: Thursday nights, June 16-August 11, 2022
Berea – FREE Live at the Lake Summer Music Concerts {Find Out More}
Where: Coe Lake Park, 1 Berea Commons, Downtown Berea, OH 44017
When: Fridays, June 17-July 22, 2022 + Saturday, July 2, 2022 (No concert Friday, July 1, 2022)
Cleveland – FREE Square Sounds at Public Square {Find Out More}
Where: Public Square, 50 Public Square, Cleveland, OH 44113
When: Weekdays, May 17-September 30, 2022
Cleveland – FREE WOW! Wade Oval Concert Series {Find Out More}
Where: Wade Oval, 10820 East Blvd., Cleveland, OH 44106
When: Wednesdays, June 15-August 17, 2022
Cleveland – FREE Sounds of Summer Concert Series at Cleveland Metroparks {Find Out More}
Where: Multiple Locations
When: Select days, May 27-September 30, 2022
Independence – FREE Summer Community Concerts {Find Out More}
Where: Summer Community Concerts at the Town Square Bandstand next to Old Town Hall
When:
– Fridays, June 10-July 22, 2022 (No concert July 1, 2022)
– Wednesdays, June 22 & 29, 2022
North Royalton – FREE Parkapalooza {Find Out More}
Where: 14600 State Rd., North Royalton, OH 44133
When: Saturday, June 25, 2022
North Olmstead – FREE Tuesday Tunes with Flower Entertainment Inc. {Find Out More}
Where: Great Northern Mall, 4954 Great Northern Blvd., North Olmsted, OH 44070
When: Tuesdays, June 21 & August 16, 2022
Orange Village – FREE Pinecrest Play Days: Concert on the Green {Find Out More}
Where: Central Park in Pinecrest, 200 Park Ave., Orange Village, OH 44122
When: Tuesday, July 26, 2022 [REGISTER]
South Euclid – FREE Ray Rhode Concert Series {Find Out More}
Where: Multiple locations (Find them all here)
When: Sundays, June 5, July 3 & 31, 2022
Shaker Heights – FREE Shaker Recreation Concert Series {Find Out More}
Where: Van Aken District, 3401 Tuttle Rd., Shaker Heights, OH 44122
When: July 26 & 27 + August 3, 10, & 17, 2022
Strongsville – FREE Library Birthday Summer Celebration {Find Out More}
Where: Strongsville Branch Library, 18700 Westwood Dr., Strongsville, OH 44136
When: Saturday, June 11, 2022
Strongsville – FREE Summer Community Concerts {Find Out More}
Where: Strongsville Middle School, 13200 Pearl Rd, Strongsville, OH 44136
When: Select days, June 24-August 12, 2022
University Heights – FREE The University Heights Symphonic Band's Annual Patriotic Show {Find Out More}
Where: John Carroll University, 1 John Carroll Blvd., University Heights, OH 44118
When: Thursday, June 30, 2022
Westlake – FREE Music in the Park at Crocker Park {Find Out More}
Where: East Park at Crocker Park, Crocker Park Blvd., Westlake, OH 44145
When: Friday, Saturday, and Sunday evenings, May 27-September 4, 2022
Westlake – FREE Crocker Kids – CLE Rocks Dance Party {Find Out More}
Where: East Park at Crocker Park, Crocker Park Blvd., Westlake, OH 44145
When: Tuesday, July 12, 2022 [REGISTER]
Westlake – FREE Summer Concerts in the Park {Find Out More}
Where: Westlake Recreation Center Pavilion, 28955 Hilliard Blvd., Westlake, OH 44145
When: Sundays, June 12-August 7, 2022 (No July 4 concert)
Woodmere – Boulevard Beats at Eaton Chagrin Blvd. {Find Out More}
Where: Eton Chagrin Boulevard, 28601 Chagrin Blvd., Woodmere, OH 44122 (outside of Barnes & Noble)
When: Saturdays, June 4-Agust 27, 2022
---
Outdoor Concerts in Geauga County
Chardon – FREE Concerts in the Park {Find Out More}
Where: Historic Chardon Square, 101 S. Hambden St., Chardon, OH 44024
When: Fridays, June 3-September 2, 2022
Chardon – Love Fest {Find Out More}
Where: Historic Chardon Square, 101 S. Hambden St., Chardon, OH 44024
When: Saturday, June 25, 2022
---
Outdoor Concerts in Lake County
Kirtland – FREE Concerts & More at the Glen {Find Out More}
Where: Penitentiary Glen Nature Center, 8668 Kirtland-Chardon Rd., Kirtland, OH 44094
When: Select nights, June 10-August 26, 2022
Mentor – FREE Music at the Manor {Find Out More}
Where: Wildwood Cultural Center & Park, 7645 Little Mountain Rd., Mentor, OH 44060
When: Wednesdays, May 25-June 15, 2022
Mentor – FREE Mentor Summer Concert Series: Mentor Rocks! {Find Out More}
Where: Mentor Civic Amphitheater, 8600 Munson Rd., Mentor, OH 44060
When: Tuesdays, June 17-August 30, 2022
Mentor – FREE Tunes at the Lagoons {Find Out More}
Where: Mentor Lagoons Nature Preserve & Marina, 8365 Harbor Dr., Mentor, OH 44060
When: Saturdays, June 10 & 24, July 15 & 29, August 12 & 26, 2022
Painesville – FREE Party in the Park {Find Out More}
Where: Painesville Square, Painesville, OH 44077
When: Wednesdays, June 15-August 10, 2022
Painesville – FREE Summer Concert in the Park Series {Find Out More}
Where: Painesville Square, Painesville, OH 44077
When: Wednesdays, June 15-August 10, 2022 (No concert on July 13 for Party in the Park set up.)
Willowick – FREE Concerts in the Park {Find Out More}
Where: Lakefront Park, 30525 Lakeshore Blvd., Willowick, OH 44095
When: Select Sundays, June 26-August 7, 2022
---
Outdoor Concerts in Lorain County
Avon – FREE Music on the Patio {Find Out More}
Where: Miller Nature Preserve, 2739 Center Rd., Avon, OH 44011
When: Select Thursdays, June 9-September 8, 2022
Avon Lake – FREE Party in the Park Summer Concert Series {Find Out More}
Where:
Bleser Park, 32800 Electric Blvd., Avon Lake, OH 44012
Miller Road Park, 33760 Lake Rd., Avon Lake, OH 44012 (Sunday, July 10, 2022)
Veterans Park, 32756 Lake Rd., Avon Lake, OH 44012 (Thursdays, June 23, July 21 & August 18 + CLE Market)
When: Sundays, June 12 & 26, July 10 & 31 August 14 & 28, 2022 + Thursdays, June 23, July 21 & August 18, 2022)
Elyria – FREE Summer Concert Series {Find Out More}
Where: Ely Square Gazebo, Elyria, OH 44035
When: Select nights, June 2-August 4, 2022
Lorain – FREE Vermilion River Reservation Summer Concert Series {Find Out More}
Where: Vermillion River Amphitheatre, 51211 N. Ridge Rd., Vermilion, OH 44089
When: Sundays, June 12-August 14, 2022
Lorain – FREE Lakeview Park Summer Concert Series {Find Out More}
Where: Lakeview Park, 1800 W. Erie Ave., Lorain, OH 44052
When: Fridays, July 1-29, 2022
Lorain – FREE Music Under the Stars {Find Out More}
Where: Lakeview Park, 1800 W. Erie Ave., Lorain, OH 44052
When: Sundays, August 14 & September 11, 2022
Lorain – Rockin' on the River Concert Series {Find Out More}
Where: Lorain Port Authority Black River Landing, 421 Black River Ln., Lorain, OH 44052
When: Select nights, May 27-September 16, 2022
North Ridgeville – Summer Concert Series {Find Out More}
Where: South Central Park Gazebo, 7565 Avon Belden Rd., North Ridgeville, OH 44039
When: Sundays, June 26, July 10 & 24, 2022
---
Concerts in Mahoning County
Austintown – FREE Summer Concerts In The Park {Find Out More}
Where: Austintown Township Park, 6000 Kirk Rd., Austintown, OH 44515
When: Tuesdays, June 7-Sept. 27, 2022
Boardman Park – FREE Music in the Park Concert Series {Find Out More}
Where: Maag Outdoor Art Theatre, Boardman Park, 375 Boardman Poland Rd., Youngstown, OH 44512
When: Thursdays, June 9-August 18, 2022
---
Outdoor Summer Concerts in Medina County
Medina – FREE Jazz & Opera Under the Stars {Find Out More}
Where: Uptown Park, Medina, OH 44256
When: Select nights, June 4-August 27, 2022
Jazz – June 4, July 9, August 6 & 27, 2022
Opera – June 18, 2022
Medina – FREE Medina Fest
Live music, kids' activities and games, and more throughout the day. {Find Out More}
Where: Medina Square, 2 Public Square, Medina, OH 44256
When: Saturday, August 27, 2022
---
Outdoor Summer Concerts in Portage County
Aurora – FREE Summer Concerts {Find Out More}
Where: Veterans Memorial Park, 40 W. Garfield Rd., Aurora, OH 44202
When: Thursdays, June 9 & 16, July 14 & 28, 2022
Afternoon Concert – Monday, June 27, 2022
Aurora – FREE Afternoon Concert {Find Out More}
Where: Veterans Memorial Park, 40 W. Garfield Rd., Aurora, OH 44202
When: Monday, June 27, 2022
Aurora – FREE Dive-Up Concerts {Find Out More}
Where: Hartman Park, 325 Townline Rd., Aurora, OH 44202
When:
– Thursday, July 21, 2022
– Saturday, August 6, 2022
Tallmadge – FREE Music on the Circle Summer Concert Series {Find out More}
Where: Tallmadge Circle, Tallmadge, OH 44278
When: Select Thursdays, June 16-July 21, 2022
---
Outdoor Summer Concerts in Stark County
Canton – FREE Summer Serenades Ensemble Concert at Stark Parks
Bring your chairs, blankets, picnic dinner, and be ready to relax lakeside. {Find Out More}
Where: locations vary
When: Thursdays, July 14-28, 2022
Canton – FREE Big Band Concert at Stark Parks
The Canal Fulton Community Band will perform a variety of patriotic concert band pieces to celebrate Independence Day. {Find Out More}
Where: Sippo Lake Park, Exploration Gateway, 5712 12th St. NW, Canton, OH 44708
When: Thursday, June 30, 2022
Canal Fulton – FREE Summer Concert Series {Find Out More}
Where: St. Helena Heritage Park, 123 Tuscarawas St. NW, Canal Fulton, OH 44614
When: Select nights, June 17-September 16, 2022
Jackson Township – Amphitheater FREE Thursday Concert Series {Find Out More}
Where: Jackson Amphitheater, 7454 Community Pkwy. NW, Massillon, OH 44646
When: Thursday, May 26, 2022
Jackson Township – Amphitheater FREE Wednesday Concert Series {Find Out More}
Where: Jackson Amphitheater, 7454 Community Pkwy. NW, Massillon, OH 44646
When: Most Wednesdays, June 1-August 3, 2022 (No concert June 22, 2022)
Jackson Township – FREE Amphitheater Weekend Concert Series {Find Out More}
Where: Jackson Amphitheater, 7454 Community Pkwy. NW, Massillon, OH 44646
When: Most Saturdays, June 4-September 3, 2022 (No concert June 25, July 30, & August 6 & 27, 2022)
Massillon – FREE Summer Concert Series {Find Out More}
Where: Duncan Plaza, 2 James Duncan Plz., Massillon, OH 44646
When: Thursdays, June 16-August 18, 2022
North Canton – FREE Canton Concert Band Concerts {Find Out More}
Where: Multiple Locations
When: Select dates, June 8-July 27, 2022
---
Outdoor Summer Concerts in Summit County
Stow – FREE Concerts on the Green {Find Out More}
Where: Stow City Hall, 3760 Darrow Rd., Stow, OH 44224
When: Saturdays, May 28, June 16 & 29, July 27, and August 10, 2022
Akron – FREE Live at the Library Music & Food Truck Series {Find Out More}
Where: North Canton Public Library, 185 N. Main St., North Canton, OH 44720
When: Thursdays, June 2-July 28, 2022
Akron – FREE Summer Concert Series in the Parks {Find Out More}
Where: Multiple locations
Mondays @ Hardesty Park (June 6-27, 2022)
Mondays @ Lawton Street Community Center (July 4-August 1, 2022)
Tuesdays @ Firestone Park Community Center (June 7-28, 2022)
Tuesdays @ Joy Park Community Center (July 5-August 2, 2022)
Wednesdays @ Shadyside Park (June 8-29, 2022)
Wednesdays @ Summit Lake Community Center (July 6-August 3, 2022)
Thursdays @ Patterson Park Community Center (June 9-30, 2022)
Thursdays @ Balch Street Fitness Center (July 7-August 4, 2022)
Fridays @ Reservoir Park Community Center (June 10-July 1, 2022)
Fridays @ Ellet Community Center (July 8-August 5, 2022)
When: Mondays-Fridays, June-August, 2022
Akron – FREE Downtown Summer 2022 Kick-Off
Live Music, DJ, Zippy, Yard Games, trivia for prizes, and free Root Beer Floats! {Find Out More}
Where: Lock 3 Akron, 200 S. Main St., Akron, OH 44308
When: Thursday, May 19, 2022
Akron – FREE Rock the Lock Summer Concert Series {Find Out More}
Where: Lock 3 Akron, Cleveland Clinic Stage, 200 S. Main St., Akron, OH 44308
When: Select nights, May 27-September 3, 2022
Akron – FREE Rib, White, & Blue Festival
Free admission! Live concerts each night, and fireworks on July 4th. {Find Out More}
Where: Lock 3 Akron, Cleveland Clinic Stage, 200 S. Main St., Akron, OH 44308
When: July 1-4, 2022
Akron – FREE Live & Local Wednesdays {Find Out More}
Where: Lock 3 Akron, Cleveland Clinic Stage, 200 S. Main St., Akron, OH 44308
When: Wednesdays, July 6-September 7, 2022
Akron – FREE Gospel Sundays {Find Out More}
Where: On the banks of Lock 4, located next to Lock 3 Akron Cleveland Clinic Stage, 200 S. Main St., Akron, OH 44308
When: Sundays, July 10 & 31, August 14 & 28, 2022
Cuyahoga Falls – FREE Keyser Concert Series {Find Out More}
Where: 851 W. Bath Rd., Cuyahoga Falls, OH 44223
When: Sundays, June 12, July 10, & August 14, 2022
Cuyahoga Falls – FREE Falls Downtown Fridays {Find Out More}
Where: Downtown, Cuyahoga Falls, OH 44223
When: Fridays, June 17-August 12, 2022 (No event July 15, 2022)
Fairlawn – FREE Fairlawn Friday Night Summer Concert Series {Find Out More}
Where: Bicentennial Park, 3486 S. Smith Rd., Fairlawn, OH 44333
When: Fridays, June 3-July 29, 2022
Green – FREE Children's Summer Entertainment Series {Find Out More}
Where: Central Park Amphitheater, 1755 Town Park Blvd., Uniontown, OH 44685
When: Select Thursdays, June 9-July 27, 2022
Hudson – FREE Hudson Bandstand Summer Concert Series {Find Out More}
Where: Gazebo Green, 27 E. Main St., Hudson, OH 44236
When: Monday, May 30, 2022, & Sundays, June -August 28, 2022
Hudson – FREE Rock the Clock Music Festival {Find Out More}
Where: First & Main Green, Village Way, Hudson, OH 44236
When: June 10-12, 2022
Hudson – FREE Hudson Summer Music Nights Series {Find Out More}
Where: First & Main Green, 42 Village Way, Hudson, OH 44236
When: Fridays & Saturdays, July 8-August 26, 2022
New Franklin – FREE Music & Movies on the Lawn {Find Out More}
Where: The Tudor House, 655 Latham Ln., New Franklin, OH 44319
When: Tuesdays, June 28, July 26 & August 23, 2022
Twinsburg – Rock the Park {Find Out More}
Where: 10260 Ravenna Rd., Twinsburg, OH 44087
When: Select Fridays, June 1-August 26, 2022 [BUY TICKETS]
---
Outdoor Concerts in Tuscarawas County
New Philadelphia – FREE RTY Summer Showcase {Find Out More}
Where: Tuscora Park, 161 Tuscora Ave. NW, New Philadelphia, OH 44663
When: Select nights, May 29-September 4, 2022
---
Outdoor Concerts in Wayne County
Doylestown – Main Street Music on the Bandstand {Find Out More}
Where: Doylestown Performing Arts, 24 S. Portage St., Doylestown, OH 44230
When: Fridays, June 10-July 29, 2022
Wooster – FREE Kid's Day
Balloon animals, face painting, music, and more! {Find Out More}
Where: Main Street Wooster, 377 W. Liberty St., Wooster, OH 44691
When: Saturday, June 4, 2022
Wooster – FREE Main Street Music Concert & Cruise-In {Find Out More}
Where: Main Street Wooster, 377 W. Liberty St., Wooster, OH 44691
When: Fridays, June 17 & August 19, 2022
Wooster – Ohio Light Opera 2022 {Find Out More}
Where: Multiple locations
When: Select days, June 18-August 31, 2022
Wooster – FREE Ohio Light Opera Community Pops Concert {Find Out More}
When: Monday, July 4, 2022
Wooster – FREE WCHS Summer Community Band Concert {Find Out More}
When: Thursday, July 14, 2022
You may also be interested in: Ultimate List of Things to do in Northeast Ohio
---
More Fun to Come…
Perrysville – Summer Music Concert Series {Find Out More}
Where: Pleasant Hill Park, 3431 State Route 95, Perrysville, OH 44864
When: TBA for 2022
Middleburg Heights – FREE Summer Nights: Concert in the Park Series {Find Out More}
Where: Middleburg Heights City Hall Park, 15700 Bagley Rd., Middleburg Heights, OH 44130
When: TBA for 2022
Oberlin – FREE Summer Concert on Tappan Square {Find Out More}
Where: Tappan Square, Oberlin, OH 44074
When: TBA for 2022