Whether it be a parade, observance, ceremony or wreath laying there are many ways to observe and honor the people who lost their lives while serving our country. Below is a list of some of the top Memorial Day events and more things to do on Memorial Day weekend.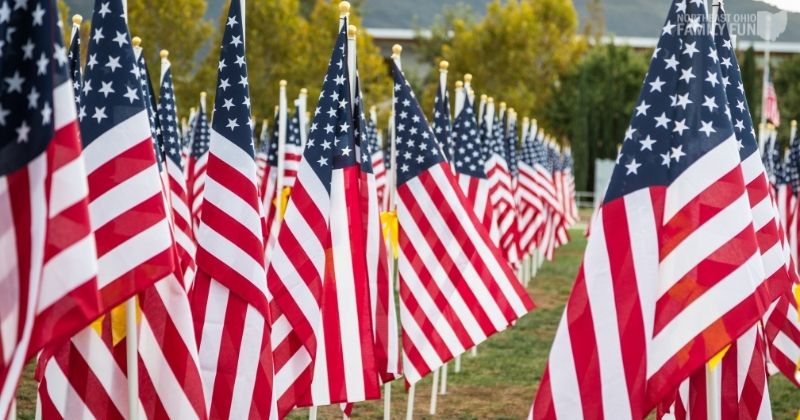 Majestic Meadows Alpacas & Boutique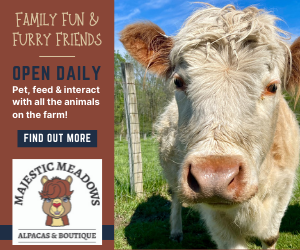 Fun for all ages! Come pet, feed and interact with all the animals on the farm!
Majestic Meadows Alpacas is the perfect place to relax and enjoy the beauty of the outdoors.
The 20-acre property includes open pastures for you to roam in which gives you a truly unique interactive experience that gets you up close and personal with all the animals on the farm as you walk through the fields.
The farm is home to over 70 alpacas, llamas, miniature cows, horses & donkeys, sheep, goats, two red kangaroos, miniature potbellied pigs, a dromedary camel and a tortoise.
Open daily. Make reservations to experience the farm today!
FREE TIME AND FUN TIMES...
Funtimes Fun Park is a growing, outdoor family entertainment center located in Alliance, Ohio on the corner of State Route 62 and State Street.
Featuring miniature golf, go-karts, batting cages, rides and more it is the place to be for local, summer fun with FREE parking and FREE gate (pay as you play).
NEW 2022! Rampage…A duel-lane, racing mega slide & Toot-N-Hoot kiddie, train ride…All Aboard!
COMING 2022! A-Ball-Mination…a game of fusion between laser tag and paintball!
Host your Birthday Party or Group Event at Funtimes Fun Park…you enjoy the fun while they entertain your guests with their party packages or group rates.
Check out funtimespark.com for NEW pass options including Unlimited Attractions with a Fun Day Pass, Sunset Pass or Season Pass. Discount days for grandparents, military and college students also available or visit us on select Thursday nights for the Fun Bunch Carload Special…it's a bunch of fun!
Special Discount -> Like Funtimes Fun Park on Facebook and Save $5 on a Fun Day Pass when you show this ad from your mobile device to an Admissions Attendant at the Clubhouse
Plus, visit this Fall for some frightful fun beginning weekends September 23rd thru October 31st for their Halloween event featuring the Fortress of Fear Haunted Attraction.
Jump Directly to Specific County:
Columbiana County | Cuyahoga County | Geauga County | Lake County | Lorain County | Mahoning County | Medina County | Mahoning County | Portage County | Summit County | Stark County | Trumbull County | Tuscarawas County
---
Memorial Day Events in Columbiana County
Columbiana – American Legion Post 290 Annual Memorial Day Parade & Ceremony {Find Out More}
Where: Parade starts at the circle and proceeds east on E. Park to Firestone Cemetery, 338 E. Park Ave., Columbiana, OH 44408
When: Monday, May 30, 2022
East Palestine – Memorial Day Parade {Find Out More}
When: Monday, May 30, 2022
---
Memorial Day Events in Cuyahoga County
Bay Village – Bay Village Memorial Day Parade & Service {Find Out More}
Route: The parade will step off from the Huntington Beach Lot, marching west on Lake Road to Lakeside Cemetery
When: Monday, May 30, 2022
Bedford – Annual Memorial Day Parade & Ceremonies {Find Out More}
Route: The parade steps off from Bedford City Hall (165 Center Rd.). Ceremonies will be held at Bedford Public Square on Broadway and conclude at the Bedford Cemetery on Broadway.
When: Monday, May 30, 2022
Brecksville – Brecksville Memorial Day Parade {Find Out More}
Route: Parade marches from City Hall (9069 Brecksville Rd.) to Highland Drive Cemetery, 9012 Highland Dr., Brecksville, OH 44141.
When: Monday, May 30, 2022
Broadview Heights – Drive-Thru Memorial Day Parade {Find Out More}
Route: Main entrance of the Community Center, 9543 Broadview Rd., Broadview Heights, OH 44147
When: Monday, May 30, 2022
Chagrin Falls – Blossom Time Festival & Parade {Find Out More}
Where: Parade marches from the Chagrin Falls High School all the way to Triangle Park in the heart of Chagrin Falls.
When: Sunday, May 29, 2022
Cleveland – Police Memorial Parade & Memorial Service {Find Out More}
Route: The parade steps off from Lakeside Ave. and E. 12th St., and continues to the GCPOM.
When: Friday, May 20, 2022
Cleveland – Firefighters Memorial Ride {Fine Out More}
Where: Ride Ceremony at the Cleveland Firefighters Memorial next to First Energy Stadium. Then, fully escorted ride to Western Reserve Harley-Davidson in Mentor, OH.
When: Sunday, May 29, 2022
Euclid – Memorial Day Parade {Find Out More}
Route: The parade travels from East 228th St. and Lakeshore, proceeds west on Lakeshore to E. 222nd St. It then moves south on East 222nd St. to end at the Veterans Memorial next to Euclid City Hall, 585 E. 222nd St.
When: Monday, May 30, 2022
Independence – Memorial Day Service {Find Out More}
Where: Procession to Maple Shade Cemetery and a graveside service will follow.
When: Monday, May 30, 2022
Mayfield Village – Annual Memorial Day Celebration at Whitehaven Memorial Park {Find Out More}
Route: 615 Som Center Rd., Mayfield, OH 44143
When: Sunday, May 29, 2022
Perry – Memorial Day Service & Parade {Find Out More}
Where: Service at Parma-South Presbyterian Church (6155 Pearl Rd.) will be followed by parade to the Parma Heights Cemetery for a wreath-laying ceremony.
When: Monday, May 30, 2022
Richmond Heights – Memorial Day Parade & Picnic {Find Out More}
Where: Parade starts at DeSan Park (479 Trebisky Rd.) and ends at the City Park Memorial, followed by a picnic in the community park.
When: Monday, May 30, 2022
Shaker Heights – Memorial Day Service & Annual Parade {Find Out More}
Where: Memorial Service at City Hall, 3400 Lee Rd., Shaker Heights, OH 44122. Parade will head eastbound on Van Aken Boulevard and end at the Van Aken District.
When: Monday, May 30, 2022
South Euclid – Memorial Day Parade {Find Out More}
Where: Parade marches along South Green Road, from Notre Dame College to the War Memorial.
When: Monday, May 30, 2022
University Heights – Memorial Day Parade & Ceremony {Find Out More}
Route: Parade travels east on Silsby Rd., then head south on South Belvoir Blvd., before ending at John Carroll University. After the parade, a memorial service will be held at John Carroll University.
When: Monday, May 30, 2022
Westlake – Memorial Day Parade {Find Out More}
Route: The parade steps off from St. Peter & George Coptic Orthodox (25800 Hilliard Blvd.) and proceeds to Clague Park
When: Monday, May 30, 2022
---
Memorial Day Events in Geauga County
Auburn Township – Memorial Day Observance Ceremony {Find Out More}
Where: Maple Shade Cemetary, 17711 Auburn Rd., Auburn Center, OH 44023
When: Sunday, May 29, 2022
---
Memorial Day Events in Lake County
Mentor – Memorial Day Parade & Ceremony {Find Out More}
Where: The 1-mile parade route will make its way on Mentor Avenue and then north on Hopkins Road. The annual Memorial Day Ceremony will follow the parade at the Mentor Cemetery, 6881 Hopkins Rd., Mentor, OH 44060
When: Monday, May 30, 2022
Painesville – Memorial Day Parade {Find Out More}
Route: Parade marches from Riverside Cemetary (385 Riverside Dr.) to Evergreen Cemetary, 501 E. Main St., Painesville, OH 44077
When: Monday, May 30, 2022
---
Memorial Day Events in Lorain County
Avon Lake – Memorial Day Parade & Ceremony {Find Out More}
Route: Veterans Memorial Park, 32756 Lake Rd., Avon Lake, OH 44012
When: Monday, May 30, 2022
Elyria – FREE Memorial Day Parade {Find Out More; scroll to page 5}
Where: The parade steps off from Court St. & Broad St., marches east on Broad St., down to Washington Ave. to Harrison St., and ends at Glenwood St.
When: Monday, May 30, 2022
Oberlin – FREE Memorial Day Program {Find Out More}
Where: Oberlin Elementary School, 210 N. Park St., Oberlin, OH 44074
When: Monday, May 30, 2022
North Ridgeville – Memorial Day Parade & Service {Find Out More}
Where: The parade begins at the Senior Center, travels down Bainbridge Road, and concludes at Ranger Stadium, 34600 Bainbridge Rd., North Ridgeville, OH 44039 for the Memorial Service
When: Monday, May 30, 2022
---
Memorial Day Events in Mahoning County
Boardman – Memorial Day Parade & Service {Find Out More}
Route: Parade begins at Boardman Center Intermediate School (7410 Market St., Youngstown, OH 44512) and ends at Boardman Park (375 Boardman Poland Rd., Boardman, OH 44512)
When: Monday, May 30, 2022
---
Memorial Day Events in Medina County
Brunswick – Memorial Day Program {Find Out More}
Route: Visintainer School, 1459 Pearl Rd., Brunswick, OH 44212
When: Monday, May 30, 2022
Hinckley – Candlelight Vigil {Find Out More}
Where: Parade begins at Our Lady of Grace Catholic Church (1088 Ridge Rd.) and proceeds to the Veteran
War Memorial Park for a wreath-laying ceremony and a moment of silence.
When: Monday, May 30, 2022
Medina – Westfield Center Memorial Day Ceremony & Parade {Find Out More}
Route: Ceremony at Medina County Courthouse (93 Public Square) followed by a parade to Spring Grove Cemetery, 785 E. Washington St., Medina, OH 44256.
When: Monday, May 30, 2022
Seville – Ceremony at Ohio Western Reserve National Cemetery {Find Out More}
Where: 10175 Rawiga Rd., Seville, OH 44273
When: Sunday, May 29, 2022
Seville – Memorial Day Parade {Find Out More}
Where: Parade begins in front of First Baptist Church, 22 E. Main St., Seville, OH 44273
When: Monday, May 30, 2022
Valley City – Memorial Day Parade & Remembrance {Find Out More}
Where: Valley City, OH
When: Monday, May 30, 2022
Wadsworth – Memorial Day Parade {Find Out More}
Where: Parade begins in front of the American Legion and VFW Hall, 129 Main St., Wadsworth, OH 44281 (The Wadsworth American Legion will be serving a Memorial Day breakfast.)
When: Sunday, May 29, 2022
---
Memorial Day Events in Mahoning County
Boardman – Memorial Day Parade & Service {Find Out More}
Where: The Parade originates at the Center School, then proceeds north on Rt. 7 to the State Rt. 224 intersection, then east on Rt. 224 to Boardman Township Park, 375 Boardman Poland Rd., Boardman, OH 44512
When: Monday, May 30, 2022
---
Memorial Day Events in Portage County
Aurora – Memorial Day Ceremony {Find Out More}
Where: Aurora Cemetery, S. Aurora Rd., Aurora, OH 44202 (Next to the Aurora Police Department, 100 S. Aurora Rd.)
When: Monday, May 30, 2022
Rootstown – Rootstown Memorial Day Parade & Flag Raising {Find Out More}
Route: The parade travels from Loretta Dr., eastbound on Tallmadge Rd., to end at Homeland Cemetery.
When: Monday, May 30, 2022
Suffield – Memorial Day Parade {Find Out More}
Stop out to see the parade. The Band Suffield Station will play in the parade. A memorial, "Taps," wreath-laying, color guard, prayer, and flag-raising will be held at Suffield Elementary School.
Route: Parade line-up on Old Waterloo Rd. between Congress Lake Rd. and Catherine Rd. in Suffield Township, crosses State Route 43, and ends at Suffield Elementary School/Lions Park, 1128 Waterloo Rd., Mogadore, OH 44260
When: Monday, May 30, 2022
---
Memorial Day Events in Stark County
Green – Memorial Day Parade & Ceremony {Find Out More}
Route: The parade route travels east on Boettler Road to Massillon Road (southbound lanes only), south to Steese Road, west to the Green Intermediate School, and back to the Green High School parking lot via Bulldog Boulevard. The ceremony is held at Green Veterans Memorial Park, 1900 Steese Rd., Uniontown, OH 44685
When: Monday, May 30, 2022
Hartville & Uniontown – Uniontown Memorial Day Procession & Service {Find Out More}
Where: All Veterans Memorial at Uniontown Community Park, 3696 Apollo St. NW, Uniontown, OH 44685
When: Monday, May 30, 2022
Navarre – Navarre VFW Memorial Day Parade & Observance {Find Out More}
Where: Parade steps off on Canal St. W, in front of Village Hall, then travels up Main St. to Wooster St., turning left of Columbia St. to the East Union Lawn Cemetery. The observance begins after the parade.
When: Monday, May 30, 2022
New Franklin – Memorial Day Parade & Pancake Breakfast {Find Out More}
Where: Parade begins at Grace Bible Church (5781 Manchester R.) and goes south to Manchester Cemetery.
When: Monday, May 30, 2022
North Canton – Memorial Day Reverse Parade {Find Out More}
Where: Bitzer Park, 200 S. Main St., North Canton, OH 44720
When: Monday, May 30, 2022
---
Memorial Day Events in Summit County
Akron – FREE United States Air Force Band of Flight Concert
This is a free and open to the public concert with food trucks, games, and even a flight simulator. This concert celebrates the 75th year of The United States Air Force; the band will be playing music representing each decade of the past 75 years. {Find Out More}
Where: Lock 3 Park, 200 S. Main St., Akron, OH 44308
When: Saturday, May 28, 2022
Bath Township – Memorial Day Observance {Find Out More}
Where: Bath Veterans Memorial Park, southeast corner of Cleveland-Massillon Rd. and Bath Rd.
When: Monday, May 30, 2022
Green – Memorial Day Parade, Ceremony, & Car Show {Find Out More}
Route: Veterans Memorial Park, 1900 Steese Rd., Green, OH 44685
When: Monday, May 30, 2022
Hudson – Memorial Day Parade {Find Out More}
Note: The Memorial Day Parade has been canceled for 2021.
Route: The parade assembles on Milford Road and proceeds east on SR 303 and north on SR 91.
When: Monday, May 30, 2022
Hudson – Memorial Day Ceremony {Find Out More}
Route: NEW LOCATION! Clocktower Garden, 139 N. Main St., Hudson, OH 44236
When: Monday, May 30, 2022
Stow – Memorial Day Ceremony {Find Out More}
Route: Stow Cemetery, 3162 Kent Rd., Stow, OH 44224
When: Monday, May 30, 2022
Tallmadge – Memorial Day Parade & More {Find Out More}
In addition to the parade, the day's festivities also include the Ritchie's Memorial Day 5K/1Mile, Chamber Pancake Breakfast, and Old Town Hall & Museum (locations and times vary).
Where: Tallmadge Circle, Tallmadge, OH 44278
When: Monday, May 30, 2022
---
Memorial Day Events in Trumbull County
Cortland – FREE Memorial Day Observance {Find Out More}
Where: Cortland Veterans Memorial, Cortland, OH
When: Monday, May 30, 2022
Warren – FREE W.D Packard Concert Band {Find Out More}
Where: Packard Music Hall, 1703 Mahoning Ave. NW, Warren, OH 44483
When: Sunday, May 29, 2022
---
Memorial Day Events in Tuscarawas County
Mineral City – Memorial Day Celebration Weekend at Atwood Lake Park {Find Out More}
Where: Atwood Lake Park, 9500 Lakeview Rd., Mineral City, OH 44656
When: May 27-30, 2022