If you are looking for ways to celebrate New Year's Eve with your kids, we've got you covered. There are a lot of things to do on New Year's Eve including many fun events taking place and ways that you can celebrate the holiday at home! Adventure outside or stay cuddled up indoors. Watch the ball drop at midnight or call it an early night. Whatever you decide to do, we hope you have an unforgettable night!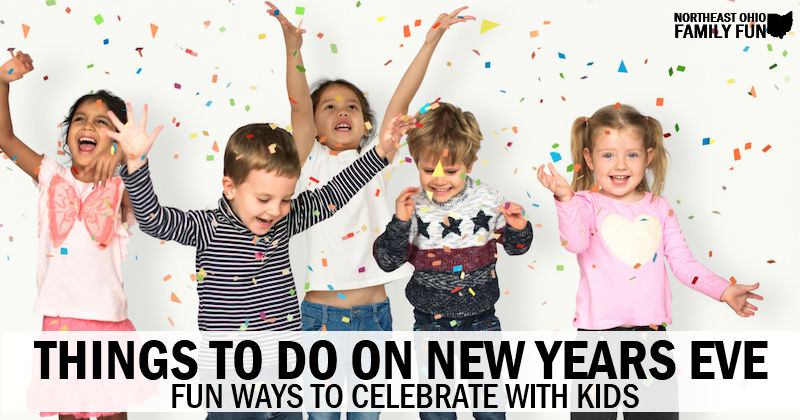 Have an idea you think should be included? Submit the details here. Thanks for helping us all know about the best things to do on New Year Eve!
Things to do on New Year's Eve with Kids
The countdown to the New Year is on, and we all love a good celebration! Your New Year's Eve may look a little different than it did before you welcomed children into the family. Whether you are planning on keeping your little ones up until midnight for an apple juice "cheers" or you would rather follow their normal bedtime routine, there are plenty of ways to make the day memorable.
Countdown Early!
There are several services online that offer a midnight countdown earlier in the day. With younger children, they probably do not completely understand the concept anyway, but they are sure to comprehend the fun of "3-2-1, Happy New Year!"
Recreate the midnight countdown, but just at noon so that you can put your kids to sleep at their normal bedtime. You can still go all out for the celebration, and they will never know the difference. Then you'll have the night to either get to bed early yourself or stay up for the festivities.
A few places that typically have Noon Years Eve Celebration events include: Libraries, Indoor Play Areas and Museums. Plan ahead because registration is often required.
Grab Inexpensive Party Supplies
Plastic horns and confetti poppers are the perfect addition to any New Year's celebration. There is just something about balloons that makes everything more fun. You can bet your kids will have a blast with this simple addition.
You might want to hide the horns the next day, but you will have a blast at the moment.
Have a Movie Marathon
If you have children that are a little bit older, you can make your mission to last until midnight. So why not make the most of the countdown?
Find some New Year's themed treats to make, mix together a few mocktails or pull out the sparkling cider and get into your coziest pajamas. Then pick out a series that you have been wanting to watch together. The Harry Potter Series or a Disney Princess theme are sure to be a hit!
Plan a Family Game Night
Pull out the board games and a deck of cards. Then order in your favorite dish for the entire family. You can let everyone pick their most beloved game and alternate as you wait for the clock to strike midnight.
Throw a batch of cookies in the oven for dessert and you are all set for a night of fun! You can turn on the ball drop and pause your games for the official countdown.
Choose an Outdoor Activity
It might be cold on New Year's Eve, but that's a perfect reason to get bundled up and get outside! Check out your local area's winter activities. Ice skating, sledding or skiing would all be ideal ideas of fun for the entire family.
Then, you have a great excuse to make hot chocolate and build a fire before the countdown later that night. Your little ones will be tuckered out from the day of activity and you will be ready for a night in.
You may be interested in: Wintertime Fun Guide with 100+ Things to do across Northeast Ohio
Hopefully these tips spark some ideas that fit your family's plans and inspire a night that everyone can enjoy!