Winter in Northeast Ohio can be rough, but don't let the cold temperature and snow keep you from having fun this season. If you're looking for ideas and inspiration for things to do in Ohio in the winter, this list is for you! We've got details on all the best outdoor winter activities as well as the fun indoor places to go to beat the cold.
Want to find out about all the fun things to do in Northeast Ohio? Sign up for the FREE weekly newsletter and have the fun details delivered to your inbox once a week!
Jump Directly to Specific Topic:
Outdoor Winter Activities | Indoor Winter Activities | At Home Winter Activities | Winter Holiday Activities
Outdoor Winter Activities
Kids love the snow and for some reason, the cold never seems to bother them. Grab your coats and boots, channel your inner child and head out to enjoy the fun outdoor winter activities. Just be sure to have the Hot Chocolate waiting for your return!
Sled Riding – 60+ locations to enjoy one of winter's most fun activities!
Northeast Ohio is home to a handful of seasonal outdoor skating rinks. Admission is typically inexpensive (and sometimes FREE) and there is a small fee to rent ice skates (assuming you don't have a pair of your own).
Ready to hit the slopes? Check our these ski resorts where you can spend the day on the trails, you can even find places to go snow tubing.
Did you know that there are 30+ locations that offer trails for Cross Country Skiing? Some locations even offer lessons and free equipment rental.
Love hiking, then you definitely want to try snowshoeing this season.
Grab your smart phone, download the free geocaching app and head out on a Geocaching scavenger hunt. The snow can make it even more challenging!
Experience the thrill of feeding wild birds out of the palm of your hand. There are opportunities to Hand Feed Chickadees at Beech Creek Gardens, with the Summit Metroparks and Geauga Parks
Head to the zoo to see the animals. During the colder months the animals are often more active in their enclosures.
Indoor Winter Activities
Because the weather is so unpredictable in Northeast Ohio, finding a great indoor spot during the cold winter months is often a necessity. Below are some great options that will keep you out of the cold this season!
Indoor Play Centers provide kids (and adults) the ability to jump, play and burn off extra energy. Enjoy Laser Tag, Inflatables, Trampoline Parks, Roller Skating and more!
Challenge your kids to a friendly game of Laser Tag.
Take the family Bowling. Be sure to call your local alley to confirm open bowling time and to check if they have bumpers lanes if you need them.
Head to Avon Lake Public Library's DiscoveryWorks a fun an unique indoor play area with one area designed for infants through age 7, and another Tweens area for age 8 and older.
And you can also head to the FREE Indoor Playland at First Christian Church, in North Canton. It's open the public during select days/hours during the week.
Lace up some skates and head to the roller rink. It is a great way for the kids to burn off some of that extra energy too.
Museums in Ohio – Ranging from Dinosaurs to Classic Cars and everything in between. There are options the whole family will enjoy.
Admission is always FREE for the Cleveland Museum of Art and they offer various special touches to make it a family friendly destination including.
Head out to the Akron Art Museum on a Thursday to take advantage of their free admission offer
Check out the free activities the first Saturday of each month at the Massillon Museum. The activities are open to all age and incorporate a new theme each month. No registration is required.
FREE or Discounted Admission to Area Museums on Martin Luther King Day – Head out early to avoid the crowds.
We love the hands on science fun at Great Lakes Science Center, checking out the historic plans at MAPS Air Museum and learning about money at the interactive and free Cleveland Money Museum.
Take a tour of Harry London's Chocolate Factory, learn how chocolate is made and get some free samples too! There are also other local factory tours available in person or online. Note: Reservations are required.
Use the winter months to check out a new class or lesson for your kids. There are a wide variety of classes and lessons available including.
You can also check out some of these free programs:
Enjoy a free kid's meal at one of the restaurants that offer Kid's Eat Free
Swimming outdoors may not be possible, but you can always enjoy water park fun at one of the Indoor Waterparks like Castaway Bay or Splash Harbor (great for young children).
Or maybe your rather spend the afternoon at a local indoor pool. Note: Be sure to call to confirm the open swim times.
Attend a live musical performance or a event at your local children's theatre.
Fun Winter Activities to do at Home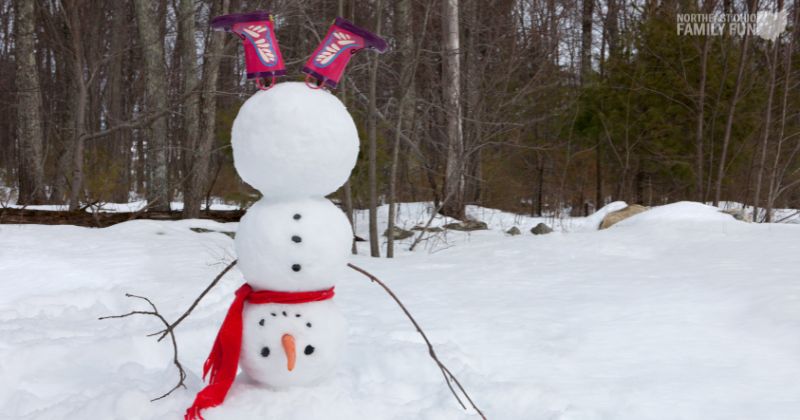 Let's face it, sometimes the weather is too bad to venture outside to drive or play. In those times you'll need ideas on things to do to keep the kids from bouncing off the walls!
Get good use of all the snow and make homemade snow ice cream or honey snow candy. You can also mix up some hot chocolate mix and enjoy a cup (or two)!
Get out the paper and scissors and see who can make the best paper snowflakes.
Do Science Experiments at Home. Balloon Rocket, Walking Water and Magic Milk are really fun and use items you may already have at home.
Dust off the board games and have a tournament.
Winter Holiday Activities
Here are some great ways to celebrate the winter holidays.
Note: Holiday event listings are updated yearly with current information available about a month prior to the holiday
Christmas Events – Comprehensive list of Christmas Events & Activities in Northeast Ohio
Take the Family out to choose and Cut Your Own Christmas Tree. There are many farms in Northeast Ohio that offer this activity and more.
Drive around and see the Amazing Christmas Lights. From community light displays to the neighborhood houses with thousands of choreographed Christmas lights set to Music. And many are FREE!
Ring in the New Year with this Kid Friendly New Years Eve Events Note – List will be updated in mid December
Find a way to remember Martin Luther King Junior Day and celebrate the day off from school. Note – List will be updated in early January
Check out the fun events happening while the kids are off school on President's Day. Note – List will be updated in early February
Find a fun way to celebrate Valentines Day and let your kids know how special they are. Note – List will be updated in mid-January
FREE Winter Break Fun – Over 30 Things to do with the kids over winter break. And the best part is that they are FREE! Note – List will be updated in mid December
You may also be interested in:
Weekend Fun – Weekly picks for the upcoming weekend
FREE Weekly Newsletter – Subscribe to get the email newsletter delivered to your inbox one a week. That way you are always up to date on the fun happening across Northeast Ohio.