Squire's Castle is part of the Cleveland Metroparks' North Chagrin Reservation and is located just off of River Road in Willoughby Hills. The historic castle is well maintained and a stunning piece of Cleveland History. Guests to North Chagrin Reservation can tour the inside of the castle, hike the nearby trails through the woods and enjoy time playing and relaxing the in the open grassy fields.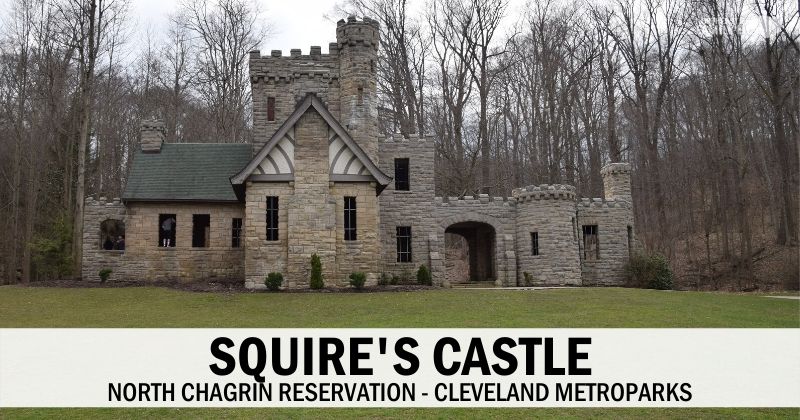 The reservation and castle is open year-round and ample parking is found near the castle.
History of Squire's Castle Cleveland
In 1860, Feargus Squire came to Cleveland from Exeter, England. In 1890 he purchased 525 acres of land with the intent to build two buildings a gatehouse for the caretaker and a main house for his family to reside. The gatehouse was completed, but the main house was never built.
The gatehouse is now referred to as Squire's Castle.
Fun Fact: The Castle is made up of silt stone (also know as Euclid bluestone) that was quarried from the area that is now Euclid Creek Reservation.
The property was purchased by the Cleveland Metroparks in 1925 and is now part of the North Chagrin Reservation.
While the original building was three stories tall with a basement, the current castle is just the exterior shell. All the doors, fixtures, glass and woodwork have been removed and the basement has been filled it. Despite the change from the original building, Squire's Castle is still an impressive historic landmark.
Fun Fact: Inside the castle, you can see the iron struts that once supported the second and third stories. Look closely at the windows and you can also see the mounting holes that held leaded glass windows.
Tips for Your Visit to Squire's Castle
Bring a camera so you can capture really unique photos of your family and the castle. There are so many fun photo ops available.
There is a large open field in front of the castle for having a picnic or just playing with the kids or just relaxing on one of the benches. Bring a Frisbee, baseball, soccer ball and enjoy some time playing.
It's understandable a very popular destination, so be prepared for other visitors.
Visitors are welcome to bring pets. Make sure to pack a bowl with water for your dogs.
The trails behind the castle are great. They are a little hilly and can be muddy at times. Make sure you bring good shoes if you plan to hike through the woods.
Remember to bring water. There are also picnic tables near the trail head if you want to pack snacks or a picnic lunch.
If you want to go on a longer hike, you can go take the trails to Buttermilk Falls Scenic Overlook
Squire's Castle is Stunning in Every Season
Squire's Castle – Cleveland Metroparks North Chagrin Reservation Website