After receiving many recommendations on Arrowhead Orchard's Fall Festival, we decided to check it out. The weather was perfect, the apples were delicious, and the kids (and adults) had fun playing on the playground and navigating through the corn maze. Enjoy the pictures!
All About Fall Festival at Arrowhead Orchards
Arrowhead Orchards has a lot of fun activities to choose from. Upon our arrival, we decided to check out the play area.
The kids had fun on the playground and the huge slides,
The spider web climbing structure,
And rolling down the hill in the big tubes.
There are two mazes at Arrowhead Orchards. A smaller maze with corn stalks between 4 1/2 to 5 feet in height. The kids had fun running through, this maze and because we could see their heads as they went through the maze, we allowed them to do it without us. A special treat for a 9 and 7 year old.
In addition to the smaller maze, there was another corn maze that was quite the challenge. These corn stalks were much taller (7-8 feet in height) and there were many dead ends and wrong turns. In the end we made our way through, not once but twice! And in an impressive 11 minutes the second time through.
After our fun in the corn maze, we decided to pick apples. Picking apples is one of our annual traditions, and this year we had a great time. The trees were full of apples and we easily filled out 4 bags. The farmer manning the orchard was extremely friendly and helpful.
We loaded our apples into the car and decided it was time to sit back and relax on the hayride throughout the orchard. The ride was about 30 minutes and wound around the entire orchard. We saw many varieties of apple trees and some peach trees too. About 1/2 way through the ride the tractor stopped at the pumpkin patch to allow the rider to get out and pick a pumpkin or two.
We opted to bypass the pumpkin patch this time and instead continued the ride back to the entrance of the farm.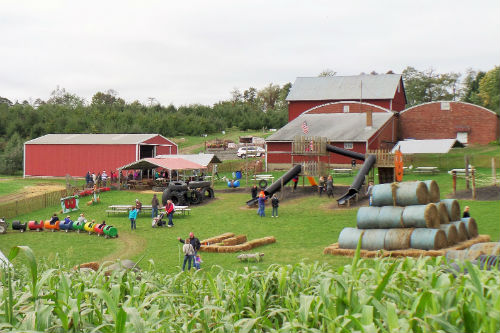 Overall we had a great time at the farm and enjoyed all the activities.
Arrowhead Orchard
11724 Lisbon St., Paris, OH 44669
Click here to visit their website; (330) 862-2733
Pick-your-own apples and family activities start September 12-13, 2015. Fall Family Fun Weekends include hay rides through the apple orchard and pumpkin patch, climbing and riding activities, and two different corn mazes – a 2-acre corn maze for children and adults, and a maze for younger children.
Orchard Market Hours (August-December): Monday through Saturday from 9am-6pm, and Sunday from 12-5pm
Apple Picking: September 12 through October 18, 2015. Saturday from 9am-5pm, and Sunday from 12-5pm.
You may be interested in: