Whether you are in need of free school supplies or you are in a position to donate school supplies for those in need, I hope you find this list of school supply giveaways helpful. Below are details on locations and events across Northeast Ohio where backpacks and school supplies will be given to area children. Please note that often registration is required and children must be present to receive a backpack.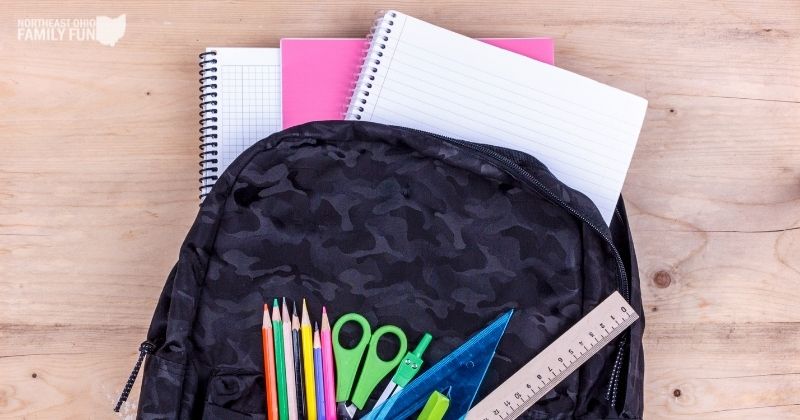 Many Thanks to Goodwill, our Back to School Sponsor. Visit your neighborhood Goodwill store for all your back to school shopping needs!
Learn the ABCs of back to school thrift shopping!
Before the kids go back to school, head to Goodwill to brush up on your ABCs of thrift shopping!
Amazing finds!
Whether your kiddo is heading off to Kindergarten or college, Goodwill carries a variety of new and donated goods including jeans, uniforms, backpacks, shoes and electronics to start the school year out right.
Budget friendly!
At Goodwill, you can find products that are typically 50-90% less than large retailers. Don't miss an opportunity to save even more August 4-6 during Ohio's tax-free weekend.
Community strengthening!
Shopping at Goodwill helps support programs a comprehensive network of local programs like job training, hot meal programs, parenting classes and more. Every year, Goodwill supports thousands of individuals with programming that provides a hand-up, not just a hand-out.
FREE School Supply Giveaways in Northeast Ohio
Hearts Community Book Bag Giveaway [REGISTER/Donation] {Find Out More}
Where: John S. Knight Center, 77 E. Mill St., Akron, OH 44308
When: Saturday, July 22, 2023
FREE School Backpacks at The Cellular Connection {Find Out More}
Where: Participating TCC stores around the country will be hosting events to give away free backpacks filled with school supplies for local students. On a first-come, first-served basis, while supplies last. (One backpack per child.) You can find your closest store by putting in your zip code or town/state here.
When: Sunday, July 30, 2023
The Salvation Army of Painesville & Lake County: Call for details on how to get back-to-school supplies. (440) 354-3774
Catholic Charities Community Services of Summit County: Provides free school supplies for students in grades kindergarten through 8th to low-income families in Summit County. {Find Out More}
FREE Cuyahoga County Family Fun Day {Find Out More}
Where: Public Square, Cleveland, OH 44113
When: Tuesday, August 1, 2023
FREE Lake County YMCA Back to School Bash
Open to all Lake County school children in need. {Find Out More}
Where: Thomas Harvey High School, 200 W. Walnut St., Painesville, OH 44-77
When: Saturday, August 5, 2023
FREE Back-to-School Backpack Giveaway [REGISTER] {Find Out More}
Where: Passion Church, 61 Hartville Rd., Hartville, OH 44632
When: Sunday, August 6, 2023
FREE Back to School Giveaway Community Resource Fair & Carnival [REGISTER] {Find Out More}
Where: Crenshaw Park, 1500 Sherrick Rd. SE, Canton, OH 44707
When: Friday, August 11, 2023
FREE Clothing Giveaway [REGISTER] {Find Out More}
Where: North Canton Church of Christ, 1301 E. Maple St., North Canton, OH 44720
When: August 11-12, 2023
FREE Back to School Giveaway Bash [REGISTER] {Find Out More}
Where: 16801 Euclid Ave., Cleveland, OH 44112
When: Saturday, August 12, 2023
FREE School Supply Giveaway [REGISTER] {Find Out More}
Where: Becoming a Light Ministries, 1104 Johnston St., Akron, OH 44305
When: Saturday, August 12, 2023
FREE Power Of 3 Foundation Back To School Bash [REGISTER] {Find Out More}
Where: Cleveland Heights Library Branch, 2345 Lee Rd., Cleveland Heights, OH 44118
When: Saturday, August 12, 2023
FREE School Supply Giveaway {Find Out More}
Where: The Summit Dover, 302 E. Slingluff Ave., Dover, OH 44622
When: Saturday, August 12, 2023
FREE Back to School Block Party {Find Out More}
Where: Hair Geek Studios, 365 S. Main St., Akron, OH 44311 (South Main Street Block, between Cedar Rd. & Exchange)
When: Sunday, August 13, 2023
FREE Back to School Block Party {Find Out More}
Where: Van Aken Market Hall, 3441 Tuttle Rd., Shaker Heights, OH 44122
When: Friday, August 18, 2023
FREE Beta Lambda Omega & Grace Community SDA Church Back 2 School Block Party [REGISTER] {Find Out More}
Where: Beta Lambda Omega & Grace Community SDA Church, 26120 Elinore Ave., Euclid, OH 44132
When: Saturday, August 26, 2023
FREE Legacy Family Fest & School Grand Opening [REGISTER] {Find Out More}
Where: The Legacy School, 10118 Hampden Ave., Cleveland, OH 44108
When: Saturday, September 9, 2023