Home Depot is not just for adults! The store offers DIY projects for even the youngest builders. The free Home Depot Kids Workshop offers a different building project each month and provides a safe, creative and hands-on parent-child experience.
Sign up for a Home Depot Kids Workshop
Registration is simple, just follow these easy steps to sign up:
Visit the Home Depot website
Enter your zip code, and select your desired store
Search the workshop calendar (each workshop offers a different item to build/create)
Select register for event (be sure to register each child)
Hands on Fun at the Home Depot Kids Workshop
When we entered Home Depot employees pointed us to the back of the store, where the kids' workshop took place. There was a check-in desk where we registered and received our workshop kit. The kit is individually wrapped and contains all the materials you will need (minus the tools). Our particular kit was a window bird feeder. Each child also receives a workshop apron that they get to keep for the project.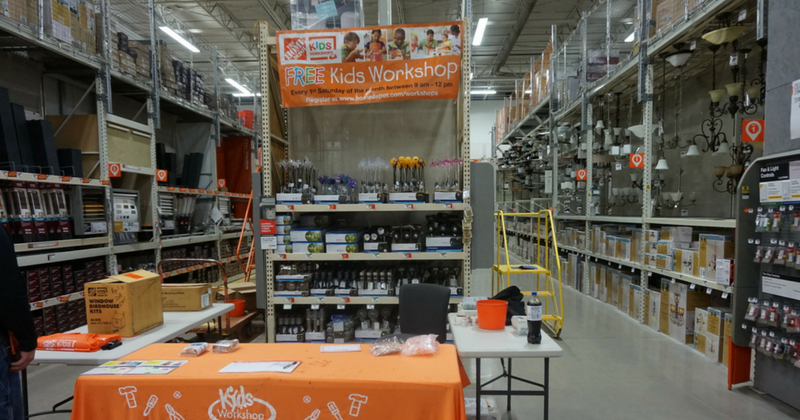 There is a long table set up in a community style with up-side-down paint buckets as stools. All of the additional materials that you will need are located on the table: hammers, screwdrivers, goggles, paint, brushes, etc. The lively atmosphere of other families coming in and out is friendly and encouraging.
The Home Depot staff is around to answer any questions, but they allow families to do the building on their own and enjoy the bonding time. We finished our birdhouse in about 30 minutes.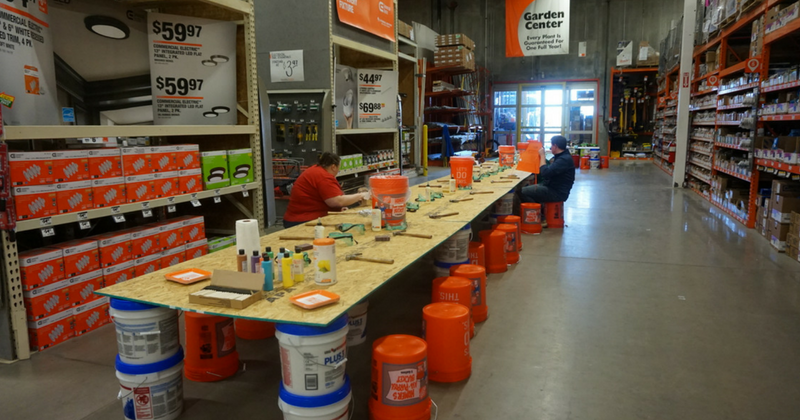 After the children complete the project, they are invited to bring it back up to the check-in desk. Here they receive a certificate of achievement and a commemorative pin to put on their apron. We received a lot of encouragement and excitement from the staff before we left.
We were incredibly pleased with the entire experience! It was a great way for our son to practice building skills with supplies, direction and expertise on hand. If you are looking for a simple and fun family activity that allows you to bring home a tangible product then the Home Depot kids workshop is a perfect outing.
Home Depot Kids Workshops
When: Monthly free workshops
Where: Participating Home Depot Locations
Find a Workshop Near You