Need to pinch a penny? Looking for free things to do in Northeast Ohio? Thankfully it doesn't have to cost at lot to have fun with your family. Northeast Ohio is full of FREE (and low cost) family activities and events taking place each day.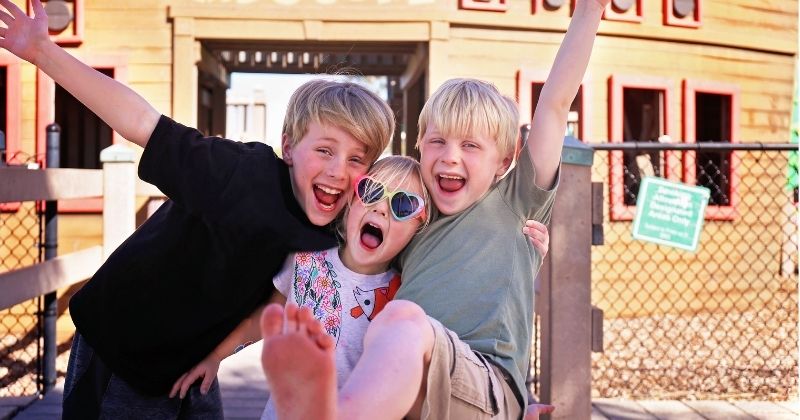 The following FREE events in Northeast Ohio will keep you up to date on all the affordable family fun! We love how much there is to do!
Barberton Public Library Summer Fun!
All together now into a world of adventure with the Barberton Public Library this summer!
Earn prizes for reading from June 5 through August 12, and join us for an action-packed lineup of programs and events for all ages.
Located across from beautiful Lake Anna Park, the Library is the perfect place for you to start your adventure. Attend one of their summer programs, join the Summer Reading Challenge, or relax and enjoy the scenery from their picture windows.
Upcoming events include:
SRC Kick-Off Party, June 7, 12:00 – 3:00 p.m.
Monday performers at 1:00 p.m.
Play, Create, Explore, Wednesdays at 1:00 p.m.
Friday Matinees at 2:00 p.m.
Enjoy a summer of reading, adventures, and magic!
Visit the full event calendar at barbertonlibrary.org for more details.
FREE Kids Workshops, Classes & Demonstrations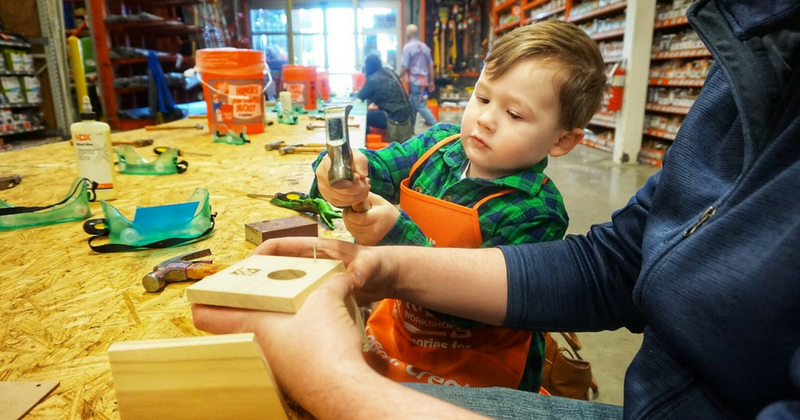 Home Depot Kids Workshops – Home Depot stores across the country offer classes for children (ages 5-12) on the first Saturday of each month. During the classes each child will build a wooden craft to take home along with an official home depot apron and workshop pin.
Lowe's Build and Grow Clinics – During select Saturdays Lowe's Home Improvement stores host a FREE Build and Grow Kids Clinic where kids can build their own wooden project. Project themes change each week. In addition to the building fun, each child receives a free apron, goggles, and project pin.
Michaels Kids Club – Michael's stores offer an occasional Free Family Craft Time as well as a Kids Club on Saturdays.
Crafts for Kids at Lakeshore Learning Center – Each Saturday, Lakeshore Learning Centers offer a free Crafts for Kids program.
Family Open Studio Art House Inc – Create a family art project at Art House Inc for FREE. Each month has a different theme and Art House provides the materials.
Free Museums in Northeast Ohio
Cleveland Museum of Art – Admission is always FREE for the CMA. The museum of open Tuesdays-Sundays (closed on Mondays). The museums also offers free family fun activities on the second Sunday of each month. Themes and activities change monthly.
Trolley Museum Tours of Northern Ohio Railway Museum – Located in Seville, Ohio, the museum works to preserve and restore a variety of railway equipment. Included in the collection are over forty streetcars, interurbans, rapid transit cars and more. The museum is open for walking tours on Saturdays from mid-May until the end of October. On the second Saturday of the month guests can ride a 100 year old trolley car. Admission is free, donations are requested.
Akron Art Museum – Free Admission. Located in downtown Akron the museum houses over 6,000 pieces including sculpture, glass, paintings, photography, digital art, and more. The museum hosts a monthly themed family day with games, studio projects, and family-friendly videos about art.
Massillon Museum – Enjoy The Immel Circus Gallery with a 100-square foot miniature hand-carved circus contains 2,620 pieces, the Paul Brown Museum Gallery as well as many unique art and history pieces. On the first Saturday of each month, the museum also hosts a free Du the Mu program. The program is open to all age and incorporates a new theme each month.
The Learning Center and Money Museum – Located inside the Cleveland Federal Reserve, the Learning Center and Money Museum is fully of interactive exhibits where you will learn about the history of money, try to identify counterfeit bills, make your own currency and more!
International Women's Air & Space Museum – The museum exhibits are in the lobby at Burke Lakefront Airport, as well as the west concourse, and are accessible seven days a week. FREE Admission
You may also be interested in: Even more fascinating and fun Museums in Ohio
Free Gardens and Parks in Northeast Ohio
Secrest Arboretum & Gardens – Admission is always FREE at this Garden. Located in Wooster (Wayne County) the garden also offers a variety of programs from kids and adults.
Canton Garden Center – Located in Stadium park in Canton the Children's Garden hosts a variety of education classes and programs for children. Admission is FREE.
Fellows Riverside Gardens – Fellows Riverside Gardens is a free public garden located at the northern end of Mill Creek Park. This twelve-acre display garden features a landscape of remarkable beauty with diverse and colorful plant displays.
Cleveland's Rockefeller Park Greenhouse – Located just off of Martin Luther King Blvd near University Circle. Admission is always FREE.
Schoepfle Garden – Part of the Lorain County Metroparks, the beautiful garden is free and open to the public. The carousel located in the Children's Garden makes it even more memorable.
Visiting a local playgrounds or park is a great FREE family activity. See pictures and read reviews of all the Parks across Northeast Ohio that we've visited
Free Farms, Animal Sanctuaries and Zoo Admission
Mill Creek Metroparks Farm – Located in Canfield Ohio and operated by Mill Creek Metropark, the 402-acre working farm is open seasonally from April through October. Enjoy special programs, outdoor education classes and activities for children and adults, natural playground, sunflower field, walking trails, fishing ponds and much more.
Stearns Homestead Farm – Located in Parma Ohio, Stearns Homestead is a working, educational farm that is open to the public on Saturdays and Sundays from May through October. The farm is home to over 75 farm animals including goats, rabbits, ducks, chickens, sheep, pigs, horses and more. Admission is free and for a small donation each family is provided with a tub of animal feed to use while visiting. House tours are available on request.
The Ohio Bird Sanctuary – Located in Mansfield and consists of 90 acres with hiking trails, live bird of prey displays, and a walk-through songbird aviary.
FREE Admission to Lake Metroparks Farmpark for Lake County Residents – The first Sunday of each month residents of Lake County get in free to the Lake Metroparks Farmpark. Proof of residency required.
Cleveland Zoo Free Admission for Cuyahoga County and Hinckley Township – Each Monday from Memorial Day through Labor Day, residents of Cuyahoga County and Hinckley Township get FREE zoo admission (Note: Admission does not include the Rain Forest).
Akron Zoo Community Days – On specific days during the month of August/September the Akron Zoo will offer the residents of Summit County FREE zoo admission.
Free Things to do in the Fall
Northeast Ohio Fall Foliage Driving Tours – Take a relaxing drive along these predetermined routes and see the beauty of the changing leaves.
Summit Metroparks Fall Hiking Spree – Get out and explore the trails at the Summit County Metroparks and earn free rewards. Note: This is a FREE program for Summit County residents, out-of-county residents pay to receive their hiking rewards ($10 for first-year hikers, $5 for veteran hikers).
Medina County Parks Trekking Through Autumn – Hike the trails at the Medina County Parks and receive an award. Awards are free for Medina County residents, there is a small charge for out-of-county residents.
Free Things to do in the Summer
Northeast Ohio Spray Parks – There are over 30 Spray Parks in Cleveland, Akron, Canton and beyond. These spray parks offer a fun interactive way for children to beat the heat during the summer. And what makes them even better is that they are often FREE or low cost.
FREE Swimming Pools in Cleveland – The City of Cleveland offers residents free swimming opportunities at either the outdoor swimming pools (in the summer months) and the indoor pools at the recreation centers. Be prepared to show your ID upon arrival.
Beaches across Northeast Ohio – There are quite a few beaches located in Northeast Ohio and some even offer FREE Admission.
FREE Outdoor Summer Concerts – Grab your blankets and lawn chairs and visit one or more of these outdoor summer concerts. With options each night of the week, there is sure to be one that fits into your schedule.
FREE Theatre in Cleveland City Parks – Each summer the Cleveland Public Theatre's Student Theatre Enrichment Program (STEP) offers FREE performances in various parks across Cleveland. Typically in the mid August timeframe.
FREE Outdoor Movies – Attend a FREE outdoor movie under the stars. Remember your lawn chairs and blankets!
Kids Bowl FREE – Details on bowling alleys across Northeast Ohio that participate in the nationwide Kids Bowl FREE Program. Note: Shoe Rental Fees may apply
Kids Skate FREE – Details on roller rink across Northeast Ohio that participate in the nationwide Kids Skate FREE Program. Note: Skate Rental Fees may apply
FREE Water Ski Show at Emerald Lake – Wednesday nights June – August
FREE Indoor Playgrounds
Playland at First Christian Church – Indoor playground located at First Christian Church in North Canton. Very well kept and open to the public during select days/hours during the week. Also available to rent for birthday parties.
DiscoveryWorks – The amazing indoor play area at the Avon Lake Public Library. One area designed for infants through age 7, and another Tweens area for age 8 and older.
Kids Eat Free
Now it is easy for you to find out what restaurants in Northeast Ohio offer Kids Eat Free. Our HUGE list of over 50 restaurants that have special kids eat free promotions is organized by the day of the week so you can quickly pick the day you plan to go out.
Free Weekend Events
Free Things to do this Weekend – The round-ups provide details on many fun things taking place over the weekend and many of the events are FREE (or low cost).