If you up for an adventure of a lifetime, it's time to book a hot air balloon ride. Leisurely float 2,000 feet above the ground in a bright, colorful hot air balloon as you gaze out at the beautiful Ohio countryside.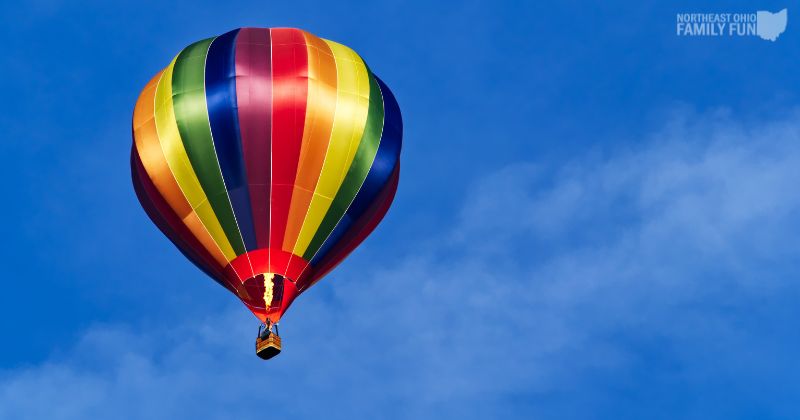 Gentle Breeze Hot Air Balloon Rides
Gentle Breeze is the oldest, continuously operating full-time and year-round hot air balloon ride vendor in all of Ohio! They offer scenic rides above Cincinnati and around the Dayton area. Guests have the option to purchase a private or shared hot air balloon ride and they even offer a Wedding Package. Gift certificates can also be purchased.
Gentle Breeze
When: Year Round
Depart From: Warren County Airport
Contact: (513) 932-9007
Website
Fly Ohio Ballooning
Fly Ohio Ballooning is a commercial ballooning company in central Ohio. They offer sunrise and pre-sunset hot air balloon flights that give riders beautiful panoramic views of the Central Ohio countryside. The hot air balloon rides accommodate 1-4 people, and they also offer a special romantic getaway flight for two. Simply call to make reservations.
In addition to hot air balloon rides, they also offer balloon tethers. During a tether, the balloon is tied to the ground with ropes and only ascends to a low altitude. The balloon can land and ascend multiple times, changing passengers each time. This is a great way to give a large group of passengers a glimpse of the flight experience.
Fly Ohio Ballooning
Depart From: Union County Airport (15 minutes from Dublin Ohio)
Contact: (614) 209-144
Website
Mid Ohio Balloon Adventures
Mid Ohio Balloon Adventures is located a short drive from Columbus and offers hot air balloon rides in central Ohio. Their private flights are perfect for one or two people and include your choice of champagne or sparkling cider toast. Guests can also choose to purchase a video of their flight, which includes photos and video both on the ground and in the air. Rides are available every day of the week, from May through October, at sunrise and just before sunset. Reservations must be made over the phone.
Mid Ohio Balloon Adventures
When: May through November
Depart From: Balloon Port at Mt. Gilead
Contact Info: (419) 560-7535
Website
Gibboney's Aerostation Hot Air Balloon Rides
Gibboney's Aerostation is a Hot Air Balloon Company located in Columbus, OH. They offer balloon rides before sunrise and sunset, with the rides being about an hour and the full experience lasting between 2 and 3 hours. You have the opportunity to participate in the pre-flight and post-flight operations as an honorary crew member, at the direction of your pilot and crew, and following the flight, each passenger will receive a personalized Flight Certificate and be invited to celebrate your flight with champagne or a sparkling water toast accompanied by the Balloonists Prayer.
Tethered rides for wedding receptions, festivals, and company parties are also offered. To reserve a flight, you must call them for the time and date.
Gibboney's Areostation
Meeting Place: 2020 Stringtown Rd., Grove City, OH 43123
Contact Info: (614) 271-5278
Website
Hot Air Ohio
Based in Media, OH, and specializing in rides for two, Hot Air Ohio offers private morning and evening rides. Perfect for birthdays, anniversaries, and engagements, the 45 min-1 hour ride can make these special moments into long-lasting memories.
Call to reserve your flight and plan for a 3-hour experience including your special time in the air.
How Air Ohio, LLC
When: Year Round
Depart From: Medina, OH
Contact: (330) 541-5371
Website
More Fun Things to do in Ohio: