As Ohio's third state Capital, the birthplace of Wendy's, and home to Ohio State University, you will be sure to find many fun and educational things to do in Columbus, OH!
With a thriving community of more than 2 million in the Columbus metro area, this beautiful city located on the Scioto River has a lot to offer visitors, from museums to gardens, state parks, and history galore!
Below, you'll find our picks for the fun things to do in Columbus Ohio you won't want to miss.
The Escape Game Columbus at Easton Town Center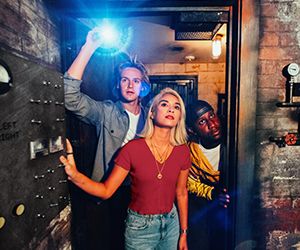 In our games, you and your group enter a highly immersive, multi-room set where you'll crack codes, uncover clues, and solve puzzles. You'll have 60 minutes to beat the clock, win, and get that "I ESCAPED!" feeling.
Worried about your first time playing? Ask your Game Guide for as many hints as you want (no penalties, no judgment)! We have five different themes with multiple difficulty levels to choose from. Make a daring escape in Prison Break, discover what lurks beneath in The Depths, hunt for treasure in Gold Rush, pull off The Heist of your dreams to recover priceless artwork, or step into the shoes of a secret agent in Special Ops: Mysterious Market!
You might escape… you will have fun!
Ohio State Fair
Since 1850, the Ohio State Fair is a great yearly event in Ohio with more than 800,000 visitors each year. Open for 12 fun-filled days and nights in July, the Ohio State Fair is full of activity. Enjoy rides, exhibits, competitions, shows, educational activities, shopping and a large choice of food vendors. The fairgrounds also includes an 8-acre natural resources park where kids can fish at no cost.
Some of the fair's visitor favorite activities include pig races, pony rides, a model railroad train exhibit, a butter sculpting contest, and a parade on the grounds! The fair also offers a full week of concerts, so be sure to check their schedule for tickets in advance.
Visit their website for dates and hours, this year's full schedule, and printable maps.
Fun Fact: The fair has its own mascot, Butters D. Cow!
Ohio State Fair
717 East 17th Street, Columbus, OH 43211
(888)646-3976
Website
You may be interested in: More fun at the county fairs in Ohio
Columbus Zoo and Aquarium
As the most popular zoo in central Ohio, the Columbus Zoo welcomes about 2 million visitors per year and is home to about 10,000 animals from around the world. You'll see all your favorite animals, take a walk with kangaroos and Lorikeets, and get up close and personal with some barnyard animals.
And for an additional fee, the fun continues. You can ride The Grand Carousel, experience a 4-D movie, ride a pony or camel, touch flying stingrays or take a special boat ride on Dinosaur Island!
To see the whole zoo, you'll want to plan for a 5-6 hour visit. We recommend wearing comfortable shoes and dress for the weather. You can pack your own lunch, but for the safety of the animals, straws are prohibited. The zoo offers a food court and several other food options throughout the zoo.
Open for 363 days a year, there is always something fun happening at the Columbus Zoo. You'll want to plan an extra trip to experience the visitor favorites Boo at the Zoo and Wildlights seasons starting mid-October.
Check out their website for special events, discounted admission dates and special package pricing.
Columbus Zoo and Aquarium
4850 Powell Road, Powell, OH 43065
(614)645-3400
Website
You may be interested in: More fun things to do at the other zoos in Ohio and aquariums in Ohio
COSI (Center of Science and Industry)
A trip to Columbus isn't complete without a stop at COSI. Since March 1964, COSI has been the "center of science and industry" in Columbus. With more than 300 interactive and hands-on exhibits, it will be sure to will keep your family happy and learning for hours.
COSI is a favorite for toddlers through elementary age, but kids and adults of all ages will enjoy the visit. In addition to their permanent exhibits and attractions including a Dinosaur Gallery, a 3D Giant Screen Theater, a Planetarium, and a little kidspace®, the museum also offers an outdoor science park, special limited-time exhibits, and live shows. Be sure to check their calendar of events for times and details.
Plan at least a half-day visit or longer if you want to see a 3-D film and planetarium show. Although food and drinks are not allowed in the exhibit areas, you can bring your own lunch to eat in their cafeteria area or you can purchase delicious food and snacks from their Molecules Brews + Bites and Atomic Cafes.
COSI
333 West Broad Street, Columbus, OH 43215
(614)228-2674
Website
Ohio History Center
Now open 7 days a week, the Ohio History Center is considered a "hidden gem" by history fans and is best enjoyed by school-age children through adults. The mastodon skeleton is a favorite for kids and everyone enjoys the hands-on Lustron, all-steel house exhibit where you can snoop through drawers and cupboards and learn all about life in the 1950s.
With photos, flags, weapons, and documents, you can explore the United States participation in World War I, enjoy their "Great Collections Experiment" exhibits to see a diverse array of their museum collection in a unique way, and learn new things from their large collection of preserved Civil War flags. You can also step back in time to explore Ohio's Native American heritage and enjoy everything you've never known about the Columbus based White Castle hamburger chain, the first in America!
As part of your general admission to the Ohio History Center, you are also able to visit Ohio Village, their 1890's reproduction Ohio town. While there you'll experience life in the 19th century by chatting with the villagers, touring their homes and town buildings while trying some of their daily activities. Ohio Village is open rain or shine from Memorial Day through Labor Day, but you are able to peek in the windows as much as you'd like during the offseason.
To see everything, you'll want to plan a 3-5 hour visit.
Ohio History Center
800 E. 17th Avenue, Columbus, OH 43211
(800)686-6124
Website
Columbus Museum of Art
Drop into the Columbus Museum of Art to enjoy special activities, explore the art and exhibitions, or join a guided tour. With a variety of art to appreciate you will find everything from Impressionists, to sculpture, to photography, and current contemporary art all in one place.
For families, the museum offers a variety of experiential, hands-on activities. On the first floor, you'll find the JPMorgan Chase Center for Creativity. Here children and visitors of all ages can play and be creative through interactive gallery experiences.
Before you visit, check out their website for their full list of events for special programs and family activities. Plan on a 2-3 hour visit. Sunday general admission is FREE to all museum visitors!
Columbus Museum of Art
480 East Broad Street, Columbus, OH 43215
(614)221-6801
Website
Franklin Park Conservatory and Botanical Gardens
Open every day excluding Thanksgiving and Christmas Day, there is always something beautiful to see and experience at Franklin Park Conservatory and Botanical Gardens.
The outdoor gardens invite you to explore the 88-acres of Franklin Park where your family can enjoy the beauty of nature. From April through December the Conservatory Hot Shop offers live glass-blowing demonstrations where you can see the art as it is created.
The grounds include a 2-acre Children's Garden where kids can enter through a willow tunnel, be covered with magical prism rainbows under the Sunshine Celebration Arch, visit a playhouse with a living green roof, and discover a 15 foot sandstone bluff inspired by the Ohio Hocking Hills area where they'll find ferns, fossils and more!
Outside food is not permitted inside the conservatory grounds, but if you find your family in need of a snack during your visit, their Garden Cafe is open during lunchtime hours and offers a variety of salads, sandwiches, and desserts.
Franklin Park Conservatory and Botanical Gardens
1777 E. Broad Street, Columbus, OH 43203
(614)714-8000
Website
You may be interested in: Other stunning botanical gardens in Ohio
Ohio Theatre — Columbus Association of the Performing Arts
This beautiful and historic theatre was saved from planned demolition in 1969 and now serves as the official State Theatre of Ohio. Although it originally opened as a silent movie house in 1928, today you'll find more than 100 performances per year making it one of the most active performing arts venues in the state.
With 2,791 seats, this Spanish-Baroque style theatre with 20-foot chandelier and "Mighty Morton" original pipe organ is sure to entertain the whole family. The Ohio Theatre's history, art, and culture make it a must visit venue when visiting Columbus.
Visit the CAPA website for details, performances listings, and ticket information.
Ohio Theatre
39 East State Street, Columbus, OH 43214
(614)469-0939
Website
Ohio Stadium
With 100,000+ seats, brown stadium mustard, script Ohio, and incredible college football energy, "The Shoe" is a fun experience from almost every seat. Ohio Stadium is one of the most recognized landmarks in college athletics and more than 36,000 million people have enjoyed events here since its opening game in 1922.
Tickets can be purchased in person at the Ohio State Athletic Ticket Offices in the Schottenstein Center Monday-Friday or online anytime. Before you go, we suggest you visit their webpage for stadium and parking information.
Gameday tip: Leave your bag at home. Although no large bags or purses are allowed in the stadium, clutch purses are OK.
Want to know more about the giant horseshoe and get a behind-the-scenes experience? Schedule a private tour! You will walk the sidelines, check out the press box, enter the Yassenoff Recruit Center, visit the Huntington Club level, explore the Steinbrenner Band Center and more.
Tours are approximately 1.5 hours, must be scheduled at least 2 weeks in advance, and are available year round. Check the tour website for details!
Ohio Stadium
41 Woody Hayes Drive, Columbus, OH 43210
(614)292-6330, Game Day Information
Website | Tours
The Topiary Park
In the middle of downtown Columbus, Topiary Park brings George Seurat's painting "Sunday Afternoon on the Island of La Grande Jatte" to life through this unique garden on the former Columbus School for the Deaf.
This beautiful topiary garden is a nice, relaxing place to take a walk or enjoy a picnic when visiting the city. Visit their website for more information about the artist's vision for the garden, the history of the location and school for the deaf and for tour information. The web page includes a virtual tour, a printable guide for a self-led tour, and information to schedule a guided tour by Friends of the Topiary Park.
Plan about a 1 1/2 hour visit, not including lunch. Parking is by paid meter, but the park itself is public and free to enjoy from 7am to 11pm. Pets are allowed.
The Topiary Park
480 E. Town Street, Columbus, OH 43214
(614)645-0197
Website
Field of Corn
Officially titled "Field of Corn (with Osage Oranges)," this larger than life is the work of sculpture, Malcolm Cochran. The artwork stands on a previously farmed property which has been since renamed Frantz Park after the family who once lived and worked there.
Full of symbolism of the farming legacy of the community, this fun corn sculpture is a sight to be seen. With it's 109, 6-foot ears of concrete corn, your family will enjoy walking the rows of corn to see if you can find any matching kernels or snap a picture of the kids trying to take a bite off one of its giant ears!
Field of Corn
4995 Rings Road, Dublin, OH 43016
(614)889-7444, Dublin Arts Council
Website
Jeni's Splendid Ice Creams
With several locations throughout the city and surrounding area, you'll want to stop and get a scoop at Jeni's! You won't find any artificial flavorings or premade mixes at Jeni's, but what you will find is a beautiful shop and delicious ice cream flavors!
Jeni's shops offer a nice mix of artisan ice creams made with whole ingredients to make quality products from quality ingredients, including grass-grazed Ohio milk from Northeast Ohio and a specially created yogurt from Defiance, Ohio.
Visit the Jeni's website for more information about the award-winning creator, Jeni Britton Bauer, or just stop in for a scoop or two of Lemon & Blueberries Parfait or Blackout Chocolate Cake on your next visit to Columbus!
Jeni's Splendid Ice Creams
Multiple Locations
Website
You may be interested in: Top places to get homemade ice cream in Ohio
John F. Wolfe Columbus Commons
Columbus Commons is the happening "green space" park in the middle of Ohio's busy downtown Capital city. With so much to see, do and eat, it is a great place full of special events and activities as well as a nice place to grab a snack outside on a sunny afternoon.
Along with their long list of concerts and special events, you'll find cafes and treats, beautiful flowering gardens and fun activities for the whole family. At the southern end of the commons, you can ride the park's carousel with Ohio hand-carved fairytale creatures and images from around the city. It is wheelchair accessible and free during some events (or tokens can be purchased from an onsite token machine).
During the summer event season, be sure to check out their OPEN Play activities, watch a kickball league game, or get active and fit at the NEOS Playground for hours of fun activity!
You can get the whole list of concerts and special events from their website. Restrooms on site!
John F. Wolfe Columbus Commons
160 S. High Street, Columbus, OH 43215
(614)461-4454, Parking
Website
Alum Creek State Park
Best known for its water activities and boating, this large state park in Central Ohio has a lot to offer. Alum Creek State Park includes a 3,387-acre reservoir and Ohio's largest inland beach. There are 4 boat launch ramps, docks, fuel, supplies, concessions and boat rentals all within the park. Kayak, water ski, paddleboat, swim or sunbathe, it's up to you!
The park also has tent and camper sites and several unique rental cabins. Pets are welcome on some sites and although they rent quickly, there are 30 sites available for equestrian camps. When you camp you'll find heated showers, flush toilets, special camp use beach, and boat ramp access, and plenty of activities and playgrounds.
And if you like to hike, bike, or ride you can find a map of all of their hiking, mountain bike, multipurpose and brindle trails on the printable map on their website. It also shows you how to find the dog park, amphitheater, miniature golf, and other activities.
Alum Creek State Park
3305 S. Old State Road, Delaware, OH 43015
(740)548-4631
Website
Inniswood Metro Gardens
Bring the kids and your camera because Inniswood Metro Gardens is a beautiful backdrop! With 123 acres trails and gardens, you'll experience more than 2,000 species of beautiful plants, themed gardens, waterfalls, and sculptures through all the seasons.
The children's garden is the favorite with all of the young visitors. They can play, learn, and explore while they walk through the garden, visit the tree house, or wander over rope bridges. They will also enjoy the easy walking trails with a beech-maple forest boardwalk, a "Frog Talk Walk", and many little nooks to explore along the way.
As a calm, peaceful botanical garden, you'll need to leave active toys and pets at home. Although food or drinks are not allowed inside the gardens, you can enjoy your picnic just outside the park. Be sure to pack bug spray and dress for the weather.
Inniswood Metro Gardens
940 S. Hempstead Road, Westerville, OH 43081
(614)895-6216
Website
Ohio Statehouse
If you have the chance, the beautiful Ohio Statehouse is a great place to visit to learn all about Ohio history in a short 1-2 hour visit. The Greek Revival style building has a long history of its own and you can learn all about it and so much more with a 45-minute free, guided tour. Visitors to Columbus highly recommend it, especially if you are a history buff.
The Statehouse offers guided tours daily, but if you're short on time or prefer to explore the Statehouse on your own you can request a brochure for a self-guided tour. Plan time to visit The Ohio Statehouse Museum Education Center on the ground floor. It offers exhibits all about the state government process.
Visit the Statehouse website for photos and some very good information to know before you go. Also, be sure to check the online calendar for special events and dates when the Statehouse is closed. Don't miss the huge gift shop featuring Ohio artists and businesses!
Ohio Statehouse
1 Capitol Square, Columbus, OH 43215
(888)OHIO-123
Website
Nationwide Arena
Found in the heart of Columbus on the site of the historic Ohio State Penitentiary, Nationwide Area is now the home of the Columbus Blue Jackets hockey team and more.
During hockey season from October through April, fans can purchase single game tickets, season tickets and a variety of special priced packages including a Family Value Pack with food and on ice activities. Game day food options also include an allergy friendly menu including vegan and gluten free items.
In addition to Blue Jackets hockey action, the arena hosts a calendar of other events and attractions with a variety of concert and comedy acts. Be sure to visit their website for a full events calendar and ticket information.
Nationwide Arena
200 West Nationwide Blvd., Columbus, OH 43215
(614)246-2000
Website
Huntington Park
If you're looking for baseball fun, Huntington Park is the place to be in Columbus. As home to the Columbus Clippers, the field hosts a huge calendar of special promotions during the home season making game day even more fun.
Dime-A-Dog Nights, Dollar Days, Party at the Park events, Military & First Responder Games, Fireworks, and Family Day are just a few of the fun themed activities to enjoy at the ballpark.
Visitors will also find a large variety of concessions with everything from ballpark favorites like hot dogs and pretzels, to Graeter's Ice Cream, to Uncle Ray's Chips, specialty cocktails, and so much more.
Find single game, full season, as well as 6 game mini-plan tickets on their website as well as the full promotion calendar.
Huntington Park
330 Huntington Park Lane, Columbus, OH 43215
(614)462-5250
Website
Legoland Discovery Center
Plan 2-3 hours to enjoy all things Lego at the Legoland Discovery Center at Easton Town Center in Columbus. This bright, fun, family activity center has 6 Lego attractions, a coffee shop, a preschooler program, and of course a Lego Store.
Attractions include Miniland, where you can explore many of Ohio's most popular landmarks built out of Legos, Lego 4D Cinema, Kingdom Quest interactive ride, Merlin's Apprentice Ride, opportunities to meet your favorite Lego Characters, a Lego Factory Tour where you can learn secrets of how they're made, special events, and more.
It's recommended that you purchase tickets and reserve your visit time the day before you plan to go for the best experience. Tickets and reservations are also available at the door, but entrance times are limited, so you may have to wait until the next available time slot.
Legoland Discovery Center
157 Easton Town Center, Columbus, OH 43219
(614)407-7721
Website
German Village
Designated as a Preserve America Neighborhood, German Village in Columbus is a quaint, historical area offering charming gardens, brick roads, shops, restaurants, and businesses.
Visitors can shop for handmade items, books (check out The Book Loft of German Village), clothing, gifts and more, explore art galleries, dine at a variety of indoor and outdoor restaurants, pubs, coffee shops and bakeries.
The beautiful neighborhood also hosts several parks and gardens as well as special events. Book a guided walking or golf cart tour online and find out more about their self-guided scavenger hunt and self-guided tour map from their website.
German Village
588 3rd Street, Columbus, OH 43215
(614)221-8888
Website
Scioto Mile
Covering more that 175 acres of parkland, the Scioto Mile is the downtown, urban designation of Columbus with a system of beautiful parks and paths for outdoor activity, concerts, festivals, and more.
The Scioto Mile hosts a large events calendar with seasonal festivals including their popular Jazz & Rib Fest, Rhythm on the River, and Winterfest as well as a variety of daily events from food carts, to live music, to yoga.
If you're looking to explore nature, the Scioto Mile connects the downtown area to the Scioto River and offers 6 parks for biking, walking, hiking, water sports, relaxing, and sight seeing. Visitors can also stop by the Cultural Arts Center, explore art galleries, and enjoy a snack or meal at one of the area's 229 restaurants!
Scioto Mile, City of Columbus Recreation & Parks Department
Downtown, Columbus
Website
Easton Town Center
More than just a shopping area, Easton Town Center offers over 200 venues for shopping, dining, and entertainment within an upscale town square atmosphere.
With something for everyone, you'll find all of your favorite restaurants, designer stores, a dine-in movie theater, comedy club, locally grown produce, hotels and more. Kids can cool off and play at the Town Square Splash Pad, explore Legoland, shop for school, and enjoy a sweet treat at one of the many shops offering ice cream, cookies, donuts and more.
Check their website for special events including live music, bake sales, fitness opportunities, and holiday activities. Open Monday through Friday from 10am to 9pm and 12 noon to 6 on Sunday.
Easton Town Center
160 Easton Town Center, Columbus, OH 43219
(614)337-2200
Website
North Market Farmers Market
"Local + Fresh + Authentic" is what you'll find at this 145 year old Columbus Market. Everyone can enjoy shopping, dining, and special events at both the historic downtown North Market and new Bridge Park Market location in Dublin.
At both locations you'll find a large variety of indoor vendors, merchants, and artisans offering fresh meat, poultry, seafood, produce, flowers, specialty items, international foods, and unique gifts.
On Saturday mornings from 8am-12pm during the summer months, you can also shop at the Downtown Farmers' Market where you can purchase from local makers, merchants and farm items as well as enjoy live music and entertainment.
North Market Farmers Market
Downtown Market — 59 Spruce Street, Columbus, OH 43215
Bridge Park Market — 6750 Longshore Street, Dublin, OH 43017
(614)683-8800
Website
Anthony Thomas Candy Factory
Producing an average of 50,000 pounds of delicious chocolates per day, the Anthony-Thomas Candy Factory is one of the largest family owned and operated companies in the midwest.
The factory offers a huge variety of chocolates and candies including special Ohio-themed items and gift sets both online and in their 13 Ohio locations. Stop in for a 1 pound Columbus Skyline bar, a bouquet of chocolate roses, a gift basket full of yummy buckeye candies, and more. (OSU themed boxes are also available!)
In addition to shopping for your favorite sweet treats, be sure to schedule a tour of their 154,000 square foot factory. In about an hour, you can learn all about the art of candy making from start to finish in a state of the art candy factory! Book online before you go or call for details.
Anthony Thomas Candy Factory
1777 Arlingate Lane, Columbus, OH 43228
(614)272-9221
Website
Ohio State University Airport
Fly in or plan a visit, the Ohio State University Airport is a full-service FBO that offers air transportation services, flight training, and boasts a 350,000 square ft. Air Transportation & Aerospace Campus.
Visitors can learn about Ohio State's participation in aviation history from the timeline wall, browse the aviation artwork gallery, take a self-guided tour (find it online), and relax & enjoy the activity of the airport from the observation deck.
Guests can also enjoy a snack or a meal at the homestyle diner on site, snap a photo with Aviator Brutus in his full flight gear, as well as find an airport scavenger hunt, virtual tour, and activity pages on their website.
Ohio State University Airport
2160 West Case Road, Columbus, OH 43235
(614) 292-5640
Website
Orton Geological Museum
Located inside Orton Hall on The Oval at Ohio State University, the school of earth sciences offers their museum gallery, open and free to the public.
Originating from OSU's namesake president Edward Orton who started the collection in 1874, today's visitors can explore more than 1,000,000 rocks, fossils, minerals, and more found in Ohio, across the United States, and even space!
If you're looking for natural history themed gifts, be sure to stop in to the Din-O-Store for fun gifts for everyone including STEM toys and books. Visit their website for open hours, arrange a group tour, and learn more about the many OSU museums before you go.
Orton Geological Museum
155 S. Oval Mall, Columbus, OH 43210
(614) 292-6896
Website
American Whistle Corporation
If you're looking for a whistle and want to know how they're made, the American Whistle Corporation located in Columbus is the place for you!
Making quality whistles since 1956, the manufacturer is the only metal whistle maker in the United States and proudly creates solid brass whistles they boast can last a lifetime. Visitors will find a gift shop on site with a variety of whistles, t-shirts, and gifts.
The 45 minute factory tour is a fun and educational experience where guests learn about the manufacturing process of whistle making from raw materials to packaging and shipping. With a state of the art facility, the tour is suited for visitors of all ages, but tours need to be scheduled online, in advance, before you go.
American Whistle Corporation
6540 Huntley Road #B, Columbus, OH 43229
(614)846-2918
Website
These are just a few of the many, many fun family activities available in Columbus, Ohio. Do you have a favorite we've missed? If so, we hope you will comment below and tell us more about your experiences. Thanks!