Are you searching for outdoor activities to do with your family? You are in luck because Northeast Ohio has many fun outdoor adventures that are perfect for all ages. Whether you are looking for a place to relax or seeking a thrilling experience there is no shortage of unique outdoor activities in Northeast Ohio.
From parks and playgrounds to hiking trails and beaches, there are so many ways to enjoy the great outdoors. What about you? Do you have a hidden gem to share? Tell us your favorite local outdoor spot so we can add it to the list.
Let the outdoor adventures begin!
Best Outdoor Activities in Northeast Ohio
Go Bike Riding – Biking is a great activity and is something that all ages will enjoy. You could take a ride around the neighborhood or hitch up the bikes and take them to a local bike trail (including paved trails, dirt trails and mountain bike trails). Don't have a bike or don't feel like dragging your bikes all over town, consider Renting Bicycles instead.
Hike to a Waterfall – Nothing says the great outdoors like the sounds of a rushing waterfall! We are fortunate to have many Waterfalls in Northeast Ohio that are easy to get to. Four easy to access waterfalls include: Berea Falls at Rocky River Reservation, Brandywine Falls at the Cuyahoga Valley National Park, the Gorge Metro Park and Chagrin Falls.
Star Gaze at Observatory Park – Did you know that Geauga Park District's Observatory Park is one of only 39 Dark Sky Parks in the US and 55 in the world! We are fortunate to have this perfect spot for star gazing in Northeast Ohio. We recommend a walk along the accessible trail and to plan at least one visit during their free planetarium shows.
Adventure to the Canopy Walk and Emergent Tower – Experience a breathtaking view as you ascend 120 feet in the air to the top of the tower. On a clear sunny day, you can see all the way to the lake! Then head to the canopy walk and navigate the bridges through the trees for another unique experience. You can easily spend the day enjoying the many things to do at the Holden Arboretum.
Have a Scavenger Hunt Adventure – Our newly released scavenger hunts make for a fun family outdoor adventure! Have a blast as you follow the map on a quest through an area park. Your team will look for clues, solve puzzles and complete challenges all while making fun memories. Purchase your scavenger hunt now, and start your adventure any time!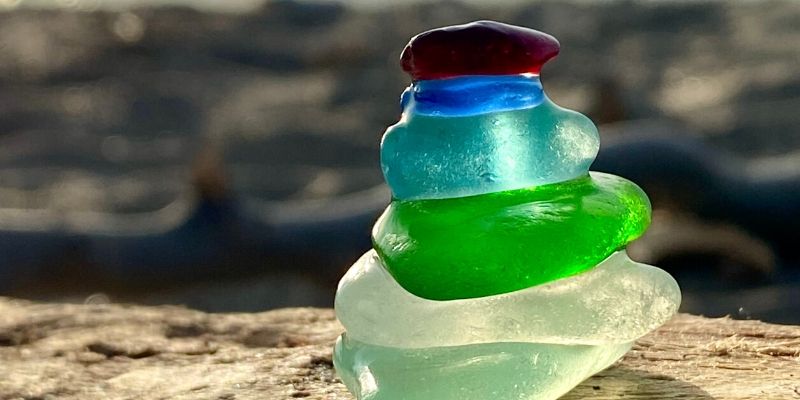 Search for Beach Glass – Head to try your luck at finding the colorful and unique pieces of Lake Erie beach glass. Searching for these tiny treasures is a favorite past time of many Northeast Ohio beach goers and after you see the colorful pieces you will understand why.
Float down the River in a Tube – Relax and cool off during the hot days of summer as you leisurely float down the river. Check out these options for relaxing on the Cuyahoga River and the Mohican River. Remember to bring along sunglasses, hats, and sunblock!
Take in a Sun set over Lake Erie – There is something magical about watching the sun set over the lake. The stunning orange, red and yellow colors of the sky are reflected in the waters of the lake. Layout a blanket, enjoy a picnic dinner (or ice cream) and sit and relax as you watch a breathtaking sun set. Our favorite spots include: Edgewater Park, the Solstice Steps at Lakewood Park, Voinovich Park in North Coast Harbor, Huntington Beach and Lakeview Park.
Explore the Cuyahoga Valley National Park – Not everyone can say that they have a national park close by, but for us the Cuyahoga Valley National Park is located in the heart of Northeast Ohio. Stop at the nature center and talk with a ranger to get recommendations on the best trails for your family and info on any closures. Remember to sign up for the junior ranger program and complete the activity book while you are visiting the park. Turn it back in at the visitor's center to earn an official Junior Ranger Badge.
Make Up an Obstacle at the Playground – We are so fortunate to have some amazing playgrounds. Kids can enjoy the playground, splashpads and hiking trails. We always recommend for adults to join in on the fun (at least for a little while!). Then you can relax on a nearby bench in the shade while the kids run, walk, jump and let their imaginations run wild.
Have a High Flying Zip lining Adventure – Zip Lining is an exhilarating experience that takes you high above the ground as you zip through trees and over rivers and lakes. There is nothing quite like the feel of flying and the bird eye view you will experience as you take in the world around you.
Try Footgolf – It is a combination of soccer and golf and it is a whole lot of fun. Several area golf courses have holes specifically designed for foot golf players. The goal is to kick a soccer ball into a cup, and way more challenging than it sounds. Find a foot golf course near you.
Paddle Away in a Kayak or Canoe – Spend the day on the lake or paddle down the river. You'll enjoy the beautiful scenery, fresh air and get some exercise too. There are many spots to launch your own canoe or kayak. There are many great local spots where you can rent a Canoe or Kayak
Soak up some Sun at the Beach – Put on some sunblock, pack a picnic lunch, grab a towel and a beach chair and head to the one of the many beaches in Ohio. Some are located along the shores of Lake Erie while others you will find along the shores of inland lakes. Either way, visiting is a little escape from the regular routine.
Plan a Camping Trip – Cooking over the fire pit, campfire stories, card games and getting back to nature. There is just something about camping that is good for the soul. Whether you want to rough it with a tent and hammock, or prefer to sleep in an RV or cabin, there are many great campgrounds in Ohio you can choose from.
Hike along (and in) the River – Put on some water shoes, sandals or even rain boots and splash in the water. Find rocks, skip stones or search for crayfish. It is a fun way to cool off in the winter. Our favorite spots include: O'Neil Woods Metropark, Euclid Creek Reservation, Cuyahoga Valley National Park, Rocky River Reservation, South Chagrin Reservation.
Play Frisbee Golf – The entire family can enjoy a round of Frisbee Golf. We recommend you snag a disc golf started set. Order a beginner set online, or head to your local sporting resale store to buy discs second hand. Then head to one of the nearly 30 local Frisbee Disc Golf Courses.
Go to an Outdoor Fun Center – Sometimes you want to do something outside, but not related to nature. Outdoor Amusement Parks offer many fun options including rides, carnival games, mini golf, bumper boats and more. Places like Memphis Kiddie Park and Tuscora Park are perfect for preschoolers, Sluggers & Putters is great for older children. Planning to go to Cedar Point and have a child who is under 5? Sign them up for the Free Admission to Cedar Point with the PreK Pass.
Get Up Close with Animals (You Can Even Feed Them) – Calling all animal lovers! Now is your chance to feed exotic animals from your car, go on an underwater adventure at the aquarium, participate in fun programs at the zoo, go on a drive thru safari and tour local farms. Get all the details on where you can visit animals.
Stop and Smell the Roses at an Outdoor Garden – Your senses will be delighted as you stroll the grounds at one of local outdoor gardens There are many to choose from and most offer a variety of educational activities. Our favorites include, Stan Hywet, Beech Creek, Cleveland Botanical Gardens, Fellows Riverside Gardens, Secrest Arboretum and Schoepfle Garden
Visit a Lavender Field – Lavender season typically runs from mid June until the end of July. Strolling through a blooming field of lavender is a fragrant experience you simply must try for yourself. There are many farms with stunning lavender fields in Ohio that offer guest the opportunity to walk through lavender fields and pick lavender bundles to take home.
Slide down the HUGE hill at Secrest Arboretum – As if the gardens at the Secrest Arboretum weren't reason enough to make the trip to Wooster, the nature play area with the HUGE slide built into the side of a hill will definitely make you want to go. We suggest visiting multiple times throughout the year to see the gardens during each season.
Saddle Up a Horse at a Local Stable – Head out on a guided trail ride through the woods or sign up for lessons at a nearby barn. Many local stables offer horseback riding options for both kids and adults. Make sure to call ahead to ask about any special instructions or requirements needed to ride.
Pick Strawberries – Picking Strawberries is a sweet summer pastime that you don't want to miss. The season in usually beings at the end of May and runs through the end of June or early July and there are many area farms welcome guest into the fields. Find a farm near you that offers strawberry picking. Prefer to purchase the strawberries already picked? You can do that too.
Hunt for a Geocache – There are millions of geocaches hidden around the world—there are probably some near you right now. Simply download the free Official Geocaching app and start your search. Start with the free version of the app to find out if you enjoy geocaching. Then upgrade to the paid version to unlock even more geocache locations.
You may also be interested in: Ultimate list of things to do with kids in northeast Ohio