I can't think of anything that brings more joy to my children's faces when it's the dead of winter or a rainy spring day than when I tell them to go grab their swimsuits and pajamas because we are headed to a hotel with an indoor water park for the night. Whether you are looking for a fun overnight getaway at a water park hotel or want to spend the day splashing in the water, there are so many great indoor water parks in Ohio to choose from.
So grab your towels and goggles as we explore the thrills, slides, and best lazy rivers that Ohio has to offer! With so many locations to choose from, there is sure to be one (or more) that is perfect for your family!
Top Indoor Water Parks in Ohio

Find an Indoor Waterpark Near Me
Castaway Bay
Newly remodeled in 2022, Castaway Bay is a tropical-themed resort that has something for everyone. The HUGE indoor waterpark has a wave pool, 10 different waterslides, a pool filled with floats, a rope course, and basketball hoops – plus other exciting water fun around every corner.
Guests will also enjoy a large arcade area, children's crafts in the activity center, and retail shopping. Plus there's no need to leave to get food, instead enjoy a delicious meal (or two) in one of the multiple restaurants located at the hotel. It's also one of the closest hotels to Cedar Point and when you stay you'll receive early admission to Cedar Point so you can enter the park an hour before it opens to the public.
Deal Alert -> Up to 70% Off Overnight Stay at Castaway Bay in Sandusky. Get Discount Here
Castaway Bay Water Park
2001 Cleveland Rd., Sandusky, OH 44870
(419) 627-2106
Find Out More
Great Wolf Lodge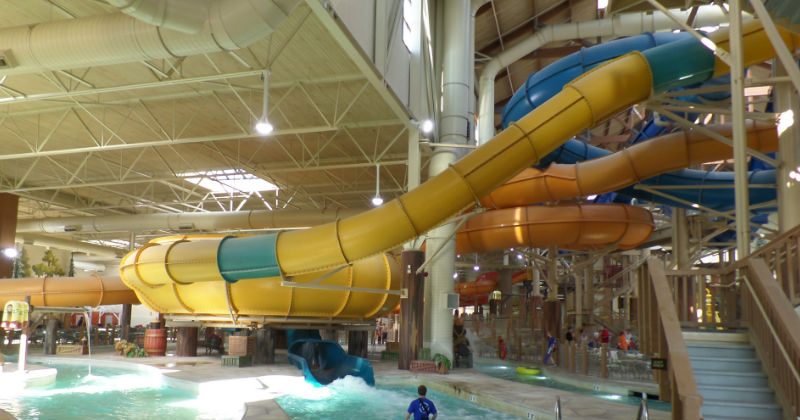 With two locations in Ohio and waterpark passes included with your stay, this is a great option for a weekend getaway. Guests get maximum time in the water because they can use the water park starting at 1 pm on the day of check-in and until the park closes on the day of checkout.
Enjoy individual waterslides, tube slides where multiple can people ride at the same time, a rollercoaster waterslide, a large swimming pool, a lazy river, and a water playground area with so many cool water features, dumping buckets of water, and more.
As if the amazing waterpark wasn't enough, Great Wolf Lodge also offers many other activities including arcade games, MagiQuest adventure throughout the lodge, story times, character appearances, and more.
Sandusky Location:
4600 Milan Rd., Sandusky, OH 44870
(888) 779-2327
Find Out More
Cincinnati/Mason Location:
2501 Great Wolf Dr., Mason, OH 45040
(800) 913-9653
Find Out More | Our Review
You may be interested in: More fun things to do in Cincinnati
Kalahari Resort & Conventions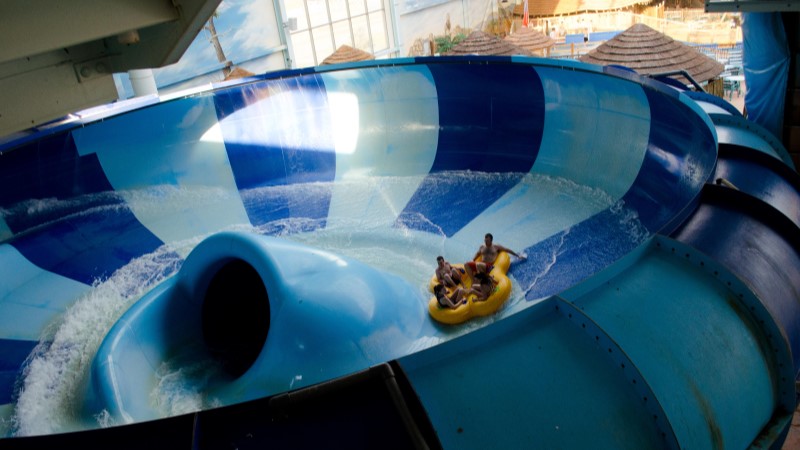 America's largest indoor waterpark boasts an array of activities for children of all ages. Enjoy the individual water slides as well as tube slides that multiple people can ride together, a wave simulator for surfing, a splash pad area for little kids, a multi-level water playground, a wave pool, and so much more.
They also have a wide variety of dry activities, including an arcade, escape room, mini-golf, laser tag a safari adventure with up-close animal encounters, and more. There is truly something for all ages and interests. It's easy to see why Kalahari was voted the "world's coolest indoor waterpark."
Kalahari Resort in Sandusky
7000 Kalahari Dr., Sandusky, OH 44870
(877) 525-2427 or (419) 433-7200
Find Out More
Splash Harbor
This is a smaller waterpark that is great for younger children who may not be ready for the big waterslides and commotion at the larger indoor waterparks. But don't let the small size fool you, because it's packed with fun activities including a water slide, splash pad, swimming area with basketball hoops and floating rafts, a kiddie pool, family hot tub, and an adult-only hot tub.
Another great feature is the glass roof that allows in plenty of sunlight, so be prepared with sunscreen if you are going in the warmer months. In addition to the pool, they also have a fun arcade game room.
Be sure to check out the nearby Buckeye Express Diner where you can eat inside a refurbished train car or head to the Little Buckeye Children's Museum for more area fun.
Splash Harbor Indoor Water Park
Comfort Inn Splash Harbor, 855 Comfort Plaza Dr., Bellville, OH 44813
(419) 886-4000
Find Out More | Our Review
Splash Lagoon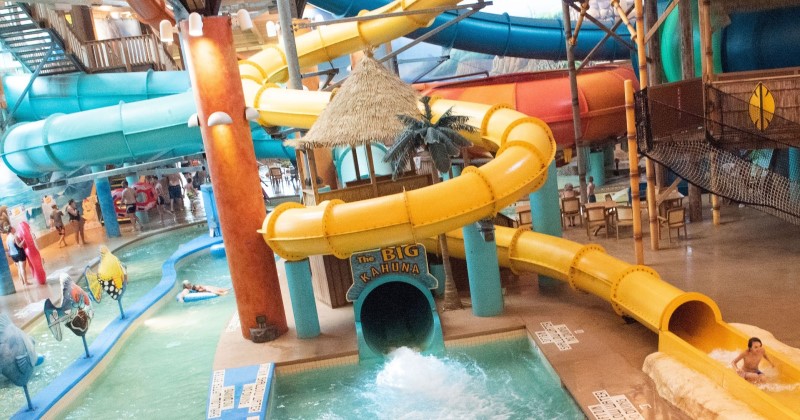 While this waterpark isn't technically in Ohio, its location in Erie, Pennsylvania is just a short drive across the Ohio border. The park boasts a massive indoor wave pool, seven unique water slides, a lazy river, hot tubs, a swimming pool, and more. Choose to stay in any of the three connected water park hotels and enjoy a family suite with waterpark passes and free breakfast.
Splash Lagoon Waterpark
8091 Peach St., Erie, PA 16509
(814) 217-1111
Find Out More