Named the Best Coastal Small Town in America by USA Today, your family will be sure to enjoy the many fun things to do in Sandusky Ohio!
Best known for Cedar Point Amusement Park, the greater Sandusky area offers a large variety of family fun from auto racing to Lake Erie water experiences, unique museums, water parks and much, much more.
Maritime Museum of Sandusky
"Dive in" to Maritime history of the area and have a "boatload" of fun as you explore the museum's two out-buildings of displays and artifacts.
In addition to boarding Lyman boats and other vessels, visitors can view work happening in the boat building school and restoration workshop, participate in kids activities and learning opportunities including an Underground Railroad exhibit featuring Sandusky's role in the freedom movement.
Open 10am-4pm most weekends with weekday hours varying seasonally. Be sure to visit their website for details, events list, and open hours. Blue Star Museum Discount for active US Military members and family members.
Maritime Museum of Sandusky
125 Meigs Street, Sandusky, OH 44870
(419) 624-0274
Website
Merry Go Round Museum
Making its home inside the preserved, historic Sandusky US Post Office building with a huge rounded column front to greet you, the Merry Go Round museum was opened to the public in 1990.
Inspired by a postal stamp designed after one of Cedar Point's carousel animals, The King Horse, the museum now features a large beautiful Allan Herschell carousel as its main attraction. In addition to riding the carousel, touring the museum exhibits and beautiful collection of vintage carousel figures, visitors can meet and learn about the work of the museum from an artisan carousel animal carver.
The museum's mission is to preserve, restore antique carousel items, and share the craft for all to enjoy. Hours vary.
Merry Go Round Museum
301 Jackson Street, Sandusky, OH 44870
(419) 626-6111
Website
Sandusky Children's Museum
The Sandusky Children's Museum is a learning center for kids ages 4-14 where they can explore and participate in science activities.
With a variety of themed experiments from giant bubbles to remote control vehicles, kids can learn about their world with hands-on interactive activities and themed events.
Open Tuesday through Sunday with limited admission. Walk-in admission is available, but calling to make a reservation in advance is recommended to avoid waiting.
Sandusky Children's Museum
133 E. Market Street, Sandusky, OH 44870
(419) 502-0263
Website
Ohio Veterans Home Military Museum — Temporarily Closed
Originally curated for the home's residents and their guests, visitors can find the Ohio Veterans Military Museum located in the I.F. Mack Building in Sandusky. The former administration building for the Ohio Soldier's and Sailor's Home now hosts the museum's many photos, books, and artifacts collected from various military conflicts and wars.
Since its opening in the late 1980's, the museum has obtained items and artifacts from many historical events from the Spanish American War to more current wars/conflicts including those in Afghanistan and Iraq.
Although the museum is temporarily closed, be sure to check the Ohio Department of Veterans Services website before you visit the area for updates on its reopening.
Ohio Veterans Home Military Museum
3416 Columbus Avenue, Sandusky, OH 44846
(419) 625-2454, X1231
Website
Thomas Edison Birthplace Museum
Take a short drive to visit the Thomas Edison Birthplace Museum located in Milan, Ohio. The quaint village square takes you back in time to visit Thomas Edison's childhood home.
Explore the house and learn about the famous inventor with an experienced tour guide. Tours begin in the museum office with an educational video followed by an approximate 45 minute tour of the home itself where you'll see photographs, original artifacts, and more collected by his sister and family.
Visit the museum's website to purchase tour tickets online and discount information as well as educational information about Thomas Edison for history buffs and students. Blue Star Museum Discounts available for active US Military members and their family members. Closed on Mondays.
Thomas Edison Birthplace Museum
9 N. Edison Drive, Milan, OH 44846
(419) 499-2135
Website
The Milan Museum
Only a minute walk from Thomas Edison's birthplace home, the Milan Museum is recognized by the National Trust as a Distinctive Destination and offers visitors the opportunity to explore historic buildings, view engaging exhibits, participate in hands-on activities, and enjoy family friendly special events.
A few of the notable galleries include the Sayles Gallery which explores the history of the Milan area and the Milan Canal, Newton's Arts Gallery featuring a collection of European decorative arts, the Sisty Blacksmith Shop and Hoover Innovation Gallery where visitors can experience a real blacksmith shop, and the Lockwood Smith & Co. General Store/Gift Shop with unique Milan items and gifts.
Explore their website for more gallery information, museum hours, guided tour details, and special event calendar.
The Milan Museum
10 Edison Drive, Milan, OH 44846
(419) 499-2968
Website
Cedar Point Amusement Park
This popular theme park is known all over the world as the "Roller Coaster Capital of the World" attracting millions of visitors each year. Packed with thrilling roller coasters, extreme rides, multiple ride and play areas for younger kids, exciting live shows, special themed events, and a huge variety of dining options.
You'll want to plan at least two days or more to enjoy all Cedar Point has to offer. In addition to rides and activities you'd expect at a theme park, Cedar Point also offers additional attractions on property and within a few minutes from the main park including a climbing adventure, a huge outdoor water park, beach with water sports, parasailing, marina, and more.
Visitors can choose from a variety of vacation packages including Funday Bundles with admission, parking, and dining packages, hotel packages, and multi-day tickets. If you're a Halloween fan, don't miss their HalloWeekends when the entire park is transformed with activities, decorations, and frightfully fun shows for the whole family.
Cedar Point Amusement Park
1 Cedar Point Drive, Sandusky, OH 44870
(419) 627-2350
Website
You may be interested in: Amusement Parks in Ohio – 19 Fun Filled locations
Ghostly Manor Thrill Center
Full of thrills, chills, and family entertainment, Ghostly Manor is an indoor amusement center offering a year round haunted house. Guests are greeted and welcomed into the castle shaped building by their huge resident dragon to experience a whole day (or more) of family fun in Sandusky.
Activities include their top-rated haunted house staffed with gruesome ghouls and scary scenes (ages 10+), escape room created for groups of 2+, laser agility maze for all ages, VR gaming arcade with new games added frequently, bounce house and play area with 5,000 sq. ft. of fun, 3D "Wizard of Wimblebain" themed black light mini-golf, 4D Action Theater, as well as a full-size skating rink for roller skates, scooters, and roller blades.
With so much to do, Ghostly Manor offers a variety of day pass options so visitors can choose their favorite activities, some which include dining packages. Open most summer days from 12-8pm, but be sure to check their website for details since hours vary seasonally.
Ghostly Manor Thrill Center
3319 Milan Road, Sandusky, OH 44870
(419) 626-4467
Website
Kalahari Resort and Water Park

The Sandusky Kalahari hosts the largest indoor water park on the coast of Lake Erie. The water park is so big you'll want to plan at least a whole day to enjoy all the water slides, raft rides, and other activities.
In addition to the thrill slides, rides and activities, the water park also offers several areas designed for little kids, a basketball themed activity pool, a kids interactive pool, multi-level tree fort with soaking water canons, a lazy river, a large wave pool, and more.
More than just a water park, the Sandusky Kalahari is a large resort and hotel with with standard rooms, suites, and family sized villas, adventure climbing walls, a safari animal park, zip line tours, mini-golf, an arcade, shopping, spa and many dining options all on site.
Kalahari Resorts & Conventions
7000 Kalahari Drive, Sandusky, OH 44870
(877) 527-2427
Website
You may be interested in: Indoor Water Parks in Ohio
Castaway Bay
Newly redesigned and remodeled, Cedar Point has reopened their 38,000 sq. foot indoor water park with a bright, colorful Caribbean theme. The indoor island adventure is open daily for resort guests and includes water slides, a wave pool, children's pool, several activity pools, interactive water playground for kids under 48", and an indoor/outdoor heated spa pool.
In addition to water fun, the resort hosts "Castaway Play – Arcade & More" and a gift shop. Dining options include a character breakfast buffet, quick dining, and an on-property Quaker Steak & Lube restaurant.
Castaway Bay Resort offers special value priced vacation packages with standard hotel rooms, suites, and colorful family suites with bunk beds for the kids. Packages also include exclusive benefits with early admission, free fountain beverages, and free parking at Cedar Point Amusement Park.
Castaway Bay
2001 Cleveland Road, Sandusky, OH 44870
(419) 627-2106
Website
Great Wolf Lodge
Located on Rt. 250 close to shopping, restaurants and many fun things to do in Sandusky, The Great Wolf Lodge is perfect for families with younger kids. The attractions and events at the lodge include an indoor water park, interactive MaiQuest, an arcade, bowling alley, mining adventure, Build-A-Bear workshop, and free kids activities throughout the day.
The indoor water park is included with your lodge stay and offers water fun for the whole family: 4-story water tree house fort, lazy river, water slides, basketball pool, activity pool, kiddie pool, adult-only hot tub, and an outdoor water playground and activity area.
The all suite resort offers standard suites, fireplace suites, cabin and wolf den themed suites, and premium suites with themes and special amenities. Dining at Great Wolf Lodge includes several family friendly options including a pizza shop, snack bar, buffet restaurant, and on-site Dunkin' Donuts.
Great Wolf Lodge
2001 Cleveland Road, Sandusky, OH 44870
(419) 627-2106
Website
Sandusky Speedway
Racing since 1950, the Sandusky Speedway has been in the Jaycox family since 2004 and hosts some of the biggest races in the area including the exciting annual Renegade Rumble and Hymiler Nationals.
The Hymiler Nationals, now in its 45th year running, is a huge 6 day event that brings people from all over the country and Canada for special events with Go-Karts, Night Racing, ISMA Super Modifieds, $1 Night (with $1 admission, $1 beer/pop and hot dogs), and so much more.
The Ohio Wheelman series also puts on an amazing show. If you have never been to Sandusky Speedway this is the show that will make you a race fan! Find the Speedway race schedule online with tickets available at the track on race day.
Sandusky Speedway
614 W. Perkins Avenue, Sandusky, OH 44870
(419) 625-4084
Website
Firelands Winery
As one of the largest wineries in Ohio producing several popular brands, visiting Firelands Winery is a must for anyone who enjoys a nice meal paired with the perfect glass and live music.
The tasting room and restaurant are open year round, Wednesday through Sunday. Taste a variety of local and international wines alongside a nice menu of gourmet pizzas, sandwiches, soups, salads, specialty coffees, and desserts.
Visit their website for the full restaurant menu, wine list, special event details, and to learn more about the legacy and brands of Firelands Winery.
Firelands Winery
917 Bardshar Road, Sandusky, OH 44870
(419) 625-5474
Website
Goodtime Lake Erie Cruise
With family friendly daytime island hopping and weekday sunset cruises, Good Time Boat cruises are a wonderful way to enjoy Lake Erie and explore the Lake Erie Islands.
Departing from downtown Sandusky, daytime cruises include some of the best sights in the area with narration from an experienced guide and stops at both Kelleys Island and Put-in-Bay. Sunset cruises include live entertainment with food and drinks available during the 2 hour cruise.
The Goodtime also offers several themed, special events, and party cruises. Visit their Purchase Tickets page for details and buy tickets in advance online.
Goodtime Lake Erie Cruise
109 West Shoreline Drive, Sandusky, OH 44870
(419) 625-9692
Website
Lagoon Deer Park
Visit Lagoon Deer Park to pet and meet animals from across the world and enjoy some time fishing while you're there. Feed and walk with friendly deer, llamas, goats, sheep, elk, peacocks, miniature donkeys, and more!
In addition to the petting zoo, visitors can also fish in one of their four shady fishing ponds full of rainbow fish, bullheads, bass, carp, and perch among others. No fishing license needed, but you will need to bring your own rods and bait. Weekend night fishing is also available.
Stop by the gift shop with antique cigar store and Cherokee Indian goods. The park is open May through November with varying hours. Be sure to visit their website for open hours before you go.
Lagoon Deer Park
1012 Martins Point Road, Sandusky, OH 44870
(419) 684-5701
Website
Toft's Ice Cream Parlor
If you love ice cream, Toft's is the place for you! Famous for their huge, delicious ice cream cones, and ice cream treats, Toft's dairy started as a small family dairy farm in the early 1900s.
Today Toft's operates a 76,000 sq. ft. Sandusky facility where they supply and distribute their dairy products across the Northern Ohio. Their popular milk and ice cream is available almost everywhere in the greater Sandusky area and are a favorite at festivals and county fairs.
Visit their old-fashioned ice cream parlor located at the dairy where their products are made and find them at three additional locations near the Sandusky Mall, Port Clinton, and inside Cedar Point Amusement Park.
Toft's Ice Cream Parlor
Old-fashioned Ice Cream Parlor: 3717 Venice Road, Sandusky, OH 44870
Sandusky Mall: 4318 Milan Rd #1B, Sandusky, OH 44870
Port Clinton: 4016 East Harbor Road, Port Clinton, OH 43452
(419) 625-5490
Website
You may be interested in: Best Ice Cream in Northeast Ohio
Marblehead Lighthouse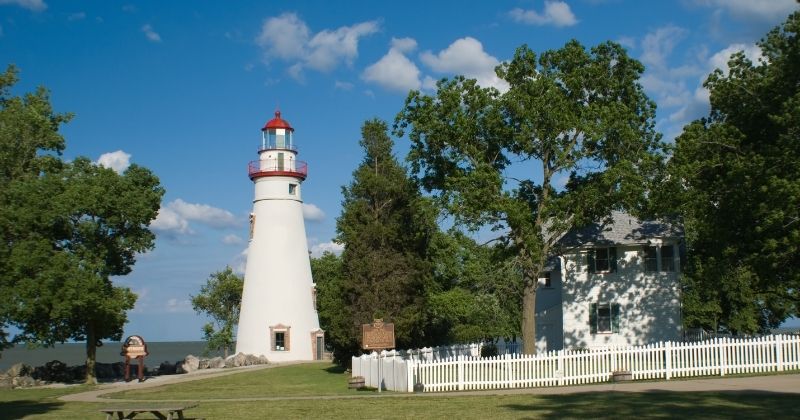 Take in beautiful Lake Erie views while you picnic and explore Marblehead Lighthouse State Park. The nine acre park includes the Marblehead Lighthouse, Lifesaving Station, and the Keeper's House Museum, all maintained and staffed by volunteers with the Marblehead Lighthouse Historical Society.
Celebrating its 200th Birthday in 2022, visitors can tour the lighthouse and climb 77 steps to the tower overlook and explore the museum exhibits inside the replica 1876 US Lifesaving Station and Keeper's House. Exhibits include photographs, artifacts, and replicas sharing the history of the Lighthouse.
The park is open year round with lighthouse tours and museum hours through the summer months. Visit the Marblehead Lighthouse Historical Society website for the events list and open hours.
Marblehead Lighthouse
110 Lighthouse Drive, Marblehead, OH 43440
Email: marbleheadlighthousehs@gmail.com
Website
Kelleys Island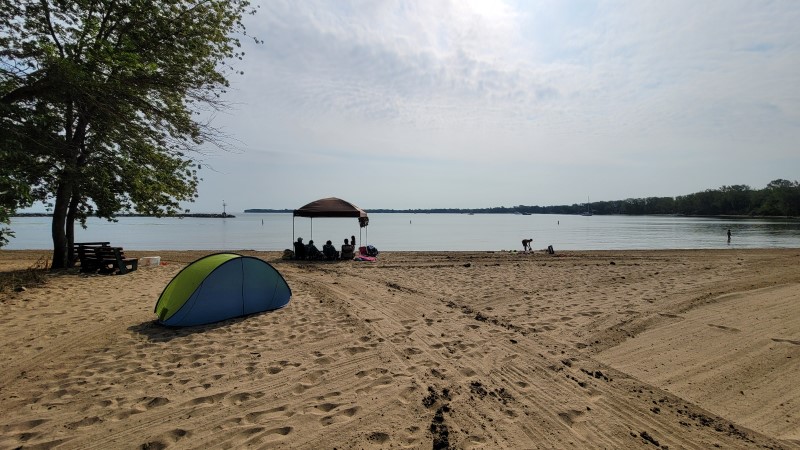 Accessible only by boat, auto-ferry, or plane, Kelley's Island is worth the trip. The popular summer destination hosts a large activities and events schedule, has its own State Park and campground, and tons of family fun.
The 4 mile by 2 mile island is the largest of the Lake Erie Islands and is home to approximately 150 year round residents who happily share their little paradise island with visitors who can stay, dine, shop, camp, bike, swim, fish, and more. Visitors will find a variety of island accommodations including hotels, bed and breakfasts, camping, and rentals from apartments/rooms to condominiums and private houses.
Explore the Kelleys Island Chamber website for details of the many fun things to do on Kelleys Island with links to rentals, events, and activities. Several boat transportation options depart from Sandusky daily.
Kelleys Island Chamber
240 E. Lakeshore Drive, Kelleys Island, OH 43438
(419) 746-2360
Website
You may be interested in: Beaches in Ohio – 24 best places for fun in the sun
African Safari Wildlife Park
Located only about 20 minutes from Cedar Point in Port Clinton, Ohio, African Safari Wildlife Park is a fun side trip and a "wild time" for families. Visitors can meet, feed, and learn about the many animals at the park by car/vehicle or walk through zoo-style.
Meet hundreds of exotic animals from bison and giraffe to macaws and tarantulas! With more species than mentionable, you'll have the opportunity to feed bison, elk, deer, giraffe, zebras and so many more all from your car. The walk thru experience includes a variety of educational programs and the opportunity to hand feed budgies in the new Aviary Adventure.
In addition to visiting the animals, the park offers gem mining for young children, a gift shop, and a cafe with snacks, meals, and Toft's Ice Cream. Open daily during the summer months and weekends during the extended season, daily admission includes unlimited trips to both their Drive-Thru and Walk-Thru Safari adventures.
African Safari Wildlife Park
267 S. Lightner Road, Port Clinton, OH 43452
(419) 732-3606
Website
You may be interested in: Zoos, Aquariums & Places to See Exotic Animals in Ohio
Lake Erie Love Sign
If you're looking for a fun photo opp while visiting Sandusky, you'll want to stop by Nickel Plate Beach or take a side trip to Port Clinton to snap a few fun photos with the Lake Erie Love Signs!
The bright, fun signs created by Shores & Islands Ohio can be found on two of the area's popular beaches with beautiful Lake Erie backdrops.
Lake Erie Love Sign
Find them at two locations:
1) Nickel Plate Beach: 1 Nickel Plate Drive, Huron, Ohio 44839
2) Waterworks Park: 1868 E. Perry Street (SR 163), Port Clinton, Ohio 43452
(800) 255-3743
Website
Catawba Island State Park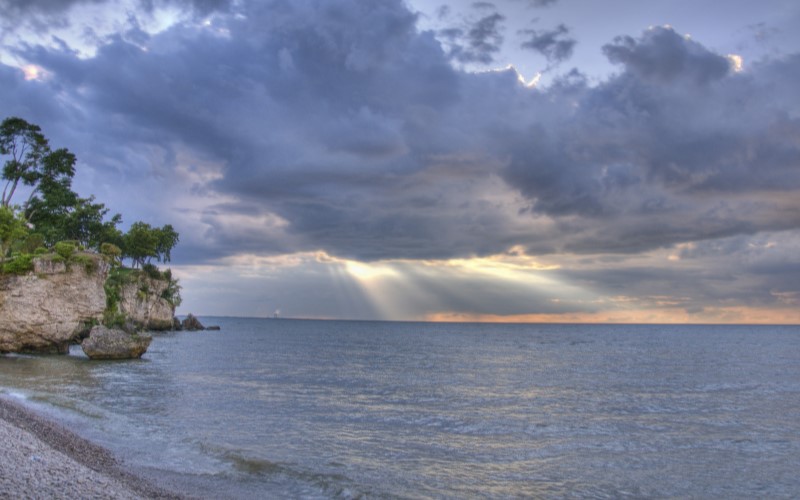 As one of 5 Lake Erie Island parks, Catawba Island State Park is a peaceful place to boat, fish, and take in Lake Erie beach views and beautiful sunsets.
Visitors can walk the park's cobblestone beach, relax by the shore, search for beach glass, or enjoy a picnic. The beach also serves as a shallow launch for kayaks and canoes. Amenities include two large covered picnic areas, modern, clean restrooms, 4 free boat launch ramps, and a fishing pier.
Catawba Island State Park
4049 E. Moore's Dock Road, Port Clinton, OH 43452
(419) 734-4424
Website
Put-in-Bay
South Bass Island, better known as Put-in-Bay or PIB, was the base of operations for commander Oliver Hazard Perry during the War of 1812 and now serves as a hub for all things island fun. Accessible only by boat, ferry, or plane, Put-in-Bay is the second largest of the Lake Erie Islands and is packed shore to shore with activities, places to shop, eat, and play.
Popular for its nightlife, the island also offers tons of family-friendly fun all day long. Rent a golf cart or bikes and explore the island's many attractions including Perry's Monument where you can learn more about the history of the island, tour a cave, play at the family fun center, take a tour of one of the wineries, visit the Butterfly House, enjoy a variety of water sports, and so much more.
Visit the Put-in-Bay website for details on all of the attractions, the many accommodation options, a free PIB Island Guide & Map, and all the ways to "getaway to the bay."
Put-in-Bay Chamber of Commerce
148 Delaware Ave, Put-in-Bay, OH 43456
(419) 285-2832
Website
You may be interested in: More fun things to do in Put in Bay
Soda Pops Sandusky

You'll find candy fun for everyone at the Sandusky Soda Pop's! With vintage glass bottle soda drinks and retro candies, Soda Pop's is a fun place to visit and enjoy a treat.
Visitors will find dozens of vintage root beer flavors, all your favorite retro candies including Pop Rocks, Lemon Heads, Bit-O-Honey, Necco Wafers among many others. In addition to the sweets treats, Soda Pop's Sandusky has a whole room full of retro games, toys, and collectibles that will be sure to intrigue the kids and bring back fun memories for mom and dad! Plus, you can enjoy Toft's ice cream or a root beer float while you're there.
Find the store in downtown Sandusky and open daily after noon. Be sure to check their Facebook Page or call for open hours before you go.
Soda Pops Sandusky
209 W. Water Street, Sandusky, OH 44870
(419) 635-6147
Website
Lakeside Chautauqua
Lakeside Chautauqua is a year round relaxing, wholesome retreat and family resort destination where families can "rest, renew, and reconnect" in a beautiful, historic location on the shores of Lake Erie.
With a huge list of daily classes, programs and activities from water aerobics to walking tours, to arts & crafts and sailing lessons, it's easy to find something everyone will enjoy and plenty of opportunities to try something new. Guests can also enjoy shopping, dining, biking, art exhibits and special events, live entertainment, performances, movies, and more.
Rent a cabin, camp, stay at a bed and breakfast, book a room at one of their historic hotels and inns or purchase a day pass good until 7pm the following day. Faith/religion is one of the four pillars of Chautauqua and the resort offers Sunday Services, guest preachers, fellowship, and worship opportunities for all guests.
Lakeside Chautauqua
236 Walnut Avenue, Lakeside, OH 43440
(419) 798-4461
Website
East Harbor State Park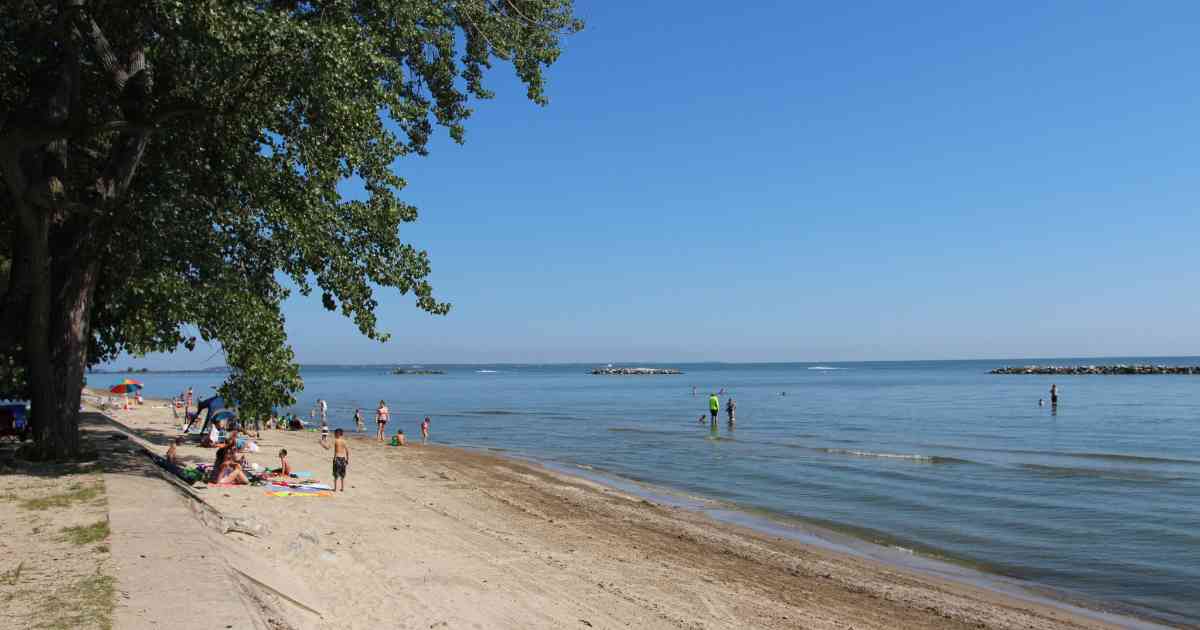 8 miles northwest of Sandusky you'll find East Harbor State Park with a Lake Erie sand beach and days of outdoor fun and activities.
The state park in Lakeside-Marblehead covers 1,831 acres of land and includes a large, sand public beach, boat marina, 11 hiking trails, a nature center, and the largest state park campground in Ohio. The park also includes a variety of outdoor sports including volleyball, basketball, horseshoe courts, disc golf, and children's playgrounds. Beach amenities include restrooms, outdoor showers, changing areas, and vending machines.
Visit the State Park website for camping and cabin rentals information as well as their long list of amenities and calendar of special events.
East Harbor State Park
1169 N. Buck Road, Lakeside-Marblehead, OH 43440
(419) 734-4424
Website
More Fun Things to do in Ohio