The Jackson Bog is 57 acre nature preserve located in Jackson Township, Ohio. It's a great park for families as it is an easy trail through the woods and along a boardwalk over the bog. It's great any time of the year, but especially fun after a few days of heavy rain because the boardwalk floats on the water at various points along the trail.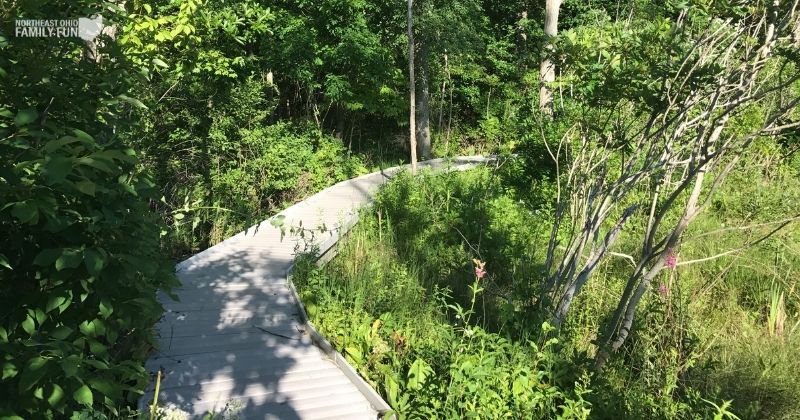 Things to do at Jackson South Park & Jackson Bog
When you first arrive at the park, you'll see a nice sized playground. It was newly remodeled in 2019. There are bathrooms nearby, a sand volleyball court, a pavilion, a few benches, baseball field and even a little free library.
Trails at Jackson South Park & Jackson Bog
The trails begin near the playground. The main trial leads through the woods to the start of the Jackson Bog Nature Preserve. After walking for about a 1/2 mile, you'll reach the boardwalk through leads straight through the bog. This is the highlight of the trail.
Helpful Tip: There are a variety of side trails that depart from the main bog trail. These are not marked very well. Best to stick to the main trail.
Bog Loop
This trail is a loop around the entire bog it includes a boardwalk. There are also information plaques along the boardwalk that explain the different plants and features of the bog.
Distance: 1.9 miles
Difficulty: Easy, does include a couple hills
Points of Interest: Boardwalk, wildlife, flowers
Tips for Your Visit to the Jackson Bog
There are a variety of side trails that depart from the main bog trail. These are not marked very well. Best to stick to the main trail.
Trails are entirely in the woods, make sure you bring bug spray because we've had problems with the mosquito before.
Parks of the trails leading to the boardwalk can be muddy so make sure you bring sturdy shoes, tennis shoes at the very least.
Be careful if you go to the bog in the winter months. The boardwalk can get very icy and hard to walk on without falling.
Lots of opportunities to play Pokemon Go and there are even a few geocaches hidden in the park
Jackson Bog State Park
7984 Fulton Dr NW, Massillon, OH 44646
Website
You may also be interested in: