Behind the Brecksville Community Center, Kids Quarters Playground is a great place to spend the day with your family. There is a large play structure with plenty of slides, climbing areas, and ramps. Several bench swings, a tire swing and a zip line are also great features.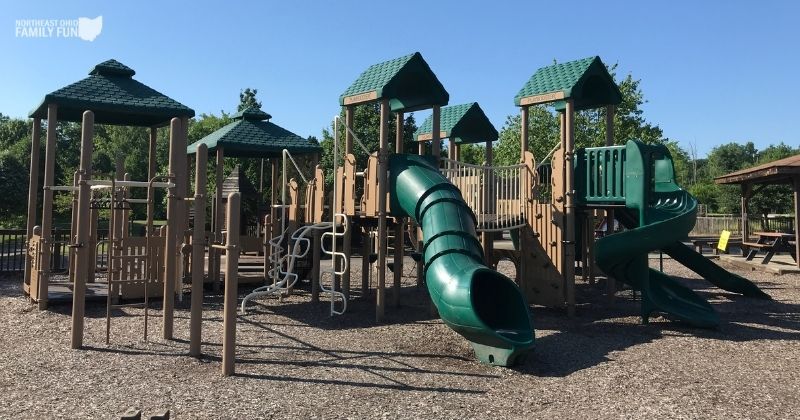 Things to do at Kids Quarters Playground
The playground is really large and has many different areas that will keep kids of all ages entertained for hours. Families with toddlers and preschoolers will appreciate the separate fenced area especially designed for younger children.
While you are there many sure to take a walk around the playground, past the fountain and through the children's garden. There is also a large metal in-ground slide and concrete tunnel to explore.
When you're ready to take a break for lunch or a quick snack, head to the large pavilion near the playground. It has plenty of picnic tables and shade to get a break from the sun.
Tips for Visiting Kids Quarters Playground
There is not a lot of shade on playground besides the pavilion. Make sure to bring sunscreen and water.
Since there's no shade, the metal slide can get very hot. A trick for hot slides is to bring a spray bottle of water and mist the slide before using it to cool it down.
Bring a packed lunch to enjoy in the pavilion
The covering for the playground is wood mulch. Make sure your children wear appropriate shoes.
It's best to go during the week or early mornings on the weekends. This playground can get crowded.
There is a sandbox in the playground. Bring sand toys to make it extra fun!
Kids Quarters Playground Features & Amenities
Separate Playground Area for Small Children
Large Play Structures and Climbing Areas
Bench Swings
Tire Swing
Zip line
Bocce Courts
Children's Garden
In-ground slide with concrete tunnel
Permanent Restrooms
Pavilion with Picnic Tables
Benches
Sandbox
Kids Quarters Playground
1 Community Dr, Brecksville, OH 44141
Website
You may also be Interested In: