Northeast Ohio is fortunate to have an abundance of beautiful state, local and neighborhood parks. Bring your family to hike the many trails, play a game of Frisbee or catch, and enjoy on the playgrounds! There's no shortage of outdoor fun to be had at parks and playgrounds across Northeast Ohio!
We're always looking for new playgrounds to visit. Know of a great one in your area? Be sure to leave a comment or send us an email with the details. Thanks for helping us all stay up to date on the best things to do in our area!
Ashtabula County Parks
Cuyahoga County Parks
Broadview Heights Playground & Splash Pad – The playground is small but mighty with a large variety of play structures located in a fully enclosed area. While the playground is open throughout the entire year, the Splash Pad operates daily from Memorial Day through Labor Day.
Lakewood Park – The 31 acre lakefront park has something for all ages, including a huge playground with unique equipment, a brick walkway with peaceful views of Lake Erie as well as a beautiful skyline of Downtown Cleveland, a skate park, swimming pool and plenty of green space.
Miracle League Playground Eastlake Ohio – The fully inclusive playground is a place where children of all ages and abilities can play together. And the adjoining accessible ball field and gives children and youths with physical and mental disabilities a safe place to play baseball.
North Royalton Memorial Park – Located behind the North Royalton City Hall, Memorial playground has something for all ages and interests including a large fully enclosed playground, fishing pond, paved walking trail, skate park and many other sports options.
Preston's H.O.P.E Playground – Largest fully accessible playground in Northeast Ohio. Created for children with all levels of abilities and disabilities. 60,000 square feet of fun!
Geauga County Parks
Orchard Hills Park – Large 237-acre park located in Chester Township that is part of the Geauga Park District includes an orchard themed playground, walking trails, fishing pond, and more.
Lake County Parks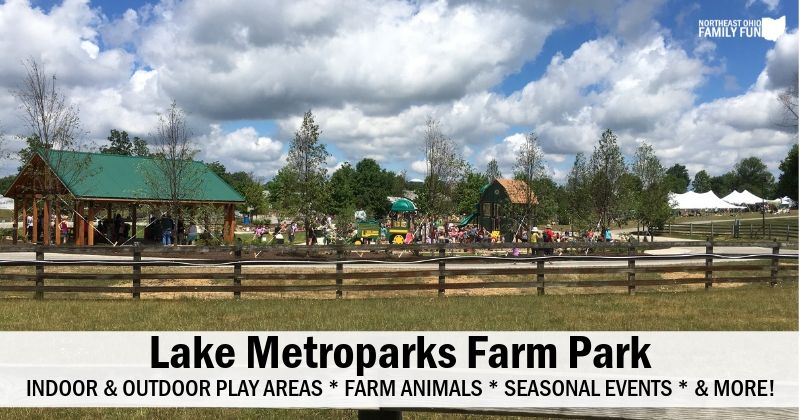 Lake Metroparks Farm Park – You'll find hours (if not days) worth of activities at the farm. Play at the farm-themed playground, milk a cow, grind wheat for making bread, visit the farms many animals, and more.
Lorain County Parks
Medina County Parks
Parks in Medina
Carolyn Ludwig Mugrage Park Medina – 102 acre park that includes: large inclusive playground with a rubber surface, a dog park, story walk trail, pavilion, lots of green space and more.
Fred Greenwood Park & Splash Pad – 38 acres of land across from A.I. Root Middle School. The playground is small, but is located next to a splash pad that is open during the summer months.
Memorial Park JUMP Playground – Large castle like playground with multi-levels, many tunnels, platforms, slides, bridges, walkways and more. The park also has a frisbee golf course and a public swimming pool. Insider Tip: Purchase a punch card for pool admission and get 5 visits for $25
Sam Masi Park – 9 acre plark located in the neighborhood off Gates Mills Blvd near the corner of Gates Mills Blvd and Pleasant Valley Drive. Nice sided playground, ball fields and a frisbee golf course.
Parks in Wadsworth
Kaleidoscope Playground – huge wooden structure with a wide variety of things for children to play on and because of the may wooden towers it feels like you are playing in a castle.
More Parks in Medina County
Hubbard Valley Park – The park consists of multiple nature trails a large 21 acre lake and a small playground. It's typically less crowded that some of the other popular parks in Medina County and it's a great place to spend the afternoon.
Mahoning County Parks
Portage County Parks
Ravenna Community Playground – Another fun castle themed playground that is conveniently located next to The Portage Hike and Bike trail.
Wingfoot Lake Park – A HUGE park (over 700 acres) and it has about everything you could ask for in a park. Bonus: If you time your visit right you can sit and watch the Goodyear Blimp from across the lake.
Stark County Parks
Jackson Township North Park Playground – Located in the heart of Jackson Township, North Park has a lot to offer. The huge 70 acre park is the home of a large fully accessible playground that was newly remolded in 2019, paved walking trails, a beautiful pond and many ball fields. The township regularly hosts fun events at North Park and is currently in the process of building a amphitheater.
Metzger Park – Large castle like playground in Lousiville that has multi-level and may wooden bridges and climbing structures.
Price Park – Large pond with tons of ducks, large playground with a lot of shade. Walking trails and many Pokemon!
Sippo Lake Park – Small playground but tons of hiking trails, the Exploration Gateway Center (similar to a Nature Center), many special events for families and opportunities to geocache.
Veterans Park – Veterans Park (once called Schneider Community Park) is a large 42 acre park located in Plain Township. The park has many features including an ADA accessible playground, reservable shelter, pond, a frisbee golf course, new splash pad (opened in early 2018), dog park, sled-riding hill and more.
Discovery Park – Small neighborhood playground in Canal Fulton.
Hartville Memorial Park (Hartville)
Biking the Towpath Trail
Uniontown Community Park – Beautiful park with lots of shade and two playgrounds. One that is a natural wood play area and then a new (as of May 2015) playground.
Summit County Parks
Parks in Fairlawn
Croghan Park – This 7 acre park located at the intersection of North Miller Road and Sand Run Parkway includes: large playground with rubber surface, 1/4 mile paved walkway through park, covered pavilion. Not much green space so bring your sun block.
Fort Island / Griffith's Park – Two fully enclosed play structures with rubber surface. In addition there are two swing-sets with both regular and infant swings and picnic tables. The nature center at the park contains a number of educational exhibits and a handful of animals.
Parks in Stow

SOAR Fully Accessible Playground – This Silver Springs park has so many sporting options, including basketball, tennis, volleyball and soccer. The courts and fields are in the front section of the park. Located at the back of the park is a very large fully accessible playground with a rubber surface. It is also home to Bow Wow Beach Dog Park.
KidStation Playground – KidStation Playground – A fun fire station themed playground build in 2015 and located next to Stow Fire Station #3. The playground equipment is geared toward elementary age children. In addition to the playground there is a miniature city with paved roads that kids can drive their bikes on.
Safety Village – Located next to KidsStation Playground, this mini city contains kid sized houses, businesses, roads and traffic signs. Perfect for kids to ride their bikes on.
Parks in Hudson
Cascade Park – Nestled behind a quaint neighborhood in Hudson lies Cascade Park. This 75-acre park is home to a playground, three baseball diamonds, a full basketball court, pavilion, walking trial, stream with waterfall and much more!
Hudson Springs Park – Many parks are pretty limited to only one play area, but Hudson Springs has several sets of equipment. It allows the bigger kids to play in one area, while the smaller ones can climb without fear of getting trampled over.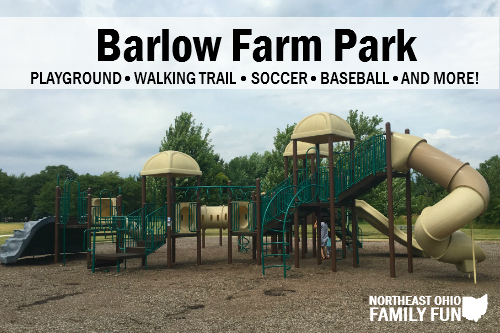 Barlow Farm Park – The 60-acre park offers six soccer fields, four baseball diamonds, playgrounds, a pavilion, grills, hiking/walking trails and restrooms. The sheer open space is unique to this specific park.
Veterans Way Park – On one side there is a playground, pavilion, sand volleyball court, access to the walking trail/wetlands and restrooms. Just across the street, on the other side, you'll find Hudson's own skate park, basketball courts and access to the hiking trail. This park truly meets the needs of every age group!
Middleton Park – Right in the middle of a wooded neighborhood lies Hudson's own Middleton Park. The park is home to a basketball court, baseball field, walking trail, pavilion, grills and playground. This smaller scale park fits a lot of fun into just nine acres.
More Parks in Summit County
Waterworks Park & Playground – Nestled behind Waterworks Aquatic Center there is a HUGE park that is the home to numerous ball field, pavilions, walking trails, a hike and bike trail and a large playground. It's a great destination for a short trip to the park or would be a great spot for a birthday party or family gathering.
Boettler Park &Playground – Located in the City of Green this 62.5 acre parks has something for all ages and interests including a large fully enclosed playground, stocked fishing pond, paved walking trails, hiking trails through the woods and many sports options.

Memorial Park in Tallmadge
Edgewood Park & Sprayground (Barberton)
Trumbull County Parks
Tuscarawas County Parks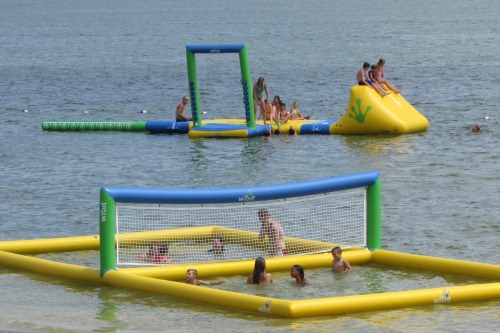 Dover City Park – Fully accessible playground with three different unique play structures, two swing sets and a section with fun exercise equipment. Plus the park also has walking paths, a Frisbee disc golf course, ball fields and a public swimming pool.
Tuscora Park – Come and play for free on the multiple playgrounds, or pay a small fee to swim, play miniature golf, enjoy vintage amusement park rides, a carousel, Ferris Wheel and more!
Wayne County Parks
Knights Field Playground & Kiddy City – The park consists of a large playground, a miniature city for kids to ride there bikes in, and large Sprayground opened during the summer months. The playground and Kiddy City are FREE but there is a per person charge to use the sprayground.

Secrest Arboretum – Beautiful arboretum with many trails and flowers to enjoy. Also includes a natural play fortress and huge slide built into the hill.
We're always looking for new playgrounds to visit. Know of a great one in your area? Be sure to leave a comment or send me an email, I'd love to know about it. Thanks!