If you've never been to a Maple Syrup Festival, you should consider going this year. Many parks and farms in Northeast Ohio provide a chance for people to come learn about the process of turning sap into maple syrup. You'll learn about tapping trees, how the sap is collected, and how the sap is boiled down and turned into maple syrup.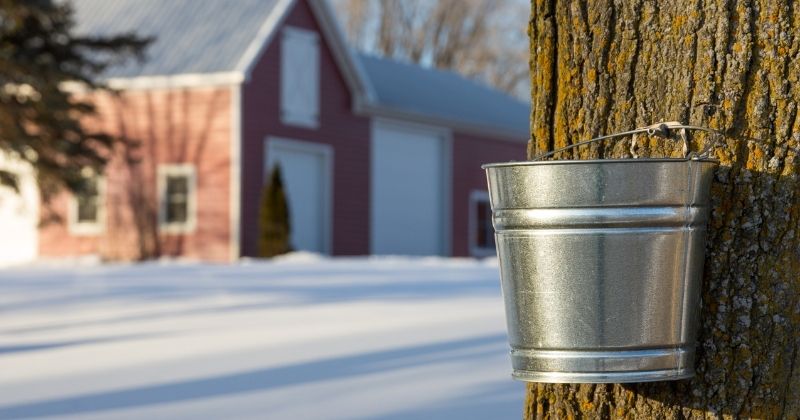 Many of the events include historical demonstrations with costumed interpreters and some even offer a pancake breakfast with delicious maple syrup.
The Maple Syrup Festivals are a unique, fun and educational event the entire family will enjoy. With such a variety of dates, times and locations to choose from, you should be able to find one that fits your schedule. Come meet the producers, see the process, learn about sugarmaking, and taste the products of Ohio's many maple sugar producers.
Top Tips for Attending a Maple Syrup Festival
Plan now which events to attend – Use our list below to choose the Maple Syrup Festival(s) you and your family would like to attend and block the date in your calendar now. That way you won't forget when the day comes.
Share realistic expectations with your kids – With popular festivals, large groups may be attending so prepare your children in advance that it may be difficult to see and hear everything. Consider borrowing a book from the library or find a simple explanation of the maple sugaring process to share with them before you go.
Be prepared to walk or stand – Typically there isn't any designated seating, so be sure to bring a stroller or wagon for little ones.
Protect your kids (and yourself!) from the weather – Many of the events are held outdoors. Make sure to dress for the weather, as you'll be outside for at least a portion of the event. Consider wearing layers so everyone is comfortable even in the cold.
Wear shoes or boots that you don't mind getting dirty, as the trails may be muddy. You may even want to bring an extra pair of clean socks and shoes for the drive home.
Pack your own healthy snacks – Pack plenty of water and bring along some healthy food to snack on while you are at the festival. If you'd prefer to purchase your food, check to see if there will be food in addition to sweets available to purchase onsite before you go.
Be sure to bring some cash money – You'll likely want to purchase some maple sugar treats to take home, so bring some cash money in case they don't accept credit cards.
Remember your camera – Make sure your phone is charged or bring along a camera to capture beautiful and fun photo opportunities.
Check the forecast before you go – Most of the events are weather-dependent. Always check the host website or Facebook page if the weather forecast doesn't look promising.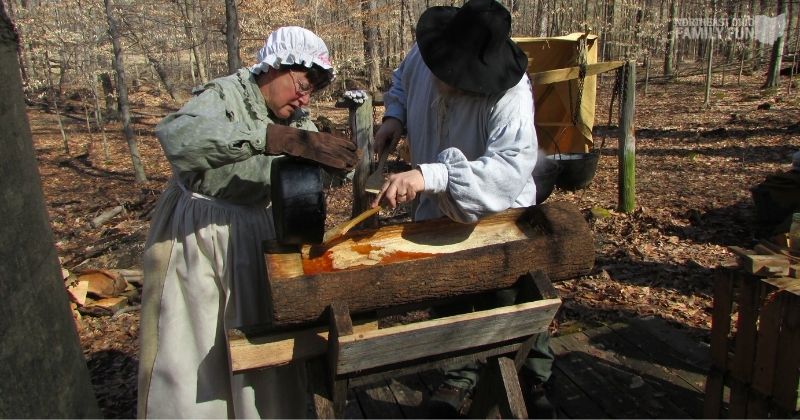 Jump Directly to Specific County:
Astabula | Cuyahoga | Geauga | Lake | Lorain | Summit | Tuscarawas | Wayne
Ashtabula County Maple Syrup Festivals
FREE Maple Driving Tour: Stop at Bissell Maple Farm
One of the largest maple syrup operations in Ohio with the only automated maple syrup bottling line in Ohio operating in a repurposed GE factory in Jefferson, OH. {Find Out More}
Where: 82 W. Ashtabula St., Jefferson, OH 44047
When: Saturday March 5 & 12, 2022
Cuyahoga County Maple Syrup Festivals
FREE Virtual Visit to the Sugarbush
Naturalist Karen Lakus will take you on a virtual visit to Maple Grove at Rocky River Reservation. Enjoy historical photos of the maple sugaring program taken over the last 40 years, and learn about the process of making sap into syrup from the comfort of home. {Find Out More}
Where: Online
When: Sunday, February 27, 2022 [REGISTER]
Sap Tap Time at Cleveland Metroparks
Join Naturalist Jen Brumfield for a short walk around Maple Grove to see the maple sugaring tap buckets in action. Learn about how American Indians discovered the process of collecting sap and boiling it down to sugar. {Find Out More}
Where: Rocky River Nature Center, 24000 Valley Pkwy., North Olmsted, OH 44070
When: Sunday, February 27, 2022
Pancake Breakfast at Sirna's Farm Fresh Kitchen & Pizza
Enjoy Sirna's very own maple syrup on your pancakes and in many of their recipes. This maple operation grew from 300 to 1200 taps in tubing and is located on their seasonal farm, located 2 miles from the restaurant. {Find Out More}
Where: 11773 E. Washington St., Chagrin Falls, OH 44023 (Auburn Township)
When: Saturdays Only, March 5 & 12, 2022
Geauga County Maple Syrup Festivals
Pleasant Valley View Farm
This is a 1000-tap operation with a Leader reverse oil-fired evaporator. Tubing and bucket collection system with reverse osmosis. Selling maple syrup and decorative glass bottles as well as traditional jugs. Come taste the wonderful product at the sugarhouse. Plenty of syrup to be sold at their roadside stand. {Find Out More}
Where: 8810 Madison Rd., Montville, OH 44064
When: Saturday & Sunday, March 5-6, 2022
Sugarbush Creek Farm
Take a wagon ride to Geauga County's most picturesque sugarhouse. Learn the history of maple syrup from ancient legends to pioneer days. Then experience a guided tour to see how they blend traditional methods and state-of-the-art technology on the farm today. Afterward, relax by the fire in the timber-framed tasting lodge and sample Geauga's finest maple syrup. {Find Out More}
Where: 13034 Madison Rd., Middlefield, OH 44062
When: Saturday & Sunday, March 5-6, 2022
Ma & Pa's
Gather sap with the horses. Maple Tour. {Find Out More}
Where: 15161 Main Market Rd. (Rt 422), Burton, OH 44021
When: Saturdays, March 5 & 12, 2022
Sugar Valley Maple
The farm features a 3,100 tap tubing with a 3′ x 12′ enviro-brick fired evaporator. Purchase maple syrup in gallons, half gallons, quarts, pints, and half-pints. They also make maple candy, cotton candy, and various other maple products upon request. {Find Out More}
Where: 15771 Chipmunk Ln., Middlefield, OH 44062
When: Saturdays only, March 5 & 12, 2022
White House Chocolates
Maple and Chocolate pair deliciously! Discover milk and dark chocolate-covered creams and maple fudge with chocolate swirls. We also make maple cotton candy and our Sugar Season Maple Cordial Cherries. This family-owned and operated candy shop is fully stocked with most of the chocolate candies you could ever want. {Find Out More}
Where: 14609 Kinsman Rd., Burton, OH 44021
When: Saturdays only, March 5 & 12, 2022 (CLOSED SUNDAYS)
Maple Products
Explore the sugarhouse and sugarbush that is owned and operated by Tom Salo of Salo Maple Products of Montville Township. See a 150 maple tree orchard recently planted. There will be maple-coated peanuts and pecans, maple candy and granulated maple sugar as well as all sizes of maple syrup for sale. {Find Out More}
Where: 16434 Leggett Rd., Montville, OH 44064
When: Saturdays & Sundays, March 5-6 & 12-13, 2022
Messenger Century Farm
Enjoy the country store porch, where maple stirs and several "Tastes of Maple" samples (so you can see that maple syrup is not just for pancakes) will be served. Learn the history of maple on the farm and discover why they placed a conservation easement with the Western Reserve Land Conservancy to conserve it. {Find Out More}
Where: 17098 Messenger Rd., Auburn, OH 44021
When: Saturdays & Sundays, March 5-6 & 12-13, 2022
Seldom Seen Farm
A modern sugarbush with 1500 taps on vacuum tubing with modern equipment in a timber frame sugarhouse. Walk the gravel trails and see the operation. The farm is handicapped accessible and private and large tours are available. Products available: Bourbon barrel-aged maple syrup, candies, sugar, cotton candy, and their Grand Champion traditional maple syrup. {Find Out More}
Where: 10055 Madison Rd., Montville, OH 44064
When: Saturdays & Sundays, March 5-6 & 12-13, 2022
Burton Chamber Log Cabin Sugar Camp
Watch maple syrup being made (weather permitting). Candy demonstrations. Purchase Maple Stirs ($2) and sit by the inviting fireplace in our 1931 Genuine Log Cabin. {Find Out More}
Where: 14590 E. Park St., Burton, OH 44021
When: Saturdays & Sundays, March 5-6 & 12-13, 2022
Grossman Brothers Maple Products
This is a family-owned and operated sugarbush. Heavy timber frame sugarhouse has a traditional 3' x 12' wood-fired evaporator. 5000 taps on high vacuum tubing with reverse osmosis sap processing producing more than 1500 gallons of maple syrup annually. The sugarhouse is easily accessible with abundant parking. Quality maple syrup and products. {Find Out More}
Where: 12147 Claridon-Troy Rd., Chardon, OH 44024
When: Saturdays & Sundays, March 5-6 & 12-13, 2022
IQ Maple Syrup
Handcrafted Maple Syrup made in Geauga County, OH! 675 bucket operation. Maple syrup has been made here for 100 years! Even the arch used in the newer sugarhouse was repurposed from the sugarhouse dating back to the '50s. Stop in to enjoy the smell and taste of maple. Make sure to stop and visit with the donkeys – the office maple mascots! {Find Out More}
Where: 18266 Thorpe Rd., Chagrin Falls, OH 44023
When: Saturdays & Sundays, March 5-6 & 12-13, 2022
Maple Valley Sugarbush
Possible 2,200 tap operation on vacuum tubing. Reverse Osmosis/wood-fired arch with open pans to boil sap. Demonstration of sawmill for extra value of wood products in the forest management plan of the sugarbush. {Find Out More}
Where: 13262 Chardon Windsor Rd., Chardon, OH 44024
When: Saturdays & Sundays, March 5-6 & 12-13, 2022
KC Maple Syrup & Candy
A backyard operation that uses a wood-fired evaporator with 400 taps. Take a walk through the scenic woods to see how the sap is gathered and transferred from the pump house to the sugarhouse. Easy access to the sugarhouse. Handicap accessible. They have Bourbon Barrel-Aged Maple Syrup. In addition to maple syrup, they will have maple sugar, maple-flavored popcorn, and maple-flavored dog treats for your doggies. {Find Out More}
Where: 16350 Hard Rd., Montville, OH 44064
When: Saturdays & Sundays, March 5-6 & 12-13, 2022
Richards Sugarhouse Maple
Come and enjoy the tastes and smells of the season as Richards Sugarhouse Maple celebrates more than 100 years of excellence in maple products. Visit the sugarhouse and enjoy a special treat of hot dogs cooked in maple sap. They will also have Maple Mustards, Maple BBQ sauces, and Maple hot sauces to try as a topper. In the shop, they will be providing sandwiches, more maple samples, including candies, cotton candy, coated nuts, and much more. Come in and taste the finest flavor of the spring. Easy access to gift shop and sugarhouse. Candy-Making Demos on Saturdays at 11 am & 2 pm. {Find Out More}
Where: 545 Water St., Chardon, OH 44024
When: Saturdays & Sundays, March 5-6 & 12-13, 2022
Some Syrup Maple Products LLC
Come visit this brand new sugarhouse, constructed in 2021, and see how maple syrup is made in the modern day! This is a family-owned, first-generation maple syrup operation. They started making syrup 10 years ago with only 7 taps, and have expanded to more than 600 taps on tubing and boiling on a 2′ x 6′ oil-fired evaporator. Guests will enjoy maple candy and all three maple grade samples. Plus, their award-winning maple syrup and maple candy will be available for purchase. Tours are available all year long by appointment only. {Find Out More}
Where: 13946 Ravenna Rd., Newbury, OH 44065
When: Sunday Only, March 6, 2022
FREE Tappin' Sunday at Geauga County Maple Festival Sugarhouse
The sap collected from Tappin' Sunday is then taken to the Chardon Square Sugar house where it is turned into Maple syrup stirs for customers to enjoy. {Find Out More}
Where: Heritage House located on Chardon Square, Chardon, OH 44024
When: Sunday, March 6, 2022
Swine Creek Reservation Sugar House
Visit the sugarhouse and sugarbush for a sweet taste of how maple sugaring methods have evolved from the Native American tradition to modern methods! Help gather sap in the sugarbush with a horse-drawn sap sled (1-4 pm); experience the tapping, gathering, and boiling methods used throughout history; see sap boiling in the sugarhouse; and try a taste of pure maple syrup. {Find Out More}
Where: Swine Creek Reservation, Sugar House, 16004 Hayes Rd., Middlefield, OH 44062
When: Sundays, March 6 & 13, 2022
Sap's-a-Risin'! at The West Woods
Visit Geauga Park District's sugar house and sugarbush for a sweet taste of how maple sugaring methods have evolved from the Native American tradition to modern methods! Help gather sap in the sugarbush with a horse-drawn sap sled, experience the tapping, gathering, and boiling methods used throughout history, see sap boiling in the sugar house, and try a taste of pure maple syrup! [REGISTER] {Find Out More}
Where: Swine Creek Reservation, Sugar House, 16004 Hayes Rd., Middlefield, OH 44062
When: Sundays, March 6, 13 & 20, 2022
Maple Syrup Jug Lamp at The West Woods
Create a fun accent lamp out of a maple syrup jug. Ages 14+ with adult. [REGISTER] {Find Out More}
Where: The West Woods, 9465 Kinsman Rd., Novelty, OH 44072
When: Thursday, March 10, 2022
Timbertots: Maple Sugar Time at Swine Creek Reservation Sugar House
Explore outdoors and enjoy hands-on activities to discover where and how we get real maple syrup! Ages 3-5 w/adult. {Find Out More}
Where: Swine Creek Reservation, Sugar House, 16004 Hayes Rd., Middlefield, OH 44062
When: March 16 & 19 2022 [WAIT LIST]
The Geauga County Maple Festival {Find Out More}
Where: Historic Chardon Square, Chardon, OH 44024
When: April 21-24, 2022
Lake County Maple Syrup Festivals
Maple Sugaring Weekends at Lake Metro Parks Farmpark
Visitors take a wagon ride to the Woodland Center to witness the maple-producing process as the sap is collected from the network of tubing and 1,000 taps! After collection, watch as the sap is boiled and turned into maple syrup and candy. Discover how trees are tapped and see the tubing that connects the taps. Sample maple syrup and candy, help gather sap and learn how to make maple syrup in your own backyard! Pancakes are served all day in the café. {Find Out More}
Where: Farmpark, 8800 Euclid Chardon Rd., Kirtland, OH 44094
When: Saturday & Sunday, March 5-6 & 12-13, 2022
Lorain County Maple Syrup Festivals
FREE Maple Sugaring Open House at the Lorain County Metro Parks
Late winter brings the sound of sap dripping into buckets in the Carlisle Reservation sugar bush. Join in for a 45-minute outdoor program that will engage you in the maple sugaring process through a visit to the sugar bush where you will discover how to identify maple trees, then explore the tools needed to tap trees, collect sap, and end with a visit to the sugar shack where sap will be boiling in the evaporator pan. Discover the process of turning sap into syrup through this demonstration then enjoy a taste of pure maple syrup. These guided Naturalist-led hikes step off every 30 minutes (noon-2:30 pm). The Sugar Shack will also be open for visitors who just want to drop in and watch the sap cooking in the evaporator pan (10 am-noon both Saturdays and Sundays). {Find Out More}
Where: Carlisle Reservation Sugar Shack, 12882 Diagonal Rd., LaGrange, OH 44050
When: Saturdays & Sundays, February 26-27 & March 5-6, 2022
Storybook Explorers: Maple Sugaring at the Lorain County Metro Parks
Preschoolers and an adult are invited to join this hike to the Children's Nature Discovery Trail. Learn about maple sugaring with a story and visit to the sugar shack {Find Out More}
Where: Carlisle Reservation Sugar Shack, 12882 Diagonal Rd., LaGrange, OH 44050
When: Tuesday, March 1, 2022
Preschool Park Pals: Maple Sugaring at the Lorain County Metro Parks
Preschoolers and an adult are invited to learn about maple sugaring! Hike to the sugar bush, then visit the sugar shack to see sap cooking then taste the yummy syrup! This program takes place entirely outdoors. {Find Out More}
Where: Carlisle Reservation Sugar Shack, 12882 Diagonal Rd., LaGrange, OH 44050
When: Wednesday, March 2, 2022 [REGISTER]
Homeschool Explorers: Maple Sugaring at the Lorain County Metro Parks
Children in Grades 1-6 are invited to explore the sugar bush to discover how maple trees provide sap, then hike to the sugar shack to learn how the sap becomes syrup. {Find Out More}
Where: Carlisle Reservation Sugar Shack, 12882 Diagonal Rd., LaGrange, OH 44050
When: Thursday, March 3, 2022 [REGISTER]
Maple Sugaring Indoors at the Lorain County Metro Parks
Enjoy the story of maple sugaring from INSIDE the classroom. Follow the season of maple sugaring from the first drip of sap to the busting open of the maple tree buds with the help of photos and stories. {Find Out More}
Where: Carlisle Reservation Sugar Shack, 12882 Diagonal Rd., LaGrange, OH 44050
When: Friday, March 4, 2022 [REGISTER]
Summit County Maple Syrup Festivals
Maple Sugar Days & Pancake Breakfast at Hale Farm & Village
Explore the sweet side of history and experience how maple sap processing changed through the 19th century on our historic grounds. Guests are encouraged to explore the natural beauty of Hale Farm maple sugar bush with outdoor demonstrations including tree tapping and a pioneer-style sugar camp. Our partners at Trail Light Farms will be onsite with draft horse demonstrations, and historic sites will be open to explore maple sugar and syrup history. The highlight of the festival is a pancake breakfast prepared by Acme Fresh Market. {Find Out More}
Where: 2686 Oak Hill Rd., Bath, OH 44210
When: Saturdays & Sundays, March 12, 13, 19 & 20, 2022
Tuscarawas County Maple Syrup Festivals
Tuscazoar Maple Days at Camp Tuscazor
All are welcome to join us for a delicious pancake breakfast featuring old-fashioned maple syrup. {Find Out More}
Where: Historic Camp Tuscazor, 6066 Boy Scout Rd. NE, Zoarville, OH 44656
When: Saturday & Sunday, March 19-20, 2022 [REGISTER]