Ohio will hold its annual Sales Tax Holiday beginning from Friday, August 4, 2023, until Sunday, August 6, 2023. Shopping during this weekend is a great way to save money when purchasing back-to-school items and clothing. We've got all the details plus tips on how to save money and time during 2023 Tax Free Weekend Ohio.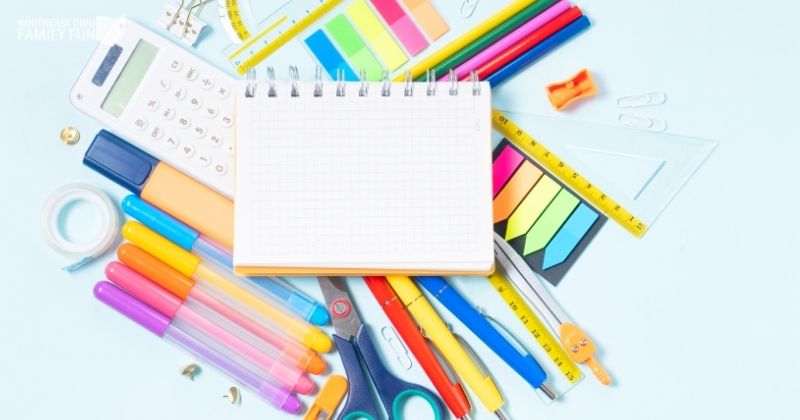 Many Thanks to Goodwill our Back to School Sponsor. Visit your neighborhood Goodwill store for all your back to school shopping needs!
Ohio Tax Free Weekend 2023
Learn the ABCs of back to school thrift shopping!
Before the kids go back to school, head to Goodwill to brush up on your ABCs of thrift shopping!
Amazing finds!
Whether your kiddo is heading off to Kindergarten or college, Goodwill carries a variety of new and donated goods including jeans, uniforms, backpacks, shoes and electronics to start the school year out right.
Budget friendly!
At Goodwill, you can find products that are typically 50-90% less than large retailers. Don't miss an opportunity to save even more August 4-6 during Ohio's tax-free weekend.
Community strengthening!
Shopping at Goodwill helps support programs a comprehensive network of local programs like job training, hot meal programs, parenting classes and more. Every year, Goodwill supports thousands of individuals with programming that provides a hand-up, not just a hand-out.
Save on Back to School Items During Tax Free Weekend
This weekend gives shoppers the opportunity to purchase certain school supplies and clothing free of state sales or use tax. Local sales tax may apply.
Here is a list of items that are tax-exempt:
Save on Clothing
To qualify, the clothing items must be priced at $75 or less (per article of clothing) and fall into the categories below. School clothes and uniforms are all tax-free during this time, but did you know that DIAPERS are too?
Shirts, Blouses & Sweaters
Jeans, Shorts & Pants
Skirts & Dresses
School Uniforms
Belts
Shoes, Sandals & Boots
Socks & Underwear
Bathing Suits
Coats, Jackets & Raincoats
Gloves & Ear Muffs
Diapers
See the Sales Holiday FAQs for more details
School Supplies
To qualify, the school supplies must be priced at $20 or less (per item) and fall into the categories below.
Binders
Book Bags & Backpacks
Calculators
Cellophane Tape
Blackboard Chalk
Compasses & Protractors
Composition Books
Crayons & Markers
Erasers
Folders (expandable, pocket, plastic & manila)
Glue, paste, and glue sticks
Highlighters
Index Cards & Index Card Boxes
Legal Pads & Writing Tablets
Lunch Boxes
Markers & Crayons
Notebooks
Paper (loose leaf ruled notebook paper, copy paper, graph paper, tracing paper, manila paper, colored paper, poster board, and construction paper)
Pencil Boxes & Other School Supply Boxes
Pencil Sharpeners
Pencils & Pens
Rulers
Scissors
See the Sales Holiday FAQs for more details
School Instructional Material & Books
To qualify, the instructional material and books must be priced at $20 or less (per item) and fall into the categories below.
Reference Books
Reference Maps and Globes
Textbooks
Workbooks
See the Sales Holiday FAQs for more details
Additional Ways to Save Time & Money During Tax Free Weekend
Use these additional tips to save even more during tax-free weekend.
Stretch your Dollar even further at Goodwill
At Goodwill, you can find quality items for 50-90% less than large retailers. That means you can get more for less by shopping for back-to-school clothing, shoes and even dorm essentials at Goodwill!
Goodwill offers clothing and housewares 50-90% off traditional retail pricing

Most Goodwills offer a variety of new products along with donated items and thrifting is the easiest way to experiment with new clothing and new styles. Plus, it's a lot of fun!

Shopping at Goodwill supports a comprehensive network of outreach programs in the local community.

Buying second-hand gives new life to items and helps keep them out of area landfills. Every purchase and donation positively impacts our environment.
Save Time by Shopping Online
Walmart has a School List Assist feature. This makes it really easy to pick out all your child's school supplies online.
Step 1 – Look up your child's school and add their supply list straight into your online shopping cart.
Step 2 – Make any desired edits, like changing a notebook color, adjusting a quantity, or deleting an item if you already have it.
Step 3 – You can choose to have everything delivered to your doorstep, or you can choose to pick it up in-store.
Helpful Tip: In order for this to qualify for tax-free weekend you must order and pay for the items during tax free weekend
Check for Coupons
Before you head out, check the sales flyers in the Sunday newspaper. Or if you have Kohl's cash, consider using it this weekend for extra savings.
You May Be Interested In: