Want to hit the slopes this winter? No need to book a flight or pack up the car for a long drive to the mountains because there are plenty of great ski resorts in Ohio just waiting for your next winter adventure. Reserve your lift ticket today and get your snow gear ready for a fun-filled winter outing.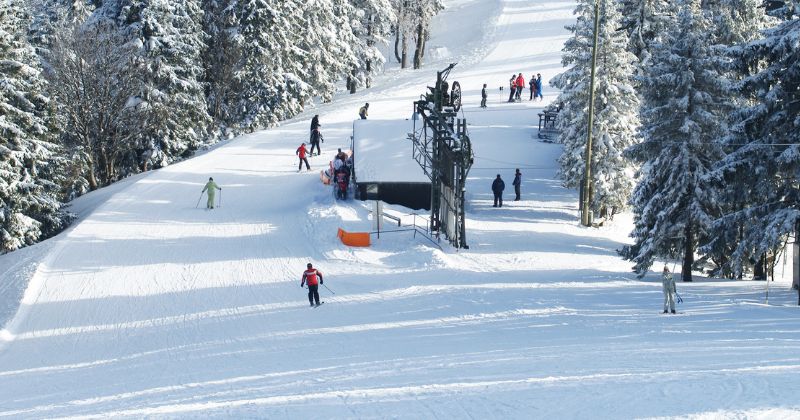 Remember to check the resort websites before planning your trip.
Alpine Valley Ski Resort
Alpine Valley has been a snow sport destination since 1965. Located in Geauga County and the snow belt, it normally receives more natural snow than any of the other ski resorts in Ohio. Of course, they also have the ability to make snow even if the weather isn't cooperating.
With seven trails ranging from beginner slopes to more challenging advanced slopes, moguls, and terrain parks, Alpine Valley has options for skiers and snowboarders of all ages and experience levels. Lessons are also available for both adults and children.
Alpine Valley Ski Resort
10620 Mayfield Rd., Chesterland, OH 44026
(440) 285-2211
Website
Big Creek Ski Area Home of Cleveland Ski Club
Located in Concord Township, Big Creek Ski Area is home to the Cleveland Ski Club and is the only member-owned and operated ski and snowboarding area in Ohio. There are five trails available ranging from beginner to black diamond. You'll need to own your own equipment to partake in the fun as there is no equipment rental available.
Big Creek Ski Area
12721 Concord Hambden Rd., Chardon, OH 44024
(440) 954-4108
Website
Boston Mills Brandywine Ski Resort
The two ski resorts are a short 5-minute drive apart and are located in Peninsula just a few minutes from the Cuyahoga Valley National Park. Boston Mills boasts seven trails and Brandywine has an impressive eleven trails. Both locations offer trails for every skill level ranging from beginner to black diamond.
Purchase your lift tickets in advance and choose to ski during the day or under the stars in the evening. Tickets and passes are good at both locations so you can double your fun by trying out the slopes in both places. Lessons are available for both adults and children. And if you have members of your group who don't want to ski, they can relax in the lodge or try out the snow tubing located at Brandywine.
Boston Mills Brandywine Ski Resort
7100 Riverview Rd., Peninsula, OH 44264
(800) 875-4241
Website
Mad River Mountain
Located about 45 minutes Northwest of Columbus in Zanesfield, Mad River Mountain offers an experience of epic proportions. Enjoy 20 trails, 12 lifts, and a terrain park. Plus it's also home to Ohio's largest snow tubing park.
Mad River Mountain has options for skiers and snowboarders of all ages and experience levels. Need to learn how to ski or snowboard? You're in luck as they have a variety of lessons available for both adults and children.
Mad River Mountain
1000 Snow Valley Rd., Zanesfield, OH 43360
(937) 599-1015
Website
Snow Trails
Family-owned and operated, Snow Trails' mission is to empower families to get outdoors and have fun skiing and snowboarding together. Located in Mansfield Ohio it boasts a wide selection of trails from beginner to expert. They also have a huge snow tubing area including glow tubing at night.
Adult lessons are available and they have one of the most comprehensive Children's Ski and Snowboard programs for kids. Their beginner's ski area is perfect for those learning how to ski for the first time.
Snow Trails
3100 Possum Run Rd., Mansfield, OH 44903
(419) 774-9818
Website
Tips for Your Visit to a Ski Resort in Ohio
To make your experience more enjoyable, here are a few things to know before you go:
Purchase your tickets in advance – The resorts are operating at a limited capacity this year. Reserve your tickets online before you go to secure your spot and avoid the disappointment of arriving and not being able to go snow tubing.
Check our Season Passes – If you are planning to go multiple times or visit more than one location a season pass is probably the most affordable option. For one price, the Ohio Pass will get you unlimited skiing and tubing access to Alpine Valley, Boston Mills, Brandywine, & Mad River Mountain.
The resorts make their own snow – This means that just because you don't see snow on the ground, doesn't mean you can't go. Each of the ski resorts has snow-making abilities. Concerned there won't be enough snow? Visit their websites to check the snow report.
Determine the activities you plan to do before you go – Some of the locations offer snow tubing as well. Decide if you'll be doing that too and set expectations with your kids.
Wondering if your child is old enough to participate – As long as your child is stable on their legs, they can begin to learn to ski. Snowboarding starts later around 6 or 7. We highly recommend signing them up for lessons so they can learn from the experts.
Bundle up and wear the right clothing to stay warm – Layer your clothing, wear a hat, and a warm pair of gloves that repels water. Thick socks and boots are necessary to keep your feet warm. If it's windy consider wearing ski goggles. Pro tip – Bring along hand warmers as well.
Plan to eat – After your adventure, everyone will be hungry and thirsty. Plan ahead and now where you'll stop for food and have a small snack and drinks ready and waiting in the car to tide everyone over until you get home.
You May Also Be Interested in