If you like sledding, you're going to love tubing! Ride the conveyor to easily get to the top of the hill and then prepare for an exhilarating ride down one of the lanes in the comfort of a cushy tube. The whole family will have a blast at any of these fun places to go snow tubing in Ohio.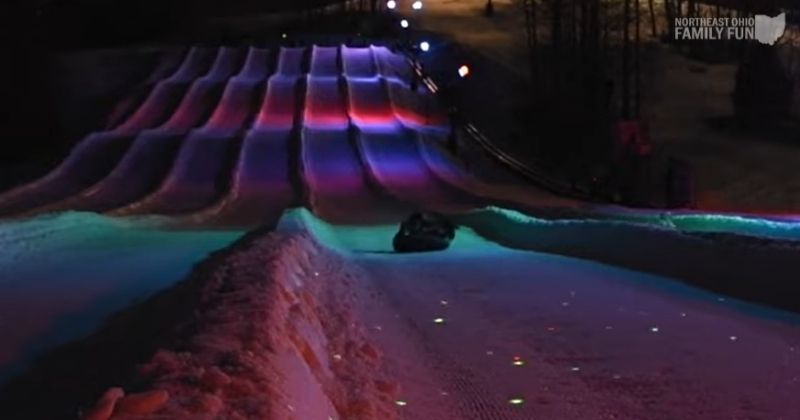 Looking for a great outdoor activity to enjoy with the whole family this winter? Then look no further than these awesome tubing spots!
The bubly Tubing Park at Mad River Mountain
Located about 45 minutes Northwest of Columbus in Zanesfield, Mad River Mountain offers skiing, snowboarding, and snow tubing. The resort boasts Ohio's largest tubing park and has two massive conveyor belts that take you to the top of the tubing lanes.
Rides must be at least 42″ to ride and there is only one rider permitted per tube. This means children are not allowed to ride on laps. They do often allow tubes to be "linked together" so that you can create a chain to go down the hill together. Make sure to check with the attendants at the top of the hill first.
Avalanche Tubing Park
2026, 4398 Snow Valley Rd., Zanesfield, OH 43360
Website
Polar Blast Tubing at Brandywine Ski Resort
Brandywine Ski Resort is located in Peninsula, OH, just a few minutes from the Cuyahoga Valley National Park. In addition to skiing and snowboarding hills, it also contains the largest snow tubing park in Northeast Ohio. And Afterwards, warm up near the fireplace or grab a snack from the lodge.
Recommended for all ages, but each person must be able to ride in their own tube. This means children are not allowed to ride on laps. Tubers are allowed to go down the chutes together in a group.
Polar Blast Snow Tubing
1146 W. Highland Rd., Northfield, OH 44067
Website
You may be interested in: More fun things to do in Akron
Vertical Descent Snow Tubing at Snow Trails – Including Glow Tubing!
Located near Mansfield and complete with up to 7 Tubing Lanes, Snow Trails is a great place to take the family tubing! There are no age or height restrictions, but all riders must ride in their own tube. They do offer kid-sized tubes which are smaller and ideal for linking with an adult tube when you go down the hill.
Every weekend and on special days throughout the season, Snow Trails offers Glow Tubing where the hill is lined with LED lights to make the experience even more memorable. Reservations are required and can be made online.
Snow Trails
3100 Possum Run Rd., Mansfield, OH 44903
Website
Valley's Edge Snowtubing
Valley's Edge is a small tubing park located in New Paris Ohio. Don't let its size fool you though, it's a lot of fun and offers very affordable family rates. All ages can enjoy riding the conveyor lift and tubing down one of the snow chutes.
Riders must be over 4 years old and able to ride in their own tube. They do allow groups to "link" as many as 3 tubes together which makes it easy for parents to hold onto their child's tube. Each snow tubing ticket includes the use of a snow tube, tube lanes, and snow tube lift.
Valley's Edge
8295 State Route 121 N, New Paris, OH 45347
Website
Glow Tubing at Funtimes Fun Park
Glow Tubing at Funtimes offers a new twist on Snow Tubing, with synthetic ice, an artificial hill, and 100-foot-long slide runs. Riders must be at least 42″ tall and ride in their own park-issued tube.
Throughout the season, which runs from late January through late March, Glow Tubing gives guests a thrill as they shoosh down the hill lined with lights. Plus, this attraction is open with or without snow. It is highly recommended that tickets be pre-purchased online as this attraction is limited.
Funtimes Fun Park
12175 State St. NE, Alliance, OH 44601
Website
You may be interested in: More fun things to do in Canton Ohio

Snow Tubing Near Me
Tips for a Great Day Snow Tubing in Ohio
To make your experience more enjoyable, here are a few things to know before you go:
Purchase your tickets in advance – The resorts are operating at a limited capacity this year. Reserve your tickets online before you go to secure your spot and avoid the disappointment of arriving and not being able to go snow tubing.
Verify age, height, and weight restrictions – While all the parks require each rider to have their own tube, some of them also require kids under a certain age to have a parent accompany them on the hills.
Determine the activities you plan to do before you go – Most of the locations also offer skiing and snowboarding as well. Know what's offered before you go so you can either take advantage of the other activities or let the group know you'll only be snow tubing. It's also good to set expectations with your kids too.
The resorts make their own snow – This means that just because you don't see snow on the ground, doesn't mean you can't go snow tubing. Each of the snow tube parks has snow-making abilities. Concerned there won't be enough snow? Visit their website to check the snow report.
Bundle up and wear the right clothing to stay warm – Layer your clothing, wear a hat, and a warm pair of gloves that repels water. Thick socks and boots are necessary to keep your feet warm. If it's windy consider wearing ski goggles.
Pack drinks and a snack for the car ride home – After your tubing adventure, everyone will be hungry and thirsty. Plan ahead and have snacks and drinks ready and waiting in the car.
You May Also Be Interested in