We can all agree that Canton is the Hall of Fame City, but did you know that the Pro Football Hall of Fame is just one of the many fun things to do in Canton Ohio. You are going to love our ultimate guide to Canton, OH, including the top museums, parks, camping, theaters and even the best ice cream parlors. Our guide is perfect for life long residents and those visiting Canton for the first time.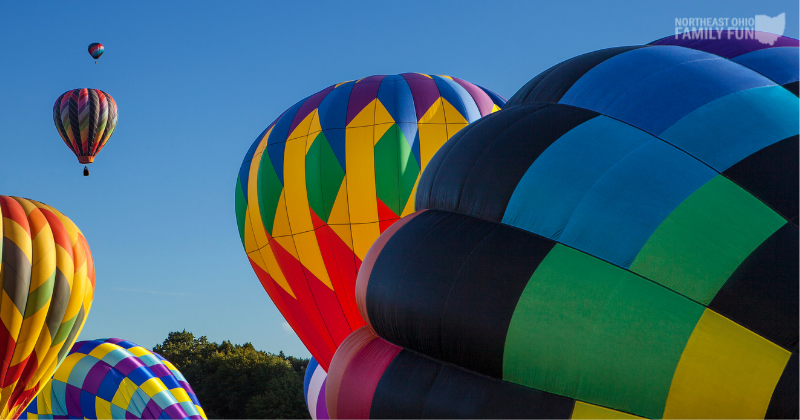 Read on for details on the best things to do in Canton Ohio.
Pro Football Hall of Fame
The Pro Football Hall of Fame is a destination that football fans from across the country flock to each year. In addition, the Hall of Fame is a great place for families and for those who enjoy museums, history and hands on educational fun. Plan to spend a solid four touring the exhibits, watching the videos and attending the live demos.
Insider Tip: Check the daily schedule as soon as you arrive. Then plan your day to ensure that you get to watch the live demos and have time to watch the movie in the Super Bowl Theater.
While visiting the museum, you'll learn about the history of football, the evolution of the uniforms and helmets, and the successes and failures of the teams. It's fascinating to look at all the interesting football memorabilia including rare football cards, old uniforms, ticket stubs, past Superbowl rings (they are amazing!) and more.
Each exhibit is set up in a way to capture your attention and make the learning experience fun. We loved the Super Bowl Theater, watching the short informative videos throughout the museum, trying on football pads, comparing the size of our hands to those of popular football players, taking part in the trivia challenge and watching the live presentation on the history of the football helmet where we got to see (and touch) numerous helmets.
As you can see there is so much to do at the Pro Football Hall of Fame.
Pro Football Hall of Fame
2121 George Halas Dr. NW, Canton, OH 44708
(330) 456-8207
Website
You may be interested in: Top museums in Ohio
Historic Canal Fulton Scavenger Hunt
It's time for an adventure! Can you solve the final mystery phrase and come out victorious at the end?!
Have a blast as you follow the map on a quest through Historic Canal Fulton. Your team will look for clues, solve puzzles and complete challenges all while having fun!
Purchase your scavenger hunt now, and start your adventure any time!
Clays Park Resort – Jellystone Park
The waterpark at Clay's Park makes for a great summer adventure. Plan to easily spend an entire day at the lake.
My kids had a blast trying to beat their record on the barrel roll, climbing up the inflatables and zooming down the zip-lines into the water. We all had fun sliding down the HUGE (and extremely fast) water slide and seeing who could go the farthest on the rings (I lost!).
Life jackets are required in nearly every section of the lake and life guards are stationed throughout the park. Because of this, I could relax on my beach towel while the kids played in the water knowing they were safe. You can bring your own life jackets (which is what we did) or you can use the ones provided by Clay's Park.
Insider Tip: Arrive early to avoid long lines on the zip-lines and water slide, and if possible go during a weekday. The park is less crowded on the weekdays and the daily admission price is lower than it is on the weekends.
Of course, the waterpark is just the tip of the iceberg. They also have camping (RV, tent camping), cabin rentals, miniature golf, fishing lake, indoor pool, playgrounds, restaurants and more. Stay for one of the special themed weekends or enjoy a getaway for an entire week.
Clay's Park
13190 Patterson St. NW N. Lawrence, OH 44666
(330) 854-6691
Website
You may be interested in: Best Campgrounds in Ohio
Umbrella Alley
Just a short drive from Canton, Umbrella Alley in Louisville is the ultimate photo-op destination. Over 200 colorful umbrellas fill the sky above the alley and murals line the walls. Grab a coffee or sweet treat at one of the nearby restaurants and relax at one of the colorful tables as the umbrellas move in the breeze above.
Let the kids play in the splash pad at the nearby Aljancic Park or head to the HUGE castle playground and walking trails at Metzger Park
Louisville Umbrella Alley
218 E Main St, Louisville, OH 44641
Website
Gervasi Vineyard
Simply put, Gervasi Vineyard is a stunning destination! Who knew that in a short 15 minute drive from downtown Canton, you could be transported to Italian countryside. As you pull in and make your way down the long winding driveway you'll quickly realize how special the winery is. From the grapevines, rolling hills, to the beautiful lake surrounded by weeping willow trees it truly is an amazing experience like none other in Canton Ohio.
Insider Tip: If you visit during the summer months, make reservations for a late dinner, but arrive enjoy so you can walk the grounds, listen to live music on the patio and split a pitcher of sangria prior to your meal.
In addition to the delicious food and wine, you can also stay overnight in the Villas or boutique hotel and enjoy a unique and romantic getaway. Make sure to make your reservations far in advance because it books up quickly.
Gervasi Vineyard & Italian Bistro
1700 55th St NE, Canton, OH 44721
(330) 497-1000
Website
You may be interested in: More romantic getaways in Ohio
Atwood Lake Park
Atwood Lake Park is a short drive from Canton and has a lot to offer. Spend the night camping or make it a day trip and enjoy the beach, playground, hiking trails and nature center. The fee to enter the park is $5 per vehicle making it a very affordable option for families. Once you have entered the park, you have access to trails, activities, swimming beach and picnic areas.
Atwood Lake Beach is a nice size and the sand was very clean and well maintained. The lake has a designated swimming area with inflatables in the water. There are 2 or 3 smaller inflatables in the shallow water and 2 big inflatable obstacle courses in the deep water.
Insider Tip: If your children aren't advanced swimmers, bring a life jacket for them to wear when they are in the lake.
Of course, swimming isn't the only thing you can do on the lake. You can also rent pontoon boats, fishing boats, sport boats and kayaks at the Marina. Want to try out some water sports? Good news, you can also rent equipment like tubes, wake boards, and water skis.
Of course, if you have a boat of your own you can bring that too. The two public boat launch ramps are located near the dam off of State Route 212 and at the Atwood Dock Marina and Grill (East Marina).
Want to stay longer than a day? Atwood Lake offers both RV and tent camping or you can rent a cabin and enjoy nature with the comforts of home.
Atwood Lake Park
9500 Lakeview Road NE Mineral City, OH 44656
(330) 343-6780
Website | Our trip to Atwood Lake Park
You may be interested in: Best lakes in Ohio
Harry London Chocolates
Not only can you stop into the store to purchase some delicious chocolate treats, you can also take a FREE tour of the chocolate factory. The tours are offered daily and are approximately 45 minutes long. During the tour, you'll learn about the history of Harry London's, watch the chocolate being made and sample some of the oh so delicious chocolate.
Our favorite part of the tour was seeing all the steps that go into making chocolate. Like the huge containers that hold the chocolate at the beginning to the little chocolate candies moving down the production line to be wrapped and boxed at the end. In fact, we enjoyed watching them make the chocolate almost as much as we enjoyed eating it!
Insider Tip: Avoid the disappointment of missing out on a tour because it's already full and call ahead to reserve your tour date & time.
Harry London's Chocolate Factory & Store
5353 Lauby Rd, North Canton, OH 44720
1-800-321-0444 ext 119
Website | Our Tour of Harry London's Chocolate Factory
Sluggers and Putters Amusement Park
We are fortunate to have a family fun park located right in Stark County. It's the perfect size for a family outing, big enough to easily keep the kids entertained, but not too big that everyone gets overtired just from walking between rides. The park has attractions for all ages and interests including: batting cages, an arcade, water bumper boats, mini golf, go karts and classic amusement park rights like the scrambler, flinging swings, bumper cars and little dipper roller coaster.
Insider Tip: Before you visit check out their daily specials (grandparents play free, family fun Fridays, etc). Also, if you plan to go multiple times throughout the year, consider purchasing a season pass.
We especially like the go karts. There are two different tracks and ages 11 and older can drive the cars. If you're kids are younger than 11 or just don't want to drive, no worries. Just choose one of the many two-seat carts so your child can ride with you.
In addition to all the rides, there are also two different mini golf courses you can play. One course has a Wizard of Oz theme and the other is an "Olde Skool" course full of fun and unique obstacles (think HUGE airplane).
Insider Tip: You can't bring food into the park, but they do offer concessions and delicious Auntie Em's Ice Cream for purchase.
Sluggers & Putters
333 Lafayette Dr NW Canal Fulton, OH 44614
(330) 854-6999
Website
You may be interested in: Best amusement parks in Ohio – roller coasters to vintage rides
McKinley Museum and Presidential Library
The McKinley Museum is a hidden gem filled with an interactive collection of eclectic exhibits that will entertain both adults and kids.
First stop of the museum is "Discover World" the hands on science center where you are greeted by a moving, roaring lifelike Allosaurous dinosaur. Inside is a huge authentic mastodon skeleton that was originally discovered in Canton in 1970. There are small animals like fish and turtles and during the warm months you can observes bee in a hive (behind glass of course).
There is also an section of the museum dedicated to hands on science fun and education. Here you can create a mini-tornado and take part in activities evolving electricity, light and magnets.
After your done with science, take a step back in time in the Street of Shops, a life-size replica of a historic town. There is a gas station, barber shop, blacksmith shop, corner store, hotel and even a fire station with a horse-drawn fire engine. Plus, kids can take turns sliding down a fire pole.
Train lovers young and old will enjoy the large model train layout where you can watch multiple trains move around the city space. See if you can find the various Canton area landmarks in the layout.
In The Stark County Story exhibit you'll learn all about the history of Stark County. There are many interesting artifacts, photographs and videos. Keeping with the interactive nature of the museum you can also try out the Timkem Roller Bearing Ride (you might get dizzy) or use a the power of a Hoover vacuum to lift yourself into the air.
Insider Tip: If you plan to visit the museum more than once in a year make sure to purchase a membership. In addition, the membership also gets you reciprocal admission privileges to more than 250 science centers & museums across the country.
McKinley Museum
800 McKinley Monument Drive NW Canton, OH 44708
(330) 455-7043
Website
MAPS Air Museum
MAPS Air Museum is a hidden gem that you won't want to miss. Tucked away behind some office buildings is a museum filled with historic airplanes, artifacts, artillery and much more. Perhaps the best part of our tour was getting to meet and talk to some of the pilots that flew the planes back when they were first built. Listening to their stories was fascinating and they answered all of our questions.
Unlike many museums where you can look but not touch, MAPS Air Museum lets you get up close to many different types of planes and even sit in the pilot seat of a few of them. There are also other hands on exhibits like the military gun that you can maneuver to aim and the the passenger section of the Goodyear Blimp that you can explore.
Insider Tip: In addition to the main museum and the aircraft on display outside the hanger, there is also an area where they restore historic aircraft. When you are visiting, ask about tours of the restoration area. It provides a unique view on the work that goes into getting the aircraft ready for display.
MAPS Air Museum
2260 International Pkwy., North Canton, OH 44720
(330) 896-6332
Website | Check out more photos from our visit to MAPS Air Museum
Baylor Beach Park
Spending a hot summer day by the lake at Baylor Beach is a great way to keep the kids entertained and cool off during the summer months. I've always been impressed by the cleanliness of the lake and appreciate the clean sandy bottom.
Insider Tip: Bring a large beach towel or beach chairs to sit on. There are picnic tables, but no sun chairs available at the park.
The waterpark consists of a two acre lake with a variety of water features including diving boards, a two story water slide, a log roll and some smaller water slides in the shallow end perfect for toddlers and beginner swimmers. The two diving boards are located in deepest part of the lake (12 feet deep). Next to the driving boards is the popular two story water slide. The water dept at the bottom of the slide is approximately 4 feet deep, which makes it a fun option for kids (and adults) of all ages.
Guests are allowed to bring in food, so pack a picnic lunch, some drinks and snacks for your trip. There is also a concession stand if you would prefer to purchase food and drinks.
Insider Tip: There are also life jackets available for use. Guests can pick them up at numerous spots surrounding the lake and I noticed a variety of different sizes that would fit both kids and adults.
In addition to the lake, Baylor Beach also offers a family campground, shelter rentals for group picnics, miniature golf, a concession stand and more! Check out their website for a discounts if you plan to camp for multiple days.
Baylor Beach Park
8777 Manchester Ave. S.W. Navarre, Ohio 44662
330-767-3031
Website | Our insiders guide of things to do at Baylor Beach
Homemade Ice Cream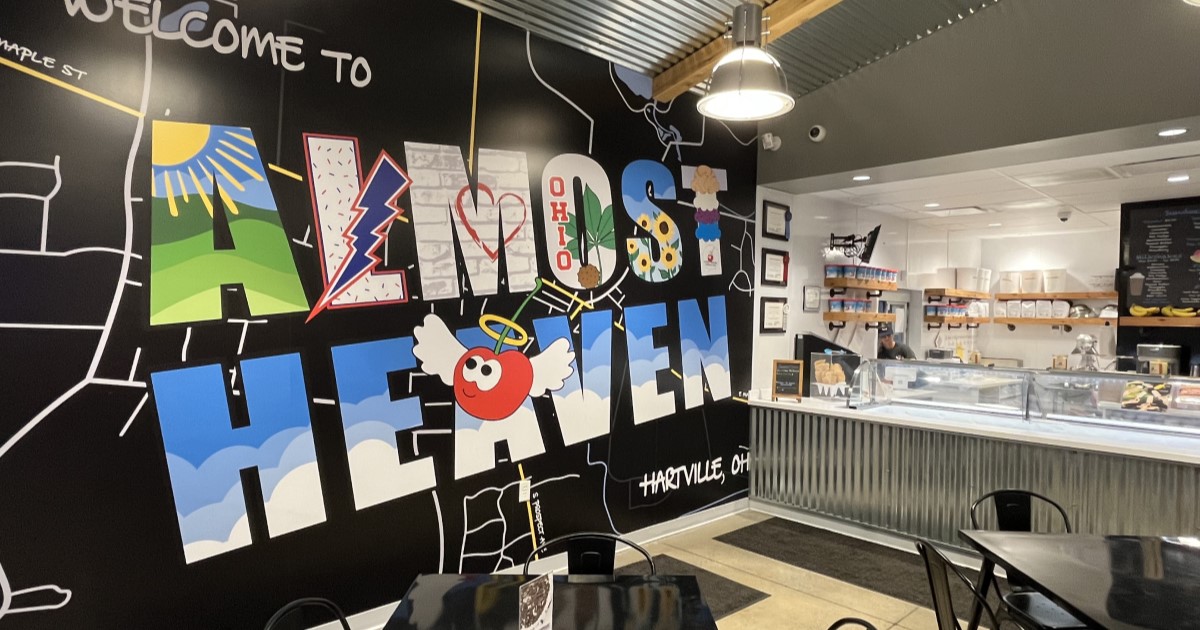 I scream, you scream, we all scream for ice scream. A list of things to do in Canton wouldn't be completed without some homemade ice cream recommendations. At least not in my opinion. We love to try out new flavors of ice cream and here are our favorite ice cream shoppes near Canton.
Almost Heaven Ice Cream (Multiple Locations throughout Stark County)
If you like mint chocolate, do yourself a favor and order the Green Monster, it is hands down the best mint chocolate ice cream you will ever eat. My husband is partial to the Salted Caramel. Other favorites include Butter Pecan, Angle Tracks, Chocolate Explosion. Honestly, all the flavors are amazing. Take my advice and try for yourself. You won't be disappointed.
Taggart's Ice Cream Parlor
Taggart's is the picture of an old fashioned ice cream parlor with high-backed wooden booths, tile floors and wrought-iron chairs. They offer homemade soups, salads and sandwiches and of course homemade ice cream! Their signature item is the Bittner made with vanilla ice cream, chocolate syrup and delicious roasted pecans. Delicious!
You may be interested in: Best homemade ice cream in Ohio
Historic Canal Fulton Scavenger Hunt
It's time for an adventure! Can you solve the final mystery phrase and come out victorious at the end?!
Have a blast as you follow the map on a quest through Historic Canal Fulton. Your team will look for clues, solve puzzles and complete challenges all while having fun!
Purchase your scavenger hunt now, and start your adventure any time!
Quail Hollow Park
Quail Hollow State Park is a beautiful natural scenic park sitting on 700 acres. Between the woodlands, meadows and marshes, this park is a must for families looking to get out and enjoy the tranquil beauty in Stark County.
The park has a little over five miles of easy to navigate hiking trails that offer different perspectives of the park. There is also a 3.5 mile Mountain Bike Trail that runs right through the wooded lands of the park. And a 3.6 mile bridle trail for those that want to bring their horses to ride in the park.
Insider Tip: The first 2,000 feet of the Nature for All trail is a paved trail that can accommodate wheelchairs and strollers.
The park also has a large Manor House on the property and some of the rooms can be rented for parties, weddings and meetings. There is also a Nature Center that contains live animals and hands-on educational activities. Do note that the Nature Center has limited hours and is only open on the weekend in the spring, summer and fall months.
Quail Hollow State Park
13480 Congress Lake Avenue Hartville, Ohio 44632
(330) 409-8096
Website
Canton Museum of Art
The Canton Museum of Arts is one of the hidden gems of Canton. Located in the Cultural Center for the Arts in downtown Canton, the Museum of Art's offers both permanent collections as well as some of the best national touring exhibits. If you're looking for inspiration while being educated on some of the outstanding 20th and 21st century American works, the Canton Museum of Arts is a great stop.
Insider Tip: Check out their schedule for all upcoming events and exhibits, so you can make sure to not miss out on all that the Canton Museum of Arts has to offer.
The Canton Museum of Art
1001 Market Ave North Canton, OH 44702
(330) 453-7666
Website
Canton Classic Car Museum
The Canton Classic Car Museum is not just for the car enthusiast. Walking through the museum, you will enjoy the collection of cars, some dating back to the early 1900's. The museum has more than 40 exhibits, historical memorabilia and other unique pieces.
In addition to their collection of cars, thee museum also contains a vintage toy display, steam engines, pieces from the Cantons own amusement park Meyer's Lake Park and some of Canton's historical memorabilia. The museum is truly a place for a multi-generational family to come and share in memories of the past and educate the future generations. The museum has a reasonable admission fee and the small price of admission allows visitors to enjoy all the exhibits.
Canton Classic Car Museum
123 6th St NW Canton, OH 44702
Website
Canton Palace Theatre
The Canton Palace Theater is one of the last remaining fixtures of the great history of downtown Canton. Open in the 1926, the theater provided guests with a warm and inviting environment for them to enjoy live performances. Over the years, the Palace Theater went through some struggles and was even in line to be torn down, until a group of locals banded together to save the theater.
Today, the Palace Theater has a host of movies and events for visitors to enjoy. The silver screen within the theater is the largest in Canton and provides visitors with a great view. While you are there, make sure to check out the vintage Kilgen Organ.
Insider Tip: The theater participates in Canton First Friday and offers a free screening of a different movie during a special showing on the first Friday of every month. Check out their website for a list of performances.
Canton Palace Theatre
605 Market Ave N Canton, OH 44702
(330) 454-8172
Website
First Friday Canton
Held on the first Friday of each month in the downtown Canton Arts District (between Cleveland Avenue and Market Avenue, and between 6th St. NE and Tuscarawas Street), First Friday features themed music, performances and visual arts events. With a different theme each month, there is always something that both adults and children can enjoy.
Visit the Canton First Friday website to find out what the monthly themes are.
Canton First Friday
Canton Arts District – Downtown Canton, Ohio 44702
Website
More Fun Things to do in Ohio