Wondering what to do with your family and friends during Thanksgiving Weekend? You're in luck! Below are our favorite things to do on Thanksgiving Day and throughout the holiday weekend. Beyond hitting the mall or other retail stores that is!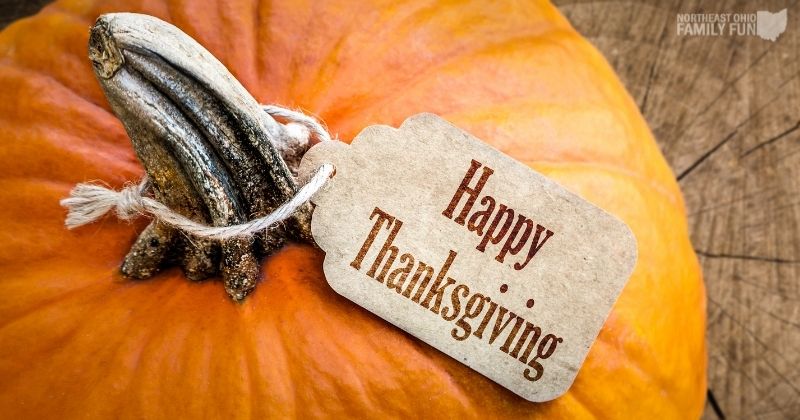 Fun Things to Do to on Thanksgiving Day
Run in a Turkey Trot Event
Kick off your Thanksgiving with a little exercise and fresh air by participating in a Turkey Trot. Register early to secure your race t-shirt and swag. Some events even have turkey themed finisher medals. Some of the popular annual events include the Cleveland Turkey Trot, the Perry Rotary Turkey Trot 5K in Canton and the Home Run for the Homeless in Akron.
Can't make the event, no worries, create a turkey trot of your own. Gather up your friends, family and neighbors. Head to the local trail or run around your neighborhood. Bonus! You get to pick the time and distance.
Enjoy a Hike through the Woods
Lace up your hiking boots and head out to enjoy crisp air and colorful scenery. Hike by the red barn and take in the river views at O'Neil Woods Metro Park in Akron. Take a short hike or long and enjoy the scenic Deer Lick Cave area in the Brecksville Reservation. Try the three trails at Seiberling Nature Realm in Akron.
Take your hiking experience up a notch but hiking to one of the waterfalls in Northeast Ohio. Some of our favorites include: Berea Falls at Rocky River Reservation, Brandywine Falls at the Cuyahoga Valley National Park, the Gorge Metro Park and the Great Falls of Tinkers Creek at Viaduct Park.
Go on a Scavenger Hunt Adventure
Challenge your family to one of our Scavenger Hunts. Look for clues, solve puzzles and complete challenges all while having fun. Eight popular locations to choose from or grab the Ultimate Northeast Ohio Scavenger Hunt Bundle and try them all!
Visit an Outdoor Ice Rink to the Toboggan Chutes
Northeast Ohio has several different seasonal outdoor ice rinks and most open for the season during Thanksgiving weekend. Plan an outing with your entire family or a unique date night.
If Ice Skating isn't your thing, the toboggan chutes are another fun seasonal option. Happening with or without snow every year at the Chalet in Mill Stream Run Reservation. If you've never been, you'll want to check out our tobogganing tips to make it an even more memorable experience.
Start a Game of Flag Football
Grab a few friends, family members or even invite the neighbors to a friendly competition with a flag football game in the backyard. Have everyone bring a snack to share and have hot drinks on a table nearby the action. That way, anyone not playing has a place to gather and cheer on their favorite team.
Go on a Bike Ride
Whether you want to ride along one of the paved trails, completed part of the Ohio & Erie Canal towpath trail or hit the mountain bike trails you'll find a lot of great places to go biking in the area.
Create a Thankful Tree
Get out your craft supplies and create a thankful tree, a simple activity that provides an opportunity to remember all the things you have to be thankful for. Whether you create a tree to display on your wall or decide to go the simpler route and use a piece of paper, I'm certain you'll be thankful you took the time to reflect on the things you have to be thankful for.
Experience the Magic of Christmas with a Holiday Light Display
Get the holiday season started off right with a trip to see Christmas Lights in Northeast Ohio. Keep in mind that this is a very popular evening to look at lights, so make needed reservations now. For extra fun, bring along some hot chocolate or stop by your favorite coffe shoppe to pick up a cup while you're out.
Visit a Local Christmas Tree Farm
While most of the farms aren't open on Thanksgiving Day, many are open the day after Thanksgiving. So instead of fighting the crowds at the stores looking for black Friday deals, head out to a Christmas Tree Farm and stroll through open fields to find your perfect tree. If you don't want to cut down a tree you can also choose from a selection of fresh-cut Christmas trees
Play Board Games, Cards or Charades
While Thanksgiving dinner is cooking, bring out your favorite board games. You could even set up a board game marathon and play multiple over the course of the weekend. Plan ahead and buy a new game for everyone to enjoy (this could even be a new family tradition)!
Cards is another great option that can be played with family members in multiple generations. Go Fish, Gin Rummy, Crazy 8s and Sevens are always a hit. Charades is another fun activities that all ages can play. Some Thanksgiving themed ideas include: turkey, baking, peeling potatoes, playing football, parade, setting the table.
Look through Photo Albums
Dust off the old photo albums or pull up old photos on your computer. Doing so can help bring back fond childhood memories (of your own or your kids) and you may even have the opportunity to have grandpa or grandma share stories about their childhood.
This is also a great time to connect with any family members or friends who weren't able to join you for Thanksgiving. Give them a call, or shoot them a text to let them know you're thinking of them.
Have a great weekend!