Step into a cavern of natural wonder right here in the caves of Ohio. With family-friendly tours and self led exploration, you can learn about the history and formation of Ohio's caves. With opportunities to view crystals, take part in gem mining and more family-fun experiences, it will be an adventure for everyone in your group.
Ohio Caverns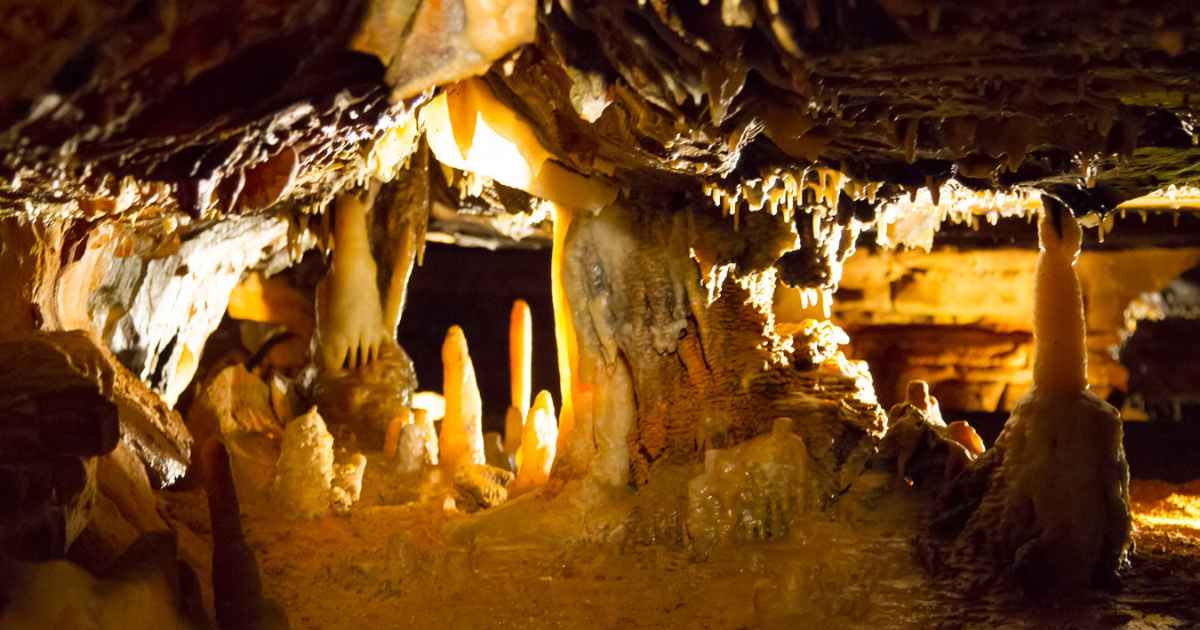 Coined "America's Most Colorful Caverns," Ohio Caverns offers tours daily, year round. The Ohio Caverns, located in West Liberty Ohio, are the largest in Ohio and offer more than 2 miles of passageways up to 103 feet deep. The Historic Tour will lead you through the original path explored from 1897-1925. The Natural Wonder Tour ventures to the part discovered after 1925. On your tour you'll view The Crystal King, the largest stalactite in Ohio, as well as other unique colors and natural wonders.
Above the caves you'll find more than 35 acres of park space with a playground, picnic area, EV charging stations and restrooms. A rock and gift shop is also available for souvenirs and rock collections.
Although the caverns are open year round, you will want to check the website for which tours are being offered during your designated visit. You can also check out their group rates and reservation details as well as admissions information.
Ohio Caverns
2210 OH-245 E, West Liberty, OH 43357
Website
You may be interested in: More fun things to do in Dayton
Seneca Caverns
Get ready for an educational adventure at Seneca Caverns. As one of the area's largest underground caverns you will experience a unique one hour tour of the cave through their natural stone pathways and steps. You'll also get a chance to view the natural flowing ground-water system.
Your family also can participate in their gem mining experience. This is an above ground activity in their fully operational sluice with water flowing through it. Take a look at the website for pricing information.
Seneca Caverns is open weekends in May and then daily May 27- September 4. Check the website for additional hours and admissions details, as well as cavern conditions and more.
Seneca Caverns
15248 E. Township Road 178, Bellevue, OH 44811
Website
Perry's Cave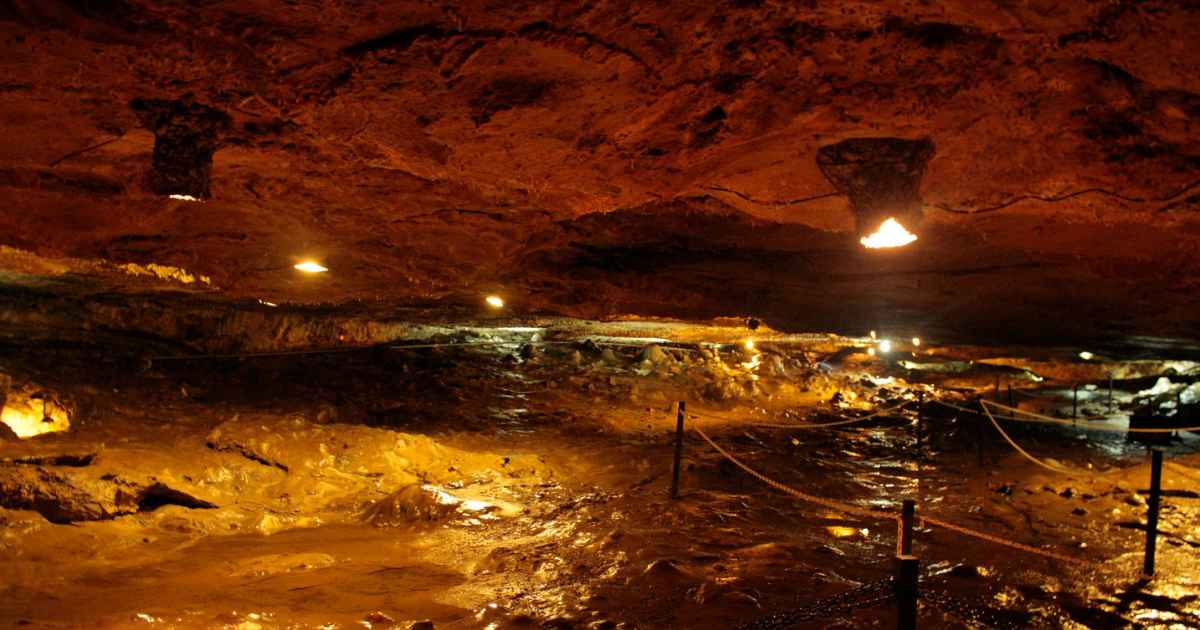 Perry's Cave is a cave and a family entertainment center all wrapped into one trip! The cave lies 52 feet deep below South Bass Island in Lake Erie. On your tour you'll have the chance to view "stalactites, stalagmites and cave pearls."
After your cave tour the center offers additional attractions. Play a round of their 18-hole mini-golf or try to solve Put-in-Bay's only giant maze. You can also pan for real gemstones or try your hand at geode cutting. You won't want to miss out on the 4,000 square foot butterfly aviary with more than 50 different types of butterflies.
Perry's Cave also offers a snack shack and gift shop for visitors. Check out the website for details on their attractions, groups and tours and admissions' information.
Perry's Cave
979 Catawba Ave, Put-In-Bay, OH 43456
Website
You may be interested in: More fun things to do in Put in Bay
Crystal Cave
Visit the world's largest geode at Crystal Cave! You'll have the opportunity to view celestine crystals up to three feet in width. Crystals from the cave have been harvested and sold for fireworks.
Crystal Cave is owned and operated by Heineman Winery. You will have the chance to not only learn about its rich history, but your tour will also include a glass of wine or grape juice! Check out details for tour pricing.
Take a look at the website for additional information on the winery.
Crystal Cave
978 Catawba Ave, Put-In-Bay, OH 43456
Website
Olentangy Caverns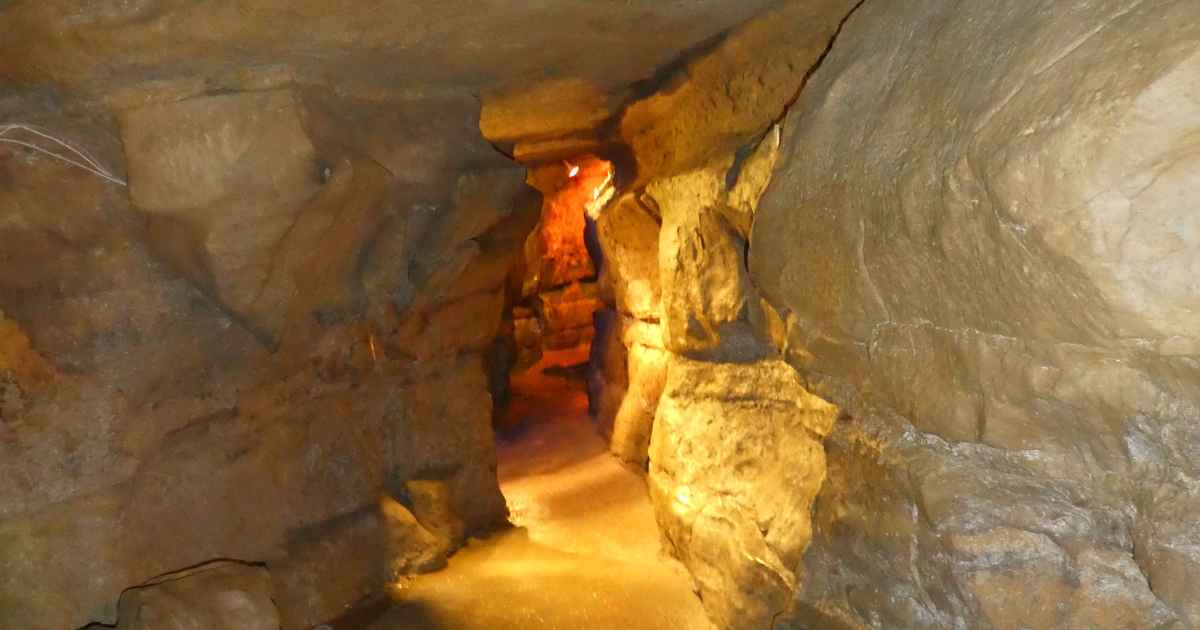 Olentangy Caverns is a unique cave experience with three different levels. Travel through passageways and rooms underground. The cave tours are self-guided at your own leisure, with information provided on audio stations along the way. The tour offers a look back at Native American lore and a rich history of the ancient Wyandot tribe.
After your cave tour, the Olentangy Caverns has a variety of additional activities for your family to enjoy. A petting zoo, miniature golf, a treasure hunt maze, gem mining, a fire truck slide and a walking trail are all on the property. You can also look into their cave yoga and summer camp opportunities.
Check out the website for details on all of the activities at Olentangy Caverns. Be sure to look at their rates, hours and group details.
Olentangy Caverns
1779 Home Rd, Delaware, OH 43015
Website
You may be interested in: More fun things to do in Columbus
Old Maid's Kitchen / Mary Campbell Cave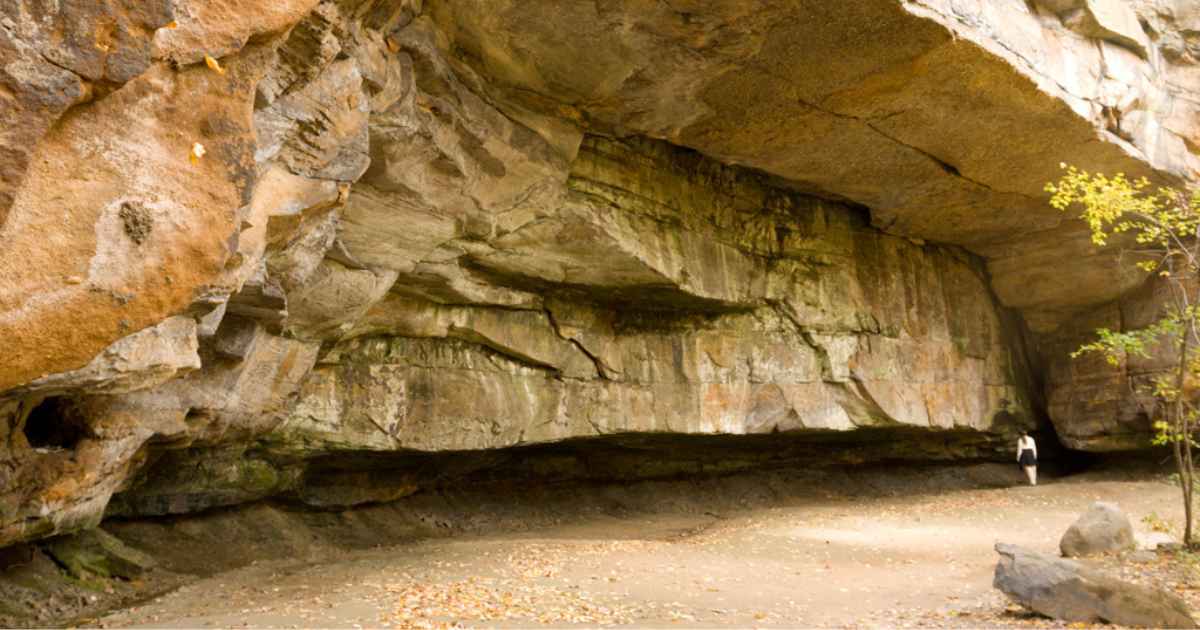 Old Maid's Kitchen also known as Mary Campbell Cave, is located in Gorge Metro Park, which is part of the Summit Metroparks system. In the winter you have the opportunity to view frozen icicles forming what is referred to as a "crystal palace" on the walls.
Check out the website for details on how to hike to the Old Maid's Kitchen location. The website also includes details on park amenities and additional information.
Old Maid's Kitchen
1160 Hillcrest Dr, Cuyahoga Falls, OH 44221
Website
You may be interested in: More fun things to do in Akron
Ash Cave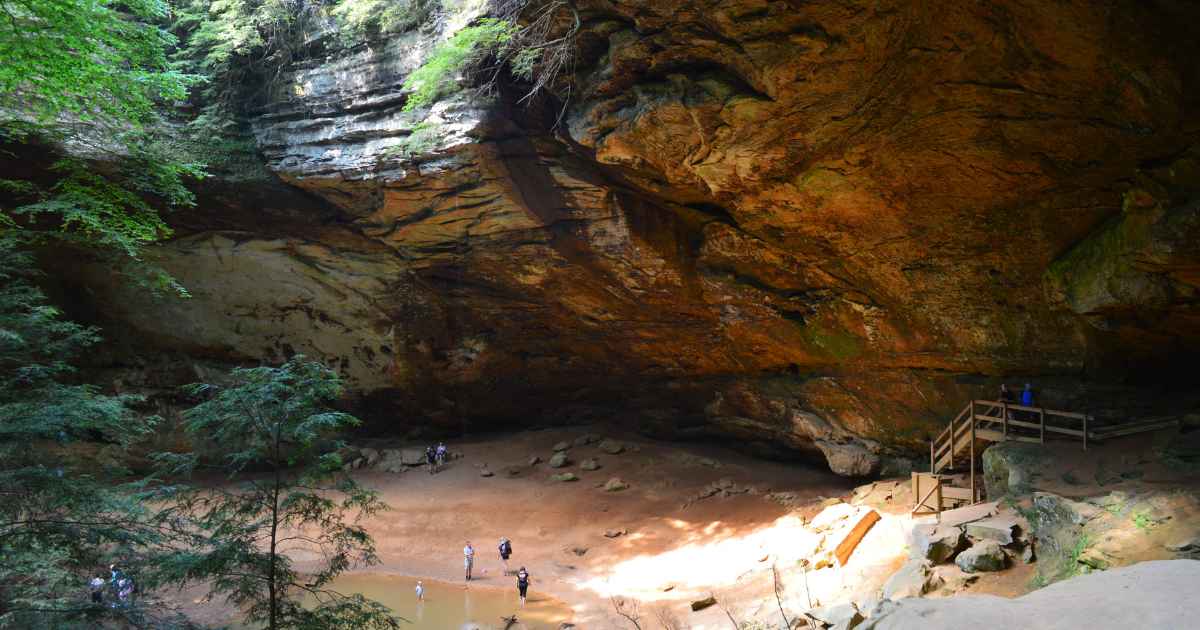 Ash Cave is a cavern with a breathtaking waterfall and surrounding walking trails. It is named for the large amount of ash settlers found at the cave floor upon discovery. Evidence suggests that Native Americans inhabited the area as early as thousands of years ago.
Today when you visit Hocking Hills State Park, you can view Ash Cave. The park has many additional attractions nearby. Be sure to check the website for additional details and amenities.
Ash Cave
26400 OH-56, South Bloomingville, OH 43152
Website
You may be interested in: More fun things to do in Hocking Hills
Old Man's Cave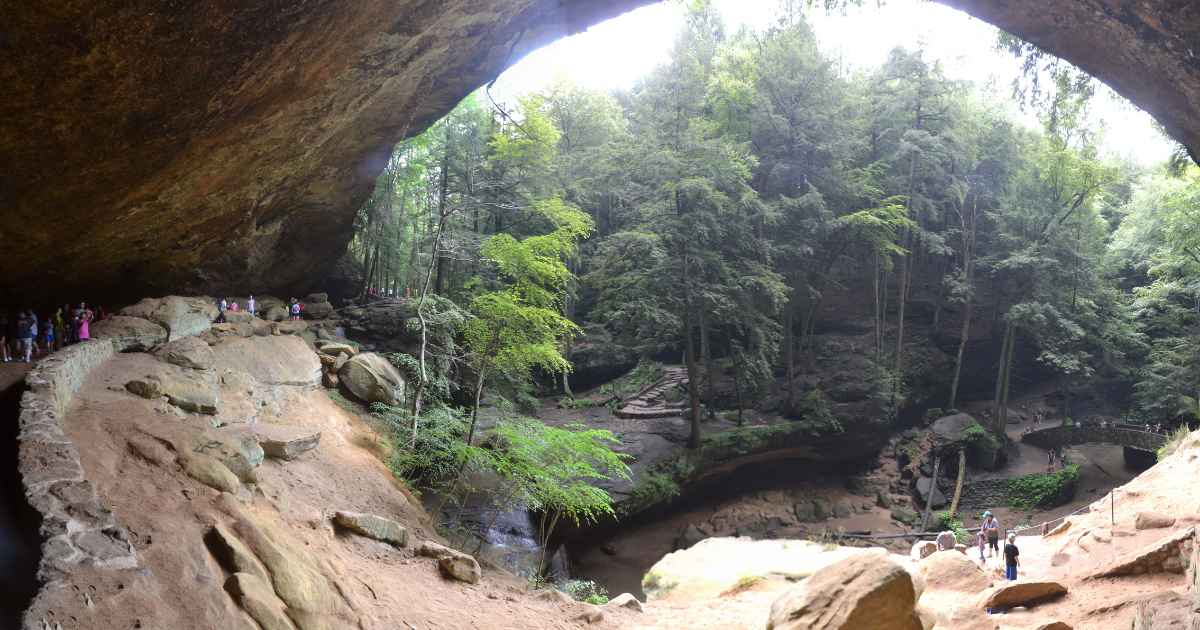 Old Man's Cave is the most popular area in Hocking Hills. The area is divided up into five principal sections: Upper Falls, Upper Gorge, Middle Falls, Lower Falls and Lower Gorge. The gorge itself is about one half mile.
Old Man's Cave has a rich history of early settlers. Be sure to check out the details of the area before you visit, including the trail information and area amenities.
Old Man's Cave
Located in Hocking Hills State Park at State Route 664
Website
Rock House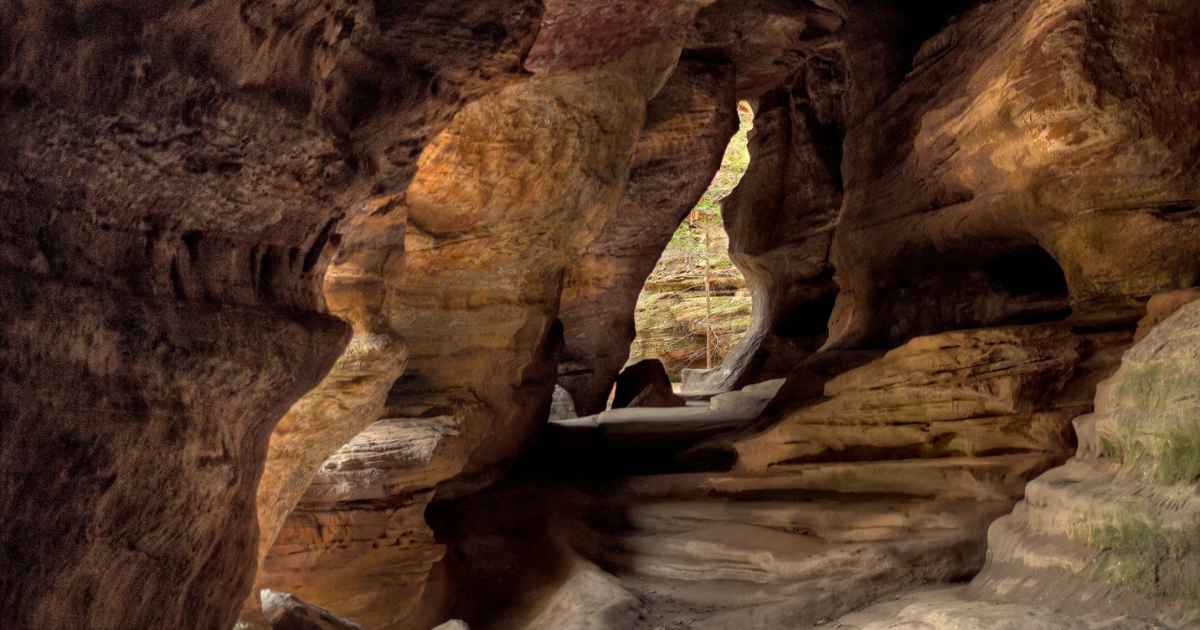 Rock House is considered the only "true" cave in Hocking Hills State Park. It is actually located halfway up a 150-foot cliff of Blackhand sandstone. It is described as a "tunnel-like corridor." The Rock House is 200 feet long and about 25 feet high from floor to ceiling.
The location has a rich history and has been a popular tourist attraction throughout the years. View the area hiking map on the website, as well as additional details on the Rock House's history and park amenities.
Rock House
Check the website for detail on how to access Rock House in Hocking Hills State Park
Website
Zane Shawnee Caverns
Zane Shawnee Caverns is part of the Zane Shawnee Caverns & Southwind Park. The caverns offer guide-led tours, and the property provides camping opportunities. The caverns are currently under construction, but check back throughout the year for updates.
Check the website for details on camping details, pricing and more.
Zane Shawnee Caverns
7092 OH-540, Bellefontaine, OH 43311
Website
Chapel Cave
Chapel Cave, a chapel shaped cave, is part of the Hocking Hills State Forest Rock Climbing and Rappelling Area. It is also referred to as Twenty One Horses Cave, as it is said to be able to hold 21 horses and their riders inside. You can actually ride through on your horse because the cave ceiling is tall enough.
Take a look at the website for details on how to access the hiking trails to Chapel Cave. The website also provides park amenities and information.
Chapel Cave
24798 Big Pine Rd, Logan, OH 43138
Website
Deer Lick Cave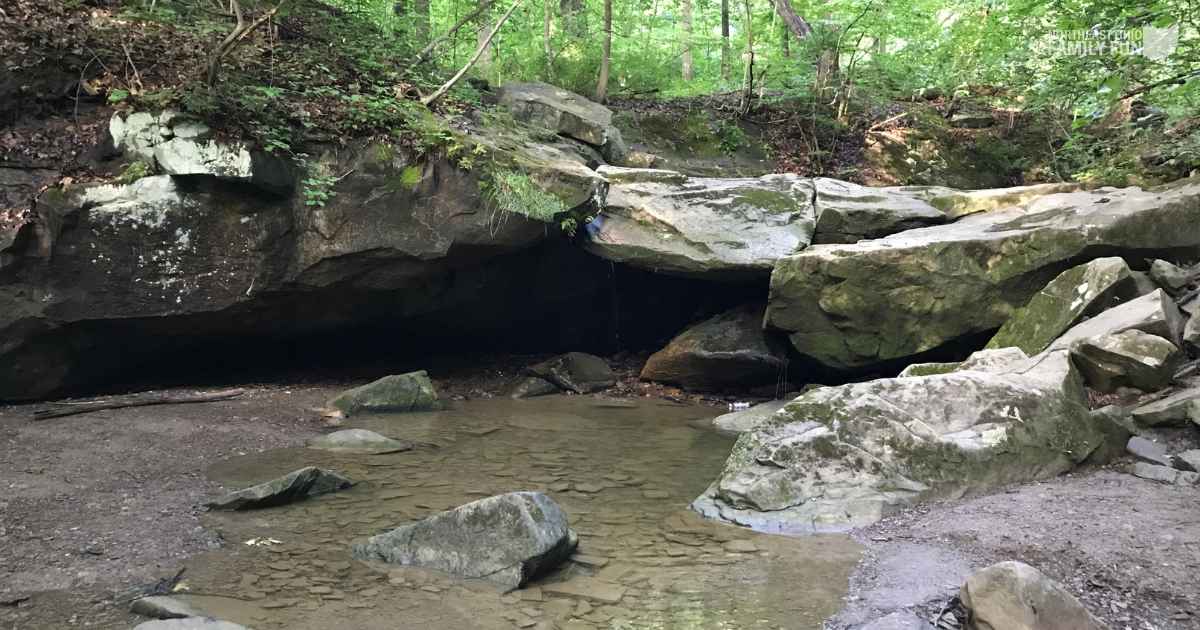 You can explore Deer Lick Cave in each season, as it is open year round. Deer Lick however is actually not a cave, but rather "rock overhang formed through erosion of Berea sandstone by water." The cave gets its name from the idea of deer licking salt from sandstone.
Deer Lick Cave is part of Cleveland Metroparks. Be sure to check the website for other nearby attractions before your visit. You can also find location information and amenities.
Deer Lick Cave
Loop Trail, Brecksville, OH 44141
Website
You may be interested in: More fun things to do in Cleveland
Saltpetre Cave State Nature Preserve
Saltpetre Cave State Nature Preserve is more than 14-acres with "recessed and Black Hand Sandstone caves." Please note this area is open to the public by permit only. The caves are up to 143 feet deep.
Check out the website for details on obtaining a permit, as well as additional cave details.
Saltpetre Cave State Nature Preserve
Check the website for location information
Website
Tips for Visiting Ohio Caves
Dress appropriately – Many of the caves in Ohio are open year round. Be sure to dress in weather-appropriate clothing. Also remember, even in the warmer months the caverns tend to remain around 50-55 degrees in temperature. So, be sure to pack a jacket to have on hand for your descent. You will also want to wear comfortable, preferably closed toed shoes with a rubber sole. Some of the ground may be slippery or uneven.
Bring water – You will need to trek out on trails for some of the caverns and others will require a bit of a walk. Bringing your own water is always a good way to stay hydrated. It is important you bring enough for everyone in your group as well.
Plan ahead – Many of these caves are part of a park system. Make sure you take a look at the park's website for details on nearby attractions and amenities. That way you can potentially plan your trip around multiple activities, and even see more than one cave on the same outing! Also, a couple of the caves are part of a larger family entertainment experience. You can gem mine or miniature golf at a few of the locations. You will want to know what is included in the price of your admission and decide which activities you would like to participate in ahead of time.
Pack for your type of trip – If you're headed to the family entertainment center cavern experiences you might decide to eat on-site at their restaurant or concessions. If you plan to trek out on one of the state park's trails to find a cavern, you'll likely want to pack a lunch or snack and scope out picnic spots along the way. Also, if you are hiking on your adventure, make sure you pack appropriate supplies for a hike (weather appropriate as well). That might mean sunscreen, a hat, sunglasses and better quality outdoor shoes.
Know your group's climbing abilities – Most of these cave experiences will not be stroller or wagon friendly. Even the family centered locations require you to walk down steps and across uneven passageways. That might mean carrying younger children who have trouble walking or wearing them in a carrier. You also want to be aware that these caves often have drop off areas or darker spots that younger children may need additional help navigating. It's always a smart idea to get a sense of the difficulty level ahead of time and plan accordingly. Safety first!
Bring extra cash – Whether you are headed to a larger cavern or one that is off the beaten path, having extra cash on hand is always a good idea. You may find that you need some for parking, buying something from a vending machine or participating in the onsite activities. Also, some of the bigger locations include on-site restaurants, wineries or additional experiences that will require money.
Don't forget your camera – Ohio's caverns are truly some of the most unique natural wonders you will witness. No matter the time of year, the beautiful colors and rock formations are something you will want to remember. Be sure to bring your camera along to snap photos of the caverns and your family enjoying the new scenery. Consider bringing a bag or case to secure your phone for hiking and climbing purposes.
You may also be interested in: