As the birthplace of aviation and the center of innovation in industry, the city is known for the Wright Brothers, Wright Patterson Air Force Base, and business success, but did you know there are also a lot of fun things to do in Dayton Ohio?
From rappelling into the area's most beautiful gorge and exploring Ohio's largest underground cavern to stepping back into an ancient Native American village, Dayton has it all. It's just waiting for you and your family to enjoy!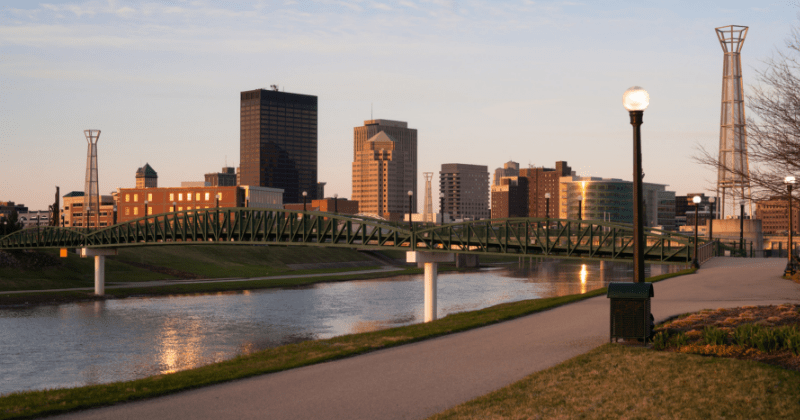 Here are just a few of the top attractions Dayton has to offer you and your family.
Dayton Dragons Baseball
This family-friendly Class A minor league baseball team brings the game alive for an average of 8,300 fans each game since they opened in 2000. Playing in Fifth Third Field in Dayton, fans boast that every seat is a good one, the food is great, and their mascot Heeter is very entertaining.
In addition to great baseball, the stadium offers special events for the community including fireworks and special entertainment. Be sure to check their website for a list of their Friends & Family dates for seats with discount pricing and package deals as well as their "fan guide" with all the details to make your visit the best it can be.
Visitor Tip: Children under 2 do not need a ticket as long as they sit on an adult's lap and every Sunday kids are allowed to run the bases after the game!
Dayton Dragons Baseball
Fifth Third Field: 220 N. Patterson Blvd., Dayton, OH 45402
Website
Ohio Caverns
As Ohio's largest cavern, you'll see The Crystal King, the largest stalactite in Ohio, as well as many other formed stalactites, stalagmites, and mineral deposits up close. The caverns offer over 2 miles of surveyed walkways and claims the title as "America's most colorful caverns."
There are three tours to choose from May through September but most visitors recommend the Combo Tour where you will experience both the Natural Wonder and Historic Tours for a discounted price. For those with limited mobility, the caverns also offer The Limestone Tour which takes a short visit into the cavern that is entirely wheelchair accessible.
The temperature inside the caverns is always a cool 54 degrees year round, so it is recommended that you bring a jacket, wear comfortable walking shoes, and be prepared for a lot of steps during tours. Children under 4 are free.
Ohio Caverns
2210 East State Route 245, West Liberty, OH 43357
Website
You may be interested in: More amazing Caves in Ohio
Dayton Air Force Museum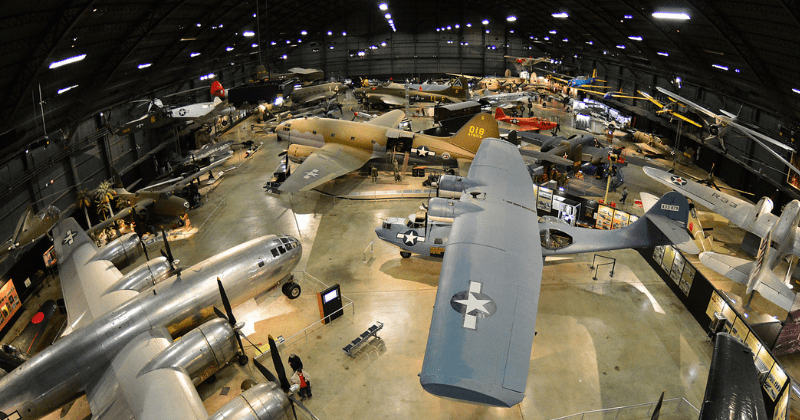 This large museum offers four hangers full of more than 150 planes, missiles, and aircraft-related displays. It is a must-see for aviation fans and anyone who would like to learn more about the history of aviation from the Wright Brothers to modern space vehicles.
Visit their website before you go for guided tour times, food options, information on their collections, virtual tours, interactive apps, self-guided tour guides and all the details you'll need to plan your trip.
The whole family can enjoy the museum with plenty of room for strollers and electric carts for those with limited mobility. Plan at least a full day visit. Admission is FREE!
National Museum of the US Air Force
1100 Spaatz Street, Wright-Patterson AFB, OH 45433
Website
Dayton Art Institute
Housed in a historic building with architecture as beautiful as the art it contains, the Dayton Art Institute has a lot to offer art lovers. In addition to world-class works of art, the museum offers a "Tiny Thursdays" preschool program, concerts, lectures, and other special events.
Suggested admission rates are offered, but the museum accepts any contribution and all are welcome to view the collection galleries at no cost. Special exhibits, programs, and events may carry an additional fee. Wheelchairs are available at no charge and elevators are available for strollers and those who need them.
Guided tours are available with advance registration or take a self-guided "What is a Masterpiece?" interactive tour. The tour offers in-depth information about many of the works in their permanent collection using your own QR reader enabled mobile device or request a museum-supplied iPad available at the guest services desk.
Dayton Art Institute
456 Belmonte Park North, Dayton, OH 45405
Website
Carillon Historical Park
With 65 acres to explore this open-air museum is the hub of Dayton history and offers several additional historical experiences off-site.
Carillon Historical Park has a lot to see and do including:
Wright Brothers National Museum

Heritage Center of Dayton Manufacturing & Entrepreneurship

Early Settlement Area

The Print Shop

The James F. Dicke Family Transportation Center

The Great 1913 Flood Exhibit

History on the Hill & Moraine Trails
The exhibits allow you to explore one of the oldest trains in the world, early settler homes and buildings, the original Wright Flyer III and an operational 1930s print shop. It is a must visit museum while in Dayton.
Plan a full day visit to see everything at the main campus and longer if you'd like to visit off-campus sites including Hawthorn Hill (Orville Wright's mansion), and the Mound Cold War Discovery Center. Details for both the museum and off-site tours can be found on their website.
The park also offers special events, historical experiences, programs, and activities. Be sure to check their calendar events when planning your visit.
Carillon Historical Park
1000 Carillon Blvd., Dayton, OH 45409
Website
Victoria Theatre Association Schuster Center
The Schuster Center is more than just an amazing performing arts center, it also acts (pun intended!) as the focal point of a 16 story office and luxury condominium tower that shares its campus.
The $121 million venue is home to the giant 2,300 seat Mead Theatre, the comfortable 150 seat Mathile Theatre, the incredible Kettering Wintergarden (a 6 story glass atrium complete with full-size palm trees) and Citilities, a full-service bar and restaurant.
The show calendar at the Schuster Center is too long to list, so be sure to visit their website for a full list of events, restaurant hours, and details on how to sign up for their "Cheap Seats" program where you can get tickets for only $10 each when purchased online before you go!
Victoria Theatre Association Schuster Center
1 West Second Street, Dayton, OH 45402
John Bryan State Park
This park is hailed to be "the most scenic state park in western Ohio." Its 752 acres offers a nationally recognized natural landmark gorge created by the Little Miami River and is full of layer after layer of history found in the gorge walls.
In addition to its incredibly scenic landscape, the park also offers a huge day lodge with a full kitchen, two campgrounds and a variety of outdoor activities including boating, fishing, rock climbing/rappelling, and several mountain bike trails.
The park website shares all the details with an interactive trail map, a full park map, information on how to rent the lodge and more. Visitors love the scenic history of the park and share that it is very dog-friendly.
John Bryan State Park
3790 State Route 370, Yellow Springs, OH 45387
Website
Young's Jersey Dairy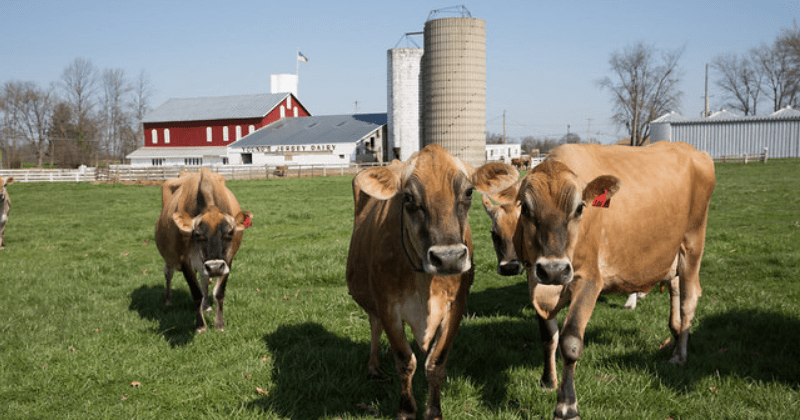 With "fun, food and events" Young's Jersey Dairy is a fun place for families. You can get an ice cream at their dairy store, stop in for a homemade lunch or dinner at the "barn" and have a blast at "Udders & Putters" activity center.
The cow-themed fun at Young's is sure to keep everyone in the family busy and happy with two mini-golf courses, batting cages, golf driving range, their "Moovers & Shakers" barrel ride, a three-person sack race slide (Cowvin's Fast Slide), live animals, and their adorable Kiddie Corral for kids under 48".
You can also take a tour of the creamery and learn all about how ice cream is made. A list of season special events is also available on their website.
Young's Jersey Dairy
6880 Springfield-Xenia Rd., Yellow Springs, OH 45387
Website
Five Rivers Metroparks
If you're looking for nature and outdoor activities, Five Rivers Metroparks has a location for just about every activity you would want with a large system of parks including an arboretum, several conservation areas, and trails of every kind.
Cox Arboretum features an education campus, several specialty gardens, a butterfly house, an 81 step Tree Tower, a boxwood children's maze, and nature trails.
Carriage Hill Farm offers a step back in time with their historical farm and live period animals, a visitor's center with historical exhibits and interactive classroom, horseback riding center for weekend trail rides, camps and lessons, and a whole lot more!
RiverScape takes you for a walk amongst beautiful gardens along the Great Miami River and offersa huge list of things to see and do including rental bikes, a 7-mile river paddle run, an ice rink, and interactive play fountains for the kids. Not to mention festival grounds, their huge "Five Rivers Fountain of Lights," and a concert pavilion.
Wegerzyn Gardens offers you gardening and cultivation ideas in addition to hands-on activities for kids in the Children's Discovery Garden, a walk through "The Swamp Forest," a river trail for bikers and runners, and several formal gardens to enjoy.
Here are the addresses of the parks featured, but be sure to check their easy-to-navigate website for information on their other 14 park locations.
Cox Arboretum, 6733 Springboro Pike, Dayton, OH 45449
Carriage Hill Farm, 7800 E. Shull Rd., Dayton, OH 45424
RiverScape, 237 E. Monument Ave., Dayton, OH 45402
Wegerzyn Gardens, 1301 E. Siebenthaler Ave., Dayton, OH 45414
Five Rivers Metroparks
Website
Piatt Castles
For more than 100 years, these family-owned "castles" have been a popular tourist attraction in Logan County. Each castle home offers a self-guided tour through more than 200 years of Piatt Family History with Native American artifacts, history, family mementos, and photographs.
Both castles are listed on the National Register of Historic Places and the architecture and design are worth a visit. You'll find antiques, frescoed ceilings, inlaid floors and woodwork, and unique artistic furnishings.
Located about a mile apart, you'll need to purchase tickets for both or a combination ticket can be purchased for a slight discount online or at both castles. Only the first floor of each castle is wheelchair accessible.
Piatt Castles – Mac-A-Cheek Castle
1005 Township Road 47, West Liberty, OH 43357
Website
Piatt Castles – Mac-O-Chee Castle
2319 State Route 287, West Liberty, OH 43357
Website

You may also be interested in: More historic Castles in Ohio
Boonshoft Museum of Discovery
From astrology to pythons, Boonshoft Museum of Discovery has a lot to see, do and learn! Like many of the other educational centers in Ohio, Boonshoft is a science center, but they are also offer a Discovery Zoo with over a hundred live animals and a Discovery Center with a resident Burmese python, tarantulas and a variety of other crawling critters, rocks, and fossils.
The exhibits at the museum also include "Splash," a in-depth experience of how water "works," a fully-enclosed treehouse, an exploration tidal pool full of marine life, a "Strictly Briks" building activity center, a variety of hands-on science activities and a special "Kids Place" for kids 4 and under.
With so much to see and do, kids of all ages enjoy this special discovery museum. They also share a long list of daily programs, shows, and tours (including behind the scenes) on their website to make your planning easier.
Boonshoft Museum of Discovery
2600 DeWeese Pkwy, Dayton, OH 45414
Website
Sunwatch Indian Village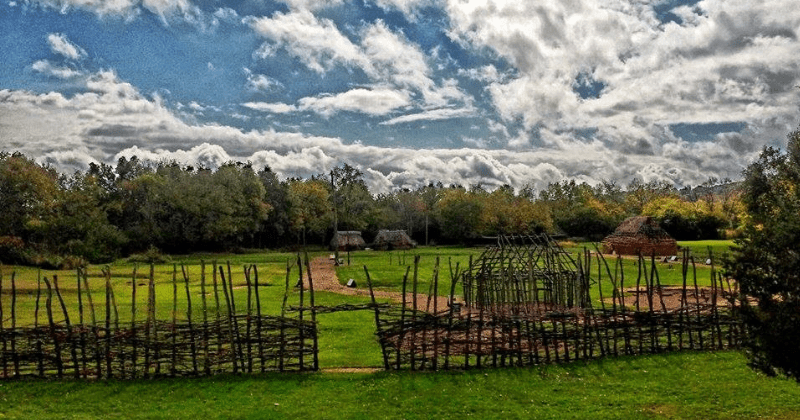 SunWatch Indian Village/Archaeological Park is a step back in time and into the lives of the Native American people who lived there. As a National Historic Landmark and an active research archaeological site, SunWatch is an opportunity to learn about Fort Ancient, archeology, and Native American life.
Several school educational programs and guided group tours are available including an overnight experience in a reconstructed 800-year-old house if scheduled in advance. Individuals and small groups can request a brochure for a self-guided tour of the park.
It is recommended to visit the museum guest center for an informational video before heading out to the reconstructed Indian village and to plan at least a two-hour visit for individuals/small groups. Check their calendar for summer camps, special events, and activities.
Sunwatch Indian Village
2301 W. River Road, Dayton, OH 45417
Website
No matter if you are visiting for an afternoon or two weeks, you will find a ton of fun things to do in Dayton, Ohio.