Looking for a place where your kids can pet animals? Well you're in luck because we've got a great list of farms and petting zoos in Northeast Ohio. Get up close with farm animals, meet the farmers, and learn about the farm. Some locations even offer educational tours. Some of these animal farms you may have heard of, and some may surprise you!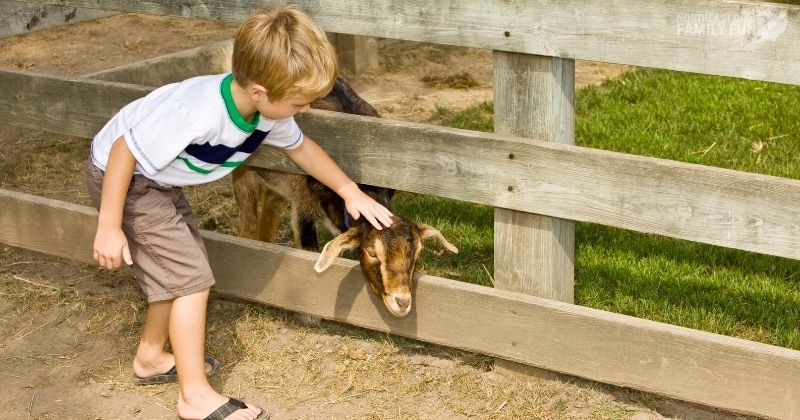 Know of any farms that should be included in this list? Please email us with the details, and we'll get them added.
Note: As usual, contact information is provided. Please call to confirm hours and pricing, or check the websites listed before planning your trip.
Majestic Meadows Alpacas & Boutique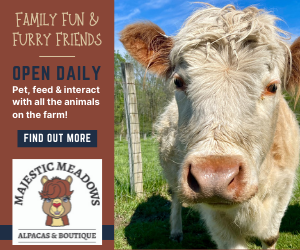 Fun for all ages! Come pet, feed and interact with all the animals on the farm!
Majestic Meadows Alpacas is the perfect place to relax and enjoy the beauty of the outdoors.
The 20-acre property includes open pastures for you to roam in which gives you a truly unique interactive experience that gets you up close and personal with all the animals on the farm as you walk through the fields.
The farm is home to over 70 alpacas, llamas, miniature cows, horses & donkeys, sheep, goats, two red kangaroos, miniature potbellied pigs and new this year a dromedary camel and a tortoise.
Open daily. Make reservations to experience the farm today!
Petting Zoos in Northeast Ohio Farms
Downs On The Farm
Downs On The Farm is a federally approved non-profit organization doing two things close to their heart. They rescue animals and also have a special farm for kids with disabilities to come and enjoy. Call to schedule a visit. There is a petting zoo, train rides, and a playground. {Website}
Where: 49456 Telegraph Rd., Amherst, OH 44001
Hale Farm & Village
2686 Oak Hill Rd., Bath, OH 44210
Open from June until October, this living history museum has 32 historic structures, farm animals, heritage gardens, farming, and early American craft and trade demonstrations including glassblowing, blacksmithing, spinning, weaving, candle making, pottery, broom making and more! They also have several events throughout the year. Check their website for details.
(330) 666-3711
Website
Lake Metroparks Lake Farmpark
8800 Euclid Chardon Rd., Kirtland, OH 44094
Farmpark provides a connection to our agricultural roots, helping people understand where our food and clothing come from. Milk a cow, take a wagon ride, explore their new playground area, and much more. Children under 2 are FREE! They have several fun events throughout the year. Check their website for details.
(800) 366-FARM
Website
Malabar Farm State Park
4050 Bromfield Rd., Lucas, OH 44843
Enjoy a wide variety of activities, including tours of the big house, hiking, wagon tours, and several special events throughout the year. Many of the events are FREE!
(419) 892-2784
Website | Our Review
Mill Creek Metroparks Farm
7574 Columbiana-Canfield Rd., Canfield, OH 44406
Open seasonally, this 402-acre working farm promotes agriculture through educational programming, tours, display areas, and a children's playroom.
(330) 533-7572
Website
Nickajack Farms
2955 Manchester Ave. NW, North Lawrence, OH 44666
The farm is open by reservation for school and group tours year round. In the fall, from mid-September through October, the farm is also open to the public for the Fall Festival. The fall festival include pick your own pumpkins, corn maze, hayrides, and much more!
(330) 323-9714
Website
Stearns Homestead Farm
6975 Ridge Rd., Parma, OH 44129
Open weekends from mid-May through mid-October, this working farm has lots of animals to see, several museum houses, and a Yankee barn. Special events are offered throughout the year. FREE admission
(440) 845–9770
Website
Majestic Meadows Alpacas
Visit this family-owned clothing and specialty store open 7 days a week. While on the farm, families are encouraged to visit and pet the miniature donkeys and alpacas. {Website}
Where: 4195 Abbeyville Rd, Medina, OH 44256
The Farm at Walnut Creek
4147 CR 114, Sugarcreek, OH 44681
Explore a working farm and feed the exotic animals while taking a horse drawn wagon ride. There are over 500 animals, comprised of species from six continents. They are open April through October. Children under 3 are FREE!
(330) 893-4200
Website
The Spicy Lamb Farm
6560 Akron-Peninsula Rd., Peninsula, OH 44264
Visit this small family farm which raises Dorset sheep, Rouen ducks, bees, and more. They are open during special events throughout the year.
(330) 657-2012
Website | Our Review
Yoder's Amish Home
6050 State Route 515, Millersburg, OH 44654
Open from the end of April through October, take a 1.5 hour tour through the property including a 119 year old bank barn. Pet some farm animals, take a buggy ride, and check out the bakery and gift shop.
(330) 893-2541
Website