Hidden in the beautiful farmland of Northeast Ohio you'll find a thriving community that takes us back in time to an era of traditional and simple living, hard work, delicious food and handmade products. With a large variety of family friendly things to do in Amish Country Ohio, our guide can help you plan a one day trip or a short vacation in the Amish Heartland.
From the best places to visit, to the best places to stay and eat, let our guide help you plan the perfect visit.
The Farm at Walnut Creek
The Farm at Walnut Creek is a great place for kids to visit and hand feed over 500 exotic animals including giraffes, cattle, horses, elk, deer, camels, buffaloes, porcupines and more. Visitors have the option of exploring the 2+ mile scenic farm park with your own vehicle (remaining inside only) or for a small extra fee, combine your visit with a horse drawn wagon ride that includes your own bucket of animal feed.
Admission also includes access to all of the farmhouses, barns, produce stand, gift barn, and playground shaped like Noah's Ark. Visitors recommend wearing comfortable shoes, bringing extra sunscreen, and a packed lunch to eat at one of the picnic benches available on the farm.
The Farm at Walnut Creek
4147 County Road 114, Sugarcreek, OH 44681
Website
You may also be interested in: More fun petting zoos in Northeast Ohio
Amish Country Theater
With two "Rib-Ticklin' Family Fun" variety shows, special events, and an Amish Homestyle Buffet on site, the Amish Country Theater feeds and entertains families with good food, clean comedy and wholesome entertainment.
The variety shows are on stage of the modern 600 seat auditorium 4 nights a week with additional special event shows including tribute bands, comedy acts, and holiday specials. Theater guests recommend both the Amish Country Buffet and the connected hotel for a package visit to the area.
Amish Country Theater
4365 State Route 39, Berlin, Ohio 44610
Website
Holmes County Flea Market
Holmes County Flea Market has more than 65 vendors offering a large variety of items in their 58,000 sq ft indoor building and an additional 5,000 sq ft outdoor section. Florals, crafts, decor, jewelry, Amish Antiques, and a whole lot more. Restaurant and other food items are also available.
Tour busses and RVs are welcome, but expect a small parking fee. The flea market is wheelchair accessible with a few wheelchairs available to guests at no charge. The market is pet friendly, but leashes are required. Open 9am to 5pm, Thursday-Saturday from March to December. Contact them for their additional Wednesday hours during September and October.
Holmes County Flea Market
4550 SR 39, Berlin, Ohio 44654
Website
You may also be interested in: Best flea markets in Ohio
Sols in Berlin
Sols in Berlin promises an "arts and crafts extravaganza" for visitors to their three stores located in the Village of Berlin. They offer a large variety of Amish, American, and Country Crafts and decor as well as handmade food items and gifts, with something for everyone.
Open year round Monday through Saturday, you'll also find a long list of local events happening at Sols from Train, Toy and Car Shows to Antique Fairs along with a variety of themed festivals. Don't miss their homemade ice cream and fresh popped kettle corn!
Sols in Berlin
4914 West Main Street, Berlin, OH 44610
Website
Amish Home Tours & Horse and Buggy Rides
In addition to good food and shopping, you can also learn about Amish history and experience their culture through Amish home tours and buggy rides. With these unique experiences, you and your family will not only learn about the Amish way of life, but you can also enjoy the beauty of Amish Country up close in a whole new way.
World's Largest Cuckoo Clock
With the Cuckoo bird announcing the smiling four piece polka band, dancing couple and a water wheel, you won't want to miss the adorable performance of the World's Largest Cuckoo Clock. You can find it on the corner of Main and Broadstreet in Sugarcreek and dance along with the festive music at the top of each hour and on the half hour.
World's Largest Cuckoo Clock
100 N. Broadway Street, Sugarcreek, OH 44681
Website
David Warther Carvings
Open April through October, stop into David Warther Carvings to visit the museum featuring the artistic work the 5th generation Swiss heritage carver. The large five room museum features nearly 90 carvings of the "History of the Ship" from the first Dynasty of Egypt to today created from antique ivory, ebony wood and abalone pearl.
David continues to work daily on site and offers frequent demonstrations of his work as he adds to the collection of intricate creations. See the website for hours, directions, and admissions information.
David Warther Carvings
1775 State Route 39, Sugarcreek, OH 44681
Website
Ohio Star Theatre at Dutch Valley
New in 2017 with state-of-the-art lighting and sound, the 500 seat Ohio Star Theatre offers a variety of family friendly entertainment including shows, concerts, musicals and special events.
Some shows are very popular and guests recommend buying your tickets well in advance of your visit. Package pricing is available for theatre tickets, dinner at any of their local Dutchman Hospitality restaurants and/or overnight accommodations. The theatre is handicap accessible and has on site refreshments.
Ohio Star Theatre at Dutch Valley
4985 State Route 515, Millersburg, OH 44654
Website
Amish and Mennonite Heritage Center
If you're interested in the history of the Amish and Mennonite people you won't want to miss the opportunity to visit the museum, pre-Civil War one room schoolhouse and the amazing Behalt Cyclorama mural. The Cyclorama artwork is a 10 ft tall, 256 ft long mural timeline of Amish and Mennonite heritage beginning from 1525.
The museum and gift shop are free to visitors. Guided tours of the Behalt Cyclorama, one room Schoolhouse and Pioneer Barn are available both individually or with a combo ticket.
Amish and Mennonite Heritage Center
5798 County Road 77, Millersburg, OH 44654
Website
Tis the Season Christmas Shop
This the Season Christmas Shop is more than just a store, it's year-round Christmas experience with something for everyone. The three level shop is designed and arranged as if you are walking through a Christmas Village with a log cabin, working fireplace and their Alleluia Chapel of stained glass windows. The lower level is reserved their forest of Christmas trees and nativity sets.
Open Monday-Saturday, the shop's website lists special events hosted by Tis the Season as well as dates opportunities to meet Santa during the months of November and December.
Tis the Season Christmas Shop
4363 State Route 39, Millersburg, OH 44654
Website
Amish Country Riding Stables
Enjoy the beauty of the Amish countryside by horseback on a guided horseback trail in Millersburg. The friendly horses are comfortable with both experienced and new riders, so no experience is required, but riders must be 8 years old or older with a weight limit of 225 lbs.
Each ride lasts about 40-45 minutes with additional instruction time making the experience about one hour long. Reservations are required on Saturdays and recommended Tuesday-Friday. (The stables are closed on Sunday and Monday.) Rides are dependent on the weather and available April through October of each year. Cash is the only accepted payment, but guests staying at the Guiggisberg Swiss Inn receive a discount on rides. Visit their website for pictures and more information or call them to make reservations.
Amish Country Riding Stables
5025 State Route 557, Millersburg, OH 44654
(330)893-3600
Website
Age of Steam Roundhouse
As a full-size working roundhouse, the Age of Steam Roundhouse is a great place for locomotive enthusiasts to learn and experience the restoration of these great machines. The roundhouse itself is a fully-functional workshop complete with 18 stalls, 115-foot turntable and turntable pit for their 22 historic steam locomotives.
The museum and collection also include storage tracks, coal dock, a wood water tank, ash pit, and back shop, much of which can be seen during one of their three guided tours. Best suited for school age children and older, it is recommended that visitors reserve tickets online since there will be a limited number of tickets available on site. Strollers and wheelchairs are welcome on tours, children under 3 and active duty military visitors are free.
Age of Steam Roundhouse
213 Smokey Lane Road SW, Sugarcreek, OH 44681
(330)852-4676
Website
You may also be interested in: More fun train rides in Ohio
Lehman's Hardware

Lehman's Hardware has it all: housewares, kitchen gadgets, snacks, desserts, meats, grilling and wood products, USA and Amish made toys and games, plants and gardening supplies, food preservation items, lighting and more!
They also have a long and diverse list of special events with activities from holiday entertainment to bread baking classes. (See the updated events list on their website before visiting.) So much to see and experience you won't want to miss it when visiting Kidron.
Lehman's Hardware
4779 Kidron Road, Kidron, OH 44618
Website
The Inn at Honey Run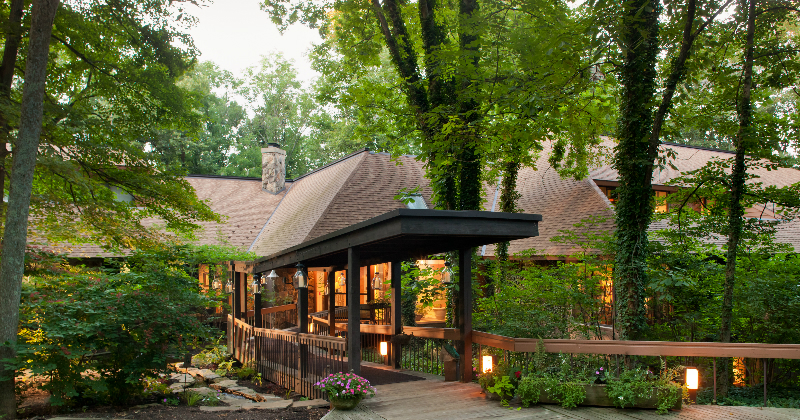 Set within 56 gorgeous acres of views and landscapes, this boutique resort is an adult-only inn found in the heart of Amish Country. The inn feels like a tranquil treat and escape from everyday life where you and the one you love can escape to a convenient and private hideaway.
With several packages to enhance your stay, the inn also offers an onsite restaurant, six walking trails with special attractions, a gift shop, and honey harvesting on-site.
The Inn at Honey Run
6820 Co Rd 203, Millersburg, OH 44654
Website
779 Kidron Road, Kidron, OH 44618
Website
The Ohio Swiss Festival
Transforming downtown Sugarcreek into an active Swiss village, the Ohio Swiss Festival, celebrates the heritage and culture of Switzerland every fall. With music, wine and cheese samplings, contests, parades, entertainment and races, the festival offers activities for the whole family.
The downtown celebration also offers a variety of rides and concessions, beer tastings, Swiss-themed activities, and you can experience the world's largest Cuckoo clock in person while you're there.
The Ohio Swiss Festival
Downtown Sugarcreek, OH 44681
Website
You may be interested in: More fun festivals in Ohio
Amish Country Restaurants & Unique Food
Looking for the best places to eat when visiting Ohio's Amish Country? Our list of Amish Food and Restaurants can point you in the right direction! Find the best places to enjoy delicious Amish style cooking, purchase food items to savor later and find special gifts for your friends back at home.
Family Friendly Hotels in Amish Country Ohio
Ohio's Amish Country includes several communities and towns full of activities and things to do. The surrounding farmland and countryside is perfect for a picnic, buggy ride, or farm visit and is a beautiful place to enjoy an overnight stay in one of the many family friendly hotels in Amish Country Ohio.
More Fun Things to do in Ohio