Whether you are searching for a vintage item or hoping to find the perfect piece of furniture to complete a room, we have you covered! We have compiled a list of the best flea markets in Ohio. With indoor and outdoor venues, unique dining options and a vast array of items, there is a treasure for everyone waiting to be found.
As usual, if you know of any Flea Markets located in Ohio that didn't make the list, submit the details here. Thanks for helping us all know where the best places to find unique treasures are!
Flea Markets In Ohio
Hartville Flea Market
The Hartville Marketplace & Flea Market has been doing business since 1939. The original flea market has since moved from its first location, but has now grown into a 3 acre indoor and 12 acre outdoor setting. It is a one-stop-shop for the entire family.
Additional details:
Special events run throughout the season with additional vendors
Indoor shops are open year round
Dining available in food court
Wheelchairs and shopping carts are also available first come first served
Hours: Open – Monday, Thursday, Friday, Saturday 9am -5pm; Closed – Tuesday, Wednesday & Sunday
Hartville Flea Market
1289 Edison St. NW, Hartville, OH 44632
(330) 877-9860
Website
Traders World
Traders World opened in 1984. Founded by Jay and Helen Frick, both Ohio natives, the market has a rich history. With 11-acres of shopping there are a variety of treasures to be found.
Additional details:
A series of events throughout the season bring in additional activities and vendors
3 ATMs and food concessions located throughout
Paved and handicap parking
Year-round indoor building climate control
Hours: Open Every Saturday and Sunday 9am-5pm
Traders World
601 Union Road, Lebanon, Ohio 45036
513-424-5708
Website
Rogers Flea Market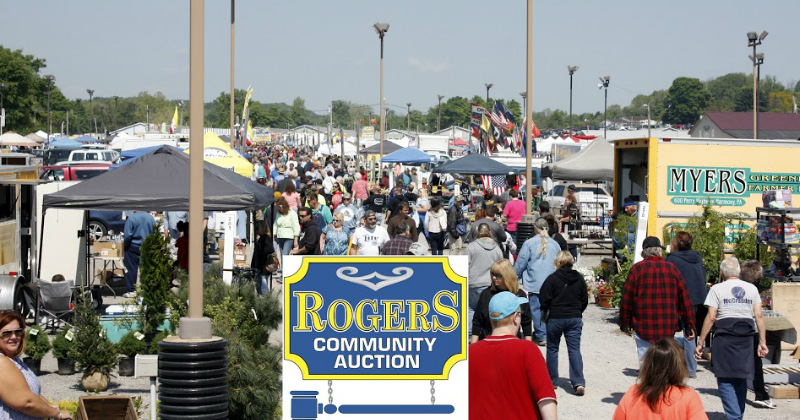 Rogers Flea Market continues to go by the solid principle of "Bringing Buyers and Sellers Together" since 1955. It boasts a "refreshing dip into Americana" for visitors. The five miles of vendor space leads guests on a charming outdoor trail.
Additional details:
Open every Friday, year round
5 miles of market space, indoors and out
More than 1,600 vendors
Auctions are available on site or online
Hours: Every Friday open at 7:30am; Monthly Consignment: Second Tuesday – year round, 1 p.m. – Varies; Market Office Hours: 9am-4pm. Wednesday & Thursday, 7:30am-4pm Friday; Main Office Hours: 8am-4pm Monday through Friday
Rogers Flea Market
45625 St. Rt. 154, Rogers, OH 44455
(330) 227-3233
Caesar Creek Flea Market
Enjoy flea market shopping at both indoor and outdoor vendors. Check out the website for current deals before you go. Also, you can visit Caesar Creek's sister market: Treasure Aisles Flea Market.
Additional details:
Events calendar available
Indoor shop directory with more than 500 climate controlled vendor spaces
Outdoor markets featured as well
Concessions and featured items available
Hours: Open every Saturday and Sunday from 9am-5pm. Rain or shine
Caesar Creek Flea Market
7763 W State Route 73, Wilmington, OH 45177
(937) 382-1660
Website
Jamie's Flea Market
Jamie's Flea Market is a family business and has been around for more than 40 years. Once the business in the original building began to flourish, more rooms were added. The family-atmosphere allows guests to feel like they're visiting "an estate sale and dozens of garage sales in one trip!"
Additional details:
2 buildings with more than 200 vendors
Up to 400 outdoor vendors
Food concessions
Traditional flea market, family-friendly atmosphere
Hours: Open all year, Wednesday and Saturday from 8am-4pm
Jamie's Flea Market
46388 Telegraph Rd. (Rte. 113), S. Amherst, OH 44001
(440) 986-4402
Website
Night Market Cleveland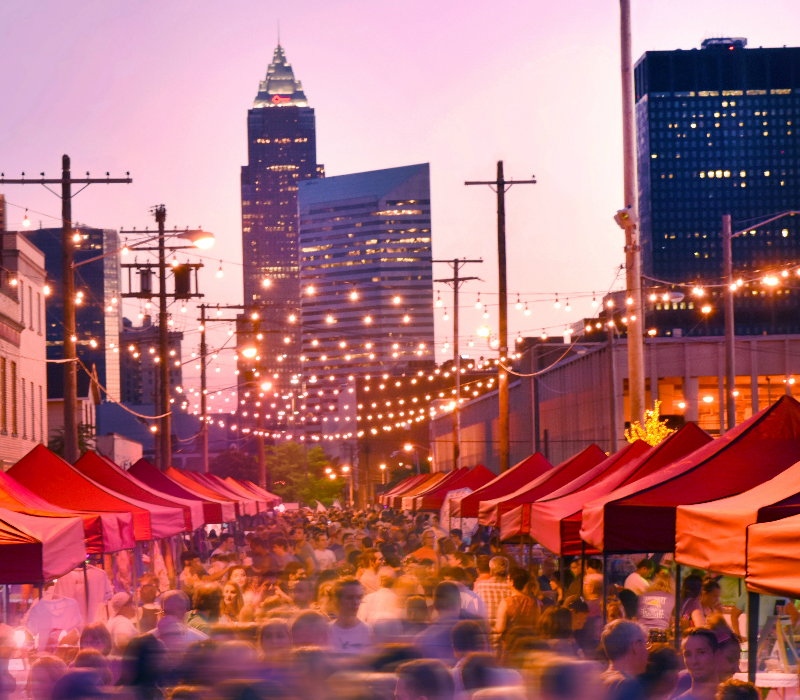 Night Market Cleveland is free for the public to attend. It is a summer event series which premiered in AsiaTown. The market states that it "celebrates the distinctive community, culture and creativity of the area." Think farmer's market, meets maker's market, meets food festival, meets music festival.
Additional details:
Kid and pet-friendly
Free and open to the public to attend
An authentically Asian, and uniquely Cleveland experience
A variety of parking options available
Dates: June 29, July 17, August 31 and September 28, 2018; 5pm-11pm
Night Market Cleveland
Rockwell Ave, Cleveland, OH 44114
Website
Lucasville Trade Days
Lucasville Trade Days are held at the Scioto County Fairgrounds. Come out to find just about anything you are looking for! Camping and hotels available nearby.
Additional details:
A large variety of vendors on-site
Indoor and outdoor shopping
Free parking (limited to fairground capacity)
Food concessions located throughout
Dates: April 28-29, June 9-10 and October 6-7, 2018
Lucasville Trade Days
1193 Fairground Rd, Lucasville, OH 45648
(937) 728-6643
Website
Delaware Flea Market
Delaware Flea Market describes itself as "like having 100 yard sales all in the same place." With bargains at every corner, there's bound to be a treasure found. It's a fun trip for the entire family.
Additional details:
A large variety of vendors
Food concessions available
Indoor and outdoor flea market (check webpage for details)
Small fee for buyers
Hours: Open Sundays from 5am-1pm
Delaware Flea Market
320 London Rd #626, Delaware, OH 43015
(740) 363-4928
Facebook
The City Flea
The City Flea is a curated urban flea market in Cincinnati. Started in 2011, the City Flea has become a small business incubator, introducing businesses to the local community. It is a great way to keep your dollars local, while engaging in your neighborhood.
Additional details:
Vendors range from: "vintage dealers to artisan pizza makers to plant studios"
Takes place once a month in Washington Park
Has hosted more than 300 vendors
Includes a kid's market with young entrepreneurs
Hours: 2018 SUMMER MARKET DATES, Washington Park from 10am – 4pm, May 19, June 16, July 21, 2018 FALL DATES: Washington Park from 10am-4pm, August 18 (+ KIDS MARKET), September 15, October 20, 2018 WINTER DATES: Washington Park 4pm-9pm, December 15 (Holiday Market)
The City Flea
1230 Elm St, Cincinnati, OH 45202
Website
Tiffin Flea Market
The Tiffin Flea Market is sponsored by the Seneca Junior Fair Foundation. This year it will be celebrating 40 years at the Seneca County Fairgrounds. The fair actually has a senior division in charge of adult activities and a junior fair overseeing youth activities.
Additional details:
Rain or shine
Food available on-site
Free admission and parking
Inside and outside vendors
Hours: Open Saturdays 9am-4pm and Sundays 9am-3pm
Tiffin Flea Market
100 S Hopewell Ave, Tiffin, OH 44883
(419) 447-9613
Website
Cleveland Flea Market
The Cleveland Flea Market describes itself as a "small business incubator." It brings together thousands of people to lesser-known neighborhoods to find vintage and culinary treasures. The Cleveland Flea is a great way to support #shopsmall in your own community.
Additional details:
170+ vendors
Small shops, food vendors and a community gathering all in one
Held in Tyler Village, in Cleveland's AsiaTown neighborhood
Check out their blog for additional inspiration and details
Hours: April 21, May 12, June 9, July 14, August 11, September 8, October 13, 2018; 9am-4pm
Cleveland Flea Market
3615 Superior Ave, Cleveland, OH 44114
(720) 593-1313
Website
Springfield Flea Market
The Springfield Flea Market has been active for more than 40 years. The Clark County Fairgrounds hosts the market nine times throughout the year. The Springfield Flea Market boasts that it is one of the top ten flea markets in the United States.
Additional details:
Vintage, antiques and art
More than 2,000 vendors
Food vendors located throughout
Check out the website for press accolades
Hours: March 17-18; April 21-22; May 18, 19, 20 (Extravaganza); June 16-17; Aug 18-19; Sept 14, 15, 16 (Extravaganza); Oct 20-21; Nov 17-18; Dec 8-9, 2018
Springfield Flea Market
4401 S Charleston Pike, Springfield, OH 45502
(937) 325-0053
Website
Holmes County Flea Market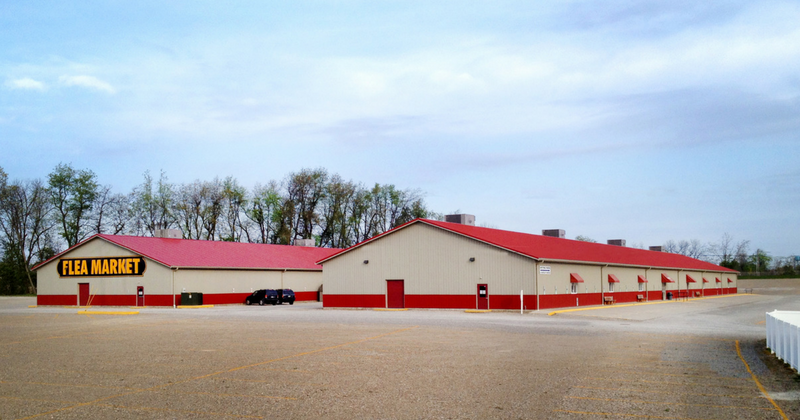 The Holmes County Flea Market has been around since 1989. It moved from its original location in 2008 to a new space in Berlin, Ohio. The flea market is committed to offering high quality products and providing a fantastic shopping experience.
Additional details:
Climate-controlled, single-level, 55,000 square foot building
More than 60 distinct vendors
More than 10,000 square feet of additional outdoor space
Delicious on-site dining and snack options
Hours: 9am-5pm, Thursday – Friday – Saturday, March 1 – December 15, 2018, ALSO Open on Wednesdays during the months of September & October
Holmes County Flea Market
4550 OH-39, Millersburg, OH 44654
(330) 893-0900
Website
Four Seasons Flea and Farm Market
The Four Seasons Flea and Farm Market is an indoor and outdoor market. The market says that it is like "going to 600 garage sales at once." It is open year round, rain or shine.
Additional details:
88,000 square feet of indoor space and 22 acres of blacktop
Room for 600 vendors
Largest fresh farm market in the area
No admission and free parking
Hours: Indoor/outdoor market, Open: Wednesdays and Sundays, rain or shine, year round from 8am-4pm.
Four Seasons Flea and Farm Market
3000 McCartney Rd, Youngstown, OH 44505
(330) 744-5050
Website
Treasure Aisles Flea Market
The Treasure Aisles Flea Market is open every Saturday and Sunday rain or shine. It is just a short drive from its sister market Caesar Creek Flea Market. Check out the website for additional deals and specials.
Additional details:
Climate-controlled aisles
More than 500 vendor spaces
Indoor and outdoor shopping
Food concessions located on-site
Treasure Aisles Flea Market
320 N Garver Rd, Monroe, OH 45050
(513) 539-4497
Website
Hocking Hill Flea Market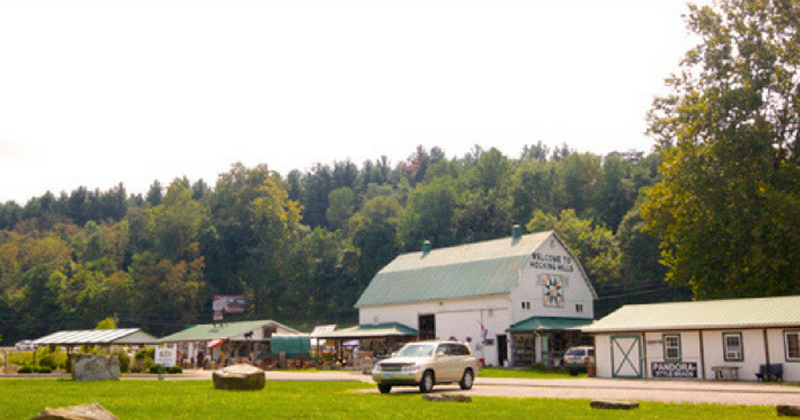 Located in the beautiful Hocking Hills is the Hocking Hills Flea Market. From vintage to new item shopping, a round of mini-golf or dining at local eateries, there's something for everyone. It's a trip the entire family will enjoy.
Additional details:
Flea market open year round
100 unique vendors
Indoor and outdoor spaces
Check out the website for additional dining and event attractions in the area
Hocking Hill Flea Market
26758-26790 US-33, Rockbridge, OH 43149
(740) 974-1138
Website
Rinky Dink Flea Market
Rinky Dink Flea Markets says it has "odds and ends for everybody." The market has been around for more than 30 years. Be sure to look for their seasonal events that occur throughout the year.
Additional details:
Snack bar available
Great variety of items
Booths are set-up inside and outside
Check out their Facebook page for details
Rinky Dink Flea Market
404 Fort Harmar Dr, Marietta, OH 45750
(740) 350-7923
Website
Peninsula Flea at Heritage Farms
Come Flea at the Farm! Peninsula Flea at Heritage Farms is an upscale flea market featuring handmade, repurposed, and vintage high-quality items from dedicated artists, craftspeople, and collectors.
Hours: Saturdays, June 2 & 30, July 7, August 4, & September 1, 2018; 10am-4pm
Peninsula Flea at Heritage Farms
6050 Riverview Rd., Peninsula, OH 44264
(330) 657-2330
Website