Lake Erie beaches are full of tumbled and washed up treasures. Originating from dumped garbage and shipwrecks, beachcombing enthusiasts, artisans, and hobbyists all head out to the shores to search for Lake Erie beach glass and other incredible finds created by the often choppy and rough waters of the lake.
With small, large, colorful, and often frosted finds, searching for Lake Erie Beach Glass is a fun activity that will leave your family feeling like you've found treasure!
Some of the most common beach glass colors and items found in Northeast Ohio include white, brown, and green beach glass from a variety of items like soda, beer, and liquor bottles as well as antique medicine bottles.
Fossils, bits of pottery, ceramic tiles, driftwood, and metal pieces are also some of the treasured items often found on the shores of Lake Erie. A few of the less common finds are yellows, reds, purples, and bonfire pieces (which are mixed color pieces resulting from glass melted together in a fire).
If you're lucky, there are also some rare and envious finds hiding on our shores including marbles that were once used to stabilize the ballasts of ships, intact bottle bottoms, doll heads, ceramic and glass dice, and "lucky stones" which are actually the Otis ear bones of sheep head fish.
Are you crafty or an artist? Although Lake Erie beach glass is beautiful all on its own, you can also turn your finds into treasures you can wear as jewelry, windchimes, or wall art. A quick Pinterest or internet search will give you more ideas than you can craft, including simple ones for every skill level.
You may also be interested in: More fun things to do in Cleveland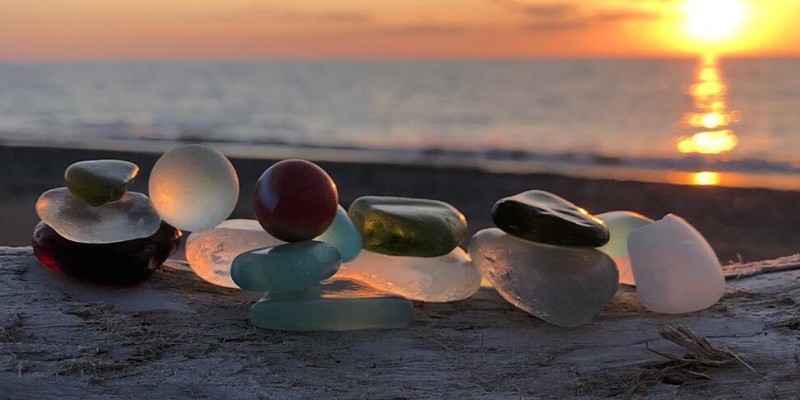 Best Places and Times to Search for Lake Erie Beach Glass
Although you can find beach glass on almost all of Lake Erie's beaches, some of the best locations include areas with small rocks and pebbles that have been tumbled up from rough waters. Good days and the best times to head out to search for recently washed up beach glass are after storms, heavy rain, and late winter when the lake first thaws.
Helpful Tips to Find Lake Erie Beach Glass
Look for beach areas with small stones and pebbles
Bring a small plastic beach spade or use a piece of driftwood to gently dig through the pebbles for treasures below the surface
Search after the water first thaws, after storms, or anytime after the shore has been stirred up by rough water
Be sure to have children wear shoes, especially in locations where the glass and rocks could be sharp on their feet
Remember to bring a small bucket or zip-top bag to hold your finds
Don't become discouraged. Sometimes it takes time to be able to spot the glass pieces!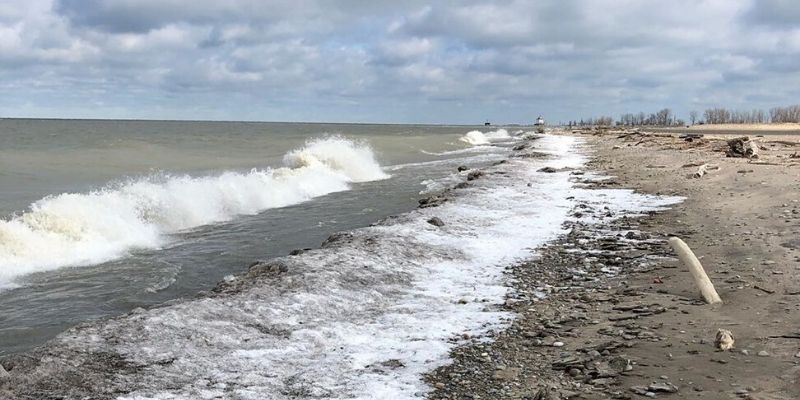 Best Locations to Find Lake Erie Beach Glass
Walnut Beach, Ashtabula
The rocky, pebble filled areas of the beach are perfect for finding colorful beach glass including greens, reds, and blues.
Perkins Beach at Edgewater Park, Cleveland
The glass here is usually smaller in size, but is well frosted and includes a lot of harder to find blues.
Wendy Park, Whisky Island, Cleveland
Trash washes up around this park often bringing with it a lot of beach glass. Much of the glass found here can be newer and less tumbled and frosted, although with the large amount of glass found at this park, treasures including driftwood and bits of pottery can often be mixed in.
Conneaut Township Park, Conneaut
With a pebbly beach, this park has what it takes to find special pieces of Lake Erie beach glass.
Century Park, Lorain
Great location for finding fossils too.
Breakwater Beach, Geneva on the Lake
The largest natural sand beach in Ohio with good places to find beach glass.
Headlands Beach State Park, Mentor
The largest natural sand beach in Ohio with good places to find beach glass.
Bradstreet's Landing, Rocky River
This frequented Rocky River shore area has a pebble beach perfect for finding beach glass.
Rocky River Park, Rocky River
Beautiful views and rocky shores offering a wonderful experience for beachcombing.
Main Street Beach, Vermilion
Sandy Beach with a pebbly shore. A lot of white, green, and brown beach glass can be found here and occasionally "lucky stones" and blues.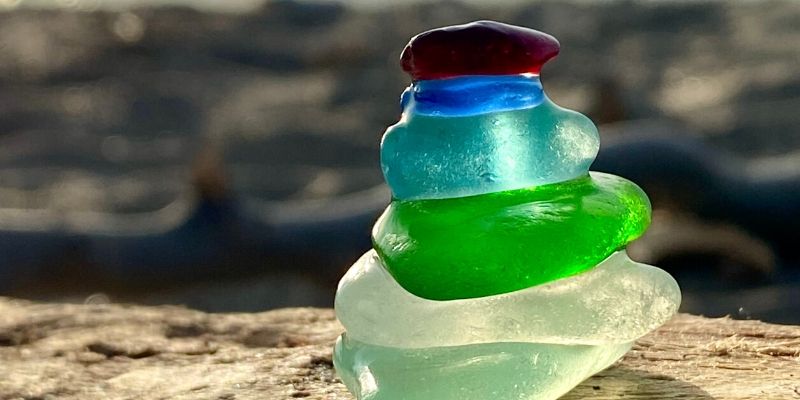 Beach Glass Groups and Festivals in Northeast Ohio
Lake Erie Love Facebook Group
Join this group to see unique finds and beach glass creations from other local beachcombers and share your own.
Find It Here
North American Sea Glass (NASGA) Festival
Held annually in different locations across the U.S.
Website
If you're looking for a fun hobby the whole family can enjoy or just looking for something new to do this summer with kids, give searching for Lake Erie Beach glass a try. You just might find treasure!!
You May Also Be Interested In