Even though we're miles from the ocean, there are still some great beaches in Northeast Ohio. Some are located along the shores of Lake Erie while other beaches are found on various lakes across the region. You can enjoy a day in the sun and sand and even go boating. So, pack up your towel and sunblock and head out to the beach this summer!
Below is a list of some of the best local beaches. Do you know of any beaches that should be included in this list? Please submit the details here and we'll get them added.
Note: As usual, contact information is provided. Please call to confirm hours and pricing, or check the websites listed before planning your trip. Before you head to the lake, be sure to check out the Ohio Department of Health website to see there are any beach advisories.
Best Beaches in Northeast Ohio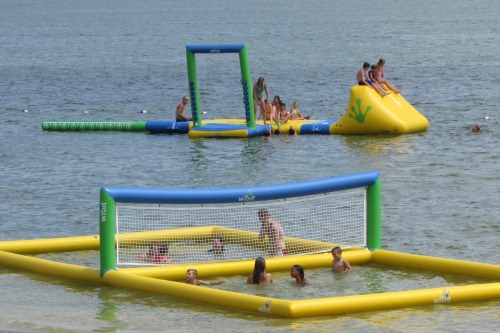 Atwood Lake Park
9500 Lakeview Rd. NE, Mineral City, OH 44656
A beautiful, private owned beach with several water inflatables. Daily Admission = $5 for single occupant or $10 for 2 or more.
(330) 343-6780
Website | Our Review
Baylor Beach Park
8725 Manchester Ave. SW, Navarre, OH 44662
This park features a waterpark with a gradual sloping sand bottom. The water is chemically treated and spring fed daily. Daily Rates: Under 3 are FREE, Ages 4 and Over $7 on Weekdays, $9 on Weekends
(330) 767-3031
Website | Our Review
East Harbor State Park
1169 N. Buck Rd., Lakeside-Marblehead, OH 43440
The park features a 1,500-foot sand beach on Lake Erie in designated areas. FREE Admission
(419) 734-4424
Website
Edgewater Lake Park
6500 Cleveland Memorial Shoreway, Cleveland, OH 44102
Edgewater  Park is the westernmost park in Cleveland Metroparks Lakefront Reservation. It features 9000 feet of shoreline, dog and swim beaches, fishing pier, picnic areas and grills. FREE Admission
(216) 635-3200
Website
Euclid Beach Park
16301 Lakeshore Blvd, Cleveland, OH 44110
Part of the Cleveland Metroparks Euclid Creek Reservation. Lifeguard on duty 11am to 7pm the first Saturday in June – second Sunday in August; following second Sunday in August, weekends only through Labor Day.  FREE Admission
(216) 635-3200
Website
Fairport Harbor Lakefront Park
301 Huntington Beach Dr, Fairport Harbor, OH 44077
FREE Admission. Lifeguards on duty Memorial Day weekend through Labor Day. Concession stand, restrooms, playground, boardwalk and more are available. Sand bottom beach with a gradual slope.
(440) 256-2118
Website
Geneva State Park
4499 Padanarum Rd., Geneva, OH 44041
A 300-foot swimming beach on the shore of Lake Erie. FREE Admission
(440) 466-8400
Website
Headlands Beach State Park
9601 Headlands Rd, Mentor, OH 44060
The largest natural sand beach in Ohio, the beach has a concession stand, restrooms, and lifeguards on duty during the summer season. FREE Admission.
(440) 466-8400
Website
Hinkley Spillway Swimming Area
Located on Bellus Road and East Drive in Hinckley Reservation
Part of Cleveland Metroparks. Lifeguard on duty from 11am to 7pm the first Saturday in June – second Sunday in August. FREE Admission
(216) 351-6300
Website
Huntington Beach Reservation
28649 Lake Rd, Bay Village, OH 44140
Part of Cleveland Metroparks. Lifeguard on duty 11am to 7pm the first Saturday in June – second Sunday in August; following second Sunday in August, weekends only through Labor Day.  FREE Admission.
(216) 351-6300
Website
Lake Cable Beach
5725 Fulton Rd. NW, Canton, OH 44718
A private beach with a 150-acre lake. There is a cost for beach membership and day passes. Check their website for details.
(330) 499-2608
Website
Melanie Lake
2881 Canton Rd, Uniontown, OH 44685
Formally known as Lake Kim Tam, the lake has diving boards and a slide. There is a an admission charge for day passes and season passes are available.
(440) 864-5046
Website
Munroe Falls Metropark
521 S. River Rd, Munroe Falls, OH 44262
The 13 acre lake has an anchored sunning deck, dock, concession stand, restrooms and much more! Daily admission is $5 for anyone 5 and over. Season passes are also available.
(330) 867-5511
Website | Our Review
Silver Creek Metropark
5000 S. Hametown Rd, Norton, OH 44203
Wear aquatic shoes to this beach. Shells and snails wash up regularly. Daily admission is $5 for anyone 5 and over. Season passes are also available.
(330) 867-5511
Website
Wallace Lake Beach
213 Prospect St, Berea, OH 44017
Part of Cleveland Metroparks. Lifeguard on duty 11am to 7pm the first Saturday in June – second Sunday in August  FREE Admission.
(440) 243-6103
Website
West Branch State Park
5570 Esworthy Rd, Ravenna, OH 44266
A 700 foot sand beach with a beach house, restrooms, and concessions. FREE Admission
(330) 296-3239
Website
You May Also Be Interested In