Life can be a day at the beach, right here in Ohio! With several Lake Erie beaches to choose from throughout the area there are opportunities for sand, sun and water. You can find a rich history of ecological wonders, as well as beautiful man made attractions like lighthouses, beach-stretching boardwalks, lookout towers and more. There's truly so much to explore along the sandy beaches in Ohio.
Fairport Harbor Lakefront Park Beach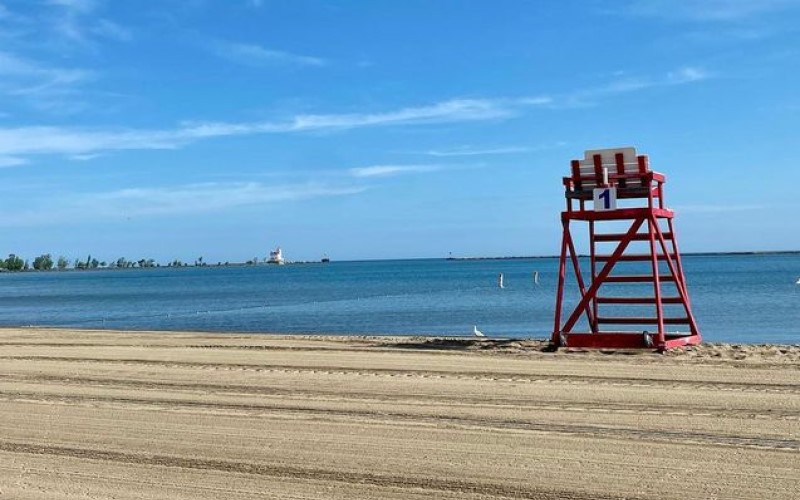 Named "Best Beach in Ohio" by Coastal Living's "The Best Beaches in America" list, Fairport Harbor Lakefront Park Beach is a true gem. Open year-round, the park offers 21 acres, including beachfront access, paved trails, a picnic area, shelter and playground.
While visiting the park during the regular season you have access to electricity, portable restrooms, concessions, grills, a fire ring, canoe/kayak access and an emergency phone. There is also a designated dog area at the park for your furry friends to join you.
You can take a stroll down the harbor boardwalk where you'll find benches and picnic tables where you can rest and take in views of the harbor and the remarkable lighthouse. Before you go be sure to check out the seasonal hours, beach rules and live conditions of Lake Erie on their harborcam.
Fairport Harbor Lakefront Park Beach
301 Huntington Beach Dr, Fairport Harbor, OH 44077
Website
Edgewater Park Beach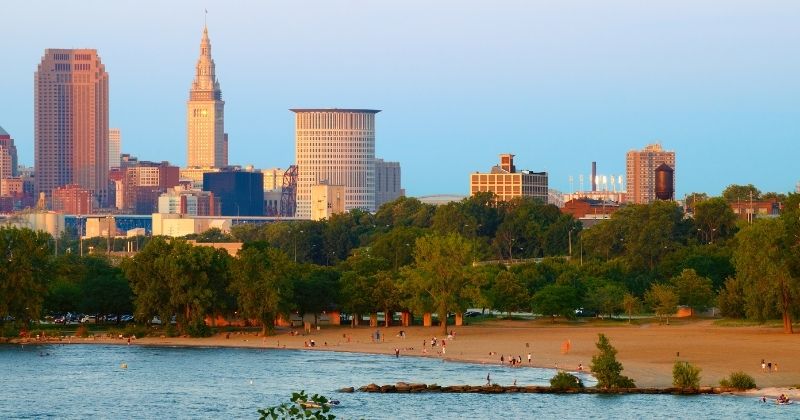 Want to take in the views of the Cleveland skyline with your toes in the water and sand? One of Ohio's own sandy, swimming beaches awaits you right here in Cleveland. With 2,400 feet of beach, whether you're hoping to swim, play a game of beach volleyball, fish or go for a hike, Edgewater Park Beach has you covered!
The park is home to the Eats and Treats concession stand. You'll have access to cabana and beach chair rentals, the fishing pier, grills, picnic tables, restrooms, a play area and trail access. The park also offers ADA beach wheelchairs. Be sure to bring along your pup for dog access at the western most part of the beach.
Before you go, check the website for their rules and regulations. Also, plan ahead and call for rental and shelter information.
Edgewater Park Beach
Located between the Memorial Shoreway (Route 2) and Lake Erie
Website
East Harbor State Park
A peninsula jutting out into the waves of Lake Erie awaits you just eight miles northwest of Sandusky! Part of Ohio's prairie marsh zone welcomes you to explore East Harbor State Park's scenic wetlands. These wetlands were part of the Great Black Swamp, which once covered much of the area.
Want to extend your visit to the park? Make it a camping trip! East Harbor State Park offers the largest campground in the Ohio state park system. Pets are allowed, and there are other camping options onsite such as a yurt and cabins.
Another exciting attraction is the park's horsepower boating. The marina offers rentals and area launch ramps. Other activities include: disc golf, fishing (valid fishing license required), hunting (check the website for permit requirements), a nature center, picnic tables and grills, several trails (length and difficulty of each listed on the website), swimming and wildlife watching.
East Harbor State Park
1169 N Buck Rd, Lakeside Marblehead, OH 43440
Website
Cedar Point Beach
Ride some of the largest rollercoasters in America, and then relax on the beach! Cedar Point Beach is available with Cedar Point Park admission and to all amusement and water park guests. It is also open to overnight visitors staying at a Cedar Point property and season passholders.
The beach offers family-friendly beach and boardwalk activities throughout the season. Want to add to your beach experience? You can rent a private beach bungalow on your trip to the beach. Check out the website to see what the bungalow includes and what is taking place on your visit.
Cedar Point Beach
1 Cedar Point Dr. (off US 6) Sandusky, OH 44870
Website
You may also be interested in: More fun things to do in Sandusky Ohio
Maumee Bay State Park
Step into a storybook at Maumee Bay State Park. Home to a Storybook Trail, a trail that presents a child's storybook along your journey, Maumee Bay State Park offers a serene landscape for nature and fun.
Some of the area attractions include: non-motorized boating, archery, fishing, golf (Maumee Bay State Park Golf Course), hunting (adjacent to the park), picnicking, swimming (from the park's two sand beaches) and several trails (check the website for length and difficulty).
Additional activities you can find are basketball, volleyball and pickleball courts, as well as a butterfly gazebo!
Maumee Bay State Park
1400 State Park Rd, Oregon, OH 43616
Website
You may also be interested in: More fun things to do in Toledo Ohio
Euclid Beach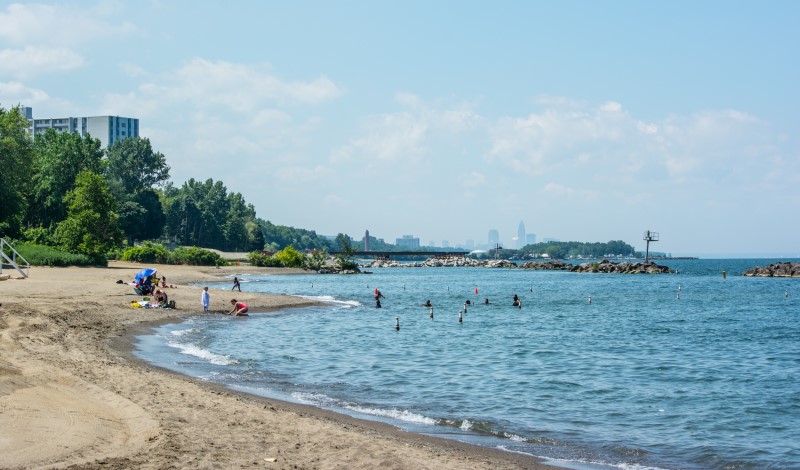 What used to be home to a beach amusement park is now 650 feet of beach. You may notice some remnants of the amusement park, including the shuffle board area, pieces of the beach fountain and concrete footers of one of the roller coasters.
A 315-foot pier awaits you for a stroll out over the top of Lake Erie. Nearby attractions include Villa Angela Beach for swimming and shorefront access, as well as Euclid Beach reservable picnic shelter.
Euclid Beach
16301 Lakeshore Blvd, Cleveland, OH 44110
Website
You may also be interested in: More fun things to do in Cleveland
Kelleys Island State Park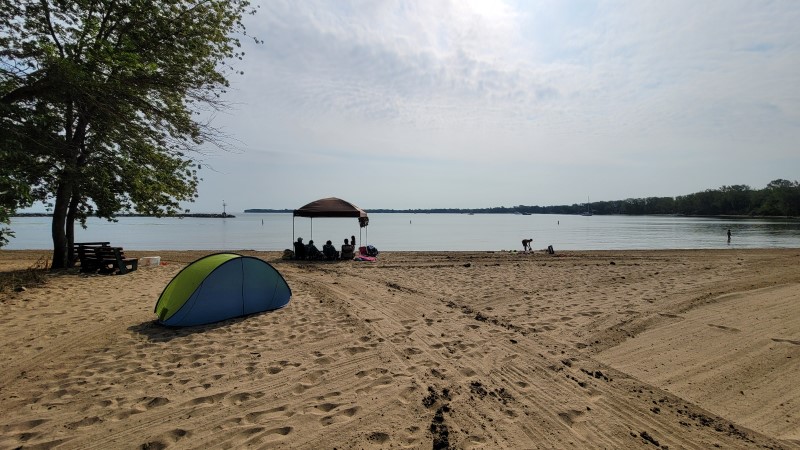 Ready for a little getaway? How about a trip to the beach on an island? Kelleys Island State Park occupies one quarter of Kelleys Island. Whether you're looking to camp at the park or take the day to swim and hike, there are plenty of activities for everyone. Kelleys Island also offers a unique glimpse into the history of Ohio's glaciers. Just a short walk from the campground are a large tract of glacial grooves.
The campground offers full hookup, electric and non-electric sites, as well as two furnished Yurts and two Sherman Cabins for rent. Call ahead for details.
Visitors can enjoy boating, fishing (valid fishing license required), hunting (hunting license is required; check with the park for details), five picnic areas with tables and grills, 150-foot public swimming beach, trails (check the length and difficulty of each) and more.
Kelleys Island State Park
920 Division St, Kelleys Island, OH 43438
Website
Main Street Beach
Spend your day swimming, fishing and lake glass hunting on the sandy beach and then stick around to watch a perfect sunset! Main Street Beach offers more than 300 feet of beach access to visitors.
Amenities include swimming access, kayak/canoe launch, concession stand, changing rooms and toilets. The beach is also equipped with an ADA mobility mat. A new comfort station is set to open in spring 2023.
Main Street Beach
479 Main St., Vermilion, OH 44089
Website
Nickel Plate Beach
A stroll down the shoreline with views of the Huron Lighthouse awaits you at Nickel Plate Beach. Swim, kayak or paddleboard in the water. Bring your little ones to play at the park playground. You can even get competitive at the ping pong table, corn hole boards or beach volleyball courts (bring your own gear).
Beach gear rentals are available at The Paddle Shack. Portable restrooms are available during the regular season. Also, dogs are prohibited at certain hours of the day during the park's busy season. Check the website for rules, as well as parking fees/details.
Nickel Plate Beach
1 Nickel Plate Dr, Huron, OH 44839
Website
Lake Erie Bluffs
Lake Erie Bluffs was named one of Outside Magazine's 25 Best Hikes to Beaches in the US. The park is nationally significant, protecting…"wetland, meadow and mostly undeveloped lakefront habitat used by rare and common plant and animal species." The park boasts more than 9,000 feet of both sandy and cobble shoreline, as well as 40-foot high beach bluffs.
One of the unique park features is a 50-foot coastal observation tower. You can take in 360-degree views of the wildlife and water from multiple viewing platforms. Check out the website to view the rare species that the park has to offer.
Lake Erie Bluffs has two reservable campsites as well as a shelter. The park offers biking, hiking, picnic areas and shelter, electricity, a fireplace, flushable and portable restrooms, lakeshore access and more.
Lake Erie Bluffs
3301 Lane Rd., Perry Twp., Ohio 44081
2901 Clark Rd., Perry Twp., Ohio 44081
Website
South Bass Island State Park
Take the ferry over to discover the beach life at Put-In-Bay. Whether you are staying for the day to swim and play on the island or plan on spending the night at the campgrounds or cabins – South Bass Island State Park has a little something for everyone!
A public launch ramp allows you to bring your own boats or rent them at the park. Fishing, swimming, picnicking and a playground are all options on your visit. Picnic tables, a grill, restrooms and water are also all available.
Nature lovers will enjoy exploring the islands nature preserves. Glacial striations and glacial grooves, collapsed caverns and a wide-variety of animal and plant species can be found throughout the park.
If you're planning to camp, electric and full-service sites are seasonally available. Also, you can check out the four cabents and a group camping area. Visit the website for more details on camping, rentals and rules and regulations.
South Bass Island State Park
1523 Catawba Ave, Put-In-Bay, OH 43456
Website
You may be interested in: More fun things to do in Put in Bay
Lakeview Park
At Lakeview Park you enjoy the sandy beach, take in views of the Lorain Lighthouse, smell the roses at the historical rose garden and so much more! The beach offers access to both a swimming area and boating.
On Memorial Day in 1932 the rose garden was dedicated to the community. It now boasts about 2,500 roses with 48 beds allowing you to journey through connecting walkways. It is in the shape of a wheel with eight spokes, the Rotary Club emblem.
You can enjoy kayaking, canoeing and stand-up paddleboarding, as well as beach volleyball and lawn bowling. There is a cafe, an events center, reservable shelters and gazebo, a bathhouse for changing/showers, playground and seasonal concession stand.
Lakeview Park
1800 West Erie Avenue, Lorain, OH 44052
Website
Huntington Beach
Walk the shores of Lake Erie on the sandy beach or take in the lake views of sunset from the Sunset Picnic Plaza! Huntington Beach offers opportunities for those looking to relax or explore. You can even take in a little bit of history by viewing the Lake Shore Electric Railway trestle and the Huntington Water Tower.
Visitors can swim, fish, kayak or hike at the park. Food is available at the Noshery. The three miles of trails pass through many different environments for nature lovers.
The beach offers ADA beach wheelchairs, a ball field, a canopy, changing rooms, electricity, grills, picnic tables and restrooms. Check the website for seasonal details, rules and regulations and reservation information.
Huntington Beach
Huntington Reservation, Bay Village, OH
Website
Conneaut Township Park
Take in views of Conneaut Harbor's lighthouse as you journey down Conneaut Township Park's quarter mile long beach. Explore the sand and stone beach as you look for beach glass and take in the beautiful sunrises and sunsets on the horizon!
A boardwalk extends down the entire lakeshore providing you easy walking and access to and from the pavilions and parking lots. On your visit you can enjoy park activities including: a playground, bocce ball, pickleball, a soccer field, volleyball, basketball courts, horseshoes and more. Sports equipment can be borrowed at the park's concession stand. There are restrooms, pavilion access and plenty of parking areas.
Be sure to check out the website for details on parking, park rules and seasonal times/activities.
Conneaut Township Park
480 Lake Rd, Conneaut, OH 44030
Website
You may also be interested in: Tips and best places to find Lake Erie Beach Glass
Catawba Island State Park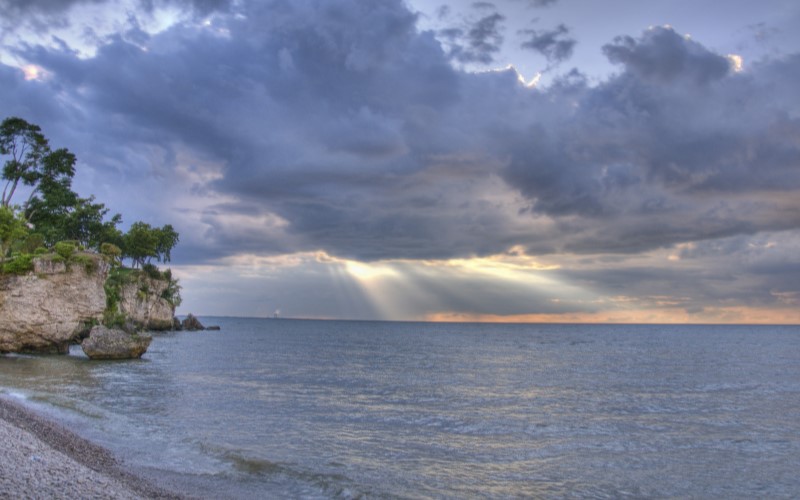 Gather your family under the rustic stone shelterhouse of Catawba Island State Park for a day exploring the beach! Enjoy the cobblestone beach or greenspace to take in the nature surrounding Lake Erie.
Boating is available from four launch ramps. You can also enjoy fishing (with a valid fishing license) and picnicking (with two picnic areas). Restrooms are available to visitors.
Take a look at the website for seasonal information and nearby attractions.
Catawba Island State Park
4049 E Moores Dock Rd, Port Clinton, OH 43452
Website
Presque Isle Beach
Although not in Ohio, you can cross the border to visit Pensylvannia's only shoreline! The park is actually a 3,200 acre peninsula with beach access and plenty of recreational activities. The park is also home to Tom Ridge Environmental Center, teaching visitors about the unique life of plants and animals native to the area.
You can even take a Lake Erie boat tour on your visit. In addition to swimming and boating, the park offers unique activities such as surfing and scuba diving. The park also has hiking, biking, picnicking, fishing and hunting options. There are no overnight facilities on the peninsula, but check the website for overnight accommodations nearby.
Presque Isle Beach
Peninsula Dr, Erie, PA 16507
Website
Headlands Beach State Park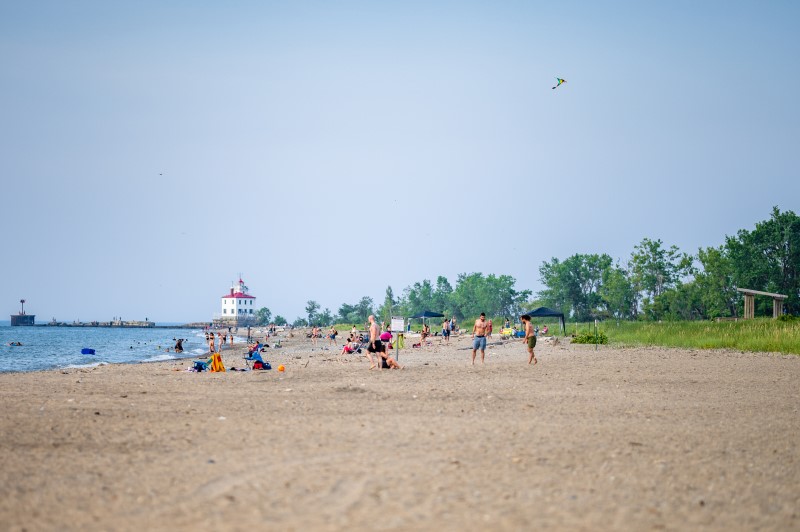 The largest natural sand beach in Ohio, Headlands Beach State Park, is a 35-acre swimming beach with plenty of opportunities for sunbathing, wildlife watching, beach glass hunting and remarkable sunsets. The park also offers seasonal concessions for delicious treats on your visit.
You can enjoy trails in the park, as well as at Headlands Dunes State Nature Preserve, which is adjacent to the park. You can experience the switchgrass or beach grass, as well as the other plants and animals native to the area.
Check out the park's fishing opportunities (a valid fishing license is required). There is also a picnic area with tables and grills. You can also reserve the shelterhouse for events.
Headlands Beach State Park
9601 Headlands Rd, Mentor, OH 44060
Website
Tips for Visiting a Lake Erie Beach
Choose the beach that's right for you – Lake Erie brings the Great Lakes here to Ohio! As you are getting ready to get out to relax, explore and play at a beautiful beach on the shore of Lake Erie, you can look at our list to choose a spot that checks off all of the boxes on your list. Do you want to take photos of a lighthouse or get snacks at a concession stand? Although each of the locations have beach access, they each offer a little something different for a truly unique visit. Also, some beaches are only open Memorial Day through Labor Day, and others have winter activities to enjoy. Be sure to check out details before you go.
Safety first – Check the website's rules and regulations when it comes to children's safety equipment. If you are boating or swimming and need a lifejacket, be sure to plan ahead. Also, be sure to check out rules and regulations for fishing, hunting and bringing dogs on the beach.
Plan out the day/visit – The beaches offer a variety of activities, and planning them out ahead of time can really maximize your beach experience. For example, if you want to catch the sunrise over breakfast at the concession stand or you are really hoping to rent a paddleboard and play beach volleyball, you will want to know details about the beach's accommodations. Ensure the beach amenities are open when you hope to use the services. Several of the locations have campgrounds onsite where you can plan out your trip or even rent a cabin. Call ahead and check the website for specifics.
Pack food and water – Many of the beaches offer food options or water onsite, however, it is always a good idea to have a water bottle or healthy snack packed of your own. You will likely be doing a lot of walking, whether from the car to the beach access or on one of the hiking trails. There are picnic opportunities at most locations and most come with an incredible water view!
Prepare for the weather – Just like any day at the beach, you will want to ensure you have plenty of sunscreen, sun protection, hats and towels. Also, consider if you need a beach umbrella or extra coverage for little ones. Some locations offer rentals that you can check into ahead of time.
Bring cash with you – Each spot has different parking requirements, some have restaurants or concession stands and others have nearby attractions. Having a little extra money on hand will be good in case you end up needing it.
Don't forget your camera – With stunning views, native plants and animals and memories in the making, you won't regret having your camera on hand to capture snapshots. Consider a waterproof case for your camera or a plastic bag to store your phone when you are not using it.
You May Also Be Interested In