The beautiful Mucklo Park at Coe Lake in Berea has so much to offer. A HUGE playground with unique equipment (including a play area that looks like a pirate ship) to keep the kids entertained, a lake picturesque lake with trails around the water, fishing, paddle boats and kayak rental during the summer months and plenty of green space. It's a great destination for all ages.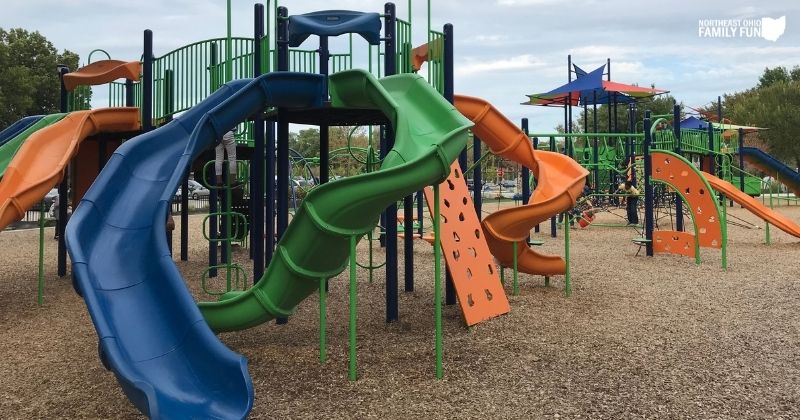 Below are pictures and details about the park. Have a tip about Mucklo Park to share? Leave a comment below. Thanks!
Things to do at Mucklo Park at Coe Lake in Berea
The playground was newly remodeled and expanded in 2018 and is not only HUGE, but also very unique. There are a wide variety of slides and things to climb and multiple play structures throughout the park. Including one that looks like a pirate ship.
It also has a rubberize surface which is great because it's mess free and much softer if some one accidentally trips and falls.
Their is a large lake a short walk from the playground. While you are there, take a walk along the trails that go around the lake. In the warmer months you could also try paddle boarding or kayaking in the lake.
Also during the summer, plan time to take a swim at the Outdoor Pool which is also right next to the playground.
Tips for Visiting Mucklo Park
The playground has really unique equipment with things that a variety of ages would enjoy.
The playground is large and it's helpful to have more than one adult if you're taking multiple children.
With so much to do, it's always a good idea to bring snacks and drinks from home so you can enjoy a longer visit.
Make time to take a walk along the trail that goes around the lake. It's a beautiful area.
There is a porta potty located next to the playground and regular restrooms during the summer months when the pool is open.
Have tips about visiting Mucklo Park? Leave a comment below. Thanks!
Mucklo Park Features & Amenities
Large Playground with unique equipment and rubber surface
Walking trail around the lake
Fishing
Outdoor swimming pool open during the summer
Paddle Boating & Kayaking in the warmer months
Pavilion, Gazebo – Can be rented
Large Paved Parking Lot
Plenty of Green Space and Shade
Mucklo Park
85 South Rocky River Drive, Berea, Ohio 44017
Website
You may also be Interested In: