Enjoying the outdoors during the winter can be as easy as stepping into a pair of snowshoes and going on a hike after a fresh snowfall. If you own a pair of snowshoes you can simply pack up your gear and head out to your favorite park or trail. No snowshoes? No problem! There are also places across Ohio that offer snowshoe rentals as well as dedicated snowshoe trails.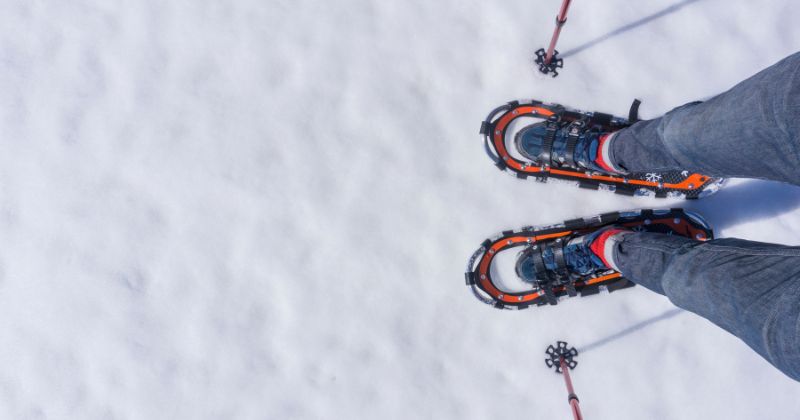 To avoid disappointment, please check the websites listed to confirm hours, pricing and equipment availability before planning your trip.
Chapin Forest Reservation – Lake County Metroparks
Part of the Lake Country Metroparks, Chapin Forest Reservation offers six miles of trails for snowshoeing. There is even an easy 1 mile trail that is lit at night. Visitors can bring their own equipment or rent snowshoes at the Chapin Forest Reservation Pine Lodge Ski Center. Remember to bring a driver's license as it is required as a deposit with all rentals. Before visiting them, call the ski center to check snow conditions and to confirm the center is open for the day.
Chapin Forest Reservation
Pine Lodge Cross-Country Ski Center: 10381 Hobart Rd., Kirtland, OH 44094
Website
Cleveland Metroparks
In the Cleveland Metroparks there is a variety of places where you can go snow shoeing. As long as there is a 4-inch snow base on the ground, all hiking, bridle, and all purpose trails and up for use. In addition, the fairways and rough areas of golf courses in and around the area are able to be used. Be sure to follow proper etiquette and yield to horse, cross country skiers, and not to walk on ski tracks. During the snow shoe season, shoes can be rented at Big Met Golf course, Hinckley Lake Boathouse & Store, and the North Chagrin Nature Center.
Big Met Golf Course
4811 Valley Pkwy., Fairview Park, OH 44126
(440) 331-1070
Hinckley Lake Boathouse & Store
1 Metropolitan Park W, Hinckley, OH 44233
(330) 278-2160
North Chagrin Nature Center
401 Buttermilk Falls Pkwy., Willoughby, OH 44094
(440) 473-3370
Website
Cuyahoga Valley National Park
In the Cuyahoga Valley National Park, snow shoeing is seasonally available when there is at least 4-inches of snow on the ground. You can rent shoes at the Boston Mills Visitor Center and use the near by trails to walk around and enjoy the scenery. Be careful on trails shared with cross-country skiers. Always yield to the skiers and try to avoid stepping on the ski tracks.
Boston Mill Visitor Center
6947 Riverview Rd., Peninsula, OH 44264
(440) 717-3890
Website
Girdled Road Reservation – Lake County Metroparks
Lake County Metroparks offers lots of snow shoeing locations. Perhaps the best place of explore the winter woods is the Girdled Road Reservation. There are two trails, about 3.5 miles total, specially made for snow shoers that provide a backcountry snow shoe experience. To rent shoes, you can head over to Chapin Forest Reservation, which allows you to rent shoes and take them offsite.
Girdled Road Reservation
South Entrance: 12926 Radcliffe Rd., Concord Twp., OH 44077
Website
Holden Arboretum
The Holden Arboretum is very beautiful during spring, summer, and fall, but did you know you can also experience its beauty in the winter? The Holden Arboretum offers a lot of snow shoeing trails that you can enjoy. You can either bring your own, or rent them at the Corning Visitor Center. Any snow covered trails or fields are able to be accessed. The only restriction is to stay away from garden beds and bodies of water.
Holden Arboretum
9500 Sperry Rd., Kirtland, OH 44094
(440) 946-4400
Website
Liberty Park Nature Center – Summit Metro Parks
Summit County Metro Parks offer free snowshoe rentals at the Liberty Park Nature Center. Snowshoes are not able to leave the park ground and also may only be used on the Bluebird trail. Be sure to rent snow shoes earlier in the day so you can explore all of Bluebird trail, as you must return them by 4:45pm on the day of the loan.
Liberty Park Nature Center
9999 Liberty Rd., Twinsburg, OH 44087
(330) 487-0493
Website
Penitentiary Glen Reservation – Lake County Metroparks
Penitentiary Glen Reservation is one of the best places to snow shoe in the area. With over 8 miles of trails, people of all ages and skills can enjoy snow shoeing. They offer an easy quarter mile loop to a harder 2.6 mile trail. On weekends, a warm campfire awaits you after your walk. There is even hot cocoa in the Nature Center. The best place to rent shoes for this trail is the Chapin Forest Pine Lodge.
Penitentiary Glen Reservation
8668 Kirtland-Chardon Rd., Kirtland, OH 44094
(440) 256-1404
Website
Quail Hollow Park – Stark Parks
Quail Hollow Park offers beautiful trails for snow shoeing. Rentals include the newest-state of the arc snow shoes. They are lightweight and easy to use. You'll feel like an expert as soon as you hop on the trail! When conditions allow, usually 4-inches of snowfall, snowshoe rentals will be offered at Quail Hollow Park.
Quail Hollow Park
13480 Congress Lake Ave., Hartville, OH 44632
Website
West Woods – Geauga Park District
The West Woods in Geauga County is one of the best places to embark on a snow shoeing adventure. As a rule of thumb, snow shoeing will only be available when there is 4-inches of snow on the ground, and the deeper the snow the better the experience. Snow shoes can be borrowed for up to two hours and are first come first serve. Another bonus is that they are free for all Geauga County residents.
West Woods
9465 Kinsman Rd., Russell, OH 44072
(440) 286-9516
Website
Places to go Snowshoeing in Ohio
Snowshoeing Near Me
Tips for going Snowshoeing
Dress in layers: Layering your clothing is key to staying warm and comfortable while snowshoeing on the trails. Start with a moisture-wicking base layer, add a mid-layer for insulation, and top it off with a waterproof and windproof outer layer.
Practice before hitting the trails: If you or any members of your family are new to snowshoeing, it's a good idea to practice in a flat, open area before heading out on the trails. Most of the locations above the offer snowshoe rental have specific practice locations.
Check the weather and trail conditions: Before heading out, make sure to check the weather forecast and trail conditions. Most locations require a minimum amount of snowfall before they offer snowshoe rentals or allow people to use the trails.
Brings snacks and water: Pack some high-energy snacks, such as granola bars or trail mix, to help keep your energy levels up and make sure to drink plenty of water before, during, and after your trip.
Have fun! Snowshoeing is a great way to spend time outdoors with your family and enjoy the beauty of nature. Remember to take in the sights and sounds around you and enjoy the experience!
More Winter Fun Things to do in Ohio