Enjoying the outdoors during the winter can be as easy as stepping into a pair of snowshoes and going on a hike after a fresh snowfall. If you own a pair of snowshoes you can simply pack up your gear and head out to your favorite park or trail. No snow shoes? No problem! There are also places across Ohio that offer snowshoe rentals as well as dedicated snowshoe trails.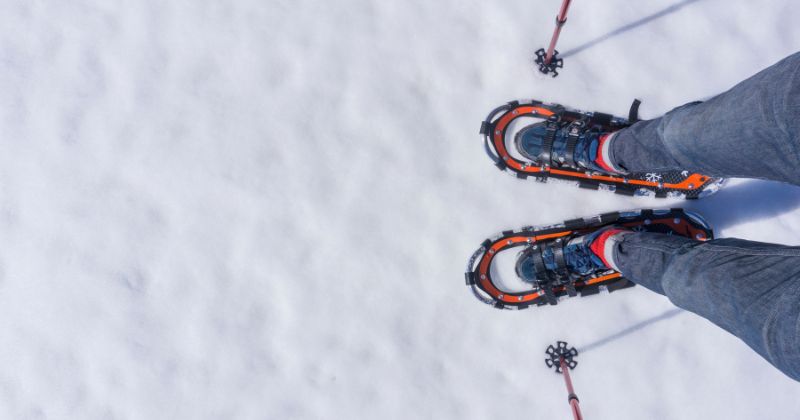 To avoid disappointment, please check the websites listed to confirm hours, pricing and equipment availability before planning your trip.
Places to go Snowshoeing in Ohio
Snowshoeing Near Me
Chapin Forest Reservation – Lake County Metroparks
Lake County – Chapin Forest Reservation is where you can rent skis and snowshoes. Trails are groomed and the lights are turned on for you at night.
Chapin Forest Reservation
Pine Lodge Cross-Country Ski Center: 10381 Hobart Rd., Kirtland, OH 44094
Website
Cleveland Metroparks
Cuyahoga County – Snowshoeing is permitted on hiking, bridle, and all-purpose trails (that have not been plowed), as well as the fairways and rough areas of Big Met, Little Met, Shawnee Hills, Seneca, Mastick Woods, and Sleepy Hollow golf courses with a four-inch snow base. Snowshoes can be rented from the following locations:
Big Met Golf Course
4811 Valley Pkwy., Fairview Park, OH 44126
(440) 331-1070
Hinckley Lake Boathouse & Store
1 Metropolitan Park W, Hinckley, OH 44233
(330) 278-2160
North Chagrin Nature Center
401 Buttermilk Falls Pkwy., Willoughby, OH 44094
(440) 473-3370
Website
Cuyahoga Valley National Park
Summit County – Snowshoe rental is seasonally available at Boston Mill Visitor Center when snow is four inches or deeper. Before visiting, check the visitor center's operating hours. Snowshoes may be used on nearby trails.
Boston Mill Visitor Center
6947 Riverview Rd., Peninsula, OH 44264
(440) 717-3890
Website
Girdled Road Reservation – Lake County Metroparks
Lake County – In south/central Lake County, 9 kilometers are groomed at the south entrance of Girdled Road Reservation –some of it flat, but also some challenging terrain.
Girdled Road Reservation
South Entrance: 12926 Radcliffe Rd., Concord Twp., OH 44077
Website
Holden Arboretum
Lake County – Snowshoers may use any snow-covered trails or fields. Suggested beginner' trail: Blueberry Pond Loop.
For those who want a challenging hike, consider the Corning Lake Loop or Layer Rhododendron Garden.
Holden Arboretum
9500 Sperry Rd., Kirtland, OH 44094
(440) 946-4400
Website
Liberty Park Nature Center – Summit Metroparks
Summit County – Snowshoes can be borrowed for FREE at the Nature Center for use within the park on the Bluebird Trail.
Liberty Park Nature Center
9999 Liberty Rd., Twinsburg, OH 44087
(330) 487-0493
Website
Penitentiary Glen Reservation – Lake County Metroparks
Lake County – The reservation offers more than 8 miles of trails. Rentals include snowshoes and optional poles. Novices are welcome! Choose from a quarter-mile loop of gently-rolling terrain, just right for beginners and families, to the more challenging 2.6-mile Rabbit Run Loop trail. A warm campfire awaits visitors on weekends. Visitors are also encouraged to warm up and relax in the Nature Center and enjoy a cup of hot chocolate.
Penitentiary Glen Reservation
8668 Kirtland-Chardon Rd., Kirtland, OH 44094
(440) 256-1404
Website
Quail Hollow Park – Stark Parks
Stark County – Snow-covered trails are not only beautiful for hiking, but they provide a great opportunity for cross-country skiing and snowshoeing! When conditions allow, snowshoe rentals will be offered at Quail Hollow Park only. Try walking on snow in the winter on new state-of-the-art Eva snowshoes that are easy to put on over your boots and very lightweight!
Quail Hollow Park
13480 Congress Lake Ave., Hartville, OH 44632
Website
West Woods – Geauga Park District
Geauga County – The West Woods is ready for snowshoeing when there are at least 4 inches of snow on the ground. As a rule of thumb: the deeper the snow, the better for any snowshoeing adventure. Snowshoes can be borrowed for up to 2 hours. Snowshoes are available first come, first served, free to Geauga County residents, and $5 for out-of-county residents (credit card only).
West Woods
9465 Kinsman Rd., Russell, OH 44072
(440) 286-9516
Website
More Winter Fun Things to do in Ohio