Do you have a little fish on your hands? Ensuring your child is prepared for the water is incredibly important and Northeast Ohio offers a variety of swimming lessons throughout the area for you to choose from. Whether it's your first time in the water or you are hoping to brush up on some water skills, our list has an option for you.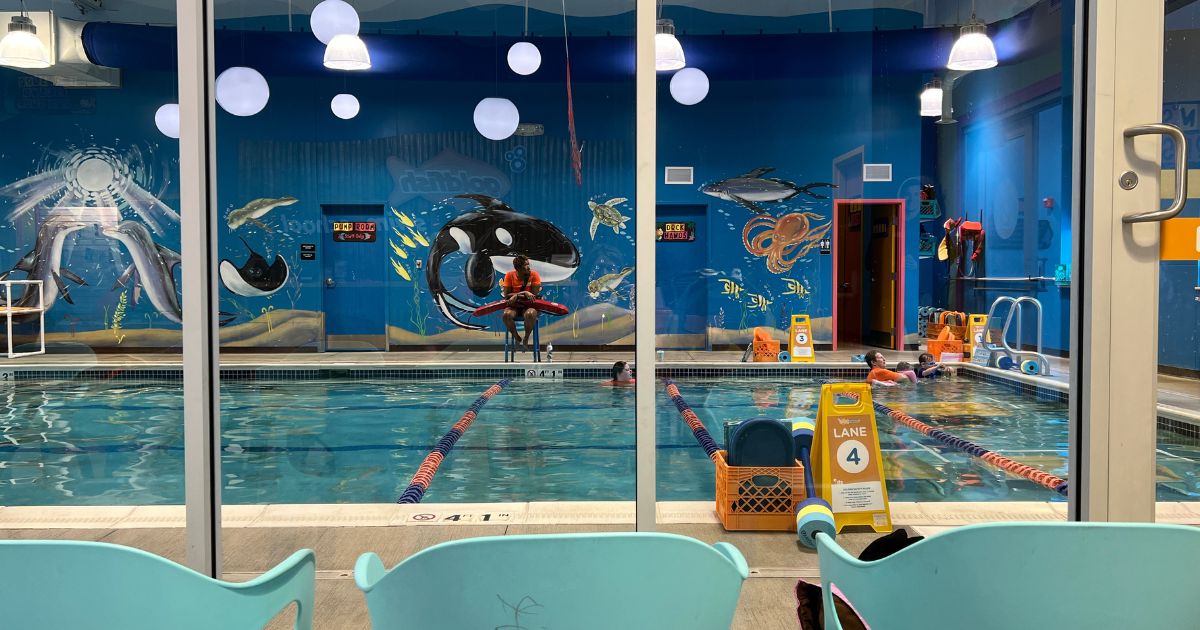 Goldfish Swim School
Goldfish Swim School uses play-based learning to teach your child to swim in a fun and safe environment. Their swimming lessons for kids are designed for ages 4 months to 12 years old. The lessons are offered indoors, in a warm pool and parents can watch through floor to ceiling windows in the main sitting area.
Goldfish offers flexible class times for your schedule. It has a small store to purchase gear you may have forgotten such as goggles and swimsuits. The facility has showers and blow dryers for after your lesson. There are also changing rooms and restrooms.
The facility offers family swim options, as well as birthday parties. Check out the website for sibling discounts and membership details. If you're unsure of your child's entry level class, you can take a swim assessment on the website to help place them.
Goldfish Swim School
Locations in Hudson, North Canton, Warrensville Heights, Strongsville and Fairview Park
Website
You may be interested in: Even more options for kids classes and extracurricular activities
Aqua-Tots Swim School
Aqua-Tots Swim School offers swim lessons for children 4 months to 12 years old through eight levels of programming. With flexible schedules and make-up lessons, the school wants to make participation easy for you and your family. The school also has a swim team, a special needs aquatic program and adult lessons.
The 90 degree, indoor pool allows year round lessons for your little ones. Lessons are 30 minutes long, with a four student to one teacher lesson max ratio. Parents can watch from their signature red, comfy chairs.
If you are unsure of your child's skill level, the website offers an assessment for child's class selection. Check out the website for more details on class details.
Aqua-Tots Swim School
30219 Detroit Rd, Westlake, OH 44145
Website
Red Cross Swim Lessons
The American Red Cross offers Red Cross Swim Lessons for both children and adults. The learn-to-swim classes are taught by certified instructors at your pace. Parents and guardians will be actively involved in lessons of children up to 5 years old.
The program's six levels of lessons allow for development in water safety, comfort in the water and skills improvement. You may also enroll in the Red Cross's CPR and First Aid training after signing your child up for their lessons. Search the website to find a nearby location.
Red Cross Swim Lessons
Website
KISS Aquatics
The KISS Aquatics is a unique 10-minute lesson that is designed to teach children the necessary skills to survive in the water. After getting comfortable with the water and their instructor, your child will learn how to swim on the tummy and then roll back to float on their back. From there, children will learn additional swimming skills.
This program gets kids to participate safely in the water in weeks, whereas other programs can take much longer. Once children finish the swim-to-float program they can enroll in the swim like a fish program, which builds on the skills from the first program.
KISS Aquatics
Locations in Twinsburg, Mayfield Village, Cleveland and Stow
Website
The Swim of Things
The Swim of Things is a family-owned and operated swim school that works closely to follow and modify your child's swim progress. The swim lessons begin at 4 months old. With a 4 to 1 max student to teacher ratio, your child gets an individualized approach to their swim experience.
The facility offers open swim and birthday parties. Check the website for details and times. They also have adult swim classes and water exercise classes.
The Swim of Things
14386 Ridge Rd. North Royalton, OH 44133
Website
The Mandel Jewish Community Center's Beachwood Fitness Center
The Mandel Jewish Community Center's Beachwood Fitness Center offers swim lessons to your little ones from American Red Cross certified instructors. The 5 to 1 student to teacher ratio allows your child an individualized approach. With flexible class times, six days a week, there are multiple options for your busy schedule.
For younger swimmers, the program offers parent and child lessons starting at 6 months, as well as survival swim with a special instructor. The facility offers a family locker room. Check out the website for class times and additional details.
The Mandel Jewish Community Center's Beachwood Fitness Center
26001 S. Woodland Road Beachwood, OH
Website
Medina Community Recreation Center
Medina Community Recreation Center provides swim lessons for 12 months old through adulthood. The swim levels are meant to allow swimmers to learn at their individualized pace in a safe environment. Each level is tailored to your child's progress.
Class registration takes place only on the Medina Recreation Center website. Take a look at the website for class descriptions and additional information.
Medina Community Recreation Center
855 Weymouth Rd Medina, OH 44256
Website
Kent State University
Kent State University provides a learn-to-swim program for kids ages infants through teens. Swimmers will be taught by an American Red Cross certified instructor. All lessons taught without a parent in the pool are a max capacity of 6 to 1 teacher to student ratio.
If you are unsure what level to place your child in, the website offers a placement form. Parking passes are not included with class registration, but can be purchased. Take a look at the website for parking information, as well as class schedules and additional details.
Kent State University
1400 N Mantua St, Kent, OH 44240
Website
The Natatorium
The Natatorium offers toddler swim lessons through adulthood from Red Cross certified instructors. The facility provides a flexible schedule of classes in an aquatics area with four pools in their state-of-the-art facility! Scholarships are also available for those who financially qualify.
Make sure to check out the Natatorium's open swim schedule as well. The pools feature waterslides and spray features for your little ones to enjoy. Check out the website for class times and more information.
The Natatorium
2345 Fourth Street, Cuyahoga Falls, Ohio 44221
Website
YMCA Swimming Lessons
The YMCA offers swim classes taught by national certified instructors throughout Northeast Ohio. Their goal is to teach youth and adults to swim so they can stay safe in the water and develop life skills. Their lessons begin with parent/child classes and go up to adulthood.
With a variety of classes and flexible schedules, they have you covered. See our list of locations throughout Northeast Ohio below. Take a look at the website for each location's class schedule and for additional details.
Aquamobile Swim Lessons
Looking for swim lessons that will come to you? Aquamobile Swim Lessons does just that! Their team of professional swim instructors and lifeguards will come to your home pool to teach you to swim. The program offers lessons for infants through adulthood.
Plug in your location to their search function and then select the type of lesson you are looking for. They will provide a list of qualified instructors that can come teach you in the comfort of your home pool. Check out their website to find the instructor that is right for you!
Aquamobile Swim Lessons
Website
Infant Swimming & Self Rescue
Infant Swimming & Self Rescue, also known as ISR, provides a safe, one-on-one approach to getting your infant comfortable in and around the water. Your child's instructor will tailor the lessons to meet the needs and comfort level of your child. Your child will advance from the Rollback to Float method to Swim Float Swim.
This program allows you to get your child water ready in a short amount of time. The website provides a list of instructors and locations in your area. Check it out for more details on the program and locations near you.
Infant Swimming & Self Rescue
Website
Jewish Community Center of Youngstown
Jewish Community Center of Youngstown is a partner of the USA Swimming Foundation. Their learn to swim program assesses your child at their first lesson, and then places them in the skill-appropriate class. As your child master's each level's skills they will advance to the next level.
The center also offers a You and Me Baby class. They provide both individualized classes and special clinics. Take a look at the website for class and clinic information.
Jewish Community Center of Youngstown
505 Gypsy Ln, Youngstown, OH 44504
Website
Shaw JCC of Akron
Shaw JCC of Akron offers both private and group swim lessons taught by American Red Cross Certified instructors. The lessons put water safety first. Swimmers advance through classes at their own pace, in a safe environment.
The facility offers flexible class times for your busy schedule. Lessons are available for children 6 months and older, as well as adult classes. Take a look at the website for additional information on class schedules, as well as private lesson options.
Shaw JCC of Akron
750 White Pond Dr. Akron, OH 44320
Website
Tips for Signing Your Kids up for Swimming Lessons
Explore your child's skill level – If you are unsure about your child's current skill level and what class to place them in, you can check out the swim lesson website.
Most of the website's offer a detailed description of the classes, and some of the locations even offer an online assessment that helps you place your child. If you are still not sure, feel free to call the location and ask. They can likely guide you to a good starting point for your child.
Ensure your child is prepared for each lesson – Many of the swim programs suggest your child wear goggles. This helps them get more comfortable going under water. Also, if your child is not potty trained be sure to check out each location's rules around swim diapers.
You will want to bring a dry change of clothes for your child to change into after their lesson. Most locations offer a changing area or locker room for you to dry off after your child completes their class. If your child is taking a lesson outdoors, be sure you have proper sunscreen and sun protection on hand. Last, don't forget a towel!
Take advantage of the facility – Most of the swim schools offer more than just swim lessons. It's likely there is a family swim option or weekend swim hours. Check into these so you can join your child in the water at other times. This can not only be a fun, family activity, but it will help develop your child's swimming skills outside of their normal class time.
Also, the facilities offer services for you at your lessons. Many have showers, hair dryers, changing rooms and more. Make sure you are utilizing those services to help you maximize your swim lesson experience.
Talk through progress with instructor – As your child begins to develop skills in the water, your child's instructor will likely update you on their progress. Feel free to ask questions on what you can work on at home or at the pool with your child. This can help you understand how you can be helping your child develop water safety skills and confidence in the water.
Bring your camera – Most swim locations encourage parents and guardians to watch the lessons. You can take photos or videos of your child as they progress. It also can help to show your little one videos of themselves to illustrate their progress and what they can be working on each visit.